For a long time I'd been eyeing up a Taccia Staccato, but when it came time to order one, I started to eye up the Momenta. I wasn't totally sold, but there was something about it that I liked. Since it was one of those landmark birthday's I decided to plump for both pens as presents. It's been about 6 months now, so I've had the pen long enough to do a decent review of it.
The pen was purchased from isellpens.com, and delivery to the UK was within a week, including time held at customs etc. My dad purchased the pen and he was very impressed with the service and the speed of delivery. The pen came in a very nice card box with silky type lining and looked impressive on first sight.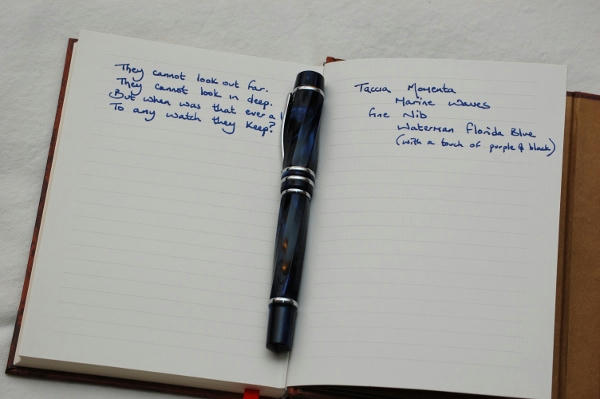 Appearance & Design (8)
OK. The design of this thing was what attracted me to the pen in the first place. The resin has a lovely deep purply-blue colour with waves of light blue within it. It earns it's name of marine waves. The rotating shape of the barrel and cap make it all the more striking. The resin is nicely polished and smooth. The pen has silver adornments, which aren't overpowering, but still, I'd like a little less bling, but that's just me.
The cap has a silver coloured jewel with an engraved logo on it which is a nice touch.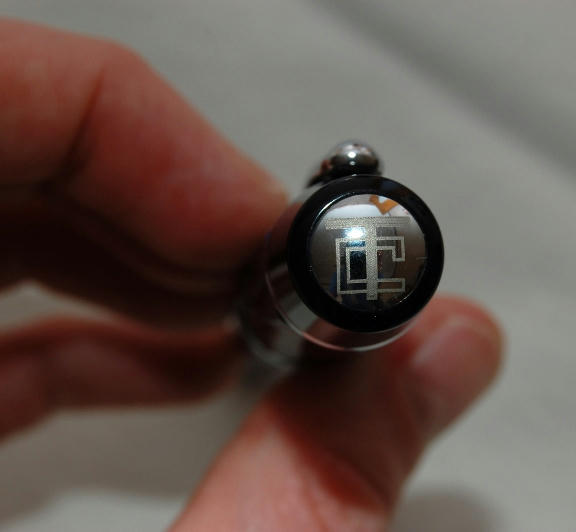 Construction & Quality (8)
The pen feels well made. The cap screws on and off nicely. The clip has a goodly amount of tension to it and feels sturdy. It looks and feels like a quality writing instrument. Not much more to say about it.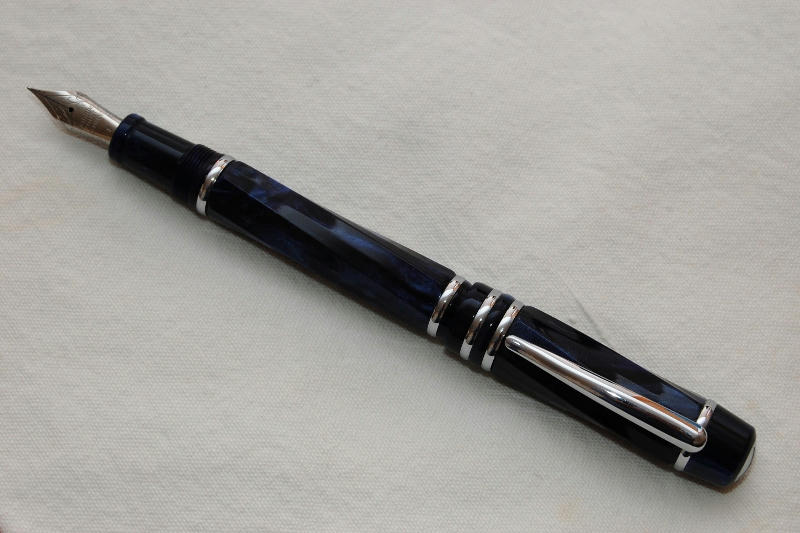 Weight & Dimensions (9)
Capped the pen is 249mm
unposted it is 229mm
posted the pen is 274mm in length
The barrel is 13mm in diameter and the grip is 11mm in diameter
I don't usually post my pens but this one is not overbalanced when posted, though it does feel better unposted
The pen weighs apx 19 grams (though not an exact weight!)
Overall the pen is a nice size and weight for me, and certainly comfortable for lengthy writing periods.
Nib & Performance (7)
The nib is a stainless steel nib in fine grade and is a lovely wet writer, remaining consistently wet throughout. It does have a tendency to dry up if left for a day or two and if left for a couple of weeks, the ink will just vanish and will likely need a refill. It does take a little flushing of ink to get the nib writing again if left for too long. This nib likes to be used often and regularly and likes to drink.
It is an IPG (Iridium Point Germany) nib and as we know, they can be hit and miss sometimes. This nib came with a little bit of tooth out of the box, but after 6 months of use the nib is smooth with just a touch of feedback. Don't expect any flex either. The nib is solid and sturdy, though very nice to write with. Overall I am quite impressed with the nib.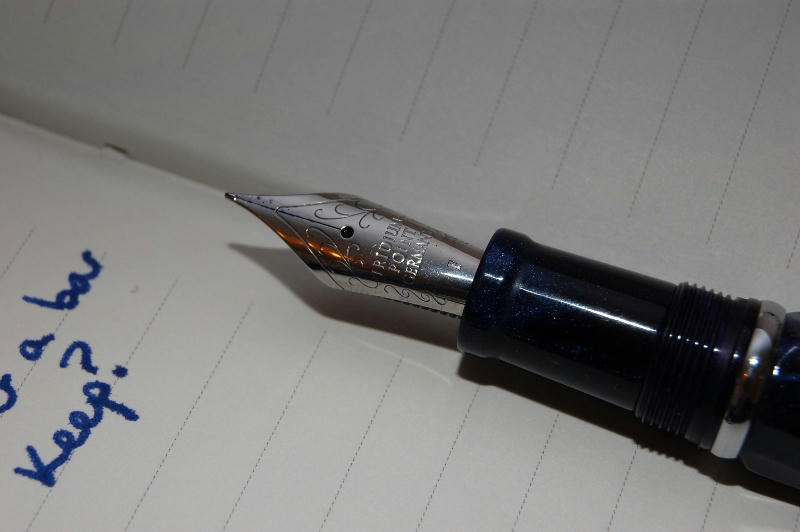 Filling System & Maintenance (7)
Filling system is a cartridge/converter. The ink converter is a piston style twisty converter which holds a fair amount of ink, and it needs it because this pen drinks like a fish. Maintenance wise, it doesn't need much, although it does need flushing and re-inking if left for a few weeks as the nib will dry up and the ink will have vanished into the thin air.
Cost & Value (8)
It's hard for me to judge this one. It was great value for me as it was a gift, but if I was buying it... there's the rub.
Having never had the kind of money that would allow me to purchase a nice £400 Conway Stewart without feeling incredibly guilty, I would still find it hard to justify the price of the Momenta, but it needs to be put into context. When compared to the Visconti Divina, with which it shares similar design traits, the Momenta is an incredible bargain. Yes, there are cheaper pens out there that write just as well, if not better than the Momenta. There are some vintage pens that look nicer for less money too, but when you look at resin bodied pens such as this on the market today, you are hard pressed to find something as good for the price. By that yardstick I think it is pretty good value.
Conclusion (8)
I was a little hesitant when I opted for the Momenta as a birthday gift, yet I am very happy with it. It feels nice to write with and I enjoy writing with it. It's a striking pen and is one of the few pens that gets noticed by colleagues.
For fans who like resin pens and who don't mind stainless steel nibs and who don't like paying several hundred pounds or dollars for them, then this comes highly recommended.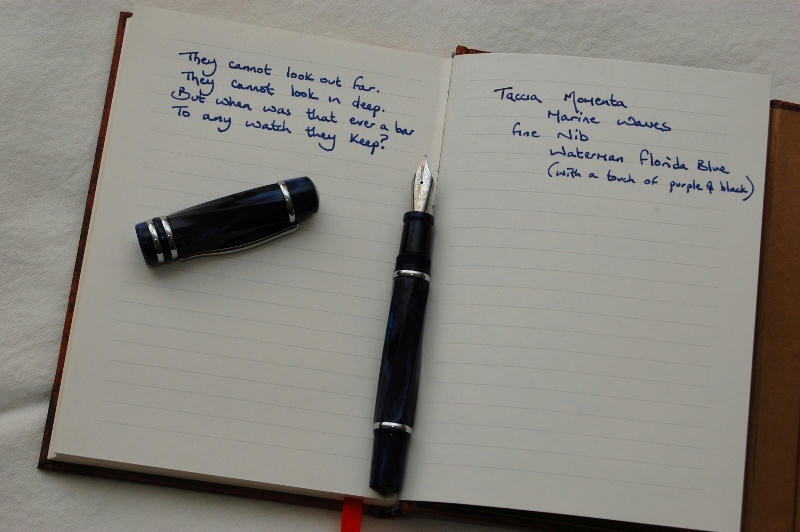 Edited by watch_art, 29 March 2013 - 03:12.