I was surprised not to find a review of the Aurora Hastil pen in FPN, so I thought I could be useful to the members of this board by writing one.
The pen was designed in 1969 by the Italian architect Marco Zanuso (1916-2001), who besides this pen for Aurora created many buildings, the Grillo telephone for Siemens and pieces of furniture. The Hastil, as well as many others of Zanuso's creations, belongs to the New York MoMA collection, as representatives of modern Italian design.
This was one of the first pens I owned, actually the third, after a Parker 61 and a Parker 45. It was given to me as a present from my parents when they returned from a trip to Italy. I believe I was fourteen years old. I still have this pen, and it is working perfectly after decades of use, sometimes heavy use. Since then I have acquired a few more Hastils. Definitely a love affair, at first sight and enduring.
Appearance and design: 10
The original box deserves some comment. It is a large steel cylinder that opens into two halves, in itself a piece of architectural creation. Included are two cartridges and an aerometric converter. The box is a suggestion of what is to come.
The Hastil definitely deserves a solid 10 for appearance and design. To the eye, it is a perfect cylinder, which in reality it cannot be, because in this case it would be impossible to post the cap. Zanuso managed to devise a model that is modern and classical at the same time, elegant and simple, with steel and plastic as its materials. The clip is a separate piece articulated in a special way that allows a springy movement of the entire clip, adapting to any width of shirt or coat fabric. The detail at the tip of the clip deserves special attention. The sole external imprint is AURORA in capitals in what seems to me to be Helvetica font, on the cap.
Construction and Quality: 10
Aurora standards. Any pen coming from this brand, from a vintage 88 to a modern Optima, has a solid, durable and reliable build. The nib and feed unit, where there is a number imprint, has a rough texture that imparts a secure feeling to the holder. The cap closes with a snap. Older units had a tendency to loosen the fit, and with time and use the pen ceased to shut securely. Not difficult to repair, though. More recent units seem to have a more durable shutting mechanism.
Weight and Dimensions: 10
The Hastil is a thin and lightweight pen, but even a relatively large hand as mine has no difficulty in adapting to it. The pen works best for me posted, and seems to have been meant for this, since the body has two rectangular plastic saliencies that stop the cap from going in too far. Another combination of style and utility, in a word, design.
Mr Zanuso definitely thought of detail. This creation of his deserves close attention to every bit of thought he put into it. It is an exercise that shows that Hastil simplicity is only apparent.
Nib and Performance: 10
The 14k plain white gold nib seems to have changed a little over the 40 years of production. In my older unit it is broader and very rigid. More recent units carry a slimmer nib, slightly less rigid. All my Hastils have F nibs. Flow is relatively dry, say a 4 on a scale of wetness from 0 to 10. All nibs are smooth and a pleasure to write with. I have never experienced a leak or a skip, and the pen is always ready to start working. Line variation is not something to be expected from this pen. The nib is classical and simple, with a discrete 14k imprint on its left corner.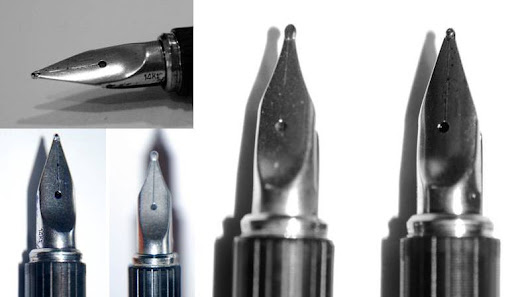 Filling system and maintenance: 9
The slimness of the Hastil allows only cartridge or converter. The converter supplied with the pen is an aerometric made by Aurora, does not hold a lot of ink and is not very durable. The metal and the sac tend to lose elasticity over time, and even less ink is sucked into the converter. The good news is that it is Parker size! Parker makes a little piston converter, very inexpensive, called slide converter, that holds a nice amount of ink, and it will fit into Aurora Hastil. The Parker twist piston converter will not. But you can use an aerometric Parker converter. I am not fond of cartridges, I favor ink bottles, but the pen accepts Parker or Aurora cartridges and I have used Hastils to write many pages with the extinct Penman Sapphire cartridges.
The nib and feed unit screws into the body and detaches from the cartridge or converter. It is easily cleaned under the tap and then with a few water fillings with a converter.
Cost and value: 10
This pen appears at the Aurora website, making me believe that it is still in production. I have not found it on any web retailer, though. Perhaps I have not searched thoroughly. If I remember well, Richard Binder was selling the Hastil some time ago, but it is not in his site any more. I don't remember how much he was asking for it. Just now I have performed a search in the board and saw that Jean Elie form Penandco recently sold one, including original box, for 110 euros. My opinion is that this is definitely a good price for all the pleasure, aesthetic and functional, that this pen offered to me. As I have stated above, my first Hastil was a gift, and I don't remember how much I paid for the ones I bought since then, but it never struck me as an expensive pen.

Conclusion (Final score 59/60 = 9.8)
The Hastil is a creation of a talented and prolific architect dedicated to an epoch-marking Italian craftsmanship that enjoyed worldwide influence over industrial design and decoration.
I have a love affair with the Hastil. Its beauty is what most attracts me to it, and all this is of course very personal, but I hope that in this review I have shown objective facts and pictures to support my view that this pen is a reliable daily writer worth having and using.
As an Italian-themed sample of the pen's line on paper, below are the last verses from Dante's Inferno, in English and in Italian, copied by me with my first and faithful Hastil, equipped with a Parker slide converter and Aurora Blue ink. The English translation is by Laurence Binyon.