Hello all
I'm fairly new to FPN, but wanted to tell you a little story about how I came to be an avid FP user. Like most people of my generation, I learned to write with a FP in primary school in the 1960's, once I had graduated from pencil. Being left handed this caused all manner of smudging problems, but unlike other "lefties" who twisted their wrist around to prevent smudging, I simply turned by book sideways, so instead of writing from left to right, I write vertically - and still do to this very day regardless of what I'm writing with. Alas, no longer have these FPs from my childhood, and once in secondary school, the FPs were replaced with biro's.
Fast forward to 1988, when I went to university as a "mature aged student" at the ripe old age of 26. This of course was pre lap-tops, and in my efforts to write down every word my lecturers said verbatim, I developed a strain injury in my left hand. The physiotherapist who treated my hand suggested I use a fountain pen so that I wouldn't need to put pressure on my hand when writing............and so began my love affair with FPs!
As a poor student, I wasn't exactly flushed with funds, so after much searching and testing, I found a pen that suited me perfectly; the German made Ero. I think I paid about $50 for it at the time, which was over half of my weekly government student payment. I wasn't aware of brands back then, all I knew was that I loved the look and feel of this lovely little pen. As an added bonus, it was a piston filler, so I would also save money by not having to buy cartridges.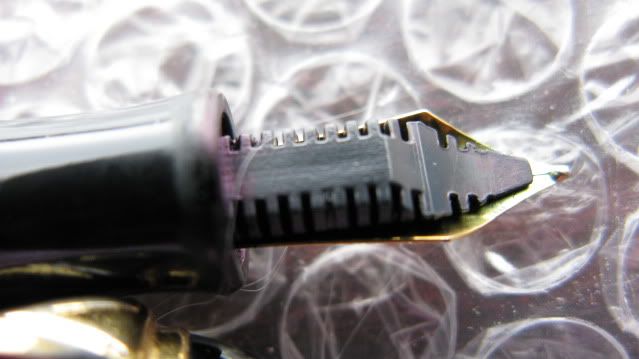 I would attend my lectures, then spent all weekends in the library transcribing into exercise books, my lecture notes and summaries of the cases we were required to read. I still have most of these exercise books today: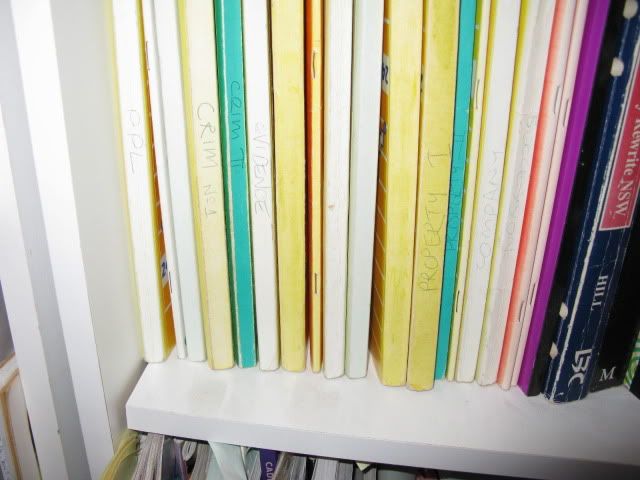 I soon gained a reputation with other uni students as having the most comprehensive and complete set of notes, incorporating what was said in the lectures and summaries of all applicable cases and legislation. I can say with some small amount of pride, that these exercise books, written with my beautiful Ero, were handed down to maybe 20+ students in years below me over the next 5 years.
Once I joined the work force after completion of my university degrees, many of my work colleagues purchased Mont Blanc's and other such prestigious writing instruments, whilst I remained faithful to my little Ero. This FP has literally written millions of words and 22 years later my Ero is as lovely to write with as it was the day I purchased it - alas my penmanship has not fared as well
The only downside to this little gem is that it's a pain to clean. Prior to taking the photos above, I had spent over 5 days rinsing and soaking it to get it ready for its "photo-shoot", but until I saw the photo of the close up of the nib, I didn't realise that there are remnants of the previous light blue ink still present - more rinsing and soaking required!
This piston filler "container" for want of a better word, is now stained and a bit of the celluloid has chipped off here and there, but this just adds to the character and lived in look of a much loved pen. Just goes to show you don't need to spend a fortune to get a great writer that will last for decades!
So that is my tale of how I found my way back to the joys of the FP.
Cheers
Leah
Edited by SidandNancy, 29 May 2010 - 04:49.