Hello,
Today I offer samples of the Pilot iroshizuku yu-yake ink on Rhodia paper.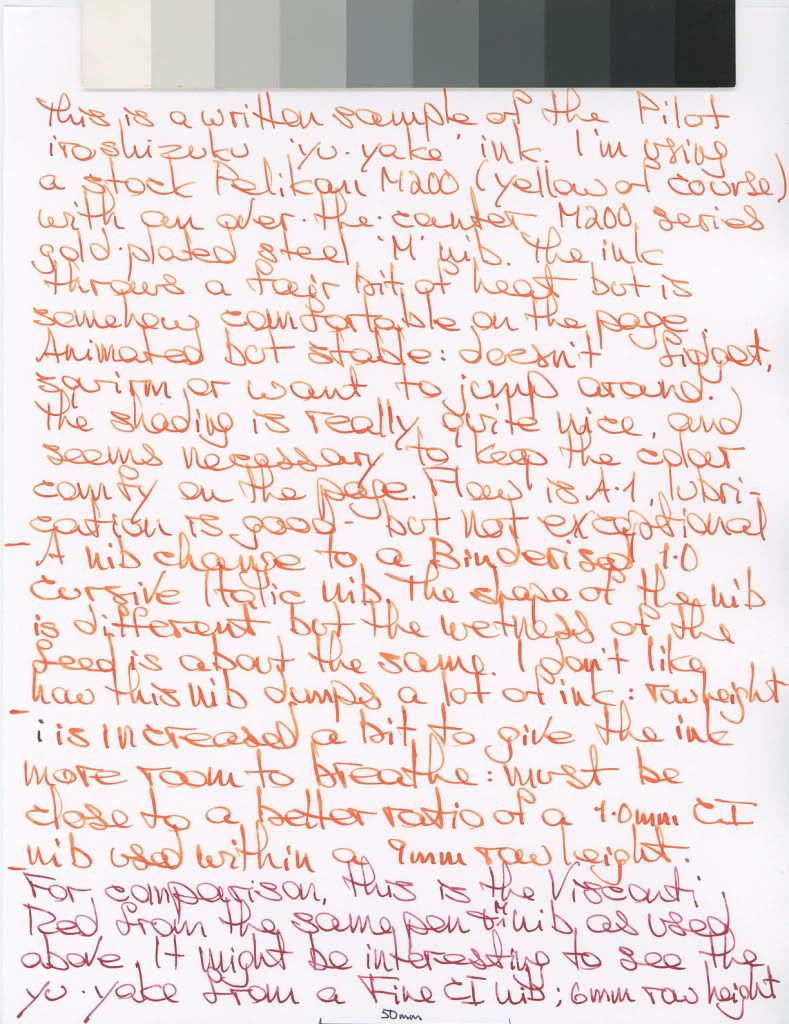 The main page is broken into four parts, as divided by '_' marks on the left-most edge:
Top: Written with a stock Pelikan M200 series g-p steel nib in M width. Row height is 8mm., which is common and suits my normal hand when writing with an M nib.
Second from top: Written with a Pelikan M200 series g-p steel nib ground to a 1.0mm width Cursive Italic shape by the Binder outfit. Row height is 8mm.
Third from top: Same nib as 'Second from top', but row height increased to 9mm., which I typically use for my wider nibs.
Bottom: Same pen and nib as Top, but with the Visconti 'Bordeaux' for relative colour comparison.
As shown, yu-yake does very nicely without rare or exotic implements or materials.
The ink does seem to demand enough 'air to breathe'; and certainly deserves a far better hand than mine.
The ink is really rather wet; and one must be careful not to impose upon the good manners of the ink by mistreating it with overly wet writers and/or 'thirsty' papers.
I wonder if a mono-line nib is the best for this ink : there's so much going on what with the colour and the shading, does the addition of an nonuniform line width become distracting clutter? Hmm. I did show curiosity about a Fine Cursive Italic nib, and haven't even speculated about the use of flex nibs. Oh my!!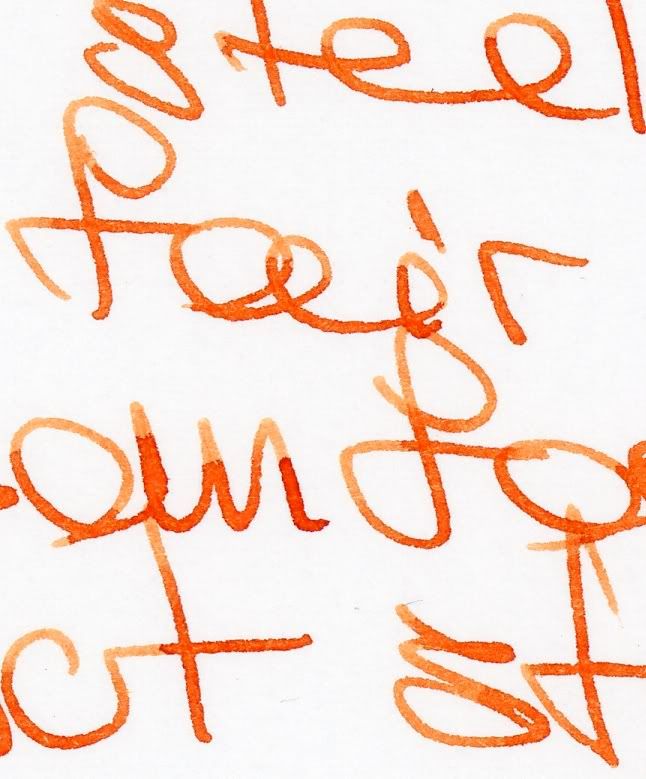 The shading is rather interesting. The sample shows that the ink, in my hand, has highly variable and complex shading. While I used a common pen & primary nib for this example, I do prefer a more rigid/stiff nib - which is suitable for the speed at which I write. (For this sample, the Ink Putti were seen to maintain three points of contact on the nib/feed, or hover. All came away with rather idiotic grins, so this yu-yake stuff must be a keeper, yes?)
ByeBye
S1
P.S.
Requisite
Swab_Samples
EDIT - Clarity, consistency in errors & grammar. (I'm jet-lagged, so please - cut me a bit of slack - just this once.)
Edited by Sandy1, 24 May 2010 - 16:48.