Baoer 388 – Stainless Steel Gold trim, medium nib
Introduction
Apologies if reviewing conventions aren't adhered to everyone's satisfaction – this is my first review. This fp is a Baoer model 388, available – so far as I know – in black lacquer or stainless steel; I went for the steel version. Despite all the volcanic dust cloud disruption, the Baoer arrived here in Scotland just a fortnight after winning the auction on eBay, from Wuhan, China. On top of this, a free converter was included!
Here's the package as it arrived, on my recently restored antique burlwood desk.
Packaging was a little light – bubblewrap around the pen, inside one of those bubblewrap-coated envelopes. The seller did make clear in the listing there was no presentation box, and the pen itself was totally undamaged.
Appearance and Design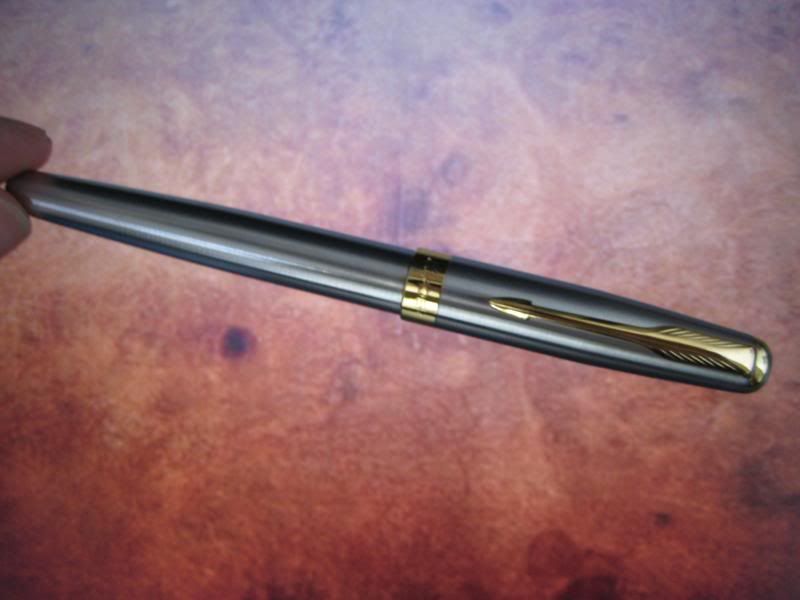 On first sight, I couldn't fail to be impressed with the Baoer. I don't usually go for pens where there's a noticeable step between the cap and body – I prefer there to be a seamless transition – but on this Baoer it looks just great.The 338 also looks great against the grain of my exquisite, recently restored burlwood desktop. With the cap off, it looks even better – see the photo below.
Oh no! I've been rumbled! As you probably guessed already, the only 'burlwood desktop' here belongs to my laptop. The genuine article is a little out of my price range! In my clumsily obvious way, I've arrived at my next point: the Baoer 388 is one of those nudge-nudge, wink-wink, Chinese 'homage' pens to the Parker Sonnet. I have no basis for comparison, so this review is conducted on the Baoer's own merits.
Looks – wise, the brushed stainless steel body is very classy. Looking at my other flighters, it looks more like the 45's body than my Targa's, which is brushed a touch coarser. The gold cap band isn't overstated, and is in perfect proportion to the rest of the pen.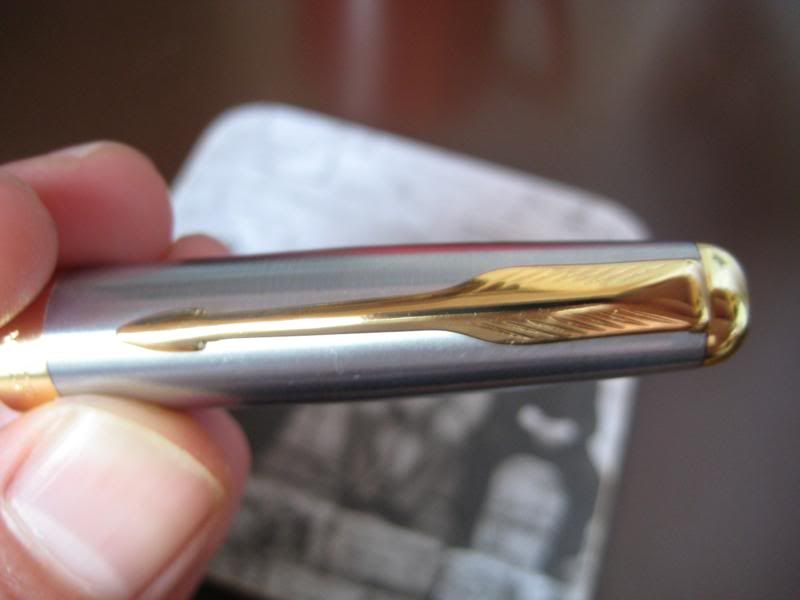 The clip and partially countersunk cap jewel are also very tasteful and at odds with 90% of the more ostentatious style of Chinese fountain pens I see on eBay.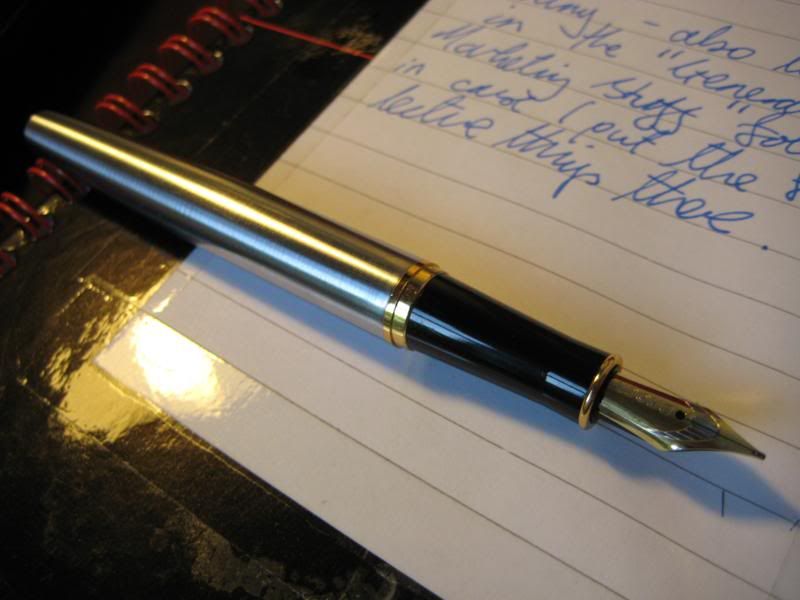 I think the photos speak for themselves - this is a very handsome pen, and looks far more expensive than it is.
Plating is very good overall – there is a tiny patchy area on the end of the cap clip, as shown below.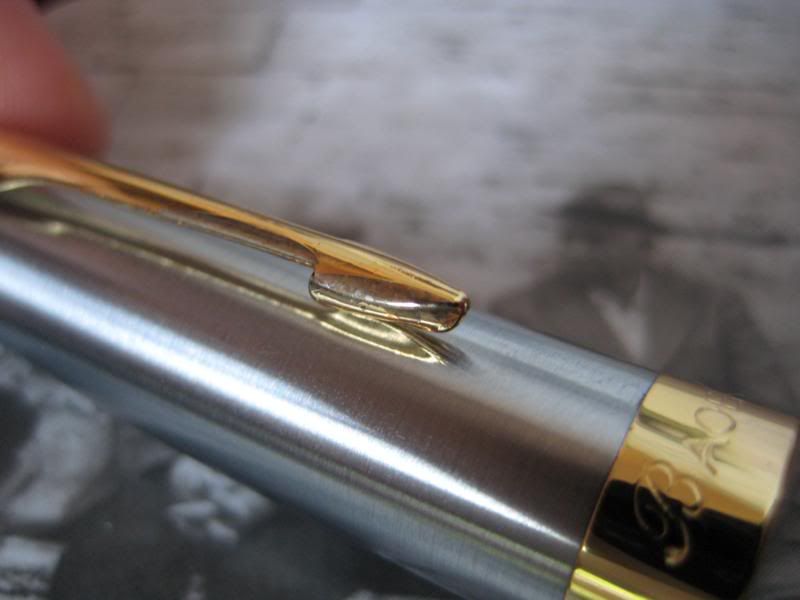 There is also some evidence of plating loss on this ring. Bear in mind these are macros, everything looks good to the naked eye.
The nib is two-tone, steel and gold, and this effect has been done quite accurately, shown in the following two photographs. It's refreshing to see a generous amount of tipping on a Chinese pen.
There's a gold ring just behind the nib the cap secures to, but it's not at all gaudy.
Construction and Ease of Use
As soon as you pick it up, this feels like a very solid, dependable pen. It weighs around 20 grams according to my wildly inaccurate scales – I have seen different eBay sellers claim anything from 27 to 38 grams. It feels heavier than my 45 flighter. It's around 13.6 cm long; the barrel at its widest is 1.1cm diameter.
This is one Chinese pen with a very European feel. For a pen that's a decent size and weight, with Parker-style medium tipping, I was very surprised to find that I just can't get used to writing with it at all. I have puzzled over this for a few days now, and have come to the conclusion that it's a combination of balance and section size. To my large hand, it feels oddly top heavy, an effect exacerbated by posting. But principally, the reason we can't get along is the tiny grip section (may I remind a certain member to return my snorkel grip section? Do the decent thing). At 2.5cm long, it's simply too small for the thumb and forefinger, forcing you to hold the pen almost by the nib. Also, the section is very narrow, 0.8cm where your fingers are forced by the bevelling to grip it. The combination of these factors makes the pen very unpleasant for someone with larger hands to write with, but will probably suit most people. Shame! Comparative photo of the section below.
The cap clip is tight. The cap itself snaps very, very securely on to the pen and has a very impressive action that's hard to describe – sort of elastic to begin with, and then a very definite click. Unfortunately, it's astoundingly difficult to then get the cap back off – it takes both hands and a lot of effort – usually enough to cause real irritation. I'm hoping this will get easier with use.
Unscrewing the barrel and section, I got a nice surprise. Both have metal threads, rather than metal screwing into plastic. I don't see these stripping, cracking or losing tightness any time soon. Very impressive and actually a more robust design than most of my other fountain pens.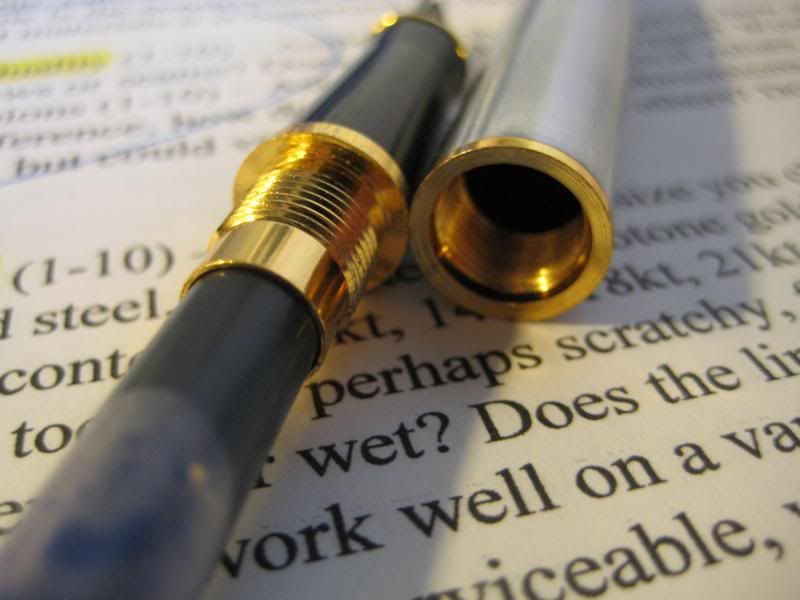 Nib and Performance
The nib is two tone steel and gold plate, listed as medium tipped and lays a line as wide as my Frontier's medium. Strangely, I've only seen these 388s available with a medium nib or as rollerballs. It's wider than a Sheaffer medium, see the photograph below.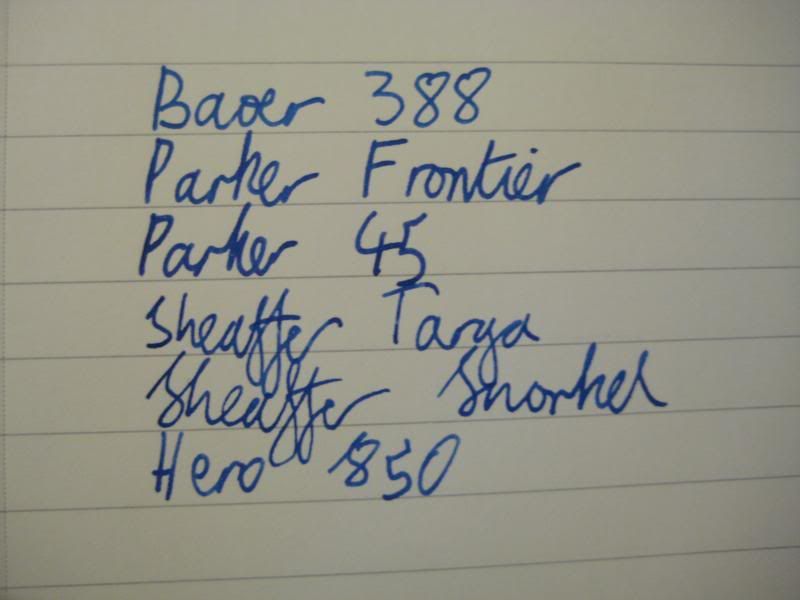 Sorry about the handwriting – they are all medium nibs and all filled with Diamine Royal blue. The Baoer may be filled with Turquoise, it's hard to tell from the free pack of carts Diamine sent with my last order. For a Chinese medium point it's nice and wide. The nib is absolutely rigid by the way, and of moderate wetness. It's as happy writing on 90gsm black & red notepads as it is on generic Asda A4 lined paper. I'd say its slightly less smooth than my Frontier, but only slightly. Considering it was approximately half the price, it's certainly much more than half as smooth.
If the nib can be unscrewed/ pulled for ease of servicing, it certainly isn't keen on the idea.
Filling System and Maintenance
Here's a plus: the Baoer 388 takes international cartridges, so I've found a use for my free pack of Diamine samples. It comes with a free screw type converter – in the photograph below, you can see the converter has a tiny glass bead inside.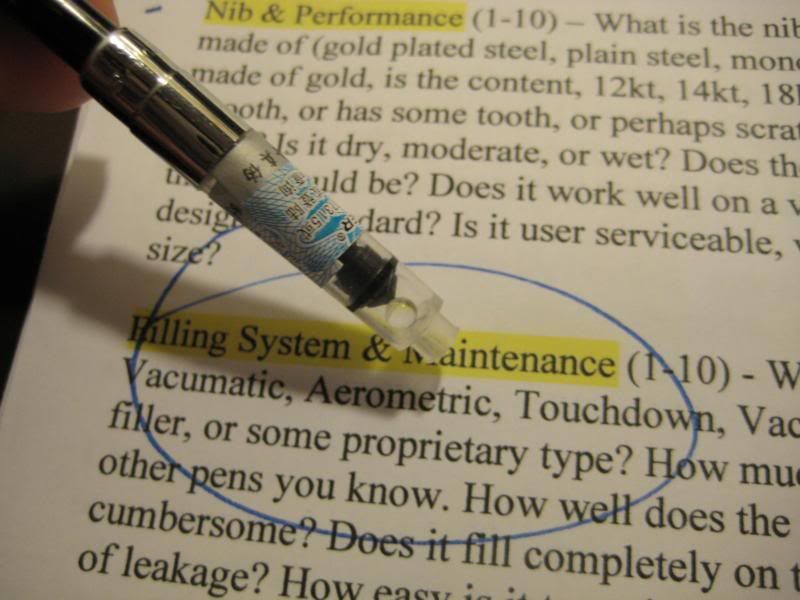 I only used the screw converter to clean the nib/feed with water before first use, I have quite a few of these Diamine freebie cartridges. There is also enough space in the barrel to accept a Flounder converter.
Cost and Value
I bought the Baoer on eBay, for $6.90 - £4.70 – including shipping from Wuhan province, China to Scotland. Can you believe that price? This excellently put together, all-metal pen costs less than £5.
Brand new
. Including shipping
across the planet
. With a converter thrown in! It simply is unbelievably low priced for what you get. I believe the black version is lacquer over brass, at the same price.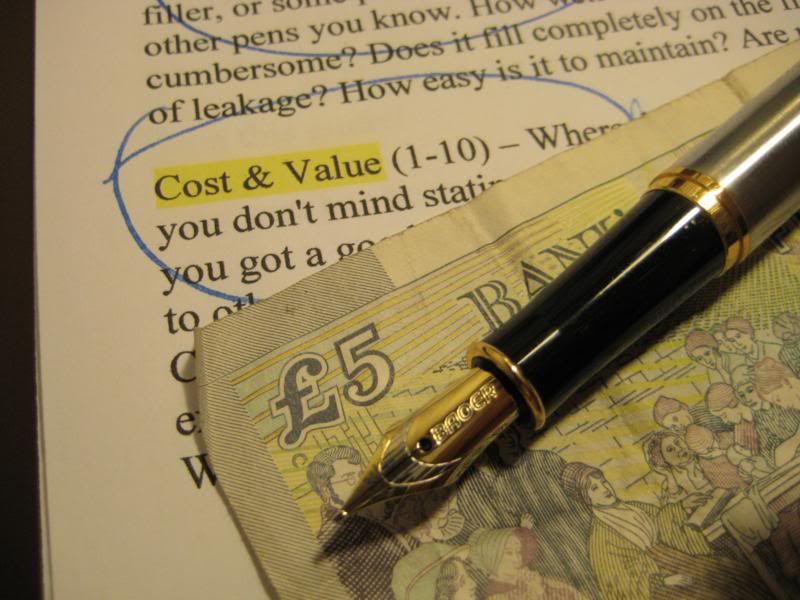 Parting Shots
If I had smaller hands, this pen would be ideal. It's not for me, but it's a seriously good looking, solidly made, high quality fountain pen at very, very low price. I'm suitably impressed!
EDIT: I forgot to add this cap off dry out test - I took the cap off, then left it lying on the desk for 5 minutes. Afterwards, it started up straight away.
Edited by Flounder, 24 May 2010 - 01:08.