First Impressions
(9)
Edison Pens and Brian have had consistently positive reviews on the forums of late. And for very good reason. An extensive range of custom made pens are available on his website, with a choice of almost any material or colour from ebonite, resin to celluloid.
Eventually, it came down to a decision between the Pearl and the Morgan. After extensively reading the reviews on FPN, the Edison webpage and Flikr albums, I decided upon the Pearl which was inspired by the Nakaya piccolo shaped models.
I decided upon rhodium trim as it looks less ostentatious clipped to a work shirt. And although I initially had my eye on the breathtakingly gorgeous brown tortoiseshell, in the end the more modern green mottled celluloid from American Art Plastics was more for me.
I also managed to watch this pen being made via Ustream and discuss with Brian things as he went along. There are pictures which I posted here:
http://www.fountainp...born-a-preview/
Appearance
(9)
Brian said the material has to be seen to be appreciated and he was right.
An almost dark black celluloid with very subtle varieagated green swirls and a sprinkling of silver powder. Add to that a polished ink barrel and gold duotone nib and we have a classy unique pen.
Sleek yet modern. The photos speak for themselves.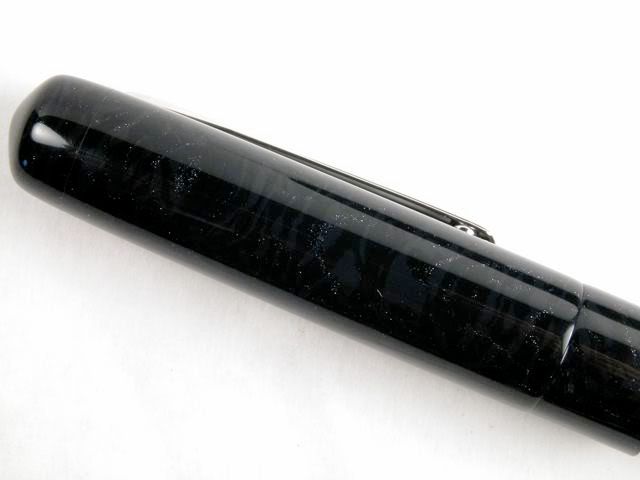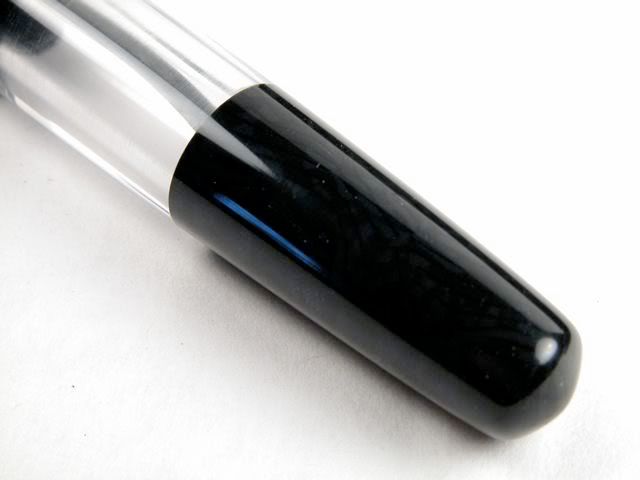 Design/Size/Weight
(9)
The measurements for the Pearl are available on the Edison website. It is a full sized pen.
Although my favourite writer is an Aurora Optima, I love the heft and length of the MontBlanc LeGrand 146.
So I decided that I would write with this pen unposted and wanted a length barrel to nib tip of approximately 13cm. Brian is able to accomodate requests in terms of pen length, posted or unposted as well as whether you want a straight or narrow section. He also gave me feedback as to whether a request was appropriate. The one caveat is that the Pearl does not post securely and there is only so much one can taper the blind end without altering the sleek lines of the pen. I would recommend not posting the pen to avoid placing unnecessary stress to the cap.
It is a light pen, made of a celluloid body and cap with a acrylic transparent barrel which allows for the colour of my favourite Iroshizuku ink to really shine through.
More on the bulb filler later, but the ink capacity is huge. I would estimate 2mL. And yes, it did fill (upside down) using a Visconti Travel Inkpot, though it felt a bit funny milking the rubber bulb with ink in it!
Nib
(7.5)
I know Brian has written an article on steel vs gold nibs. Seeing I was already paying for a top tier pen, I thought I would want a gold nib in a pen of this calibre.
I took one of his last two duotoned 18k nibs and asked for it to be reground to a cursive italic 0.5mm. Smooth yet with a bit of tooth typical of a cursive italic. Brian sent me a writing sample photo before shipping the pen which says all you need to know about the nib. You can ask for anything you want for, although customisation is a little extra and the CI cost me an extra $45US on top of the gold nib.
The nib is quite stiff, with just a hint of tooth but otherwise quite smooth with nice line variation. The feed was ever so slightly misaligned but did not affect the moderate flow (as requested) at all nor the nib function and as such, no complaints. It writes broader than my Sailor 'fine' and about equivalent to an Aurora fine or Western XF.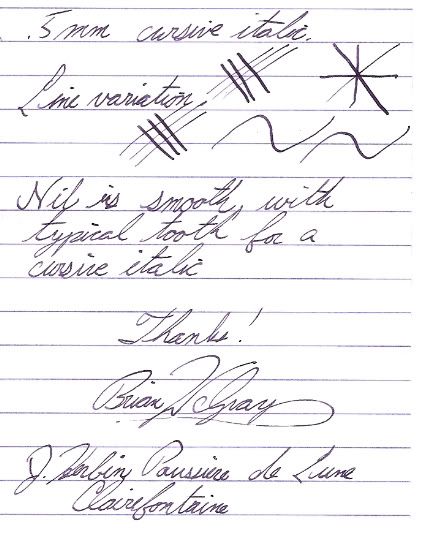 Filling System
(9)
I went for the bulb filler for the capacious ink capacity and the option of a translucent barrel which adds a pragmatic uniqueness to the pen. This was 100US extra and Brian can do single, double ink windows or the translucent barrel or no ink window at all.
There is a youtube video of the bulb filler on the Edison webpage.
You simply dunk the nib into the ink. One could think Iroshizuku ink bottles were designed for the Edison. Press the bulb, wait for ink to fill and then repeat until full. It is slower than a piston but fun to watch and works well.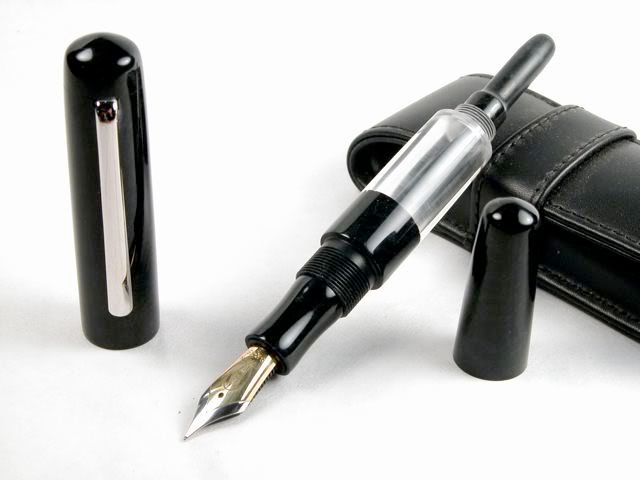 Cost and Value
(8)
For the cost of the pen, you get personalised service and a top tier customised pen to your liking. The options do add significantly to the cost but you do get whatever you like. Celluloid, the gold nib, custom grinding and bulb filler all add up to the total. It is an individualised decision but for me, worth it. The only caveat is you do not get to hold and feel the pen prior to purchase, especially if you live on the other side of the globe. His service is impeccable and he offers to rebuff the pen at any stage in the future should you scratch it.
There is an option for extra nibs as they are interchageable. The steel nibs are only 12USD, gold about 100USD.
Brian did include a note to ask for anything he could improve upon and feedback. I would suggest polishing the inner rim of th cap and blind end to improve the overall finish. A spring loaded clip may be nice. But most of all, I would suggest in the bulb filler to polish the inside of the actual ink chamber similar to the Visconti Opera Master Demo. My ink chamber is quite roughly finished and there is a scratch that shows, even with some ink in the pen. However, I do like my new Edison enough not to want to return the pen by any means.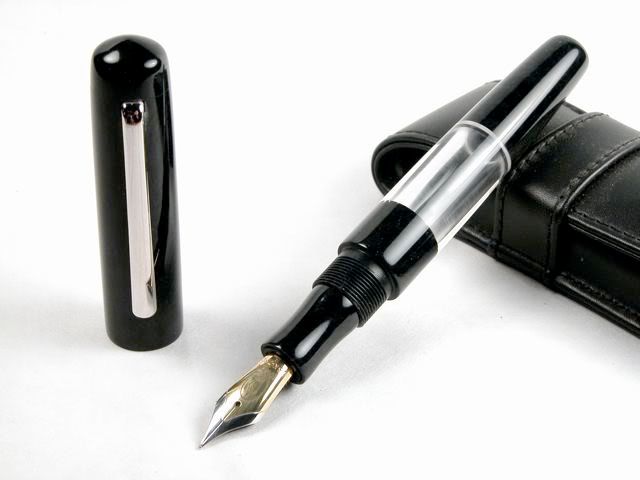 Conclusion
(9)
A beautiful bulb filler, custom made to my preferences. Modern celluloid and hand finished. A daily user for me and recommended for anybody else.
I have mine very happily inked with Iroshizuku ku-jaku and in my pocket. And mmm... I still occasionally sniff the celluloid. It's a wonderful pen.
Edited by tanalasta, 10 May 2010 - 08:43.