This is the third Binder nib I've tried, each one traded in (not literally, money was exchanged) for the next. I began with an M605 and an XF full flex, went to an XXXF Waverly with no flex, and then decided I actually prefer a thinner pen and wanted more flex, so I sold that and paid a bit more to make my most expensive pen even more expensive, and here I am with this lovely M205 with an XXXF Full Flex.

The Pen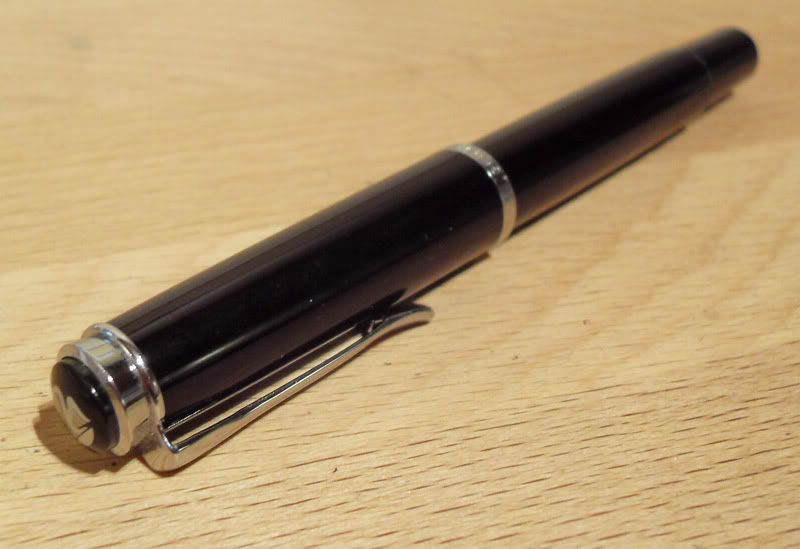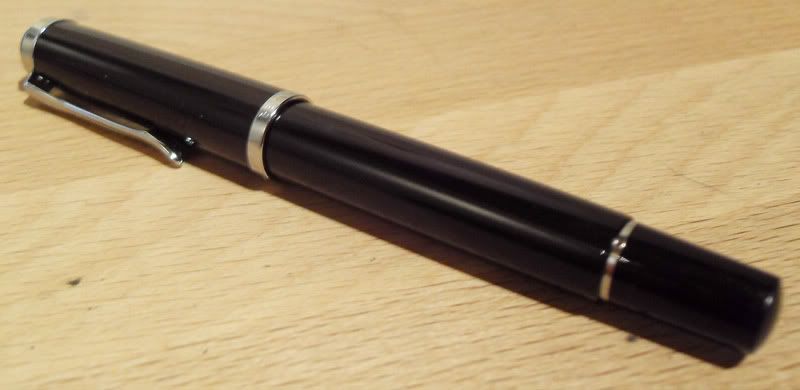 I like silver trim. Far more than gold. The arrival of the M205 really encouraged my want of this pen and nib combo, and upon its arrival I was not disappointed. Crown, clip, one wide caplip band and one thin piston knob band - the perfect, tasteful amount of furniture. When posted, the metal of the nib balances with the metal of the cap (just realized I forgot a posted photo). Though the shape is not beautiful to me, this Pelikan is one of the most visually satisfying pens I own. Simple, clean, classic. Another visual plus the M205 offered is the gray ink window. That green is just not my style.
Filling System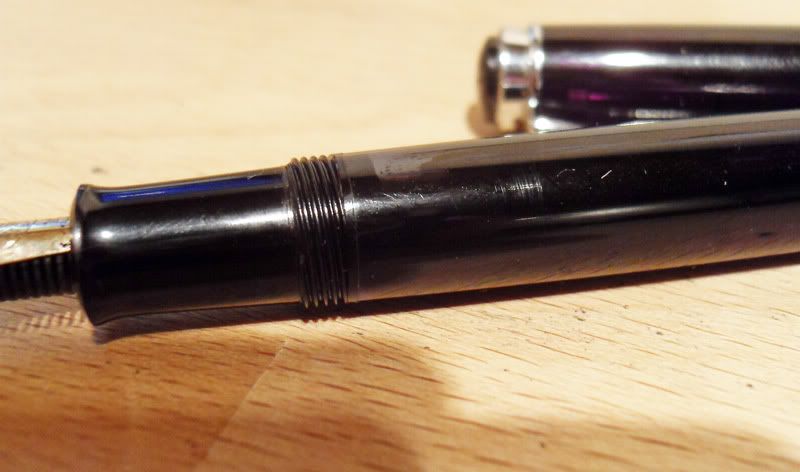 Piston filler - smooth and easy. The flex nib uses much more ink than I'm used to (I don't think I ever ran the Waverly nib dry) but the barrel holds plenty of resource for it. No noticeable difference in flow until a few strokes before empty. The best system for a pen you want the same ink in for a long period of time (with other pens I like to switch often, and enjoy c/c fillers, but as this is my semi-grail and always-there pen I want it consistent).
The Nib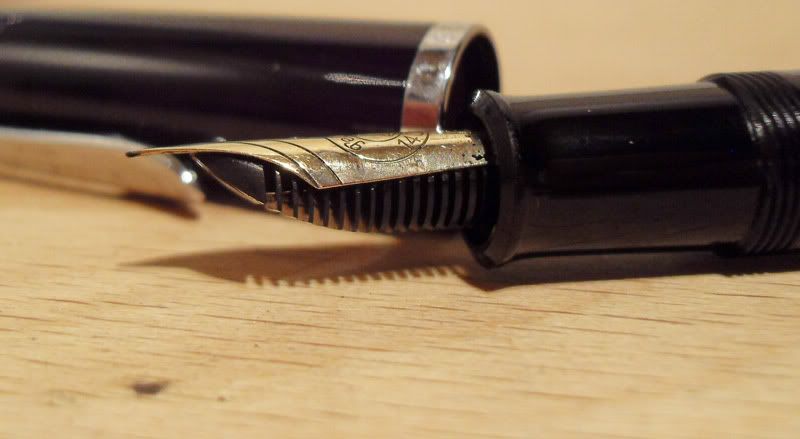 The real reason this pen is in my possession: I finally decided I was ready to appreciate and enjoy a full flex nib. As mentioned already, the flow stays consistent to almost the last drop, and in normal use is perfect for both pressure-less XXXF writing and flex. My preferred ink, Noodler's OMB, is completely black in both the finest and thickest stroke. Unless it's empty, I never experience hollow flexed strokes.
The nib is smoother than the Waverly, which was an M600 size nib, if only slightly, and as smooth as such a fine nib could be, I think. I haven't had anything else to compare it to yet. No catching experienced. The pressure required to flex is comfortable, it isn't so soft to prevent consistent tiny writing, but not too stiff to be inhibiting or unnerving. Definitely not a vintage feel, but it's not a vintage pen, and that's not necessarily a negative.
Price and Conclusion
I believe the total cost was around $260. I would probably prefer having two $130 vintage flexers, or one $100-$200 one (especially in woodgrain RHR!), but until I go to a pen show and am able to try some out, I'm much happier having a pen I know is exactly what I want. I love using it everyday, and do use it nearly everyday for notes, sketches, doodles, and anything, really. A great pen, and compliments to Richard Binder for winning over another satisfied customer.