Mont Blanc
Mozart
Ball Point Pen Review
Hi all,
I got this pen for my sister's birthday and since it is still setting on my desk I decided to do a little review on it.
The
Mozart
collection consists of the smallest pens in the Mont Blanc collections. These pens are often known as the pocket pen. They work well with small notebooks or organizers. Personally I prefer larger pen, such as the 146 or the 149, but this pen can be one of those "on the go" pen. I can carry this in the back of my jean pocket without worrying crushing the body.
Measurement:
Length: 10.6 cm (4.2 inches)
Girth: 1 cm (.5 inches)
Body:
It is made from black resin and has platinum trim. Even though the pen is small it is well made. In another word, this pen does not feel flimsy. It is a user pen not just for show.
Weight:
It is actually pretty heavy considering its small size. I think the weight is due to the metal rings inserted inside the barrel near the middle of the pen and the solid steel mechanism that holds the refill.
Conclusion:
MSRP: $350 ( the gold version is $335)
Will I ever buy this pen? Properly not, but it is not because it is not a well made but because I just don't use ballpoint pen and it is too small for my taste.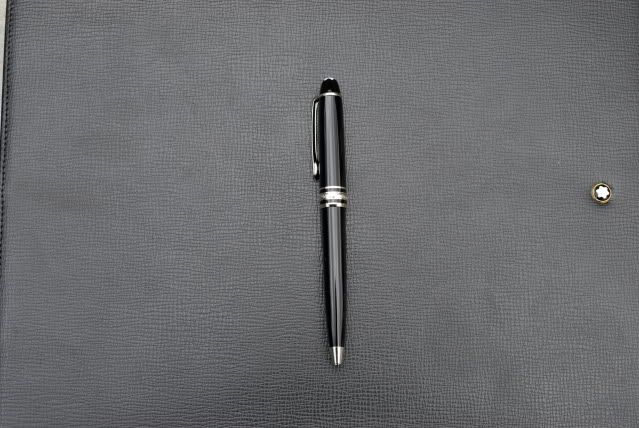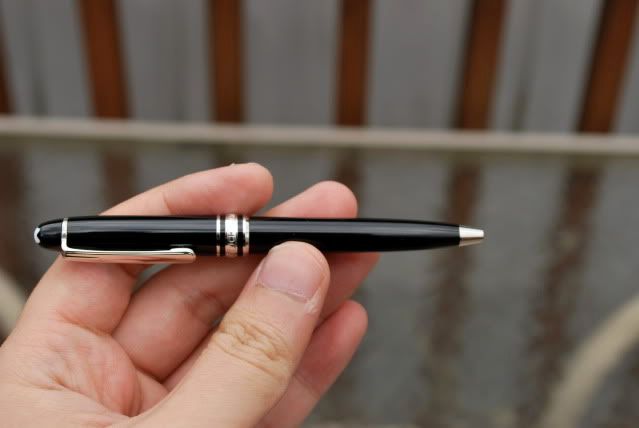 Next to my 149