The New Chilton Pen Company Wingflow review
So I am pretty excited to see a reissue of the Chilton Pen company. True, the first offerings have received mixed reviews from several Chilton collectors, but let's face it, the Wingflow I tested, is not the wingflow of the past. Really, is that a bad thing? NO. I got to say, as I waited, eager, and excited, to receive my Wingflow, I kind of had to keep myself in check as to not consider this pen great, without really giving it a fair shake. I will start out saying that I am not a new pen guy, I prefer vintage, thru and thru.
Well, what did I think? Here goes, my first pen review…..
Packaging…
While I have bought several new pens, the packaging ranges from all spectrums. Clearly this is not a high end limited edition packaging, you might find with a writer's series Mont Blanc, but it was well executed, nice, and simple. The metal/foil label apply on the clamshell box, with the vintage throwback logo, is a nice touch. Not extravagant, quite functional, and you don't have the feeling that the price you pay for the pen is in part, packaging.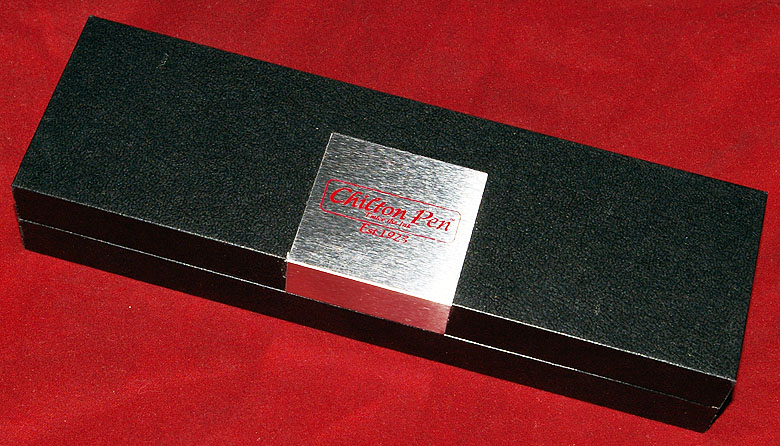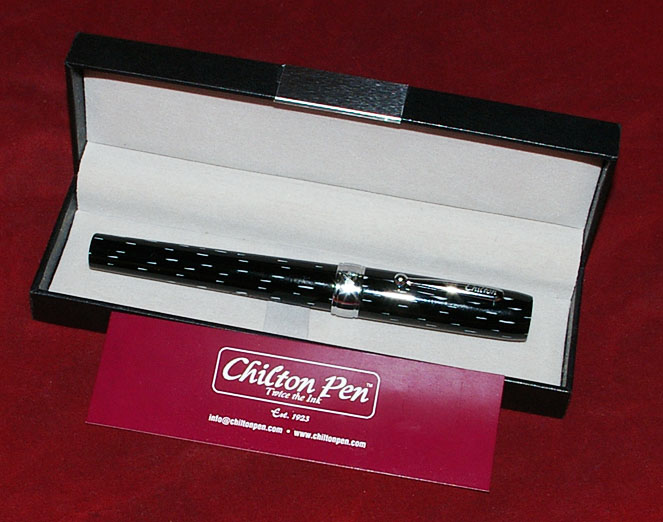 Style and Execution…
So the original wingflow had gold filled inlay, in several styles, wraparound gold nib, and pneumatic filler. This pen does not. What it does offer, is a hint of the past, with the choice in plastics used. I like the material, I find it quite interesting. I spent a great deal of time spinning it around, admiring the material, and it's individual unique pattern, much like I do with a vintage pen from the 30's. Material seems durable, and solid. The trim is simple, and well executed. Stylized script, on the band, matches the Wingflow script used to originally promote the line in 1935.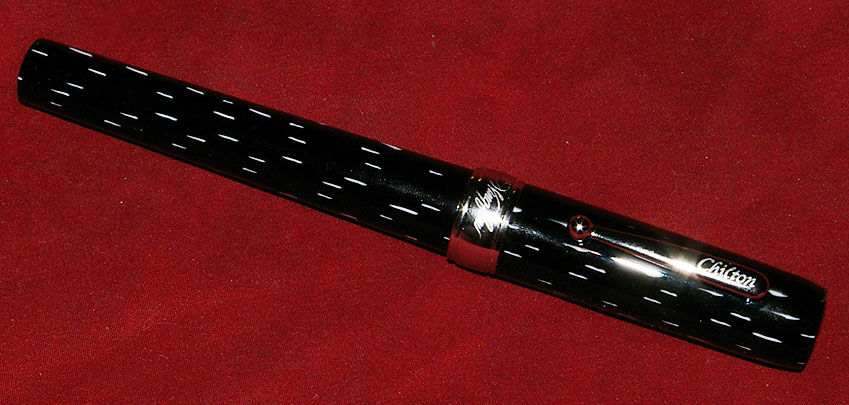 The clip is clean, and not strange. I have seen some strange clips on a lot of modern pens, believe me, simple, and clean is something I like. The pen has a stylized imprint, on the barrel, what I found awkward, about the imprint, it seemed too low on the barrel. Also, what I notices, is the person that put the imprint on , and did the clip, must be lefthanded (thank you!) not for the rest of you, but the imprint and clip script is done for lefthanders, just something I noticed.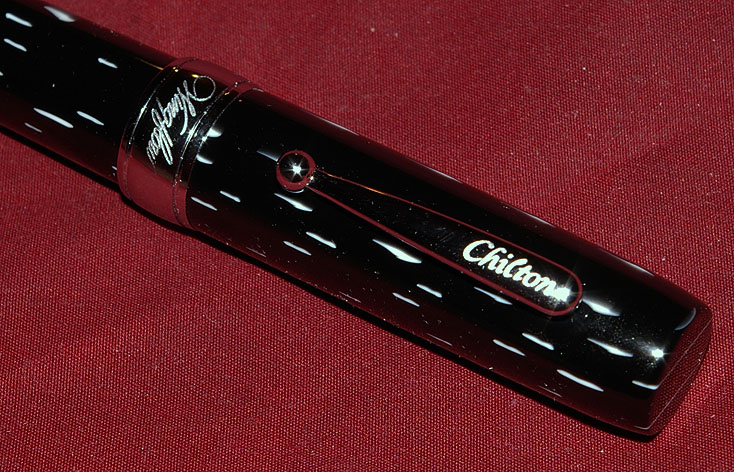 The nib is a product of Germany, mine is equipped with a Medium point. Steel alloy nib, yeah, not a wraparound, winged nib, but good, this one won't break, and might last into the next decade. The nib and feed are attached to a standard converter, that fills nice and clean.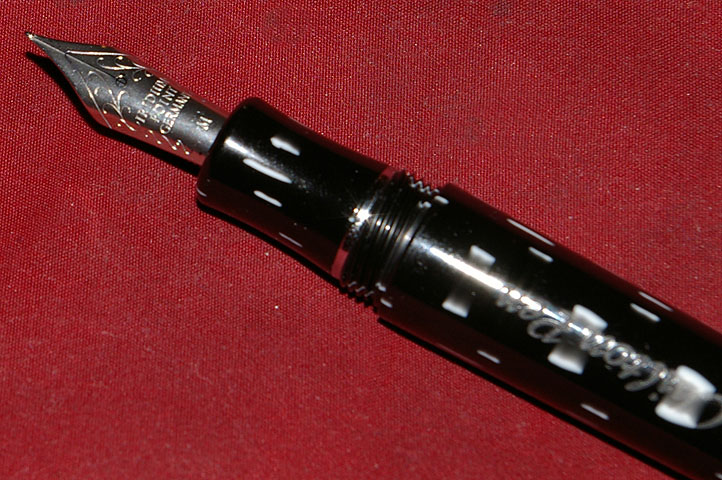 Writing and Overall Value…
So how does this thing write? Great! There is one aspect of a new pen that is the deal maker or breaker. I filled this thing from dry, wiped the excess ink, and put point to paper, wrote a terrific clean line right away, no coaxing, no tapping, no dipping. That made me happy. I have been writing with this thing for days now, since receiving it, I even allowed a few of my coworkers to write with it, and they all seemed to like it. My only complaint, is wow, I would love a wider point, maybe a broad, would suit my hand. It writes a nice medium line, but I think anymore, I lean to a broad line.
This pen is nicely sized, it is no baby. It has a nice feel, nice heft, unbelievable balance, with the cap posted. My thoughts for a future idea, is make this pen, two thirds the size, I think someone like my wife would opt for a smaller version of this, maybe two thirds sized. Go figure, this is the stuff you think of when you look at a pen for review I suppose. Hey, I'm 6'7" and 300 pounds, a large pen is perfect for me, not everyone.
Overall, considering what this thing is on the market for, $99 from several retailers, I think it offers a lot of "bang for the buck". Terrific looks, nice balance, and trouble free writing, what else can you ask for? I am excited to see what else is in store for us from the restart of the Chilton Pen company.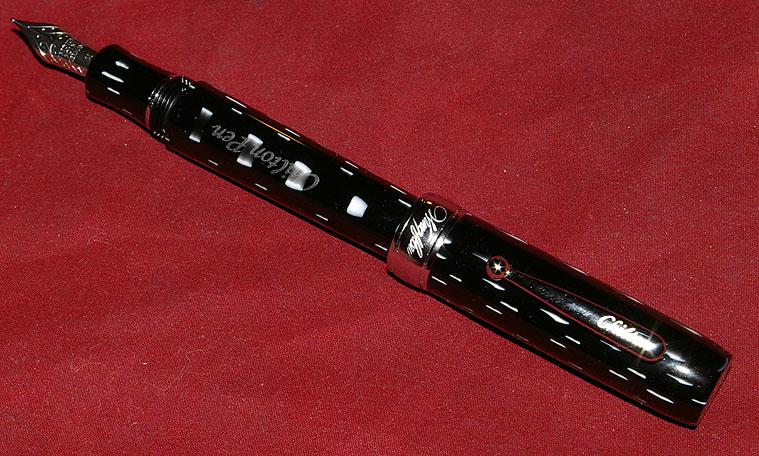 Thanks all for taking time to read thru this review. It is my first attempt at something like this, and I hope that someone finds it useful.
Take Care!
Rick