I almost didn't write this review, simply because the Edison Pearl has a number of reviews already, and I agree most of them. But when I like a pen this much, I feel honor-bound to review it, so here goes.
Pre-Sale (5/5)
Purchasing a pen from Brian Gray is not like buying a book on amazon. You don't just drop the item in your shopping cart and "proceed to checkout." Buying an Edison involves a conversation between the customer and a tremendously knowledgeable and thoughtful vendor and artisan. In my case, this involved discussion of nib size, flow issues, and color of the material. Brian takes great care to understand exactly what the customer wants.
First Impressions (5/5)
The pen arrived neatly and efficiently packaged. It came in a nice little understated leather-covered box. I really appreciate the minimal packaging, which appeals to my environmental concerns. I also like the simplicity and reasonable size of the box. Overdone packaging on high-end pens (e.g., Visconti) often makes me giggle, which I don't think is the reaction the pen company is going for.
Appearance (5/5)
Brian had sent me pictures of the pen (like this one):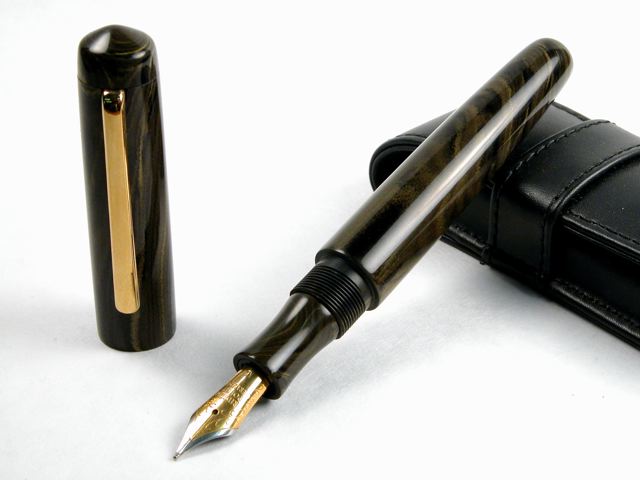 so I already generally knew how it would look, but it looks so much better in real life. The complexity of the olive and black ebonite is difficult to capture with a camera. The lighter parts really shine and give a depth to the surface that just doesn't come through in a two-dimensional image. But here are a couple attempts: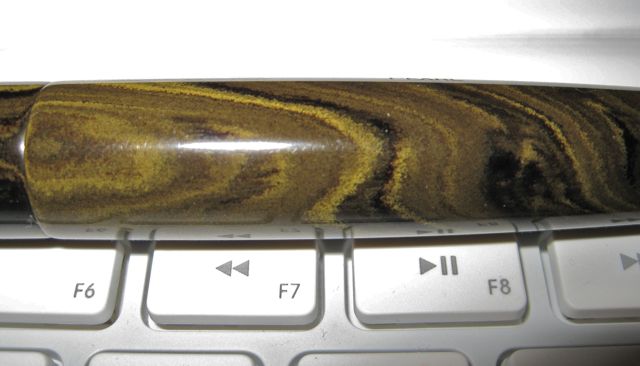 The shape of the pen is beautifully simple, similar to the Nakaya Piccolo. I opted for the gold clip, which I think nicely complements the olive.
Design/Size/Weight (5/5)
When I first opened the box, I thought the pen looked awfully big. It's larger than most of my other pens and is almost as long as my Pelikan M800, and bigger in diameter. It's quite light, though, so when I'm writing with it, it doesn't really feel like a big pen.
Uncapped, the pen doesn't look like it would be comfortable to hold. There's a very wide band of threads and then that funny little step just above them. None of this matters in the slightest, because my fingers pretty much stay on the section, which has a concave profile that makes it very comfortable. The cap doesn't post, which is a little strange, but why would I want to post the cap on a pen this size anyway?
I guess I'll say a word here about the ebonite scent, which might bother some people. As Brian notes on his excellent
essay on pen materials
, new ebonite has a "sulfuric" smell. I wouldn't say that it's a pleasant smell, but I don't find it offensive. In fact, since none of my other pens smell like anything, I find it kind of interesting to have an addition sense engaged when I'm using a fountain pen.
Nib (5/5)
The nib is a 0.9 mm cursive italic and is just remarkable.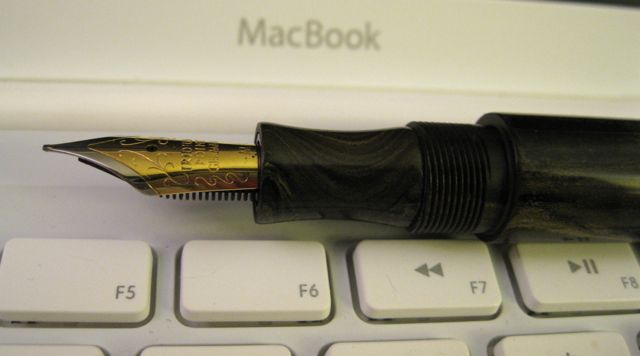 It shows a rare combination of smoothness and crispness. It can do small formal italic perfectly (or at least it could if I could), but it's also smooth enough for normal writing. It's a steel nib, and I can't imagine it being any better if it were gold. (I'm a bit unorthodox on the steel vs. gold question--I actually prefer steel.)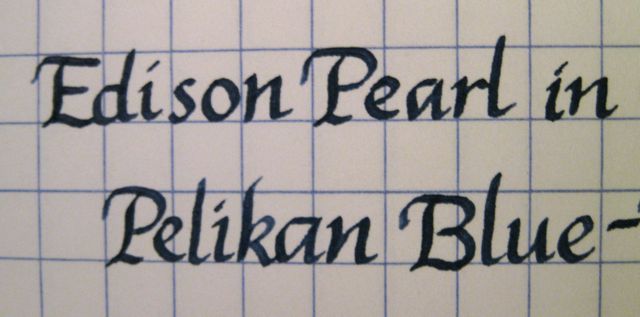 In the past I've had some flow issues with italic nibs. I mentioned this to Brian and he tweaked the nib to make it a little on the wet side. When I got the pen, I decided I'd try it out with Pelikan Blue-Black, one of my favorite inks, but a little too dry for some pens. Even with this dry ink, there was no skipping! Perfect performance!
Filling System (3/5)
I opted for the cartridge/converter system. Brian's
bulb filling system
(oh, wait...Edison...bulb
) looks seriously cool, but not quite cool enough to pay an extra $100 for.
Cost and Value (4/5)
Obviously, notions of what is "expensive" within the fountain pen community vary widely. To give you an idea of my usual standards, I have only once payed more than $300 for a pen (and that wasn't much more). A quick calculation on my spreadsheet of pens shows that my average pen cost is $178. So for me, anything in Brian's catalog qualifies as an expensive pen. This one cost $290, and that's going with the less expensive options of a steel nib and a c/c filling system (but also paying an additional $40 for a custom nib). But, come on, we're talking about a custom-made piece of work by a modern fountain pen artist. So I'm calling it a bargain.
Edited by anaximander, 11 April 2010 - 14:36.