Pelikan M605 Cursive Italic Nib
I bought the pen in Dortmund in December, very excited to have finally scooped one of the famous €99 Pelikans. There are quite a few of these still left in Galeria Kaufhaus (I saw more in Frankfurt a couple of weeks later) and was seriously tempted to buy a few for resale (at cost) on FPN.
The pen as it came was a wet medium, and was remarkably reminiscent of writing with a Sharpie—albeit one with a pleasing semi-italic nature. I sent it off to Hanover after checking that a nib exchange was possible, and got it back remarkably quickly—exactly a week from Glasgow to Germany and back. As someone who travels quite often to Germany, this was faster than I managed to make a similar trip during the Christmas slowdown this year!
However, there was a snag. The snag was that the nib had not been changed. With the pen came a rather nice note explaining that the pen had been tested and was functioning perfectly, therefore hadn't been repaired. I was a bit confused, since I had enclosed a very polite letter explaining what I wanted done as well as a copy of the email correspondence. Hmmmm.
I now had a choice. Send it back AGAIN to Germany, or take it as a sign that perhaps more imagination was needed. I went with the second and arranged to send the pen to FPN member Oxonian to get some character put into the nib. We agreed on "sort of a cursive italic, that writes a bit like a Pilot Pluminix" (I do realise that this is like buying a Ferrari and asking it to be made to perform like a 14 year old Fiat Panda, but you know what I mean). John expressed his hope that he could do something interesting, and off it went.
This is a review of the result . . .

Appearance & Design (8) – If you like this kind of thing . . .
The modern Pelikans seem to me (please don't flame me!) a wee bit uninspired in design. Now, Pelikans are one of my two or three favourite brands of pen, but that's because of how they write (especially the 1950s 14K nibs) rather than looks. Even the less blingy ones (like my dear departed M805) seem a little ostentatious, somehow. There are many more expensive pens that are less, well, sort of "mid-European bank manager-ish" (apologies to all the readers who work for Credit Suisse and ride a blacked out mountain bike to work). Of course, classic Pelikans are even more ludicrously colourful, but manage to carry it off with a devil may care swagger . . .
To contextualise this, I LOVE the looks of Lamy 2000s, but the 605 is more comfortable due to my big paws.
To return to the point, the M605 is a rich dark blue that does not photograph easily, but that is extremely attractive in reality. It is darker than it looks in the photos, and contrasts very nicely with the silver trim. Of all the current production Pelikans, excluding LEs, this pen is one of the most handsome. Yes, it's the same as the rest of the 05 series in terms of being a dark colour with metal trim, but somehow looks more of a piece.
Some folk have commented that the pen looks very plasticky. I suppose it does—it's made of plastic. But in my view it looks exactly as plasticky as the rest of the 05 line—that is, not much!
So overall, not setting the world on fire, but a very fine looking pen.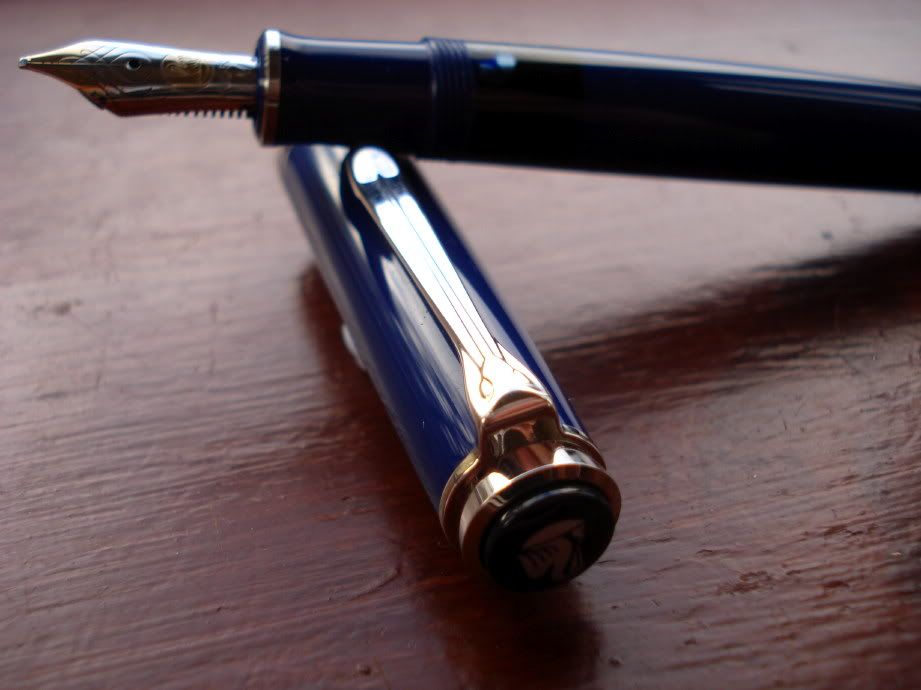 Construction & Quality (10) – Built like a brick

This pen could not be put together better. It is solid and everything (well, the cap and turning knob!) fits perfectly. The trim is flawless and the piston is a joy to use. Excellent.
Weight & Dimensions (10) – Great size and comfortable weight
This pen does not feel at all like an M800 nor an M400. Goldilocks would like this one! I was one of the folk who find M800s a bit odd in my hand because of the weight, though I generally like the size. The 605 is a little smaller and is more like a standard pen size. I find it comfortable posted or not, and probably preferred it posted to allow more control of the nib initially but have now changed my mind!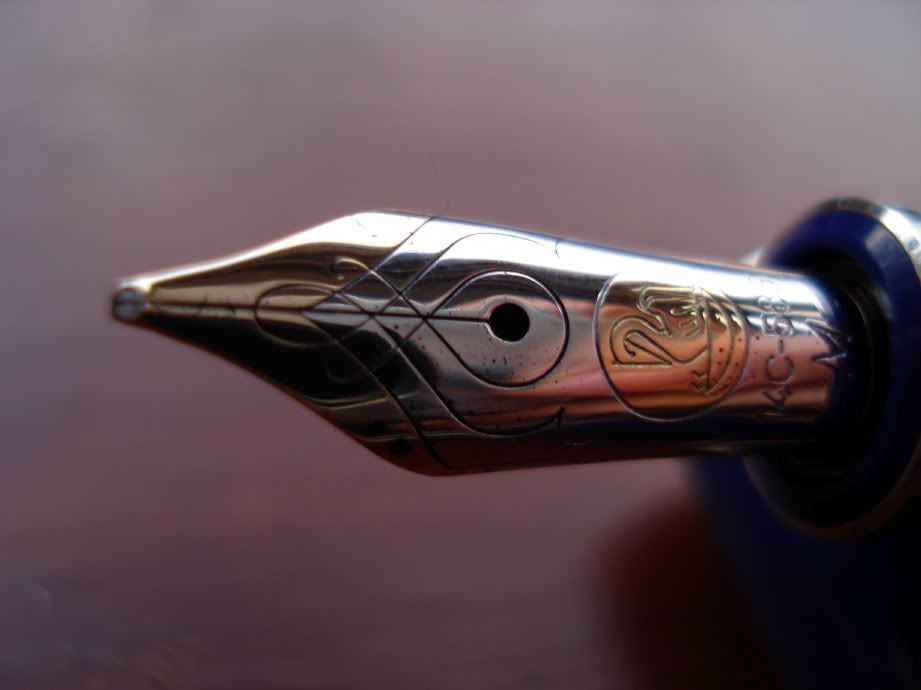 Nib & Performance (10) - Astonishing
This is an awesome nib, beautifully modified by John (Oxonian). It likes Pelikan inks best, and provides a great, lively line. Works well on Rhodia (but what doesn't) as well as cheap out-of-the-recycling paper. The proportions of vertical and horizontal lines are very nice indeed. It gives character to my rather dreadful handwriting, so at least it is now characterfully dreadful . . .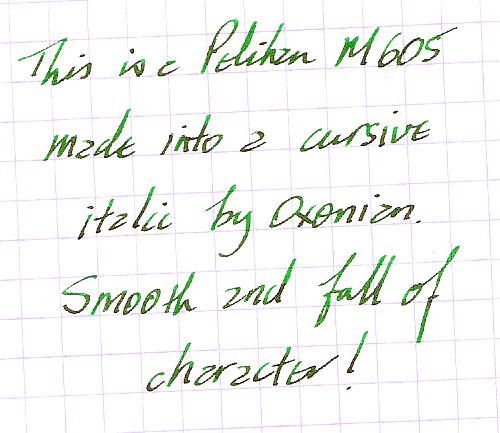 Filling System & Maintenance (10) - Classic reliable piston filler

Pelikan piston filler. What else to say? Tons of ink, and it just works. I like these fillers so much that I'm changing my collecting direction to be all German (and maybe Italian?) piston fillers. They just do the job neatly and elegantly.
Cost & Value (10) – Thanks Galeria!
I bought this pen from Galeria Kaufhof in Dortmund, and wish I'd bought another. The nib modification was carried out at reasonable cost, though not cheap, and was worth every penny. Overall, for what I paid in total I am extremely satisfied. I have had much more expensive pens give me much less pleasure and satisfaction.
Conclusion (Final score: 9.7)
It's a great looking, wonderfully writing workhorse.
Ralf