I would like to review my experience with a Rebecca Moss Robusto pen.
I didn't know anything about this pen or company. The site (www.rebeccamoss.com) claims that the owner and designer, Sam Zagoory, is "ranked number one in the pen industry." I had no knowledge of this claim before I bought the pen, and have no way assessing its truth. Outside of the website, I have never heard of this guy.
The store in which I bought the pen was discontinuing this company's products. The pen lists at $175 on the web site. I bought it for $95. It was an impulse purchase.
First Impressions:
It is an attractive pen, and that is why I bought it. I knew nothing about the pen, the company, its reputation or anything about its writing ability. Basically, I was trying out something new. The pen came in an uninspired box with no accompanying literature.
Appearance:
The pen I bought is a tortoise-shell pattern design with "pink gold" accents. It has a modern, sleek, contemporary look, yet is fairly conventional in its appearance. It won't stand out like a bizarre Krone will. Being a conventional guy, I rate its appearance
16/20
.
Design:
It has a nib that wraps around the sides a bit, which gives it a unique appearance; however, I'm not sure how that affects its functionality, if it does at all. It's a heavy pen when capped. A lot of that weight is in the cap, so I don't feel that it is excessively heavy when writing uncapped, and is comfortable in my hand. I have a preference for heavier pens, though. The clip is spring loaded to give a firm hold in your shirt pocket. I like that feature, and I suspect that is what adds weight to the cap.
However, I suspect the matierals are not first quality. I dropped the pen and the metal on the cap chipped/flaked badly. Furthermore, after only a few uses, the nib detached from the collecting system! It doesn't seem to have broken off, but just whatever glue or adhesive they used to secure the nib just isn't very secure!
3/20Nib design/performance
: The nib is moderately toothy. It's a little springier than many modern nibs, but despite that, I don't seem to get a lot of line variation when writing. The quality of adhesive matierials are addressed above. Unfortunately, since it came apart before I had it very long, I am unable to comment upon its perforance when left used for a while. I hadn't noticed a lot of skipping in my short use.
7/20Filling system:
It has a converter/cartridge system and uses Waterman-type cartridges. I've been using Waterman Black ink and have experienced no leakage. The capacity of the converter is average to large for a modern converter.
16/20Cost/Value:
It's a moderately pricey pen. I got it for less than its list value. At its list value, I certainly think that the materials, performance and support do not justify its price. I tried to contact the company to see about repair of my cap and nib. The contact links on their webpage are nonfunctional as of this writing. I called the number listed. They will not/cannot repair the cap (even at a charge, which I would expect to pay since I dropped it), nor will they sell me a replacement cap. They have agreed to repair the nib, however. For this price, I would expect a pen nib not to come apart when I use it. This suggests to me that they are using inferior materials/workmanship.
6/20Overall opinion/conclusion:
I am unhappy with the purchase. It is an attractive pen, but with shoddy materials and support. As I peruse the Rebecca Moss Website, I am reminded of the feelings of MontBlanc detractors. Rebecca Moss seems to be trying to position themselves as a luxury brand, rather than true fountain pen craftsmen. Although I personally like (and own) MB pens, detractors feel that MB has lost their way in recent times (I do not agree, but I see their points). However, even the MB detractors admit that MB made quality pens in their heyday. In contrast, Rebecca Moss seems to be trying to propel themselves into a luxury brand without ever proving themselves by making quality writing instruments in the first place. Based on my personal experience, it is all hype and marketing without even having a HISTORY of quality.
Would I buy a Rebecca Moss pen again? Absolutely not.
Overall score:
48/100
(image below from the Rebecca Moss site)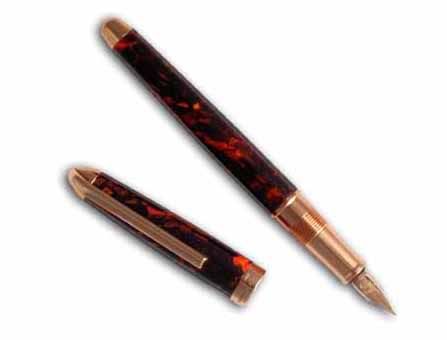 (post modified to correct the total)
Edited by kenny, 27 August 2006 - 18:58.