First Impressions
5/5
Yes, I did have Easter dinner with my kids, but now that I am home, I thought it would be appropriate to review a pen that was right at home in my pocket for this holiday.
This was my first Edison so be kind if you've heard all of this before. Buying (i.e. ordering) a pen from Brian Gray of Edison is unlike any other experience I have had. More on that later.
The first surprise I received when I opened the package was that it actually came in an Edison Pen box. I had always heard that they came in plastic tubes. Sorry, but I forgot to include a shot of the box.
I like all of Brian's designs, but when I first saw the Huron in the Lavender Ebonite, something just clicked. I am a big ebonite fan, but I had never seen a color like this. I was worried that it might be a little feminine, but then after seeing the way it looked on the Huron, I threw caution to the wind and decided to order it with the bulb filler, a clear window (Brian's suggestion since he said that most of the tinted plastics didn't quite work with it; I agreed), and an 18k nib customized to a .9 stub.
The first picture shows it as being pinker than it really is. In reality it actually has a little gray in it, and is much more subdued The subsequent photos do a better job. I especially love the little black specks in the ebonite. There is no pen I own with a transparent body that is as stunning when it is filled with ink.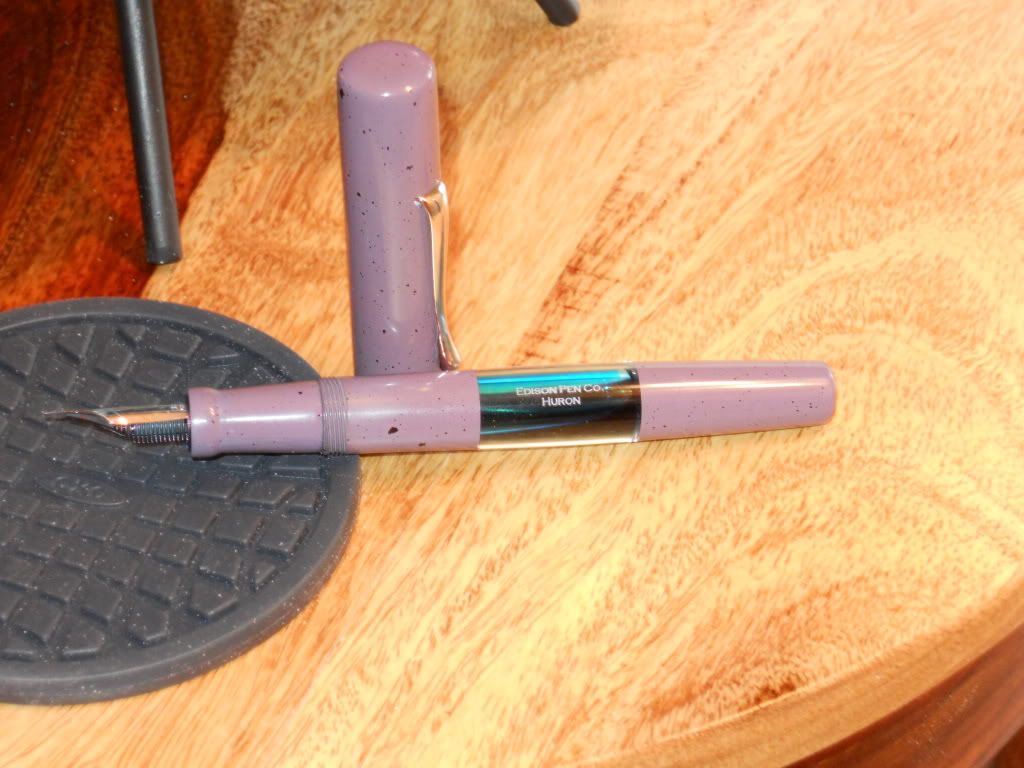 Filling System
4.5/5
It is a bulb filling system, and since this pen holds so much ink, I can't comment on how easy it is to clean (haven't use the first fill up yet), but I really enjoy the bulb system. In addition to being unique, it is fun to watch the ink incrementally fill the barrel.
Brian said that should this fail, it is very easy to replace.
Others might not like this system, but I happen to love it.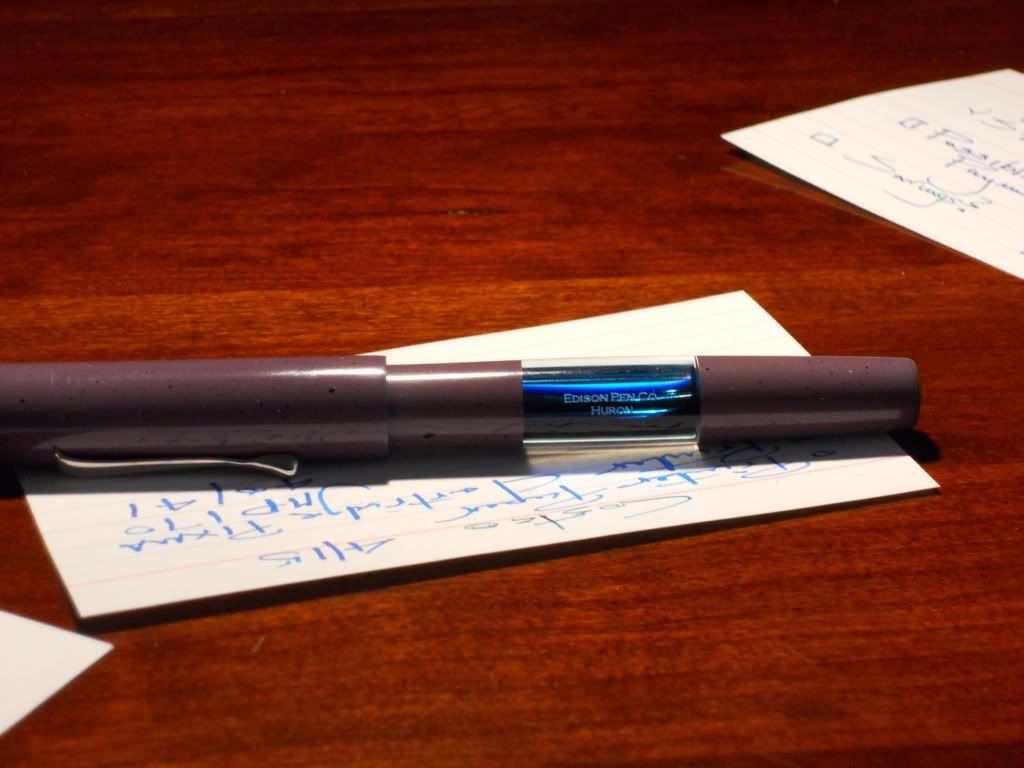 Construction
5/5
One of the more unique aspects of Brian's pens is that he will let you watch your pen being built via two webcams. This turned out to be almost as much fun as getting the pen (but not quite).
He has a fan club of people that tune in just to watch pens being made. He will also instant message with you in between work sessions.
I was under the impression that he would use an fully automated CNC machine, stick some stock ebonite in it and come back later with a fully finished pen. Nothing of the sort; he will turn each piece little by little (and I had to admit that some times I didn't have a clue which part he was making). You can watch his face grimace as he finesses each little piece, fitting and refitting parts together.
He will periodically come over to the keyboard and tell you what he plans to do next ('the next piece I will be working on for your pen is the section').
After watching the transparent section being made it is easy to see where the cost comes in. It is fairly labor intensive, but great to watch.
My pen was finished over the course of two days (obviously he is working on other pens at the same time). At the end of the process, he will place the finished pen on his lathe (I'm assuming that is what it is), and let you see how the entire pen came together. A day or two later he engraves it (I have heard this is optional, but I love the way the white lettering looks on the barrel, contrasting with the ink color).
This is a long winded build up to get the actual construction of the pen which is fabulous. The finish of the ebonite is perfect, as good as any mass produced pen I own, all of the seams line up, and the joins are imperceptable, and I just have to say that this is one stunning pen. It could be my impeccable taste in choosing the options, or it might just have something to do with Brian's workmanship.
Nib
5/5
This is an area where we talked quite a bit. I was a little aprehensive in having someone that builds the pen customise the nib. I have been moving into fine stubs more and more, and asked for a .9 stub. I was a little worried that it might be too thick (I normally use fines), and he suggested that we start with this, and if it was not right he would trim it down. As he said 'he can take away, but not add if it is not correct, which means the cost of a new nib'.
I filled the pen, and one of the first things I look for is if you have spend a lot of time priming the pen. This just flowed with the first touch to paper. So much so that I thought it might be a little too wide for me.
One of the things that he includes is a writing sample showing how it looks with your specifications. It was written with Sailor ink on Rhodia paper and just looked perfect (BTW I wish I had Brian's handwriting).
I am a cheap guy, so I just tend to use the paper I get at work which is a looser weave than the Rhodia. I took the pen and touched a little to his sample and saw the same line and flow. It was obvious that it was optimized for fine paper, which is okay with me. Had the flow been less, it would probably have been too dry for the different kinds of paper I write with.
Once again, he was right on target.
I guess you can build
and
tune a pen.. (but you can't tuna fish...sorry, old joke).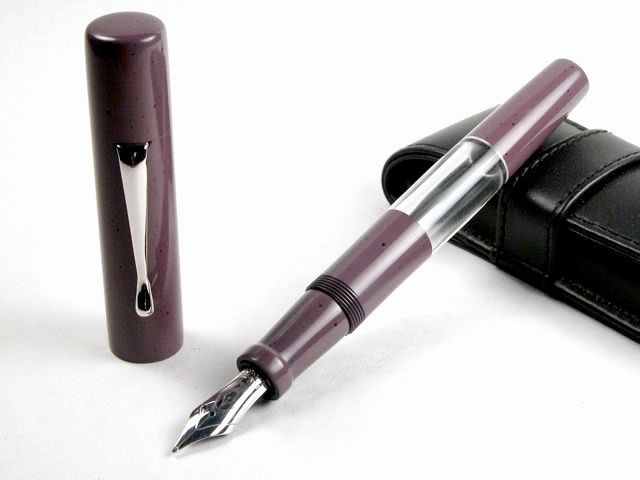 Value
5/5
To get this level of customization, perfection in build quality and writing ability, and the enjoyment of watching it come to life is something you won't find anywhere else. These pens are great values, and if you are less than thrilled with your's you must have made the wrong choices.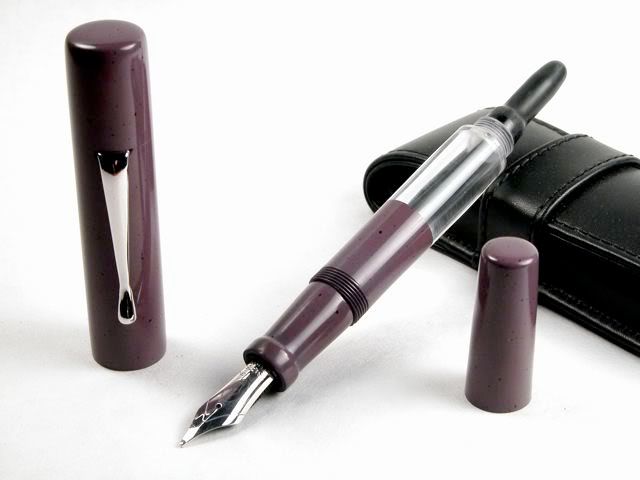 Conclusions:
5/5
I have said enough. In addition to building a wonderful product, Brian has cleverly found a niche in fountain pens that didn't exist before.
One final touch is that after the pen was finished, he sent me an email with three pictures of the finished product, using the same vignettes he uses on his website. The last three are what the pen really looks like.
A great pen, and it won't be my last. I have my eye on a Herald....