Kindly adjust the brightness & contrast of your monitor to accurately depict this Gray Scale.

As the patches are neutral gray, the colour on your monitor should also be neutral.


Figure 1.



Figure 2.

HP 1124 24 lb. Laser Copy paper.
Swab & Drawn Swatches
Scale
Written samples: A selection from Treasure Island was transcribbled.
* Note: It appears that a selection from McCarthy's
The Road
might've been more appropriate.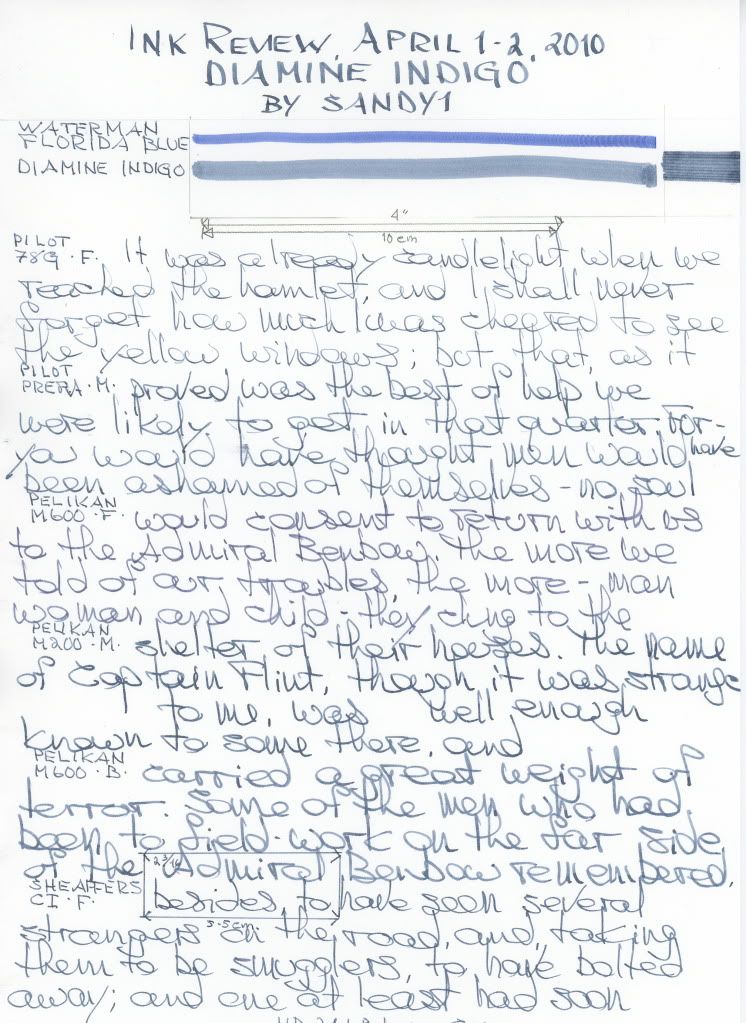 Figure 2A.
Rigid-Firm nibs only.
To other Esti fans: I spilled the beans!
HP 1124 24 lb. Laser Copy paper.
Written samples: A selection from Double Tap by S. Martini.
Figure 3
Clairefontaine 'Triomphe' paper.
Written samples: Treasure Island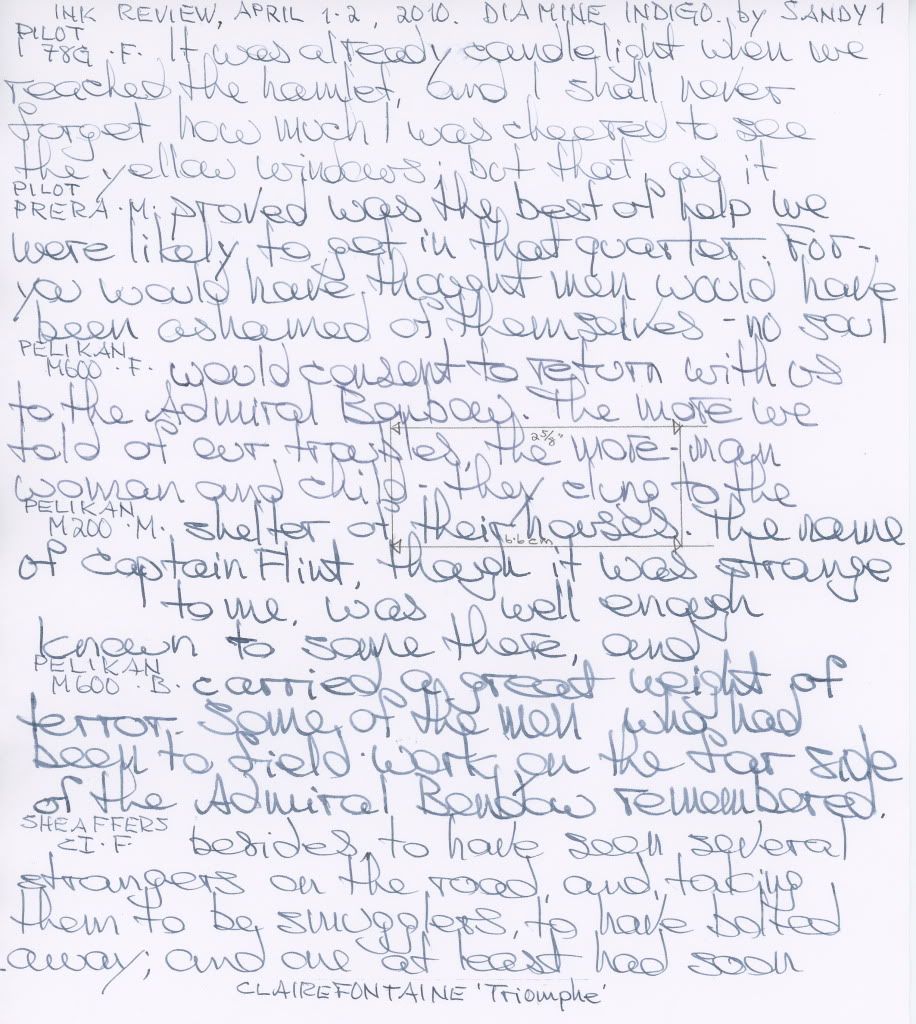 Figure 4
Rhodia Lined paper.
Written samples: Treasure Island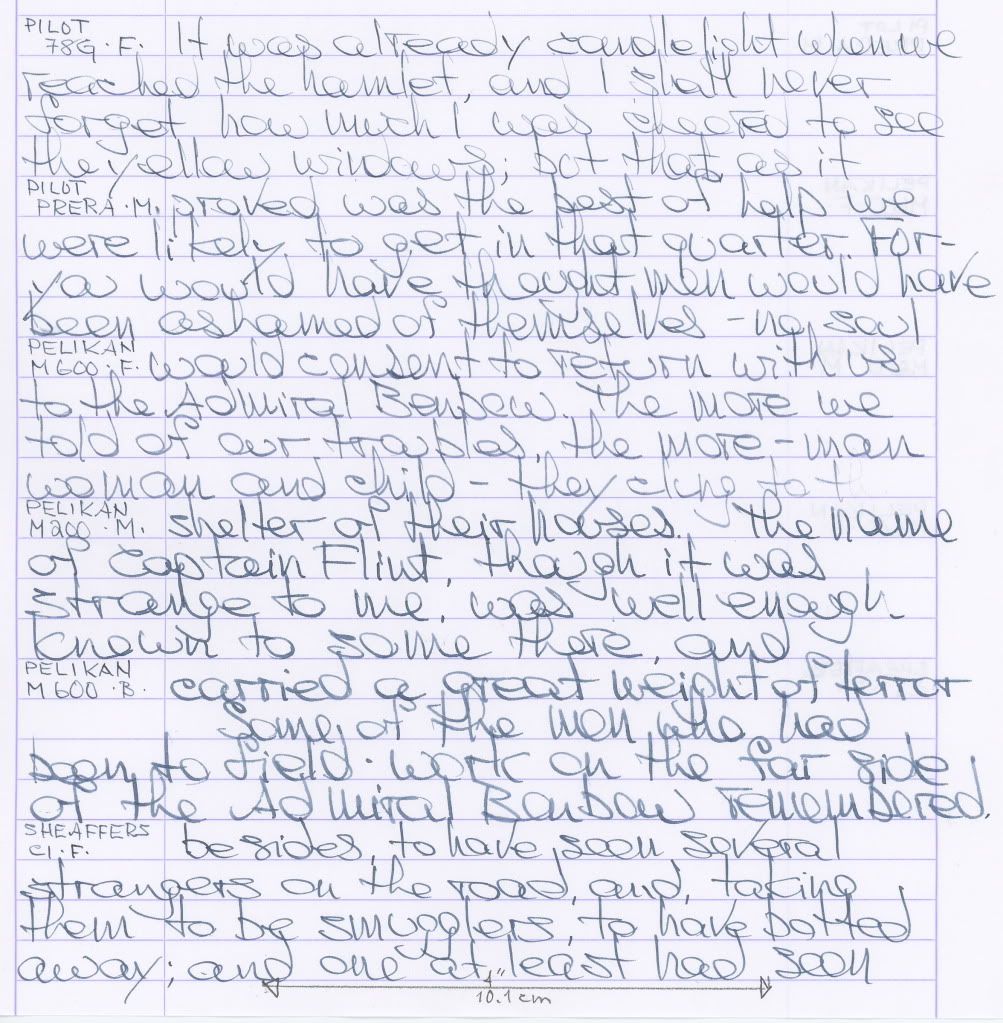 Figure 5
Pulp paper from a one-a-day cartoon calendar.
Written sample: Grocery list
Figure 6
Boxed text from Figure 2. Hi-Res Scan: 1200 dpi

Figure 7
Boxed text from Figure 2A. Hi-Res Scan: 1200 dpi
Figure 8
Boxed text from Figure 3. Hi-Res Scan: 1200 dpi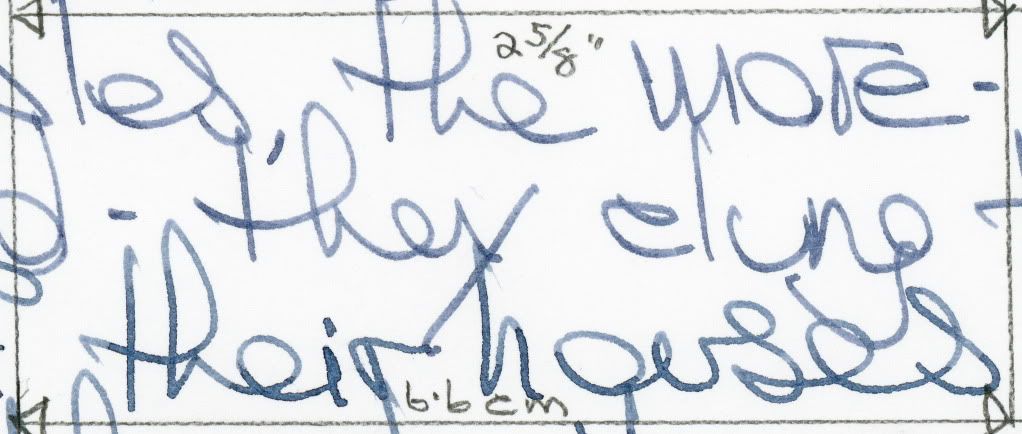 Figure 9
HP 1124 24 lb. Laser Copy paper.
Smudge Tests
Wet Tests
Swirlies (Straight & Diluted 50%). From the back of a dip pen nib. Intended to show range of possible densities from this ink.

Figure 10
Shingle Sample: 11 pen+nib combos on 4 papers.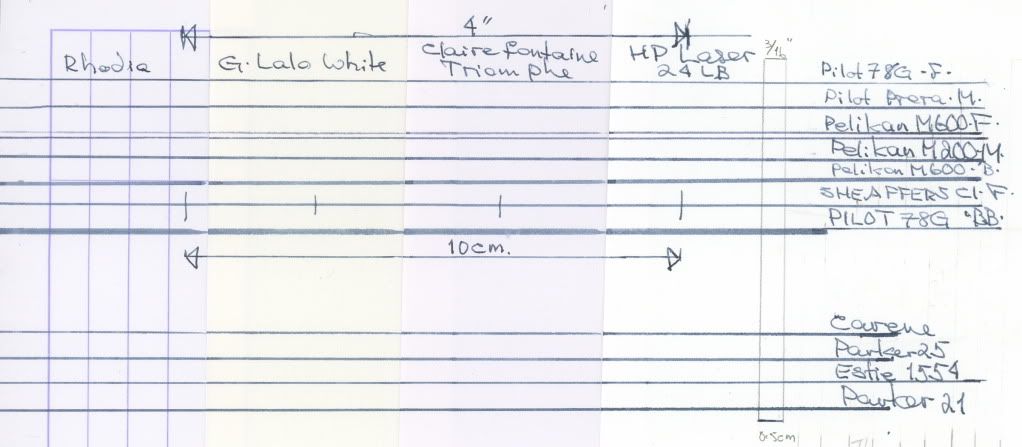 Figure 11
Boxed lines from Figure 10 - HiRes Scan.
Presentation :
Country of origin:
Type:
Dye-based fountain pen ink.
Smudge Results:
Flow Rate:
OK with all sampled nibs & feeds.
Nib Dry-out
Iffy at 10 minutes uncapped.
Start-up:
Lubrication:
Adequate; nothing special.
Nib Creep:
Staining:
Clogging:
Saturation:
Straight-up: Seems variable, but barely enough actually.
50% Solution: Nearly transparent. A HiLite ink?
Feathering:
No.
A nice very very nice line on all papers.
Bleed Through:
None on any of the papers.
Shading:
Very much dependent on nib.
Variance in pens used:
Smell:
Hand oil sensitivity:
Archival:
Likely no more or less than any dye-based FP ink.
Waterproof:
Bulletproof:
Unlikely to withstand even small arms fire.
Lovely papers:
'Triomphe' does it again.
Trip-wire papers:
With the tight line, I think Indigo will run well on most 'sane' papers.
Tinted Papers:
Doubt that Indigo would handle a colour-tinted stock; ivory, cream, champagne would be the limit, but don't envision any magic.
Ditto for Whitelines.
Postcard / coated card stock:
OK on lightly coated stock.
Similar Colours:
Not that come to mind, but they'd be forgettable, like Indigo. Hmm. Hmm. Certainly not a Blue-Black.
Clean Up:
Quick & thorough with plain water.
Bottle:
A squat 2" square-bottom bottle, with sloped shoulders rising to a 5/8" threaded neck ending a lofty 2 1/2" above base with a centred 3/4" opening. When the ink level is within the shoulders, the meniscus is obscured.
The 'Bakelite' screw cap does not have pronounced grippy nodes, material or texture. (Hon, where's the slip-joint pliers?) Tsk.
The cap seal is a low-rent bit of coated card stock. Tsk Tsk.
Colour name is stated on a fine-print label - on the cap of all places. Tsk Tsk Tsk.
Single tank, no filling aids, no sediment collector. Ah me...
Box:
Flip top.
Well coated, gold-ish colour.
Colour name labelled only on top. What the *#%@?? (>_<)
Eco-Green:
All bits easily recyclable.
Cap likely benign.
Availability:
Not uncommon. Widely available online.
Unlikely to be flying off the shelves or on B/O.
If discontinued, I don't think anyone would notice, or if they did notice, they wouldn't care, or if they did care, it would be half of a rodent's rump worth of caring. A grass-roots movement to replicate Diamine Indigo would be highly unlikely.
General Description:
A rather disturbingly nondescript ink.
Reminds me of automotive primer coat.
The surprising range of density and shading make astute pairing of pen & paper essential to get the desired appearance.
I would never suggest Indigo as a 'Must Have' to anyone except bphollin.
I cannot see it being a go-to ink: one doesn't know where it may in fact go to.
Those properties make it undesirable as an ink for your daily writer - which is too bad really: it performs well on a wide range of paper, and has an impressive line quality.
***
I would dearly love to hear from those who use this ink on a routine basis. My Objectivity is taking a beating!!!
Uses
:
Business:
Rather too indecisive.
The appearance can shift, making it unstable; the colour has no innate power, authority, energy or animation.
Nope, not a business ink. But it really wants to be! But 'wanna be' doesn't cut the mustard.
Illustrations / Graphics:
A perfect ink for use on Charts to represent 'Other & Misc.' (No one will question just what's in 'Other & Misc.' Your Black Ops are safe: hiding in the open.)
Also, the tight line makes it suitable for teeny tiny writing; and the density reduces optical edge effect, hence increasing legibility of small text. (See line labels on the Shingle Sample. The lines are 3/16", 0.5 cm., apart.)
Personal:
Seems quiet. Too quiet.
May be a good ink to use if one wants their words to be the most important thing on the page : zero distraction or emphasis from the ink or pen.
Not the colour to splash great swaths across a lustrous white page.
Billet Doux:
Huh?
Only if your beloved is pretty much colour blind.
Good for doggies' birthday cards. :-)
Alt Use:
Writing grocery lists for those on a slimming diet.
Most Well-Known User:
Yickity Yackity
:
For personal use, a very neutral round smooth nib would be good. Somehow, I think even the Cursive Italic nib shown may be inappropriate.
The Prera M and Pelikan F nibs do OK.
I felt that a shift to more firm/rigid nibs might do the trick.
See Figure 2A for written samples using four firm-nibbed pens. This was done after the main Review, so written samples are on one paper only.
For a flex-ish nib, I tried my old Waterman 52 RR with the #2 Ideal nib. It would take a finer hand than mine to make it showcase this ink. (Result not shown - too embarrassing.)
Of the eleven pen+nib combos, I prefer the results from the Parker 25 with its M steel nib. Boring, yes?
So, how did Diamine 'Indigo' come to be in my ink array? Well, I have a good friend who's a textile artist & Prof. She does her own dye-ing, and I was fascinated to learn and even got to help from scratch with making the indigo dye and using it. No aniline dyes in her studio, boyo.
The true indigo colour at was not found in the Diamine bottle, which initially I thought was mis-labelled, spoiled, etc. (Apparently poor/inaccurate naming is a Diamine trait. Tsk)
Diamine 'Indigo', like the Lamy 'Green', goes firmly into the For Mixing Only portion of my ink array.
=.=.=.=.=.=.=
Implements & Papers Used:
These pen+nib combos:
Pilot 78G, Fine nib.
Pilot Prera, Medium steel nib.
Pelikan M200, M600 series Fine 18K nib.
Pelikan M200, M200 series Medium gold-plated steel nib.
Pelikan M200, M600 series Broad 18K nib.
Sheaffer Prelude, Sheaffers Fine Cursive Italic steel nib.
Pilot 78G, Bodacious Broad nib.
Waterman Carene, Medium 18K nib.
Parker 25, Medium steel nib.
Esterbrook J, #1554 Firm Fine Clerical steel nib.
Parker 21, Medium steel nib.
On these papers
:
HP 1124 24 lb. Laser Copy.
Clairefontaine 'Triomphe'.
G Lalo 'Verge de France' white. (No written samples.)
Rhodia Lined.
Pulp one-a-day cartoon calendar page. (Only written sample.)
=.=.=.=.=
Scanner Densitometer Readings: Generated from the Drawn Swatch
Red 128; Green 149; Blue 172; Luminosity 149.
-30-

EDIT - To add: Paper type.
Edited by Sandy1, 04 April 2010 - 18:16.