Appearance:
4/5
I have been intriqued by Cali pens for years, but until recently had never seen one in the flesh. One of our fellow FPN'ers that lives here invited me up to see his. His request was simple in that he wanted a flattop in a certain color, and it had to be small (Cali pens tend to be very large pens).
I had requested that my pen be similar to his 'stubby' style, but not as large, and not at all top heavy. I wanted it to be in blue striated ebonite, but other than that, he could use his imagination. I also said that in achieving the proper balance, he could make it so that it would post or not. This pen does post, but again, it is entirely too long and top heavy for that. With the slightly thinner and longer version of the stubby body I am able to use it unposted. It has great balance that way.
I had ordered the pen in December, but due to a 2 month vacation that Joe was scheduled to take, I just now received the pen.
I love the look of the pen, but they are controversial. You either love his designs or not. One of the things that appears to be a trademark is his slim Delrin sections. I was told that the transition of the Stubby's body to the section was not comfortable for some, so he took this into account.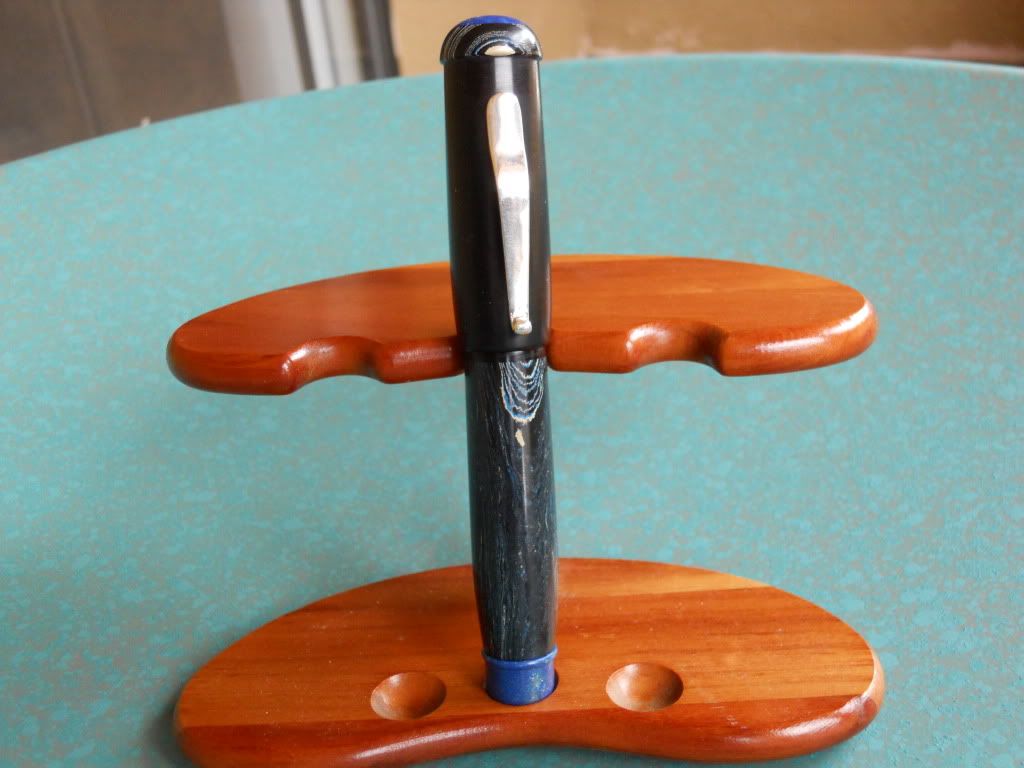 Construction:
4/5
This pen is overbuilt. If you look closely you can see that the cap is made of raw ebonite, which gives this pen a very handcrafted look. It's a way I can remember the raw ebonite Danitrios that I have sold. Likewise, the pen has a matt finish.
Even though the pen is ebonite, which is usually very light, this pen is a light to medium weight. That is largely due to the thickness of the construction; the pen walls are very thick.
Joe contracts another person to build his clips-I believe his name is Andy Deliveau. To say that they are massive is an understatement. They are made out of solid silver, and even though they are very thick, he still puts another brace under the clip. The only downside to this is that if you tend to keep you pen in your shirt pocket, a Cali will only fit if the fabric is very thin.
Filling system:
5/5
Most of Joe's pens use a button filling system, which is a nice touch. The button is very firm, but as per his recommendation, it only took two presses to fill it up.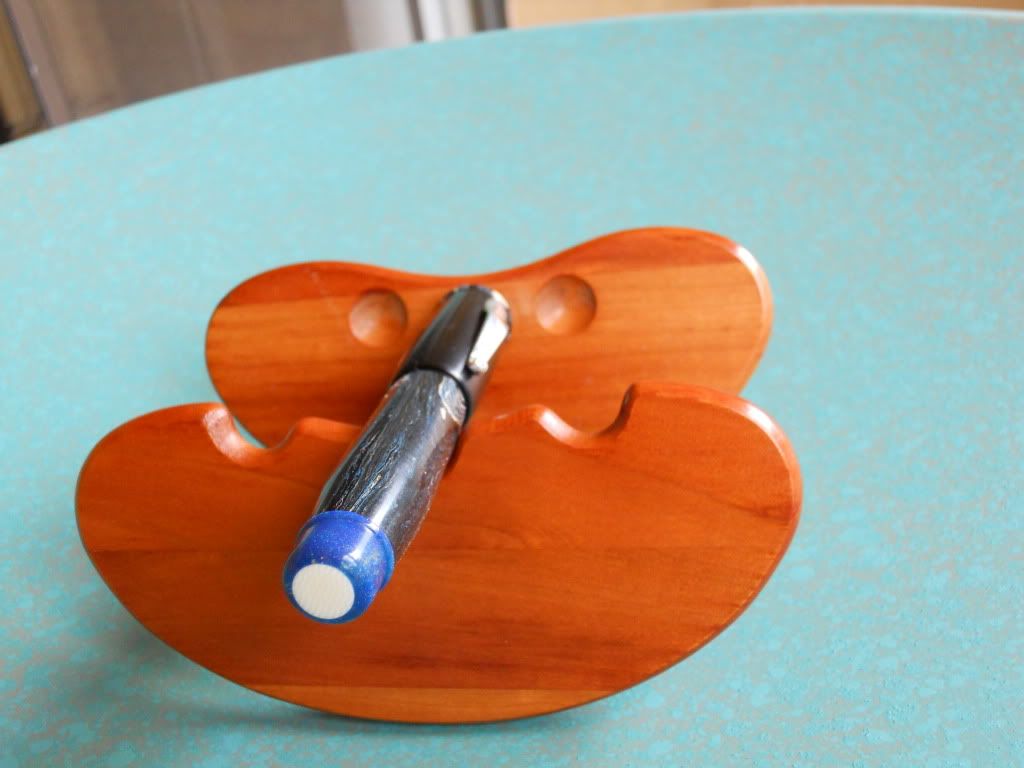 Nib:
4.5/5
Joe Cali primarily uses vintage nibs. In early December, he sent me 22 nibs to play with, ranging from OMAS, to vintage Sheaffer and Parker, Wahl, etc. It took forever for me to decide, but I finally chose an older 18k Parker nib (it might have come from a Duofold, but I'm not an authority on this). He fitted a vintage ebonite feed to it, and to my surprise, it is
very
flexible. Don't every let anyone tell you that there is no flex to 18k nibs. With a light touch, it is almost invisible, but with pressure it will easily turn into a medium.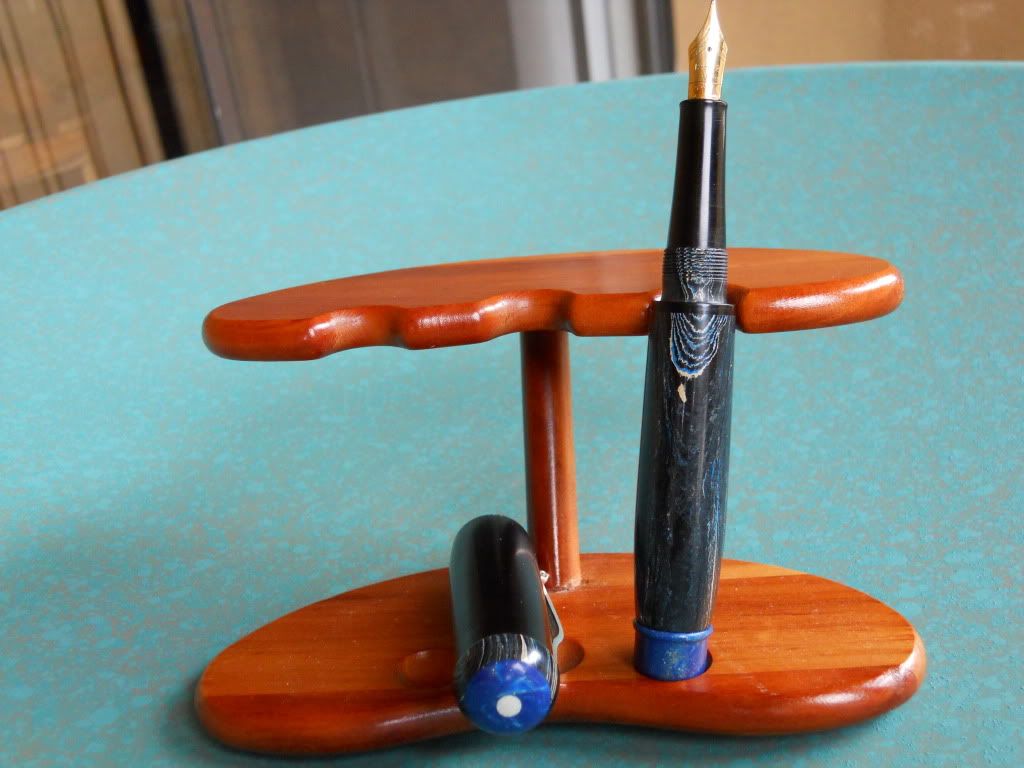 Value:
5/5
I paid what I felt was a very fair price for this pen. Joe was very concerned that I would not like the choices he made, and was very pointed about sending it back if there was anything that I didn't like, and he would start over. You can't beat customer service like that.
Overall Conclusions:

5/5
This is one of the more unusual pens I own, and I plan to get another at some point (although I did tell Joe that with all the grief I gave him, I might just pick one of the pre-made pens he has on his website). The downside there is that they seem to be selling out at a rapid clip.
It is a given that if you have a Cali in your pocket, it won't be mistaken for any other pen.