I was looking through the review index the other day and noticed that this fantastic model had only two reviews, so I thought I would chime in. This review if for the non-deluxe (steel-nib) version of the Ipsilon with an EF nib.
Appearance (3/5)
A simple but attractive design. It has a sleek, modern look without being conspicuously artsy. Visual highlights include the Y-shaped clip that either gives the pen its name or is derived from it, and the 3-band cap lip with "Aurora/Italy." The "satin" (i.e., matte) finish is attractive, pleasantly grippy, and resistant to fingerprints. An additional bonus is that the satin colors are a few bucks less expensive than the regular colors from some vendors. It may be hard to see in the photos, but the top of the cap, blind end, and section are shiny black rather than matte.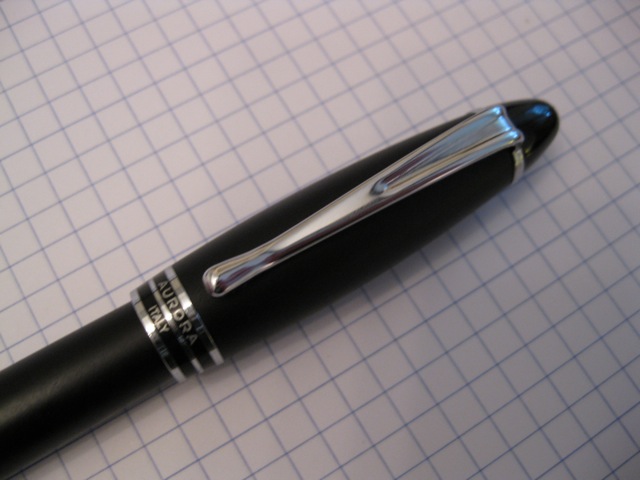 Design, Size, and Weight (4/5)
For my hand, this pen is just about perfect. I can write with it for ages without fatigue. Some may find it a bit on the small size. Uncapped, it is about the size of a Pelikan M400, but with a smaller nib. There is one design issue that is a little distracting: when posted, the cap rotates freely. I don't think I have any other pen that does this. Not a big deal, but odd.
Nib (5/5)
This pen has a really superb steel nib. I enjoy the fact that it is a true EF. It's not as fine as my Sailor Sapporo EF, but it's getting there. It has a bit of tooth (a quality for which I understand Aurora is known), but I don't find that at all unpleasant.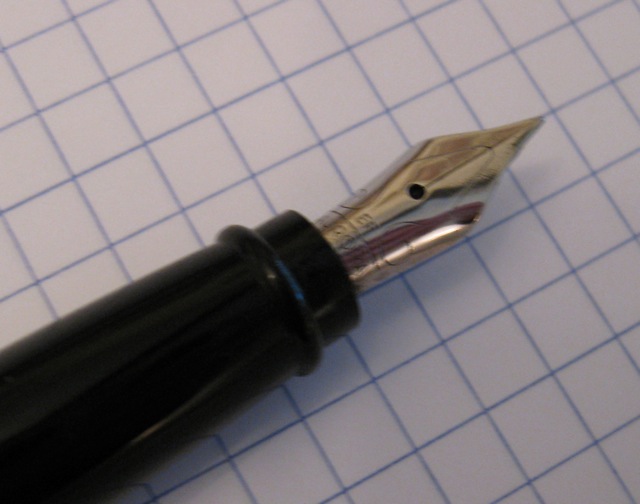 Here's the unusual thing about the nib: it flexes. I'm not talking about vintage Waterman levels of flex, but there's enough flex to provide some interesting line variation. Who would have thought? I thought steel nibs weren't supposed to do this.

Filling System (3/5)
It's an inexpensive modern pen, so of course it's cartridge/converter.
Cost and Value (5/5)
I bought this one new for $80 about a year ago. While other pens go in and out of rotation, this one seems to be inked almost constantly. I think it's a fantastic value and rate it beside the Pelikan M2xx series in the "hundred dollar-ish" price category. I'm often surprised that the Ipsilon doesn't get recommended that often in the many "starter pen" discussions. It seems to me to fit that niche nicely.