for sale by Gerry Berg

Sheaffer TRIUMPH STATESMAN plunger-filler (92W) in MARINE GREEN stripe, c.1946 with 1.1mm STUB BY GREG MINUSKIN.
PRICE: $220 plus $9 (Insured Priority in the US).
SEND PM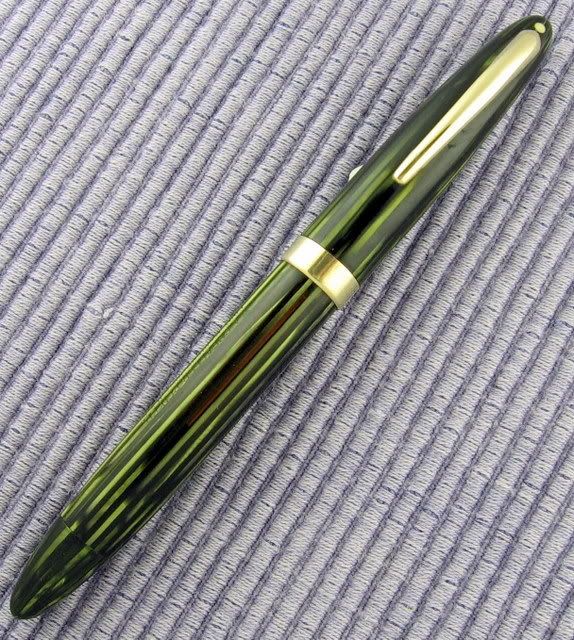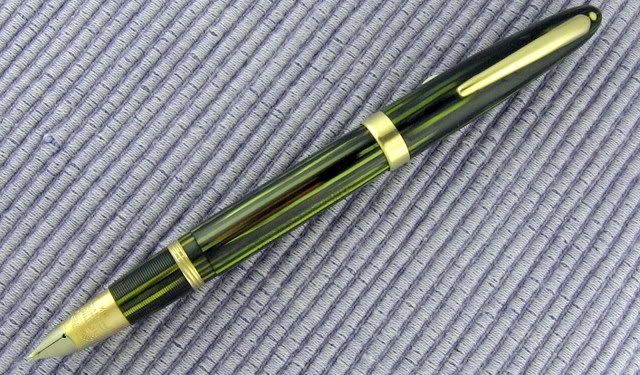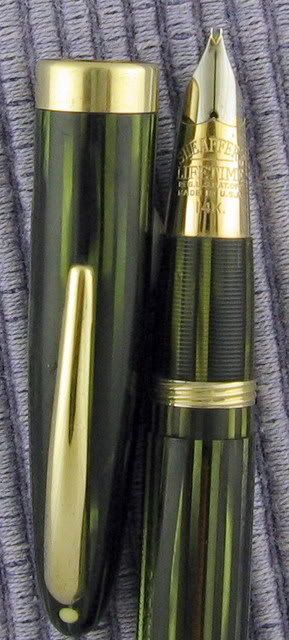 The post-War workhorse of the Sheaffer line. Though pocket friendly capped at 5", these early plunger-fillers hold a lot of ink because they use the entire volume of the barrel (Note the stripes right down to the back of the nib). As an ink "tanker" among pens, this plunger-filler makes an IDEAL MATE FOR A STUB NIB. The nib lays down a juicy broad line and requires a hefty ink supply. The plunger-filler provides it. It has been restored to fill as it once did when new (see note on restoration below).



STUB NIB CLOSE-UPS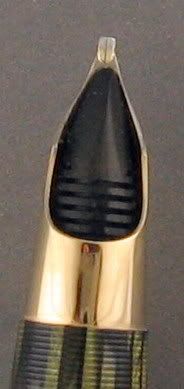 The pen is in UNUSUALLY FINE condition: no brassing or dents, no nibbles on the blind cap, high gloss celluloid, blind cap fits perfectly onto barrel, cap tightens down without wobble. Price code "1000" ($10.00) is clearly visible under the manufacturer's inscription.

A STUB nib allows an unskilled writer (like me!) to create variation in the thickness of the line and adds some personality to your writing. A standard italic nib does the same thing, but since its edges are crisp, it requires practice and skill to maintain the pen's position in relation to the paper. Since the edges of the STUB nib are rounded, maintaining the exact position of the pen to the paper is not as demanding at would be with an italic nib.

The TRIUMPH nib is perhaps, the most rugged nib ever created. It's modification by GREG MINUSKIN, turns it into a reliable 1.1mm STUB that will remain BUTTER SMOOTH for a lifetime of normal use. Its specially matched feed assures A JUICY LINE even at its thickest.


HANDWRITING SAMPLE: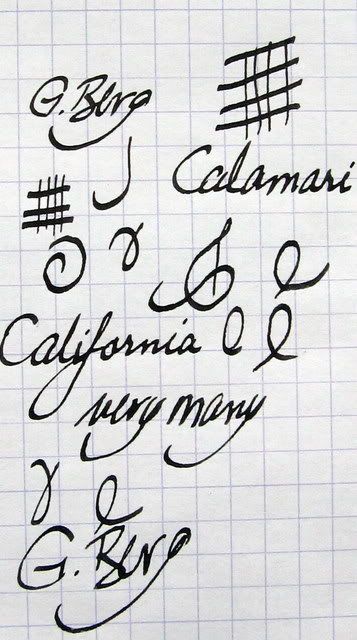 VERY GOOD TRANSPARENCY: You can see the piston head clearly with its conical closing nut, here pointing to the left.


NOTE ON PLUNGER-FILLER RESTORATION:
For a full account of the latest innovations in repairing plunger-fillers, please refer to my article, "The Re-birth of Sheaffer's One Stroke Plunger-filler", in the Spring 2009 issue of Pennant, a publication of the Pen collectors of America. I have restored this plunger-filler to work as it did when new, so it's as reliable as a lever-filler and will last at least as long. I have re-packed the packing unit with DAVID NISHIMURA'S O-RING made of fluorocarbon rubber, which, according to David, is "extremely durable, resisting wear & weathering far better than standard synthetic rubber seals (estimated life span in industrial settings is
up to 20 years, versus 2 to 5 years for butadiene)." And I've cut the washer from RON ZORN'S "magical" material with a precision cutters made by the Australian pen craftsman, ANDREW GRAY.
So it develops a lot of vacuum. To see what kind of vacuum is created by the restored filling system, just pull the rod out, push the rod back in half way down the barrel, and let go. It will literally pop out to nearly its full length. That means it will suck in a lot of ink. As one fan of Sheaffer plunger-fillers exclaimed,
"These pens really suck!".