Review: MOLTENI CURUKOVA Green Ebonite Fountain Pen Limited Edition

(Identical to Taccia Staccato Ebonite series)
The smell of ebonite, while not exactly aphrodisiacal, is very potent. My favorite childhood pens were all made from ebonite. My current collection was missing a decent ebonite pen. I know few vigilant FPN members will notice that I am conveniently not counting my Nakaya Neo Standard since it has Urushi! There are many choices, including but not limited to, Edison Pens, Bexley, Waterman, Indian ebonite pens (allwritenow.net and many others), etc. On pentrace.com, I missed on a beautiful looking ebonite pen (the same model I am reviewing here). So, my hunt began. Being impulsive and lacking patience, I got one from e-bay at a higher price than the one on pentrace. But I had to have it. I found it very appealing and perfect in size. Unlike my other pens, it has a steel nib. That made me pause a little. Then I realized, most of my childhood pens had steel nibs and my mind was more fertile then than it is now. Gold nib won't cure it.
Brian at Edison pen
has recently discussed this. Mark Twain has said: "There are several good protections against temptation, but the surest is cowardice." Better to give in and buy the pen than to stay away and be a coward! (I know, I know, I am twisting the message in my favor!).
Packaging:
The pen comes in a nice looking, wooden box. These days, a nice box seems like a must.
Appearance and the First Impressions:
If you want to skip the rest in this paragraph, here is the summary: It's very attractive and handsomely built. I don't exactly think it is green. It's more like blue-green or turquoise per se.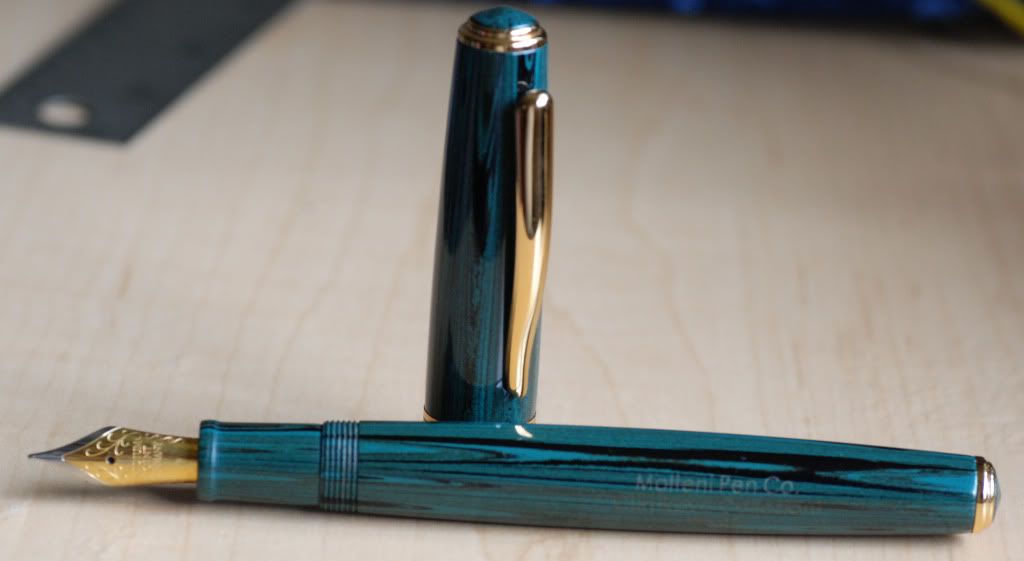 The cap has a nice shaped clip and the finish and craftsmanship are immaculate. It takes around two-and-a-half or three turns to open/close it and feels secure.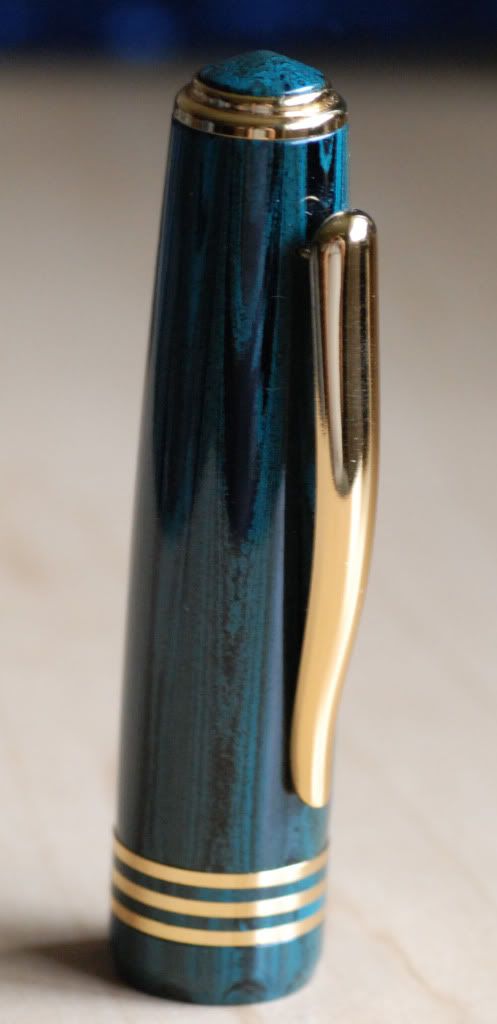 And did I say, it smells so nice!
About Molteni Pen Company:
This is a Florida-based company and I don't know if it exists in any other form than on e-bay or not. I did get a properly dated Pen ID card (like warranty card) with "Molteni Pen Company" printed on it. Bexely and Taccia made several models for them. This one specifically, the ebonite series was made by Taccia. No wonder it looks almost identical to Taccia's Staccato line, especially the older ebonite models in this series. These Curukova ebonite pens (and all TACCIA models) are assembled in the U.S., from Italian resin and German mechanisms (nib, refill, ballpoint mechanisms, etc.).
The body of the barrel mentions serial number and name of the pen company in a very discreet, non-obtrusive fashion: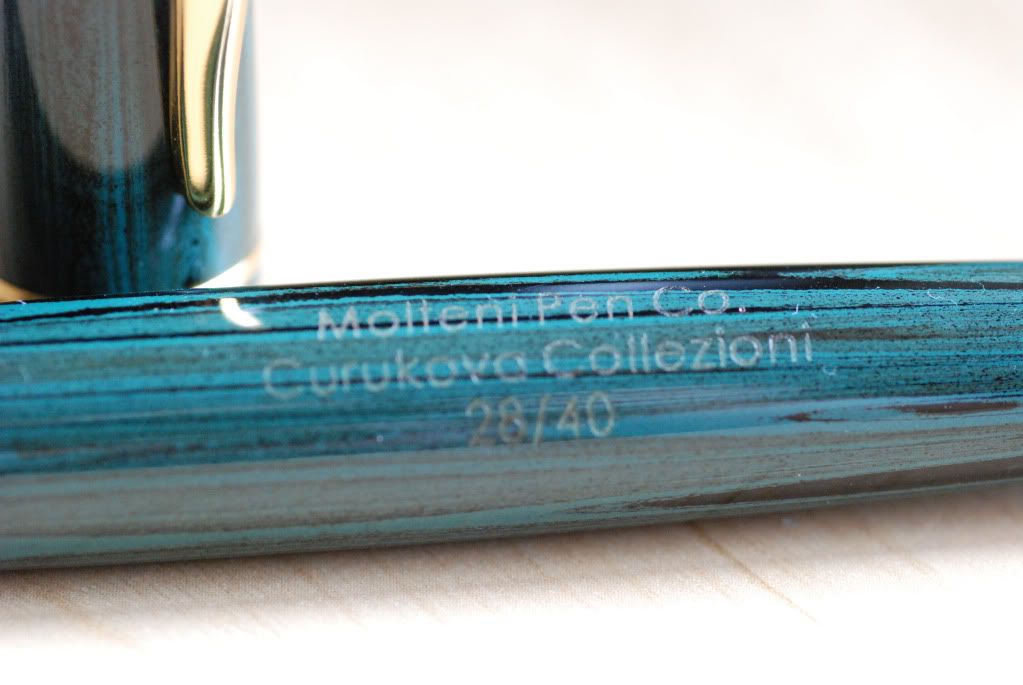 Pen Dimensions:
The entire pen with cap is 5.9 inches (15 cms) long and the barrel is 5.3 inches (13.46 cms) long. The weight of the pen is 1.4 oz (41.4 gms), and the barrel plus nib with cartridge and ink weigh 0.6 oz (17.75 gms). It's a full size pen and for the weight feels fine and balanced in hand.
Here's size comparison with Montblanc 146 and Aurora 88 large pens (pardon the dust particles):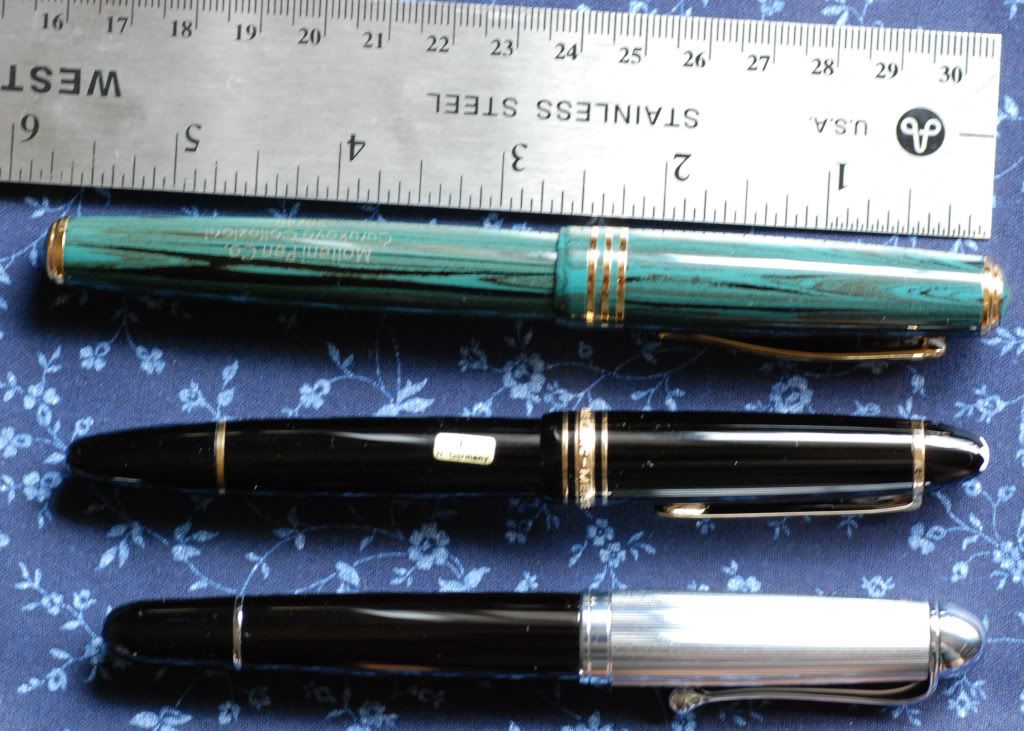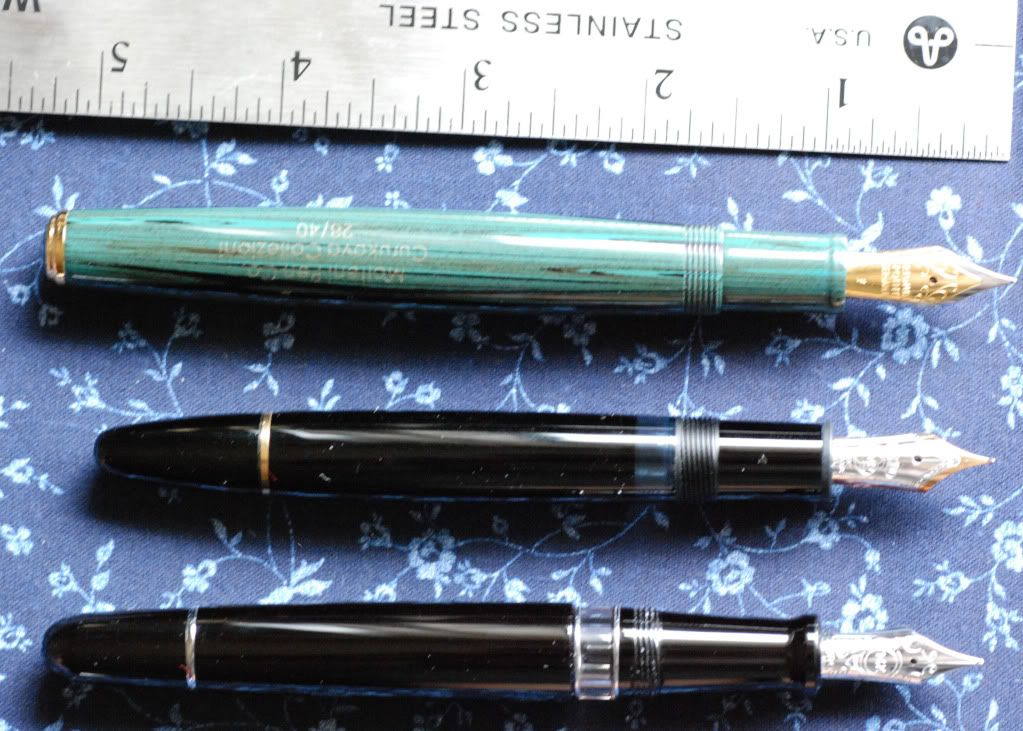 The Nib:
The size of the nib I chose is Fine. It is a steel nib unit, made by JoWo, and can be screwed in/out for an easy swapping (similar to Pelikan pens).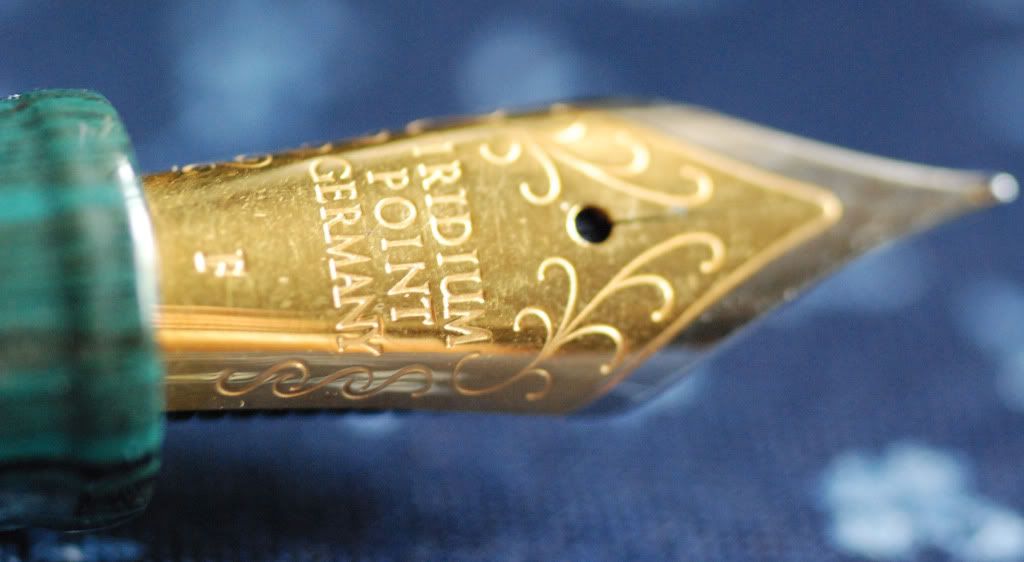 The pen uses a cartridge or cartridge converter and can also be used as an eye-dropper. The cartridge converter that came with the pen is a plastic one, looks sturdy though I would have preferred a glass one for a better feel. The cost and additional weight might have been factors in providing plastic converter instead.

The pen writes smoothly, has some pleasant feedback but no scratch/tooth at all. The pen fits and feels perfect in my hands. The nib, being a steel nib, has no flex, negligible springiness if at all and is rigid which is no surprise. Few more lines on this are on the writing samples. Here are the writing samples: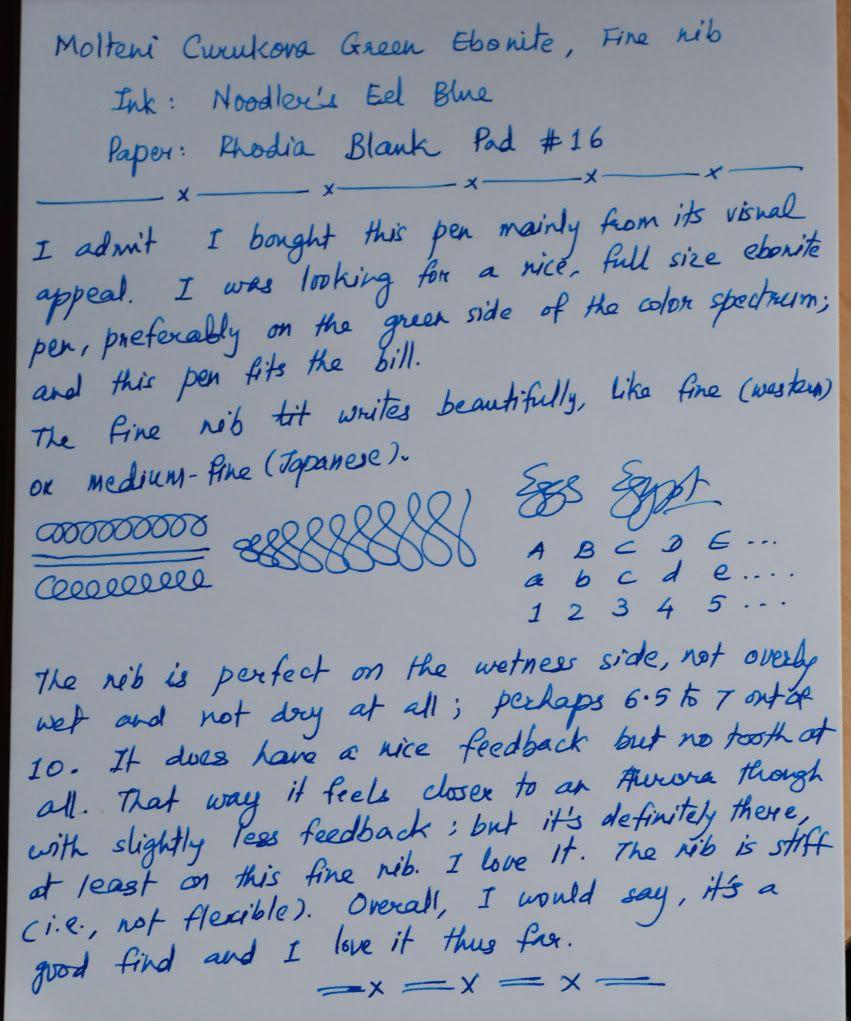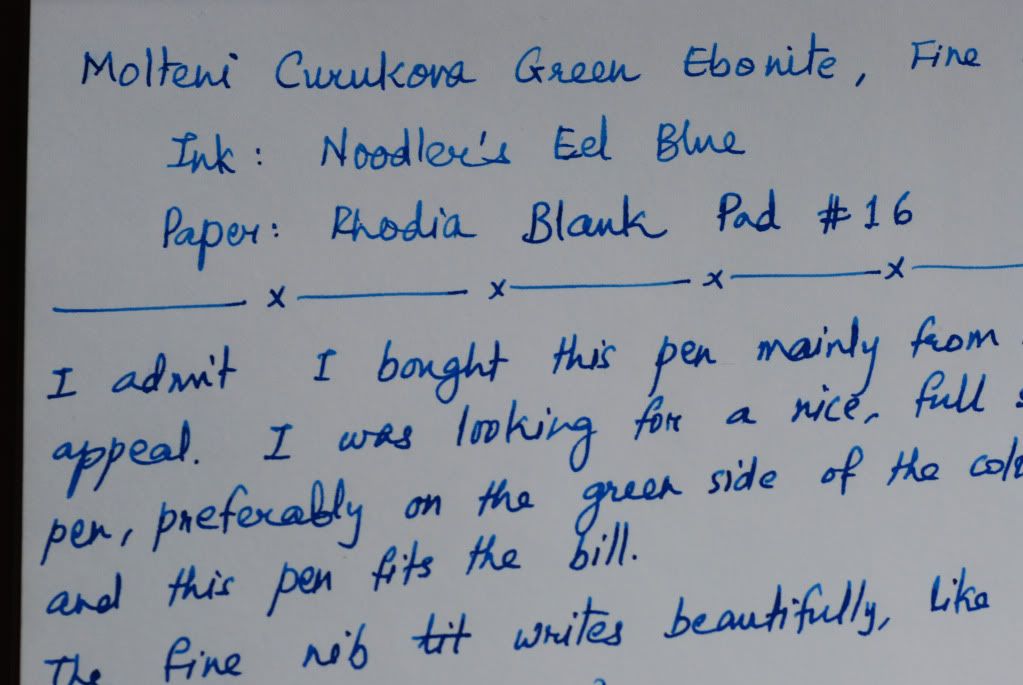 Conclusion:
The suggested retail price is around $295 to $350 but can be had for less than what I paid if you practice patience. Based on the quality and craftsmanship of the pen, I have to agree with what Taccia says on their website: Stylish, well-built and yet affordable pens. So far, I think it's a good find for me and has filled the lack of ebonite in my collection. And in case forgot, it smells nice! Sometimes, little known brands/pens offer pleasant surprises. The nib unit is easy to replace (if needed) and is not expensive ($25 range for the identical one), the pen can be used as an eye-dropper (if needed), the pen is long enough and is well-balanced without posting (that means, no marks on the nice finish), the cap closes securely, the feel is ergonomic and is fun to write with. What else do we expect from a pen?