I haven't seen any Elysee pens reviewed, so, seeing as I just got one, here goes!
Elysee 9/541 Blue Lacque fountain pen
First Impressions:
Having long preferred slimmer, metal-bodied pens I was very pleased to learn of the line of fountain pens by the German company Elysee (defunct since 2000). Consequently after a bit of research, an Elysee fountain pen topped my wish list. Elysee pens are somewhat rare but they can be had with a bit of careful searching. Sources I found retailed around $100 with higher end cloisonné and limited edition models considerably more. Of course a little perseverance and patients can yield much better deals, usually via Ebay, which is where I purchased mine. The pen was sold sans box, papers and, alas, converter. When the pen came it was, as expected, quite stylish in an understated way and appeared to have been used little, if indeed at all. As this pen fits well with my taste for slim yet hefty fountain pens I am very happy to have this in my little collection.
For those interested in company histories, there are unfortunately scant details about Elysee to be found on the internet, but a good starting point is with the brief outline found at
Penhero.com
, and there are also several informative threads about Elysee right here on FPN. Coincidentally, a former product manager for Elysee pens is a member (Leoklim) here on FPN.
Appearance & Design: 10/10
This slender pen, with its rich blue enamel and brightly polished gold furniture, is sleek yet very classy in its appearance. Its long tapered barrel and cap are reminiscent of the Cross Century and Townsend fountain pens. The clip is a cantilever lever design that is very tightly spring loaded. This is actually a nice feature. Squeezing the top of the clip to open it as you slide it over pocked material eliminates the friction wear of forcing the clip over the fabric. The cap secures with a very confident snap both when closing and posting. The section is black with simple gold plated bands. The 14k gold plated nib is very elegantly shaped with relatively long tines. Nib decoration is modest with only a single incised decorative outline and the "at"-like (@) Elysee logo.
Construction & Quality: 9-10
The enamel work on this pen is simply exquisite. Presumably, judging from Elysee's higher end Cloisonné pens, enamel work was a company specialty. Perhaps I'm being too picky, but it is with the cast metal parts that I feel this pen could have been better. Both the clip and the tassie seem in need of a little deburring or filing on the edges to finish then up to the quality of the rest of the pen. I find this somewhat surprising from a company with roots in the jewelry industry.
Weight & Dimensions: 10/10
The enamel over brass design of this pen makes for a rather hefty compared pen to plastic or celluloid fountain pens, but it isn't uncomfortably heavy. Being a somewhat slender pen it fits rather comfortably in the hand and is nicely balanced when used unposted. Posted, the balance of the pen shifts farther back but is easily compensated for without effecting writing quality. The weight of this pen has been equated to the Cross Townsend which is a slightly larger pen with a considerably larger and heavier cap. It is perhaps more akin to the Century II in size and heft.
Dimensions:
Length: 5 ½ inches
Unposted: 5 inches
Posted: 6 inches
[click for larger view]
compared with a Cross Townsend and classic Century I: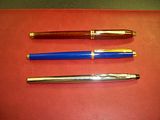 Nib & Performance: 9-10
This pen came with a medium 14k gold plated nib. Elysee pens are known for their particularly smooth nibs, and this pen lives up to that expectation. For me thus far, the nib has experienced occasional stuttering starts and skipping, but I expect these issues to work themselves out with use. It writes a controlled wet line that, depending on the paper, varies from a medium to a medium-fine. As I have a penchant for thinner lines, I may try to find a fine or extra fine nib for it. I haven't had the opportunity to test various inks as the pen came to me with only one cartridge and no converter.
Filling System & Maintenance: 10-10
This pen is a cartridge/converter pen, taking standard international cartridges. Though some may feel that this type of filling system is boring, it is perfectly functional.
Cost & Value: 10/10
The current retail cost of this pen, from what I've seen averages at about $100 which, in my opinion, is a fair price for a pen of this quality and is certainly comparable to similar pens from other makers. Of course better deals may be had from various sources such as Ebay. As I elected to purchase it as a buy it now price of less than have of average retail price, rather risking an auction bid, I'm very pleased with what I got.
Score: 58/60
So what does this score really men? I took off points because the nib hasn't worked flawlessly for me. (not yet that is, but it's definitely getting better) Is it a fair assessment? Maybe, maybe not. In my opinion, any pen (or at least most pens), used or otherwise, need an acclimation period to its owner environment and task. And I took off a point because when I looked closely, I felt the finish on the clip and tassie weren't as good as I expected. Perhaps I looked unreasonably close, who knows. In the end, I feel this pen lives up to its reputation, and if you like pens of this ilk—slender, lacquered metal body—it truly is a great pen to have and use.
B
Edited by Biber, 12 March 2010 - 14:19.