Aurora Optima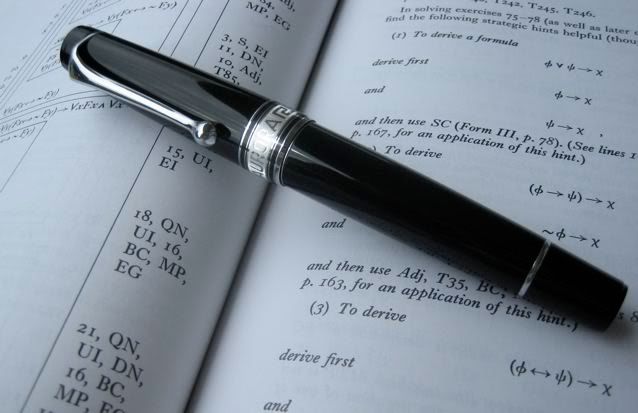 I've always liked Aurora pens. The Aurora 88 was my first
expensive
fountain pen (after my m200), which I first purchased back in October of last year. It was a superb introduction to the pricier world of pens, and I've regretted selling it ever since boxing it up for shipping. Anyway, I waited patiently for another Aurora, and I finally found a smoking deal on a new black Optima. It arrived a couple of days ago, and here are my impressions.
Appearance/Finnish 5/5
My Optima arrived in the typical Aurora packaging: a large, black, velvety box with a cardboard slip over the box, reading:
La Passione Italiana
. It's been my experience that Aurora's fit and finish is absolutely top-notch. Both my 88 and this Optima are beautifully polished, and the parts fit together seamlessly. Aurora's piston filler operates incredibly smoothly, only second to that German company we all know and love. Lastly, I find the barrel engraving to be a very nice touch, giving the pen a vintage, old-world feel.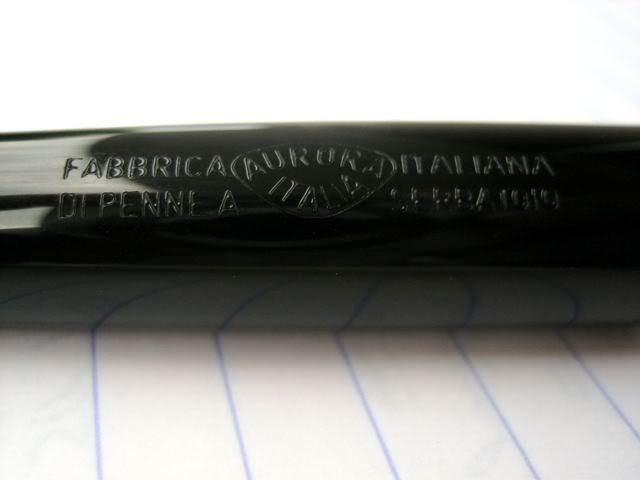 Size/Weight/Comfort 5/5
Danitrio Densho, Waterman Expert II, Parker "51", Aurora Optima
First of all, I was initially surprised by how small the pen is. I've always heard that the Optima is a short, stubby pen, but having it finally in my hand, I was still amazed by its compactness. Makes me wonder how small the Optima Minis actually are. Anyway, after my experience with the Pelikan m800 and Danitrio Densho, I find the Optima's size to be a perfect change of pace. It fits perfectly in even my shallowest shirt pocket, which is rare for any fountain pen these days and makes it a perfect candidate for my daily carry pen.
Here's the cool part: even though the pen is rather diminutive while capped, it posts to what I consider the absolute perfect size for long-term writing. It's not excessively long like my m800 was when posted, so there's not much weight hanging off the back of the pen. Also, the pen is indeed "stubby", which leaves no doubt that it's a full-sized writing instrument when it's in action mode.
All in all, this pen is perfectly sized for daily use. In fact, I consider its size/weight to be its best quality (which is saying something because I like the other stuff too).
Nib and Writing Performance 5/5
Now the important part, the nib. It's my opinion that Aurora gets a bad rap because people refer to their nibs as "toothy." I agree that neither of my nibs have had the butter-smooth quality of Sailor or Namiki nibs, but I find them to be quite smooth and ultimately very satisfying to use. The feel of Aurora nibs seems to be completely unique to the brand. There is some tactile feedback from the page, but the nib is incredibly consistent feeling at almost any angle. There are no sharp edges and seemingly no sweetspot that my hand must accustom to. From the very beginning, I love writing with this pen.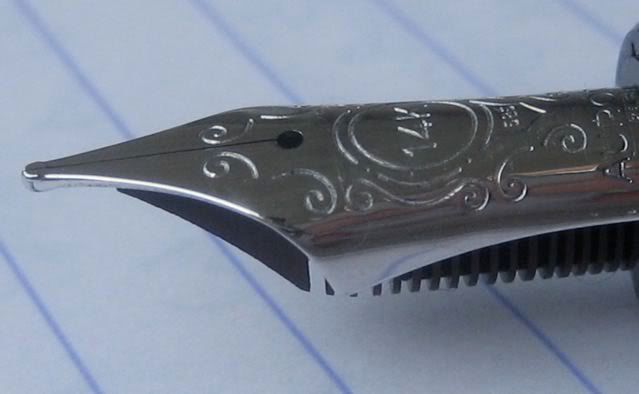 My 88 had a medium nib, which was nice. I decided to go with a broad in the Optima, and I couldn't be more pleased with the results. The nib is somewhat smoother than the 88's medium, but it really is not much broader - maybe only a touch wider line. The flow with Waterman Blue-black is wonderful as the nib lays down quite wet but controlled lines. I think the best thing to be said about Aurora nibs is that they are reliable. Mine always writes as soon as it touches paper, and it starts up first thing even after being uncapped for a bit. Good stuff.
Filling System 4.8/5
The Optima is a piston filler, and as I said earlier, it operates very smoothly and holds a lot of ink. The clear ink window allows for easy monitoring of ink level, but I do remember that the window on my 88 stained from using Private Reserve American Blue ink - maybe a darker window would have been better.
Aurora pistons have their unique "hidden reservoir" system, which holds just a bit of ink in the piston seal, allowing the pen to write an extra page or two after it has run out of its standard in supply. I think one needs to lower the piston to feed the ink into the nib. I don't find the "hidden reservoir" to be all that neat, but it's a reliable, good piston filler regardless.
Conclusion
I'm very happy with this pen. It's the perfect alternative to the m800, in my opinion. It's lighter, shorter and has no silly trim ring to corrode over the years. The writing qualities are uniquely Aurora, and I really do love the broad nib. This has already become one of my favorite pens - a great daily tool.