Recently, I got a chance to get my first Bexley, an Americana model Rio Grande (red) with a medium nib. This is my first "Made in the US" fountain pen.
Georges has it in blue
while
Russ has it in Red
, like mine. Russ also made a nice comparison with Omas Milford. This pen was available in Rio Grande (red), Sierra Silver (grey), Yellowstone (golden/yellow), and Greenbrier (green). Bexley's official website used to have a picture of all these colors but I can't find it any more on their website. However,
it can be seen on the website of few other vendors
.
It appears to me that the metallic band on the cap had some variations. For example, the red pen in above picture has a band with cut-out patterns in it; while mine has a solid band. The inspiration for this model is derived from vintage Doric, except for the filling mechanism (cartridge converter on Bexley), the material (acrylic on Bexley) and the style/length of the facets on the body.
The color and finish are beautiful.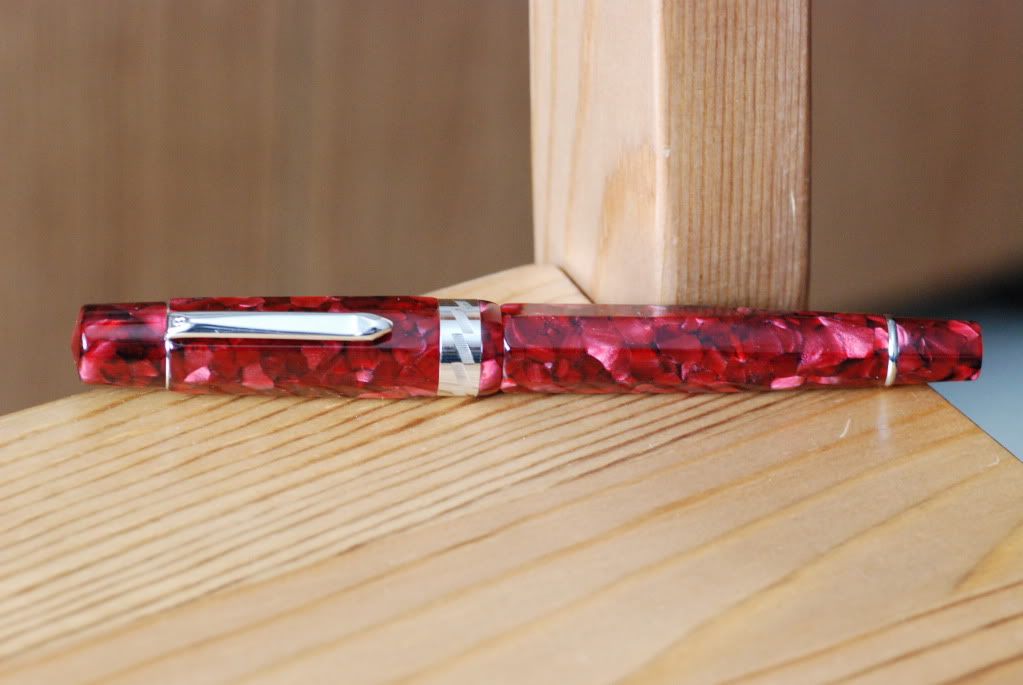 It looks very lively/vivid under direct light.
The feel of the facets is warm and very convenient to hold. It balances well without posting cap (I don't post cap) and feels light.
Physical Dimensions:
It's a full size pen and yet very light for its size. It's tad taller than Montblanc 146, Pelikan M805 and Sailor 1911 large – just to give some comparative idea. The measured dimensions are:
Full Length with cap closed: 5.75 inch (14.6 cms)
Length of the barrel plus nib section: 5.4 inch (13.7 cms)
Weight with ink: 0.8 oz (23.7 gms, the whole pen); 0.5 oz (14.8 gms, barrel only).
Nib and Writing Performance:
The original nib was medium and it wrote like a western medium: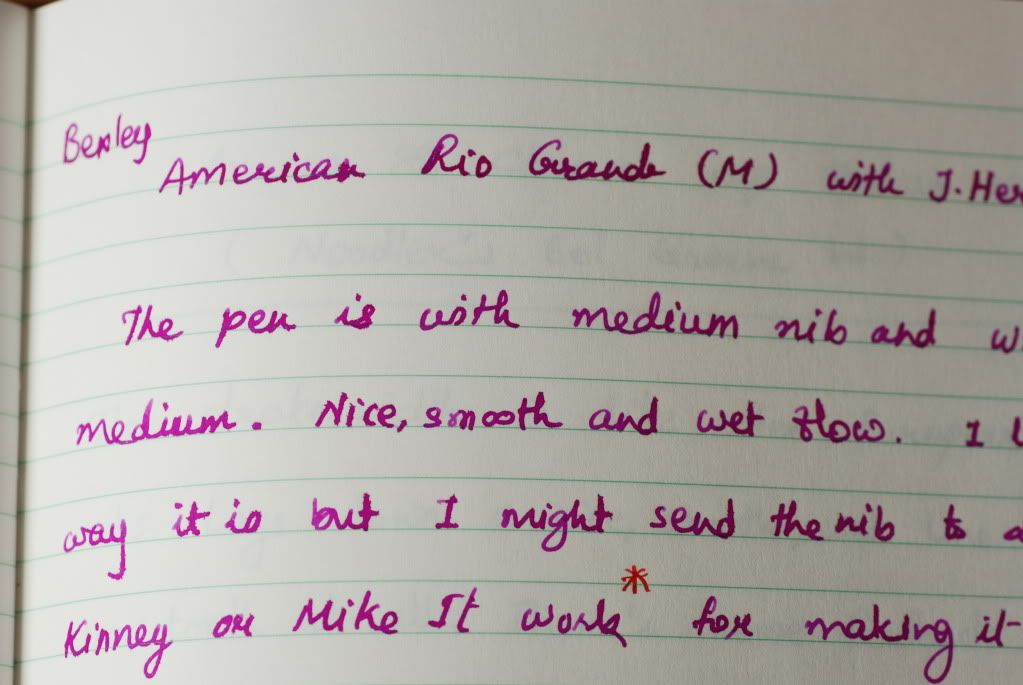 The medium nib was smooth, wet and a little springy if gripped farther though technically it can be classified more as a rigid nib I would say. It's a dual tone 18K gold nib.
I had no complaints with the original nib, but I wanted to make it cursive italic. I sent it to Mike It Work for regrinding it to a 0.6 mm cursive italic. Michael did a fabulous job:
I am not an experienced cursive writer, so here's a close up to show line variation (the paper is not as high quality as Rhodia, for example):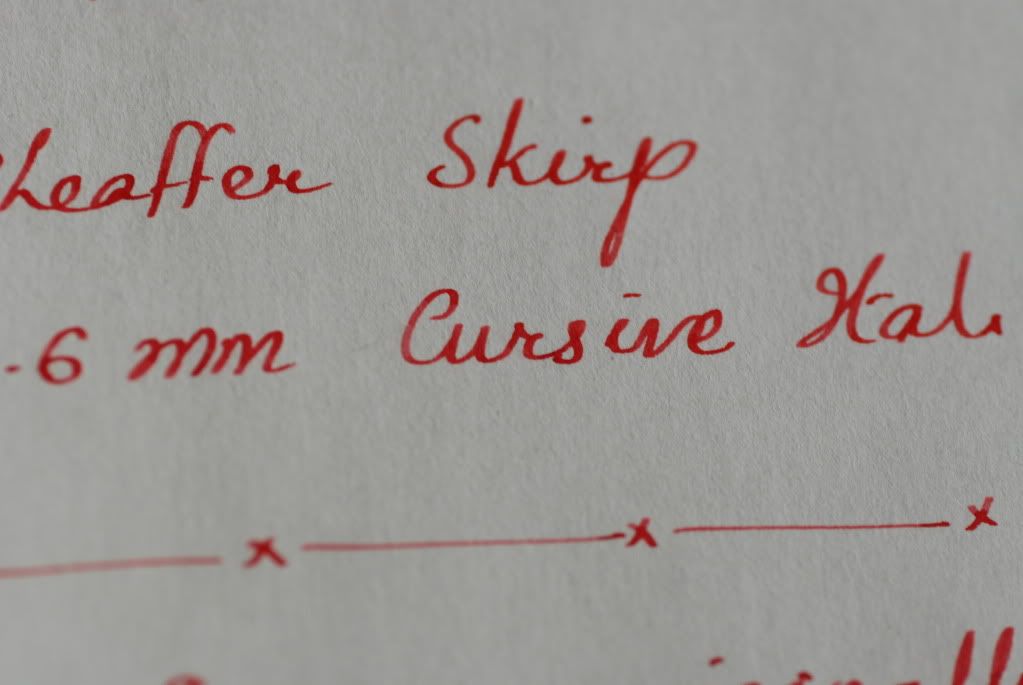 Conclusion:
This is a beautiful, full sized pen. It's not very expensive. The MSRP was $335 or so if I am not mistaken. But you can get it around $250 if you look around. I don't know why Bexley discontinued it. The pen is pleasure to hold, to look at and to write with. I would say, it's a very good candidate for custom grinds as well, like I did with mine. Georges had grip section broken later on and Bexley replaced it with a black one. I am not sure if this was common. The acrylic material does not look/feel very fragile, but I don't have much experience with the stability of this material. As a buyer, I had that in mind before buying it. If anything like that happens on mine, I am sure Bexley will take care of it. In the meanwhile, I hope to enjoy it for a long time with positive recommendation to anyone considering this pen or any other pen in this price range.
Edited by jigesh, 01 March 2010 - 00:05.