INTRODUCTION: I first became aware of modern Onoto pens about a year ago when I was considering the purchase of a Centenary stirling silver model. I decided to wait until I could handle one, thinking it might be too heavy for me.
At the London Writing Equipment Show in October '09 I handled the Centenary, which
is
too heavy for me, but also saw and liked the Magna Writer in acrylic with gold trim.
At the South-Western Show in Bristol, last month, on my 70th birthday, I had a closer look at the Magna and liked its looks and the writing experience in all 3 nib sizes offered as standard, Eventually I chose the Broad-nibbed pen, number 100, in Ultramarine.
This is how I feel about it after 2 weeks' use:
1. Appearance & Design (10/10) – It is a very simple, conservative design, in dark blue, with a gold clip, and two rings of slightly different widths, on the cap, and gold ends to the cap and barrel.The cap bears the Magna Logo...a simple M and W..and the barrel end has the LE number...in my case 100/100. (100 of each were made in Blue and Black). The clip is engraved with the Onoto logo ...just the letters "N,O,T,O" enclosed in a larger "O".
The barrel bears a discreet ....but not unduly modest!... engraving "ONOTO
THE
PEN" with below it "
MADE IN ENGLAND
".
The pen is basically cylindrical with slight tapers at the ends.
The section is of the same material as the rest of the pen, and the nib a Size 7 two-tone 18Ct gold.
The cap unscrews in about 2 1/4 turns, and there is a standard C/C filling system.
The acrylic has a shine to it which seems appropriate to the general 'sobriety' of the design, i.e, not too 'glass-shiny'.
It just looks 'classy'.
(How could it be even better? I cannot think, except that I'd like to see it offered in some more, equally appropriate, colours, such as Dark Red and Green. (I think that may be on the cards!)
2. Construction & Quality (9.5/10) – Fit and finish are virtually perfect....under high magnification the 'gold' end-trims appear to have been lacquered and shows tiny marks, but these are not visible in normal conditions.
The weight seems 'about right' for an all-acrylic; it feels quite 'substantial' and capable of coping-with a few knocks (this has NOT been tested, either intentionally or accidentally, so far!)
3. Weight & Dimensions (9/10) – The weight is 27 gm, Lengths: capped 141mm, uncapped 123mmand posted 165mm, barrel diameter is about 13mm.
This is slightly larger than my Duofold Centennial Pinstripe, and Conway Stewart Duro pens, so it is on the large side, but completely comfortable for my medium-sized male hands!
The cap posts securely and feels quite well-balanced (to one who usually writes unposted).
The unposted pen
appears
,
to me
, a few mm short of a perfect length, but I understand that the makers have found that a longer barrel rather upsets the posted balance, and makes the pen a bit long for shirt-pocket carry. It is not a 'fault' for me, anyway ...just how it looks....it is very individual and subjective.
4. Nib & Performance (9/10) – The 18 Ct 2-tone Broad nib fitted to this pen is just about as buttery-smooth as I could imagine. It is, I believe my own #1 in smoothness. It is also very 'wet' about 8/10 on the commonly-used scale.
This gives wonderful performance on high-quality, laid papers which have a bit of 'texture' and are fairly absorbent.
On very smooth, shiny papers, I find it slightly
too
smooth and 'slippery' and I lose a little control. On such papers, I suspect that a finer point, or a slightly italicised nib, would work acceptably.
I am still experimenting with inks, and have found that Diamine Emerald is a bit drier than the Teal I had been using, and gives better all-round control.
It is an excellent nib and is available with 'special' nib-grinds, to order...they are done by a very reliable and skilled nib-worker, of my acquaintance!
Normally, it is available in Fine, Medium and Broad.... these sizes give fairly typical 'western' line-widths.
The nib unit unscrews easily from the section, making nib-swaps simple.
5. Filling System & Maintenance (unrated) - A standard c/c system, what more is there to say?
6. Value (9/10) – I bought the pen from the Onoto stand at the Bristol Show.... I got a 'Show/Birthday discount', some cartridges of various colours, and a free bottle of Diamine Sapphire(re-boxed and labelled as Onoto ink). It is up to each buyer to negotiate his/her own price, of course, but I was happy with what I paid.
7. Conclusion (46.5 / 50, whatever that means!) - As you'll have concluded, I like this pen a lot, the way it looks and how it writes!
I think that, at the MSRP of £300 it is in-line with its competitors, few of which, IMO, match its fit, finish, 'elegant conservatism' of design, and this lovely nib, plus the very friendly, personal service I have received from the folks at Onoto.
It is the 'whole package' which appeals to me, and tempts me to buy another with a finer nib!
Again this is very subjective...for most people US$460 (MSRP) is
a lot
to pay for an acrylic pen, however nice!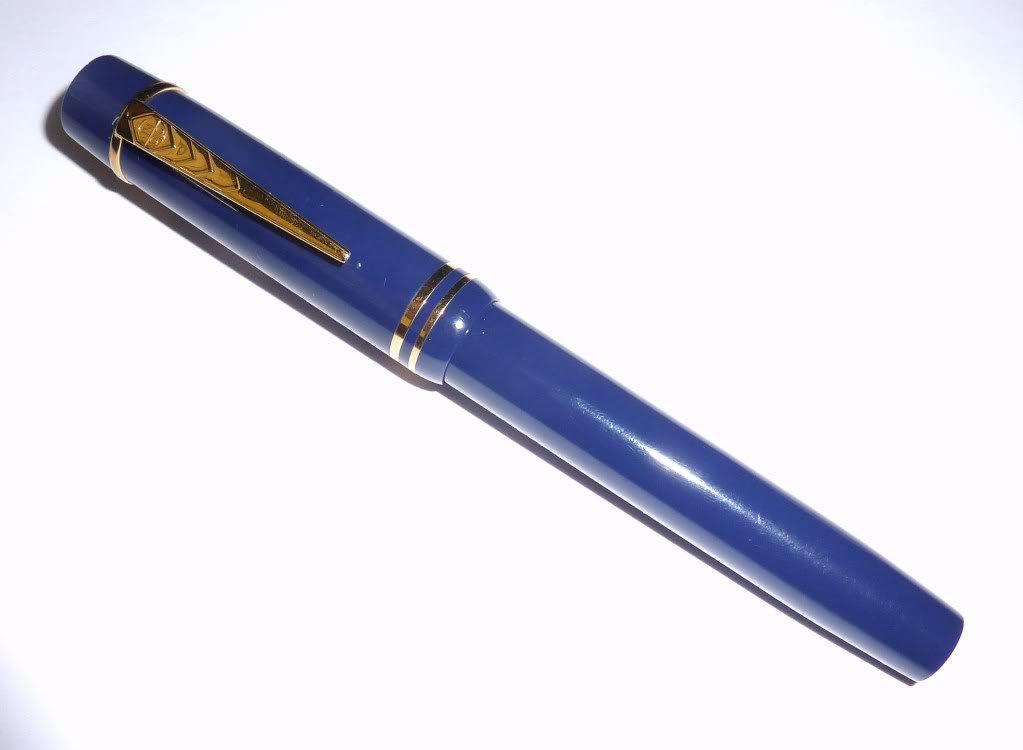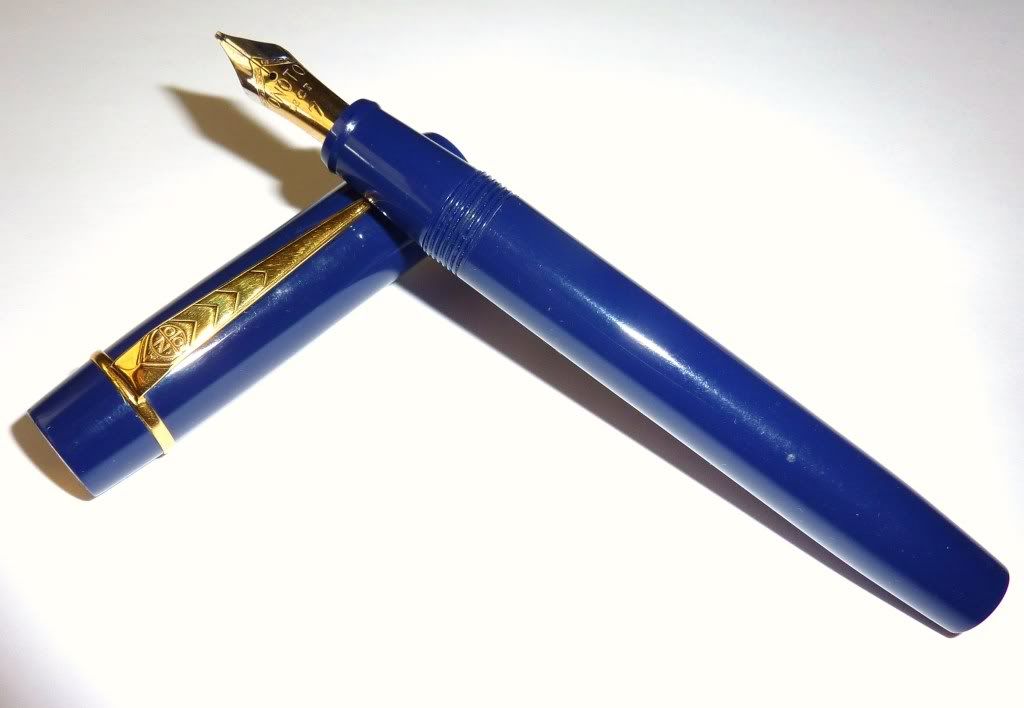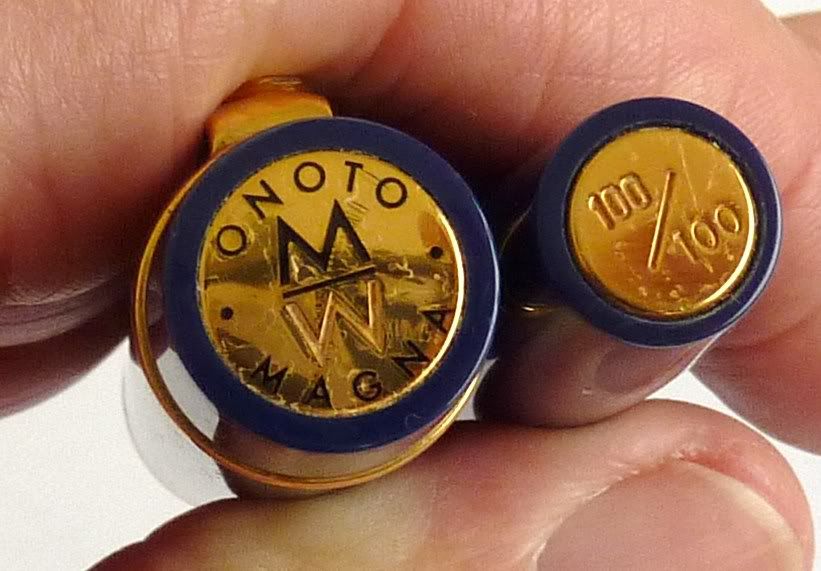 Edited by rogerb, 22 February 2010 - 02:36.