So here's my first pen review. I tend to buy "classic" pens that have already been reviewed
ad nauseum
, but the index only lists one previous review of this pen, so I thougth I'd give it a go. It's also my first time playing with the "macro" feature on my camera, so please bear with the photos.
I've been curious about Bexley pens for some time and recently decided that it was time to satisfy my curiosity. I was initially drawn to the Imperial series on aesthetic grounds, but decided that I wanted a Bexley that looks like a Bexley, not a Nakaya. So when Dennis of Parkville Pen announced special pricing on the BX802, I jumped at it.
First Impression (5/5)
Not a lot to say here. The pen comes packaged in a simple but attractive black box with a royal blue lining. Classy, and not overdone.
Appearance (4/5)
This is a very attractive pen. Almost distractingly so. It's not one that I'd take to work. Photos really can't do justice to the depth and complexity of the acrylic pen body. The color is called "cappuccino," but I'm reminded more of caramel over vanilla ice cream. If I'd been on the naming committee, I'd have suggested "dulce de leche." The pen is certainly no demonstrator, but the caramel areas are somewhat transparent so that depending on the angle and the lighting, you can see a bit of the cartridge or converter through the barrel. The threads on the inside of the cap are also visible (you can see this in the photo below). This probably varies quite a bit from pen to pen. The pen on the Bexley brochure, for instance, has a higher proportion of the opaque vanilla relative to the translucent caramel. This isn't a big deal, but I wanted to emphasize the transparency since it is something you might not expect if you just looked at photos.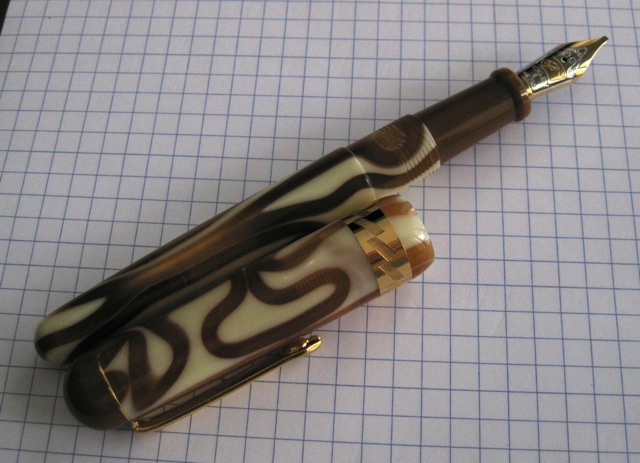 The cappuccino pen is the only one of the three BX802 colors with gold-colored furniture. There is a broad cap band with a very attractive pattern of a chain of rhomboids; I really like this, so I took a close-up.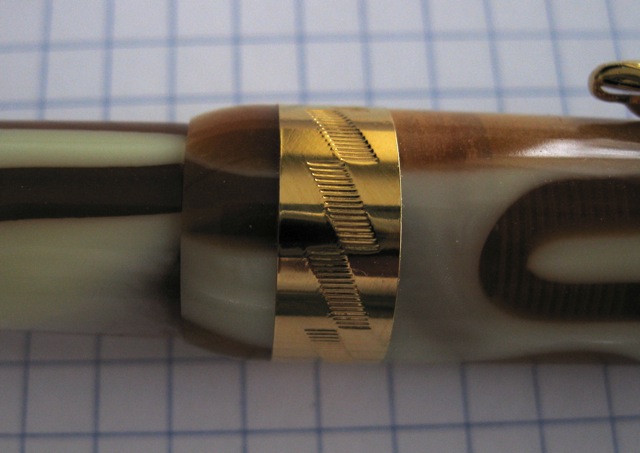 The clip is Bexley's faceted design, which is also featured on the Americana and Poseidon lines. It's an attractive clip, but to my eye it looks a bit small in relation to the rest of the pen.
Design / Size / Weight (4/5)
I use a lot of small, light pens, so this one seems a bit large to me, although it is actually one of Bexley's smaller offerings. It measures about 5-1/4" (13.3 cm) capped and about 6-1/8" (15.6 cm) posted. It's large in circumference, giving it a slightly chunky appearance. For its size, though, it's quite light. A lot of the weight seems to be in the cap, so it can feel a tiny bit top-heavy when posted, but not a major issue. Below is a picture with a Pelikan 400 for size comparison.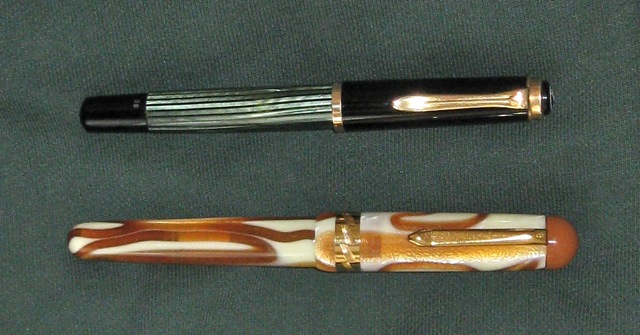 Nib (5/5)
The pen has a big, beautiful, 18K, bi-colored stub nib. This is my first 18K nib and I can feel a difference--definitely softer. It has some flex and the tines spread visibly on a firm downstroke. It's a little crisper than I expected for a stub nib, and seems to shade toward a cursive italic.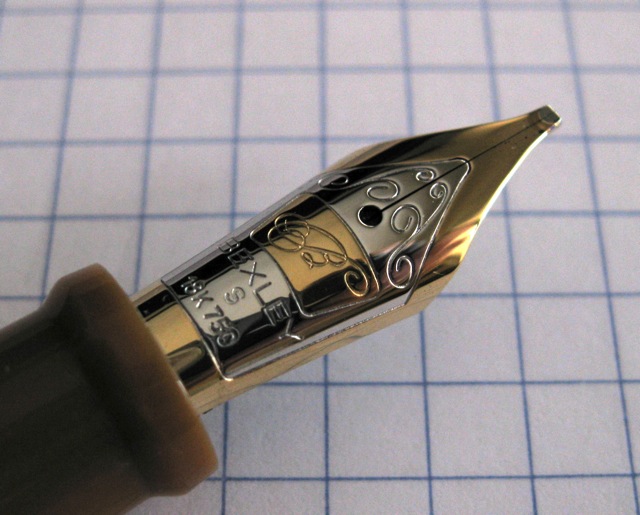 Filling System (3/5)
Cartridge/converter. Converter is included. Seems a shame for all that space in the wide barrel to go to waste, but I guess not everything can be a piston filler.
Cost and Value (4/5)
By taking advantage of a weekend special, I got this pen for a scandalously low $195. The MSRP is $299, which seems a bit steep, but not outrageously so. (These prices are for the 18K nib. The pens are available much cheaper with steel nibs, but the steel is not available in a factory stub.)
Conclusion
Overall, an excellent pen and a good value. Highly recommended.
Edited by anaximander, 19 February 2010 - 16:09.