Nakaya Neo Standard Kuro-Tamenuri (black-red) finish, gold trim, Broad nib and custom Maki-e
In December last year, while I was shopping for my toddler daughter's clothes at Children's Place, I overheard a middle-age woman exclaim: "How beautiful clothes! So cute! Makes me want to have a baby!" A couple of months before this incident, I saw FPN reviews (and blog) by
Leigh Reyes
and her beautiful handwriting made me to want a Nakaya in XF nib. How easy it is to equate getting a tool for achieving the capability! While I was growing up as an elementary/middle school student, we had a saying in one of the Indian languages, which roughly translates as "dumb pupils possess multiple pens." At that time, I thought parents invented this saying as an excuse so as not to give in to the demanding kids. Now that it's too late to be clever, what harm possibly could come in possessing many beautiful pens?
I got a chance to see
John Mottishaw
at the NYC Pen Show last year. He had many beautiful Nakaya pens with a variety of nib types. I tried XF, F and M (soft/hard) and somehow did not get thrilled. XF and F were more on the toothy/scratchy side. Of course, John can do wonders with custom tweaks. I sought opinions from FPN members. Decided to get started with a broad nib. So, as you can see, I started setting my goal for an XF nib, and ended up getting one with a broad nib. How worse I must be at aiming?
The ordering process at Nakaya direct was straightforward. Exchanged e-mails and finalized specifications. Golden monotone broad nib, custom maki-e, and Kuro-Tamenuri (black-red) finish for the Neo Standard model. Took around 4-5 weeks and got it in time before Christmas 2009.
To avoid repeating information, I would enlist these suggested links for interesting details on:
1.
Maki-e
2.
Process of pen
and
nib making
3.
Neo Standard model page
4.
Dimensions
Appearance and first impression:
The pen comes in a nice box accompanied by a couple of papers and Japanese cloth pen-pouch as shown in the first two pictures
at this link
.
Neo Standard, unlike other models, comes only in portable writer size and does not come clip-less. The Kuro-Tamenuri (black-red) finish gives elegance and conservative (i.e., non-flashy) characteristics to the writing instrument. With ageing, the red in the black should become more visible. At various joints or at the points where the pen shape changes, you can clearly see the underlying red tints.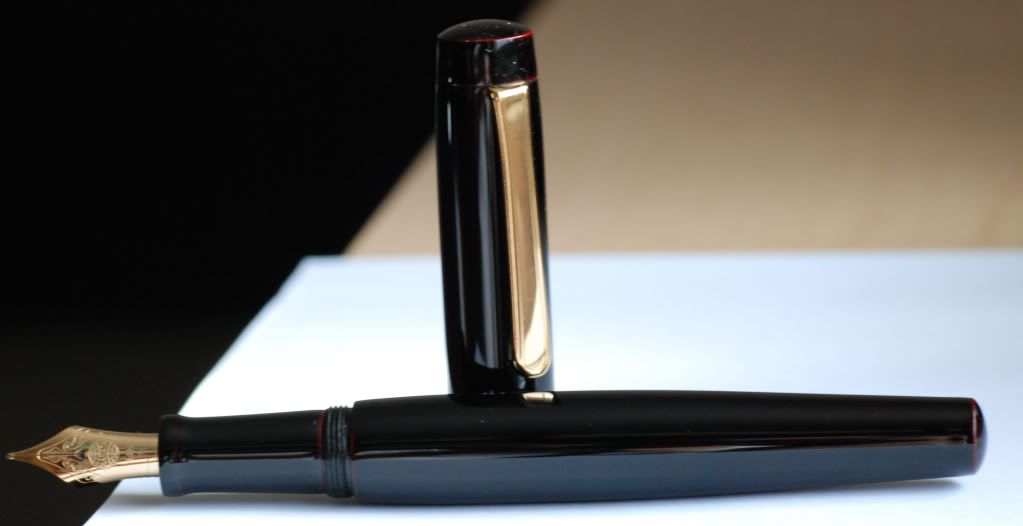 The grip section is perfect to my taste and imagination. I was looking for the grip section that is long enough (that is, has more distance between threads for cap and nib unit), has gentle taper and "lips" at the end. You may find it strange or too picky, but this was one of the main reasons I set on the Neo Standard model. The other reasons were dimensions and shape/appearance.

By default, the Makie-e appears on the feeder side of the pen. The handwritten Maki-e phrase in gold that I chose means (I am told) "I love my wife and daughters very much." Now you know how my budget for this pen got approved.
Physical Dimensions:
The link I mentioned earlier provides dimensions. However, since these pens are hand made, there can be some variation. That's why I list the dimensions of my pen as below:
Total length: 6-inches (15.3 cms), Barrel plus nib section: 5.3 inches (13.5 cms)
Total weight: (no ink) 1 oz (28.35 gms), Barrel plus nib section: 0.7 oz ( 19.85 gms).
As you can see, for its length, the pen is relatively light.
Comparative Dimensions:
To give relative idea of its size, below are a few pictures with Montblanc 146 pen nearby.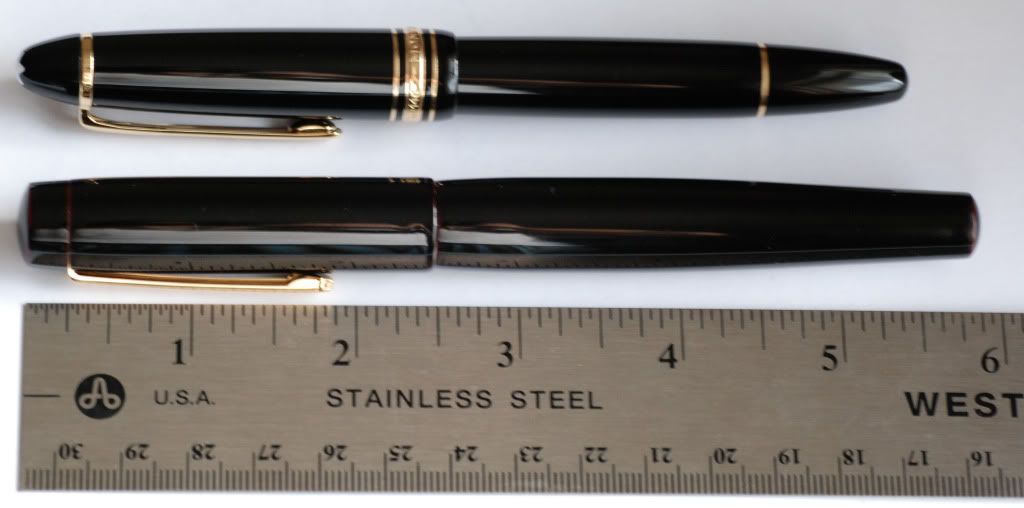 It might also help to show how pen holds in the hand: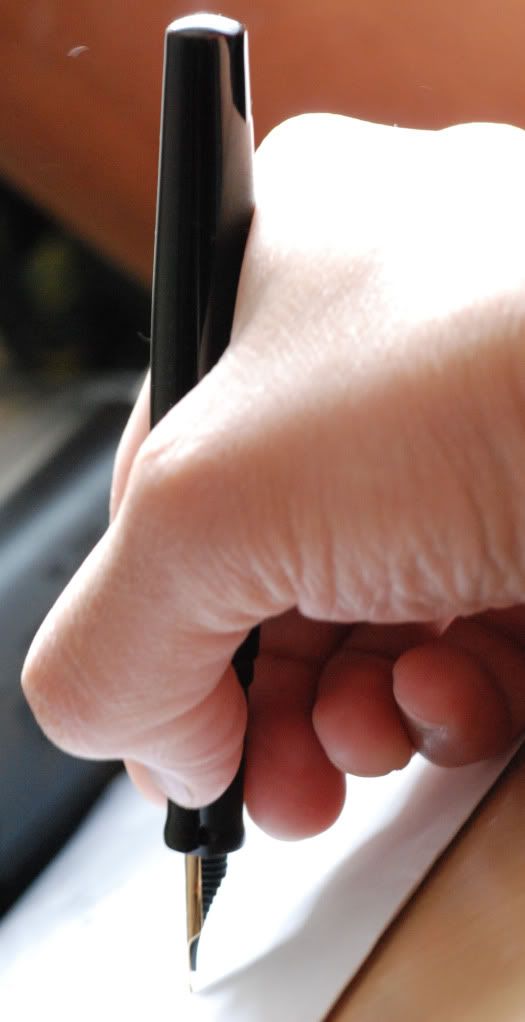 Nib and Writing Performance:
I chose a stiff, broad nib. It writes almost like a western medium. The nib writes nicely wet (but not overly wet). There is no scratchiness/sharp tooth at all. It just glides on the paper with a nice feedback that gives you sense of control and direction. It's not buttery smooth like Sailor's medium nibs are, but still I would call it smooth with a healthy dose of feedback.
The monotone nib is beautiful and simple.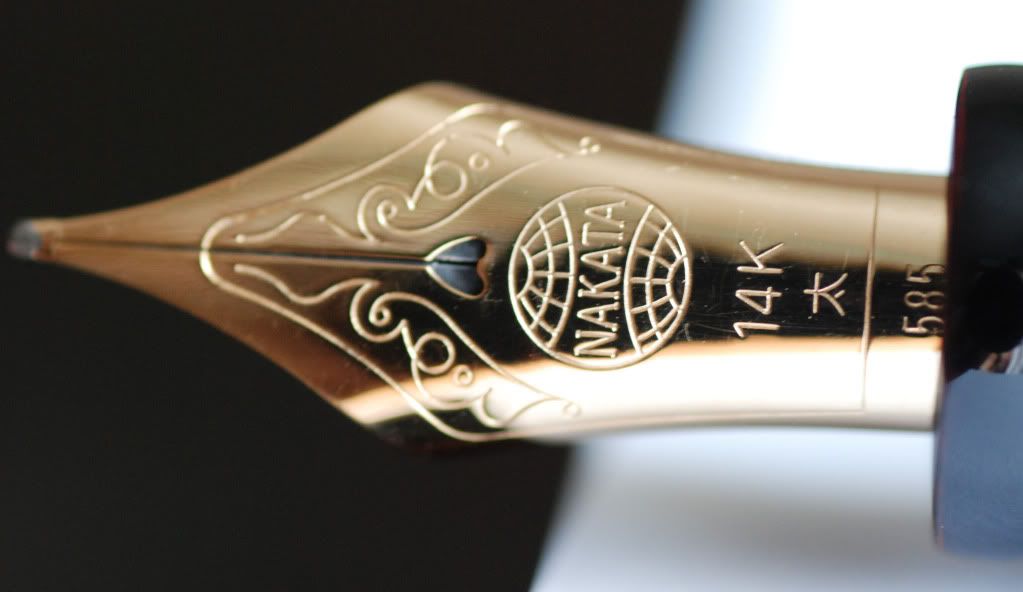 I like how passionately nib and feeder give each other a nice tight hug.
The pen accepts cartridge-converter and ink cartridges. If you are using European cartridges, you will need a $1 adapter. If you use Platinum cartridges, no such adapter is needed. Some
other inspirational ideas can be found here
.
Some prefer piston fillers more. I like piston-fillers as well as converter-type. It's often easier to clean a converter type pen than a piston-filler pen unless nib can easily be removed, like in Pelikans, when a better cleaning is needed.
Here are writing samples:
Smooth paper:
"Normal" paper: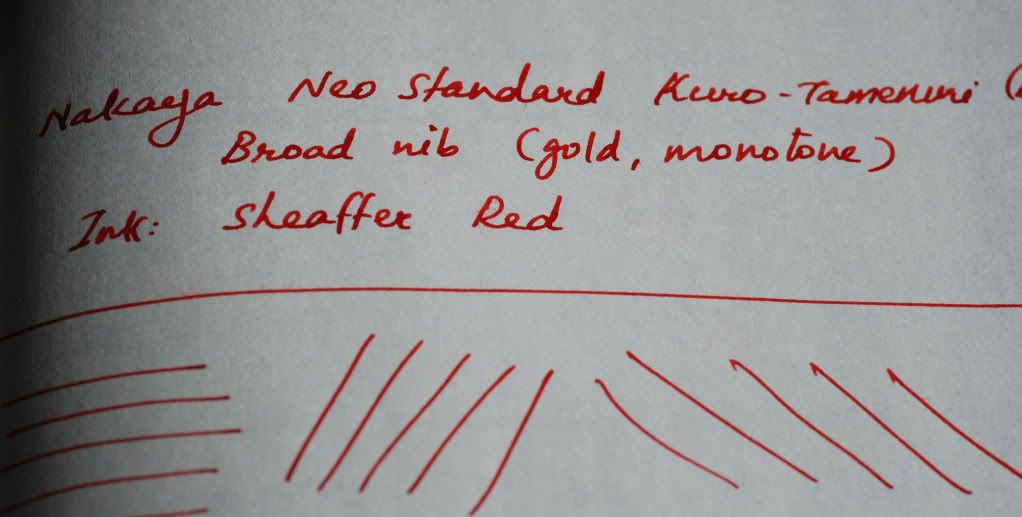 Close up: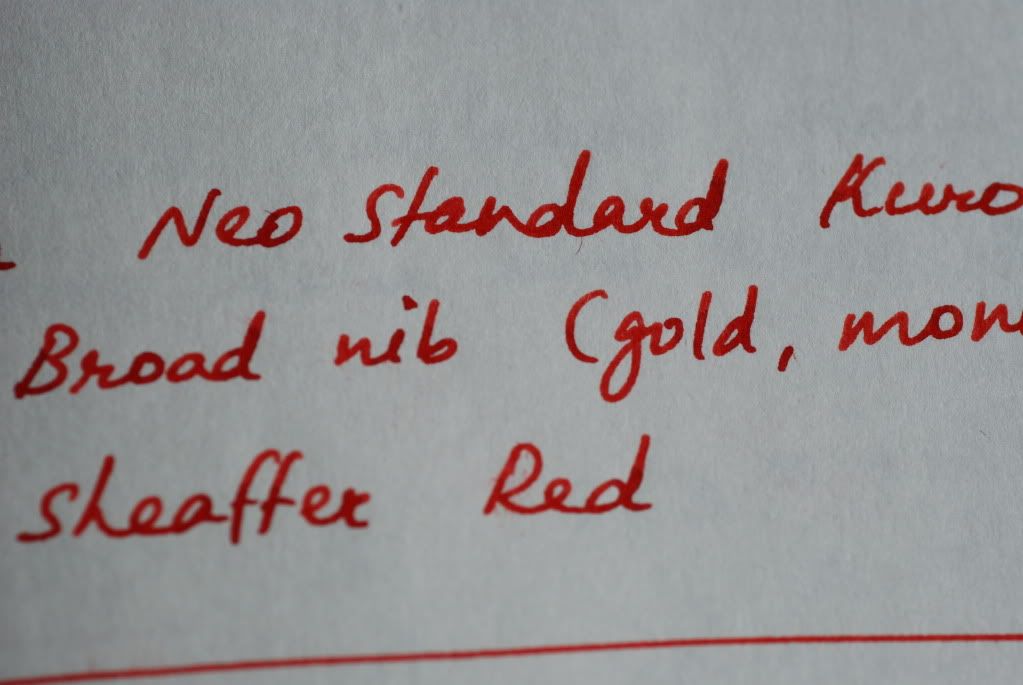 Conclusion:
This is a beautiful pen with perfect ergonomics. You can have it for special occasion writings (if you are overly concerned about scratching the beautiful Urushi lacquer) or as a daily writer (if you don't mind changing cartridges/filling up converters). The current base price is $460 and other options add up. It's not cheap but you can have a pen that is specifically designed with your choices and options in mind. If you want to tweak your nib further (cursive, stub, wetness, flex, etc.), John Mottishaw should be your first choice. Whether you order directly or through other sources, you will be amazed and awe-struck.