Two Modern Aurora 88 (Large) with Chrome and Gold Plated Caps, Medium and Fine nibs
Background:
I have no clue why Aurora 88 hadn't come under my radar until early December of last year. And I don't know what exactly triggered my attention to it. Nevertheless, I am happy that I tried something outside of my typical comfort zone (Montblancs, Watermans, Pelikans and Sailors). I ruled out Optima because of price and a bit shorter barrel length (which is important to me because I don't post caps). Besides, I was unfamiliar of Aurora products, so better to get started with something proven, with successful history. And if I liked what I tried, I can always try other models in future when opportunity and fund availability would coincide. So, I decided on modern, large, Aurora 88 model. I generally prefer gold trim. No, it is not flashy to me. However, for the sake of my mood swings, I try to keep a closer balance between gold and silver/chrome finishes in my very modest collection so far.
I had good experience with Pam Braun on other brands (sailors, for example). So I knocked her door again for Aurora. I first got an 88 with chrome cap in medium nib. Then I thought of trying out an EF nib, so ordered a golden cap 88 with EF nib. Somehow, EF nib was in short supply and a couple of weeks wait was required. Being an impulsive buyer, I asked for an F nib instead. I am glad I got an F nib because I got the exact line-width I thought I would get from an EF.
There are more than enough reviews and post on Aurora 88. So this is going to add very little to what has already been said. The only things that I think might be new will be (i) comparison of M and F nibs in the same review/post and (ii) the review segment of 88 with gold cap.
Appearance and first impression:
For the sake of brevity, let's rename "Aurora 88 Ottantotto Chrome Cap Black Resin Large Fountain Pen (Model 806)" to "Chromie" and "Aurora 88 Ottantotto Gold Plated Cap Black Resin Large Fountain Pen (Model 801)" to "Goldie." Chromie and Goldie appear to me as alter ego of each other, so I imagine them as complementary (yin and yang) twins. There must be some kind of disorder in psychiatry for grown ups to have imaginary friends.
To me, this is the design where the aesthetic and utilitarian aspects merge and embody into one single entity. It has a smooth piston mechanism that holds a lot of ink, a nice ink window between two gold plated or chrome rings. The ebonite feeder bears a faint impression (easily seen under direct light) of the letter to denote the type of nib (F, M, etc.). The barrel length and weight are perfect for my hands. The cap and clip resemble to a bust manikin of a bald, shirtless person wearing a classy necktie. The pattern on the caps can cause Moire effect under direct light or flash-photography.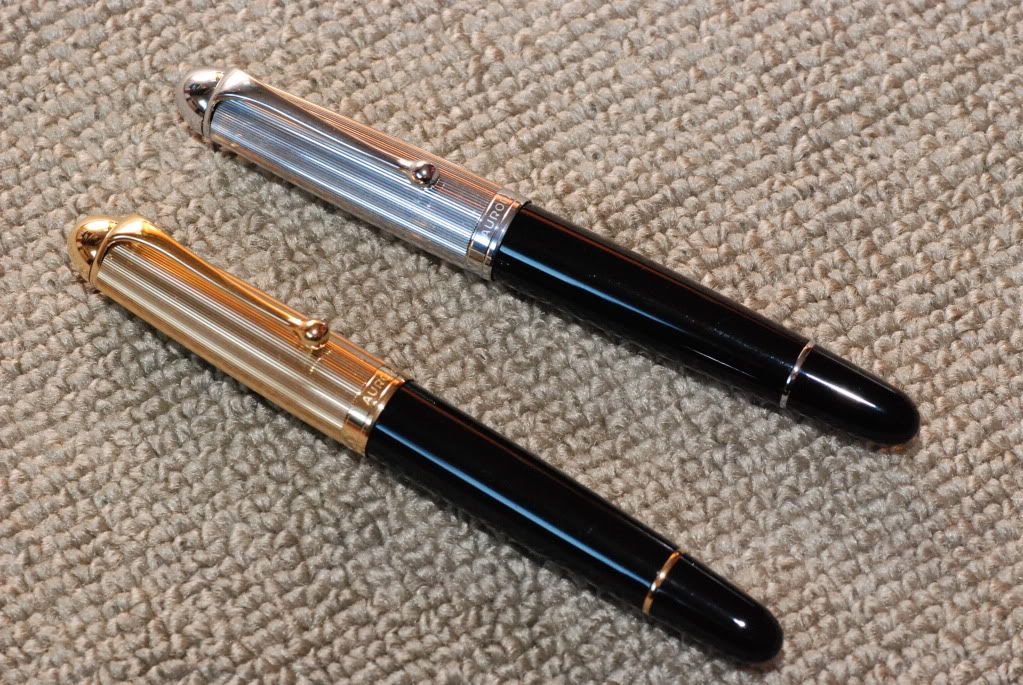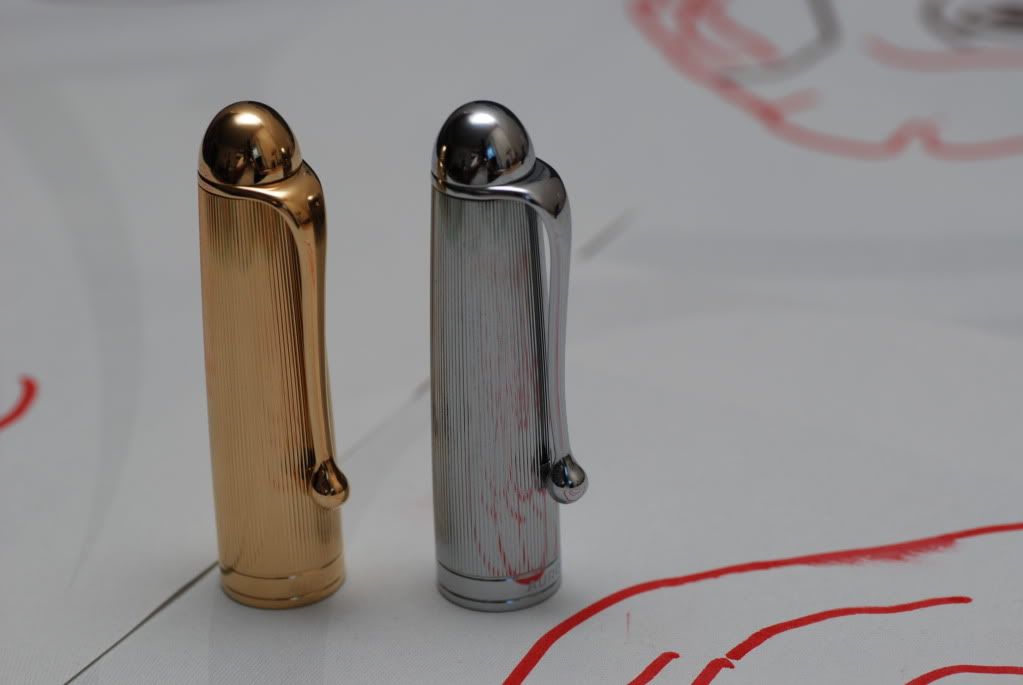 Goldie and Chromie fighting for focus/attention - classic sibling rivalry:
Physical Dimensions:
Based on my non-precise measurements, the whole pen capped is 5.4 inches (around 14 cms) long. The un-capped pen, that is, barrel plus the nib section, is 5.3 inches (around 13.2 cms) long. Total weight, with ink, is 0.9 oz (25.5 gms). The cap weighs 0.4 oz (11.34 gms) and the barrel including the nib section weighs 0.5 oz (14.16gms).
Comparative Dimensions:
To give relative idea of its size, below are a few pictures with other pens nearby.
Bottom to top: Sailor 1911 Large, Goldie, and Montblanc 146.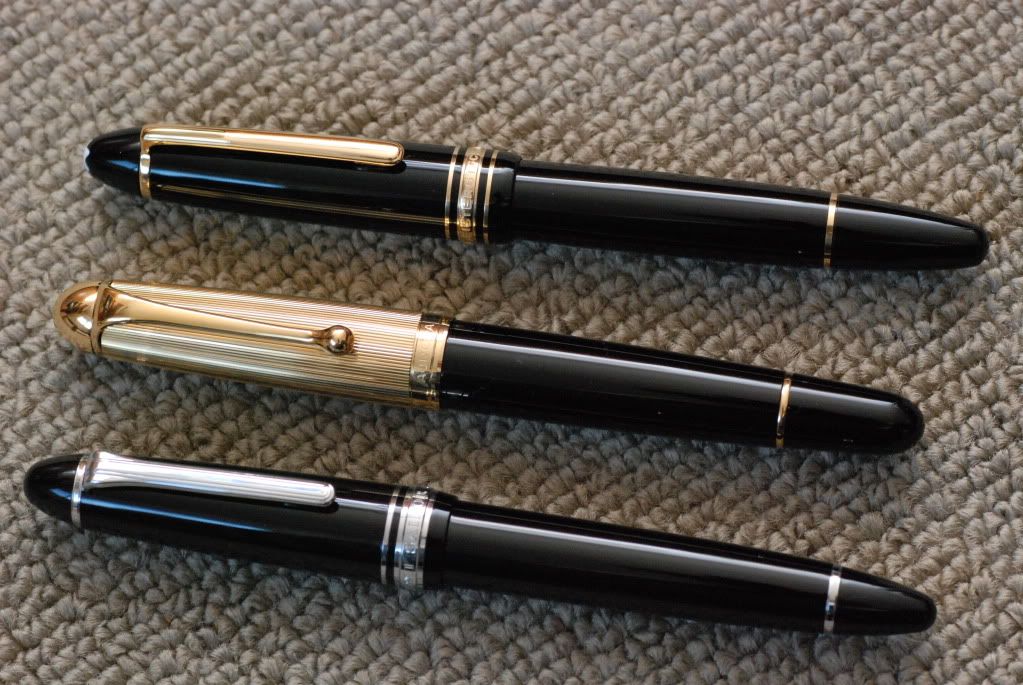 Left to right: Stipula Etruria, Pelikan M805, Montblanc 146, Sailor 1911 Large, Chromie, and Nakaya Neo Standard Kuro-Tamenuri.
Comparing un-capped pens:
Left to right: Montblanc 146, Goldie, and Sailor 1911 Large.
Nib and Writing Performance:
Here comes a surprise (to me). To say that the nib is pleasure to write with is a serious understatement. It's a delightful and unique feeling compared to modern Waterman, Pelikan, Montblanc and Sailor nibs that I have been mainly accustomed to using. The nib is rigid, doesn't have any flex and has negligible springiness. There's ample discussion on the FPN about feedback and tooth on Aurora nibs. I tend to agree
with what "ethernautrix" said here.
None of my Aurora nibs (F and M) is scratchy. Interestingly, I get more tactile feedback with my M nib than F.
Those who hate stiff nibs to begin with, may not try Aurora. I love nibs that are stiff (Waterman Carene, Aurora) or have flex of varying degree (vintage Waterman).
The nibs are beautifully ornate.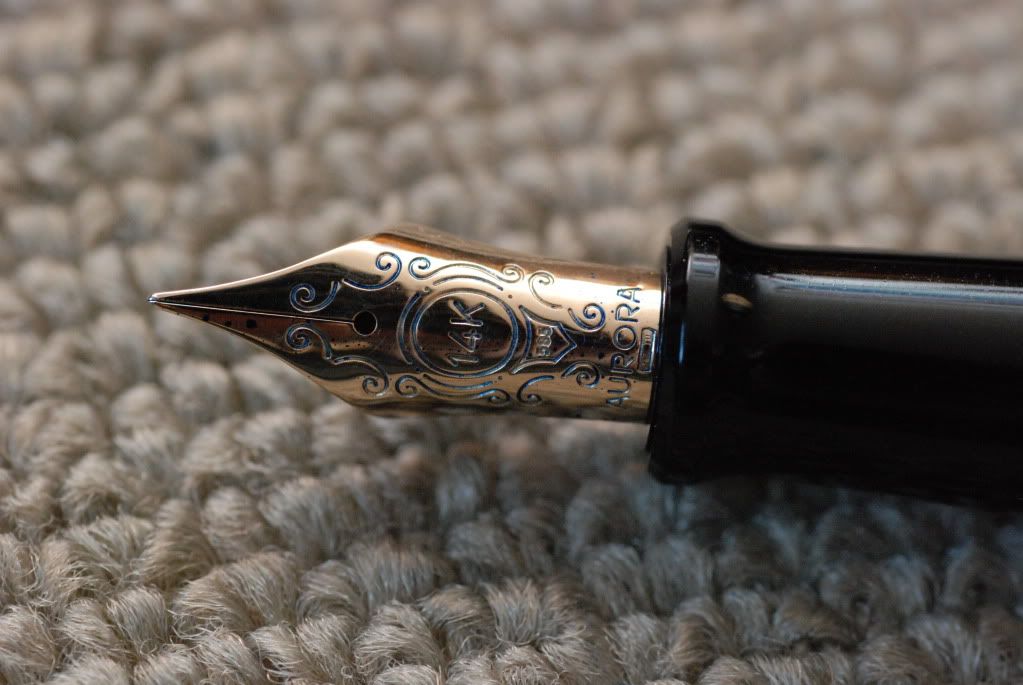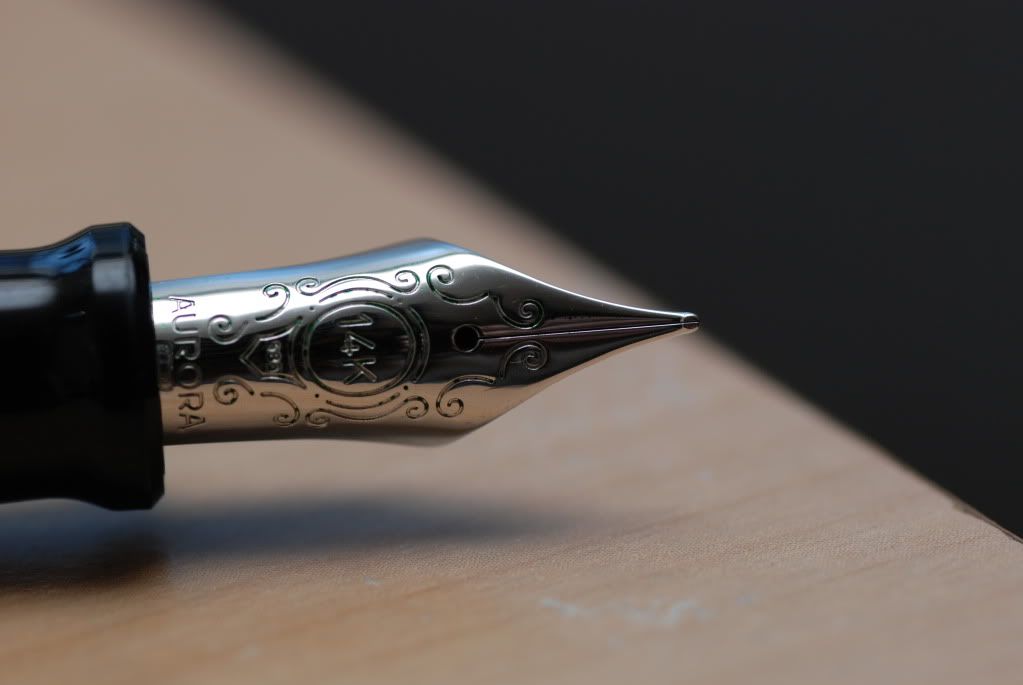 Oh no! No, not again! Fighting for focus....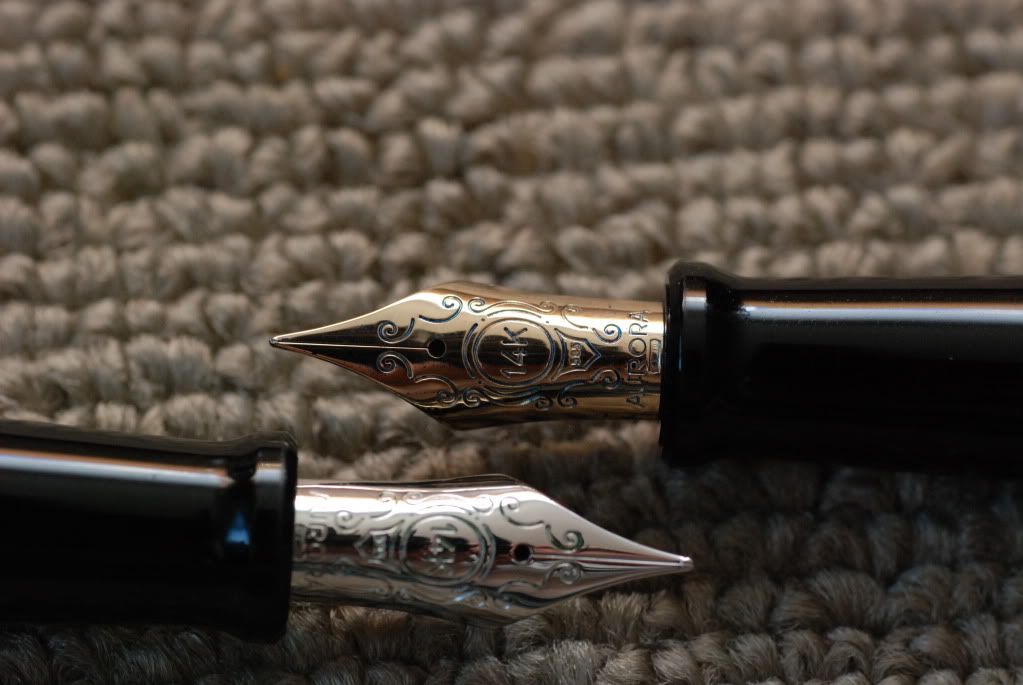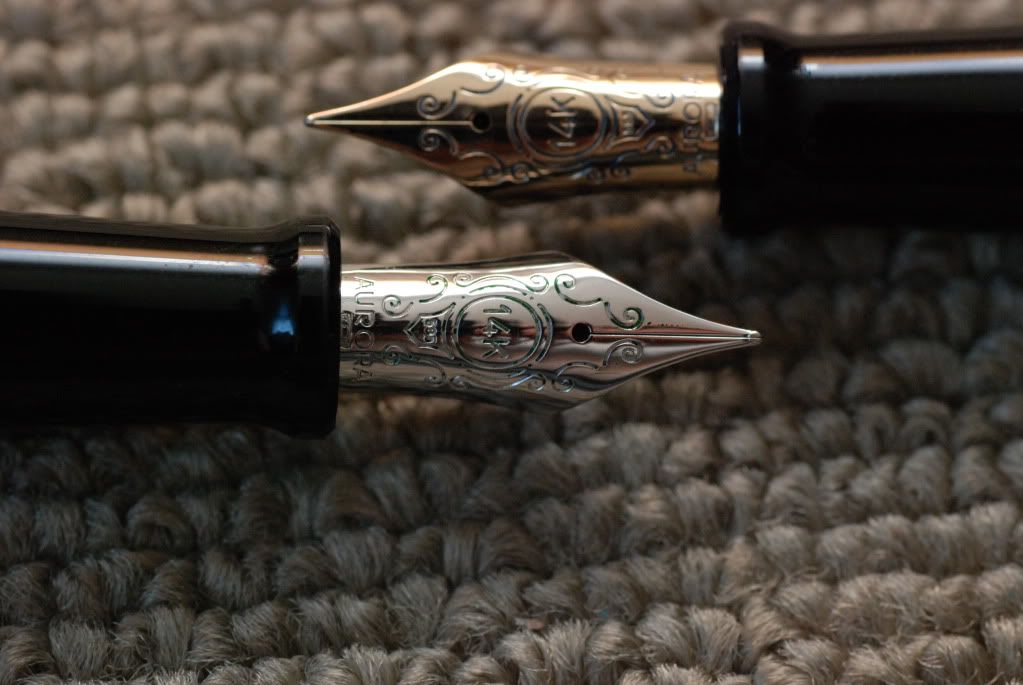 The fine nib writes like a western extra fine and like Asian fine in my view. It lays down nice, consistent line with just enough wetness. Lovely feedback. The medium nib writes like a western fine/medium-fine and Asian medium. It lays down nice, wet line with consistent stroke-width. Excellent feedback.
Here are writing samples on Rhodia orange pad.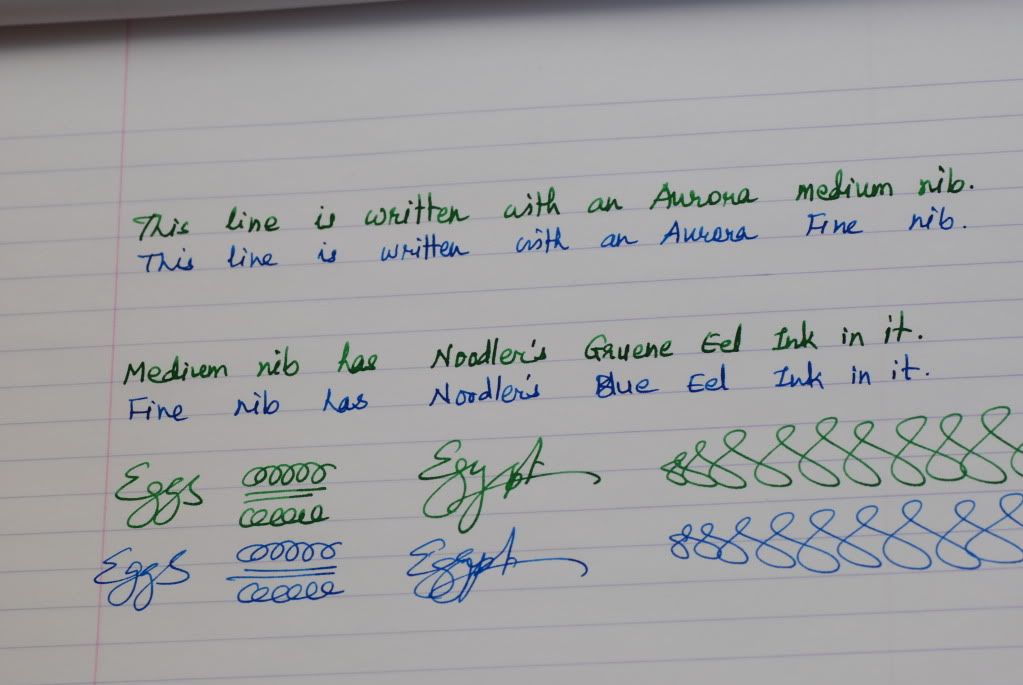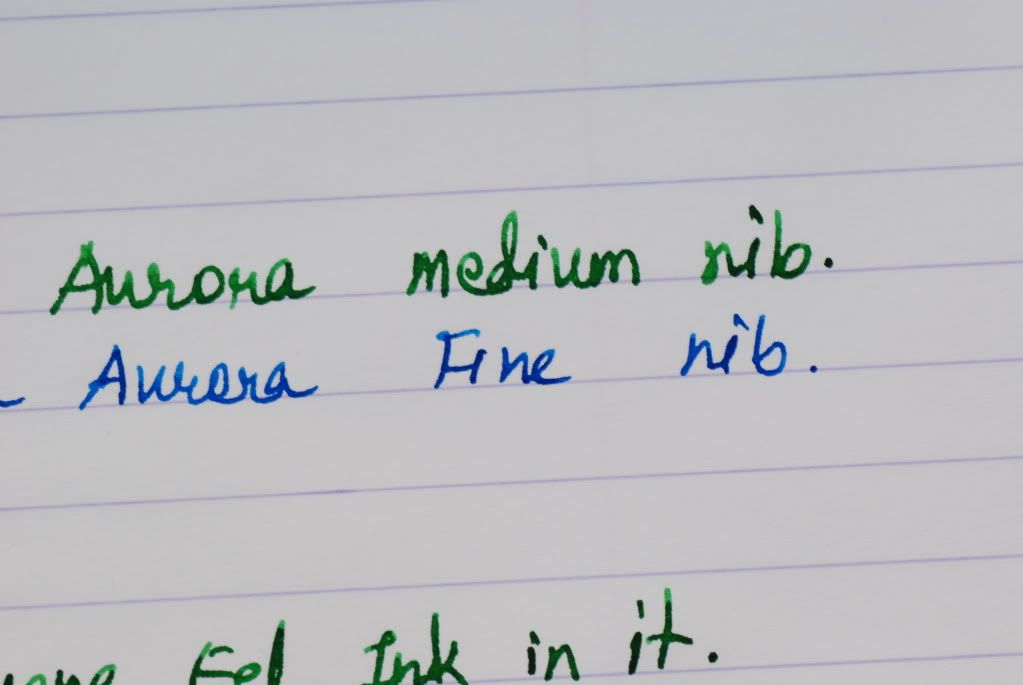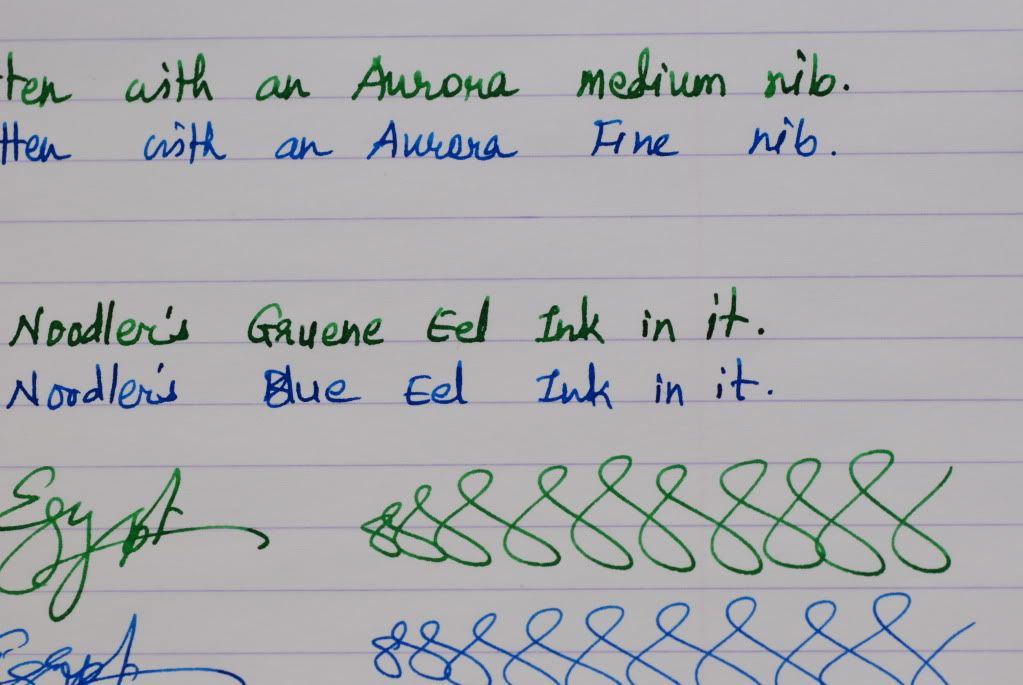 Conclusion:
Overall, these are beautiful pens, can be daily writers. I happily recommend without any reservations. At current retail of $500-$600 range and street prices less than that, it's a decent option. Those who are considering Montblanc 146, should also give this pen a try. Those who are too concerned about tooth/feedback related posts (nibs are handmade I am told, and do have variations), should begin with M nib in Aurora. Those who are using Sailors, should dare into something quite different in nib experience, like Aurora 88. I am glad I did. Better late than never.