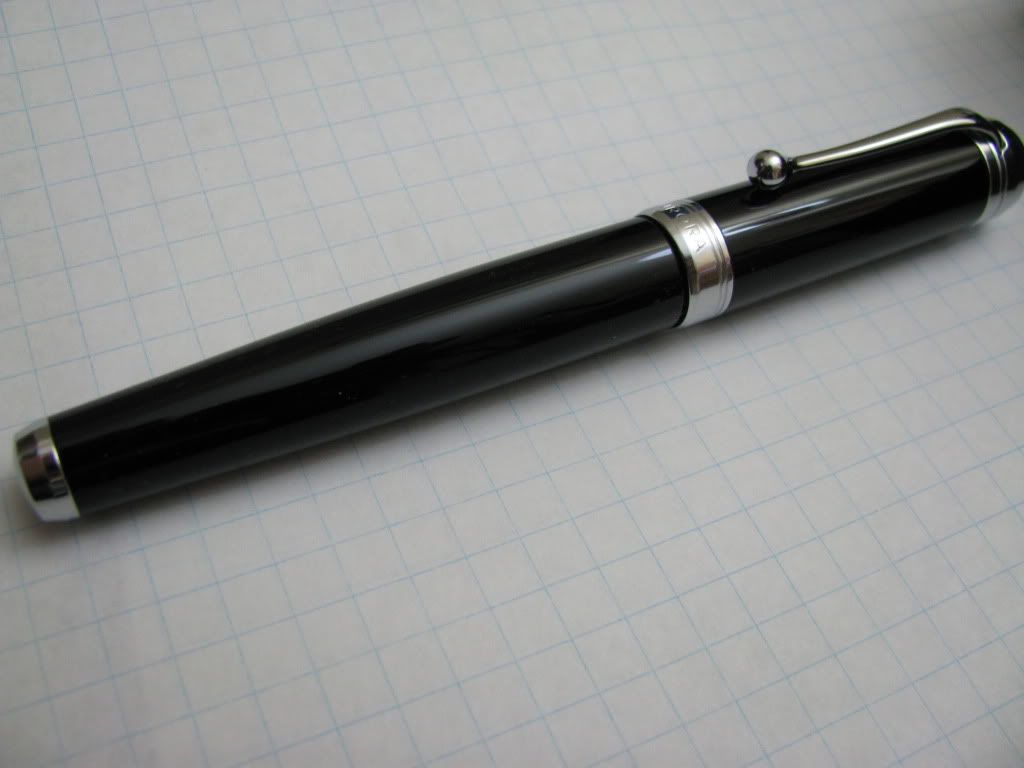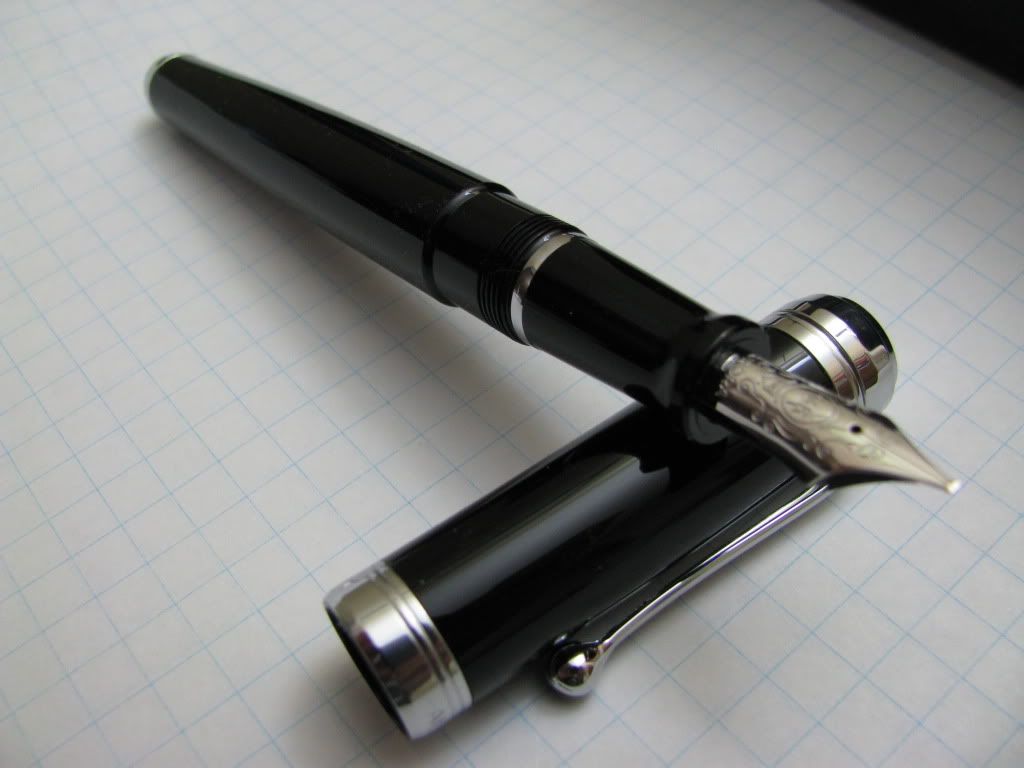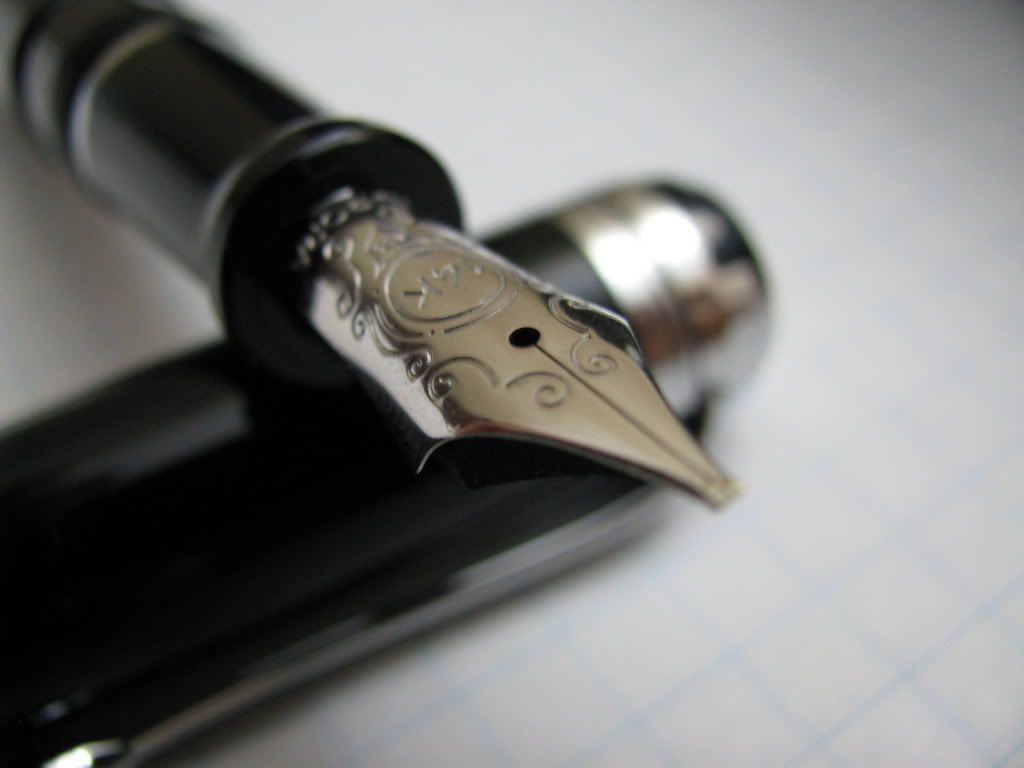 When I was at the Toronto pen show, I talked to the Aurora rep there and he showed me the 88, a beautiful (but slightly bulbous) fountain pen, hailing the brand as being very good. I was shocked… to put it lightly when I heard what the purchase price was in Toronto ($395+ tax)… Since then, an Aurora has been at the back of my mind for quite some time. However, knowing that their pens would burn quite a hole in my wallet, I never got around to purchasing one for quite a while.
Before I had bought this Aurora,I never really had a pen that screamed "Hey, I use a fountain pen". Sure, youcan say I have my Vacumatic but that pen was a bit small and has a filling system which takes eons to clean (well, I'm slightly over exaggerating)…
After saving some money from Christmas, and exchanging emails with Bryant at Pentime.net, I finally own one.
First Impressions:
After trekking through a jungle of packing peanuts, Imanaged to find a black Aurora box sitting inside the postal box. Upon lifting the cover of that box, I was greeted with… red paper! It contrasted well to the black box and it matched the red Aurora logo. A nice touch.What's more important is what was wrapped inside of the red paper. It was…another box! Okay, so after opening the clamshell box (which was quite large and heavy) I was greeted by the pen loaded with the converter, 2 "king size" Aurora blue cartridges, and a few papers briefly explaining Aurora history in a few different languages. Not sure if this is the box all Talentums come in, though, as PinarelloOnly's review has a different box I think.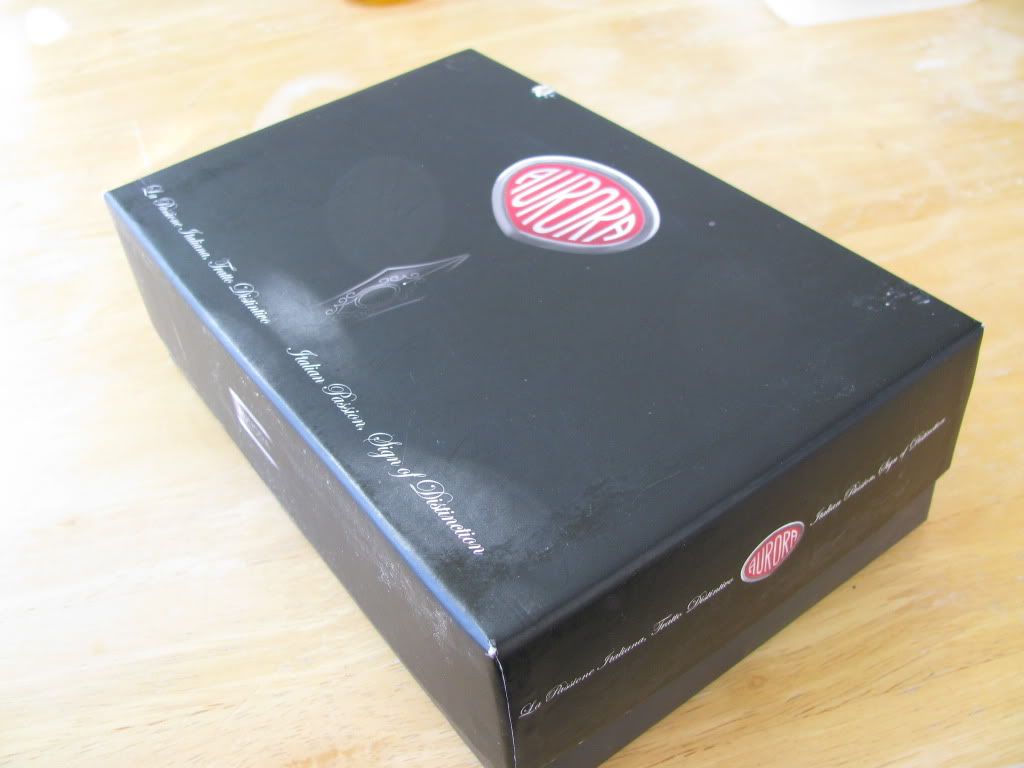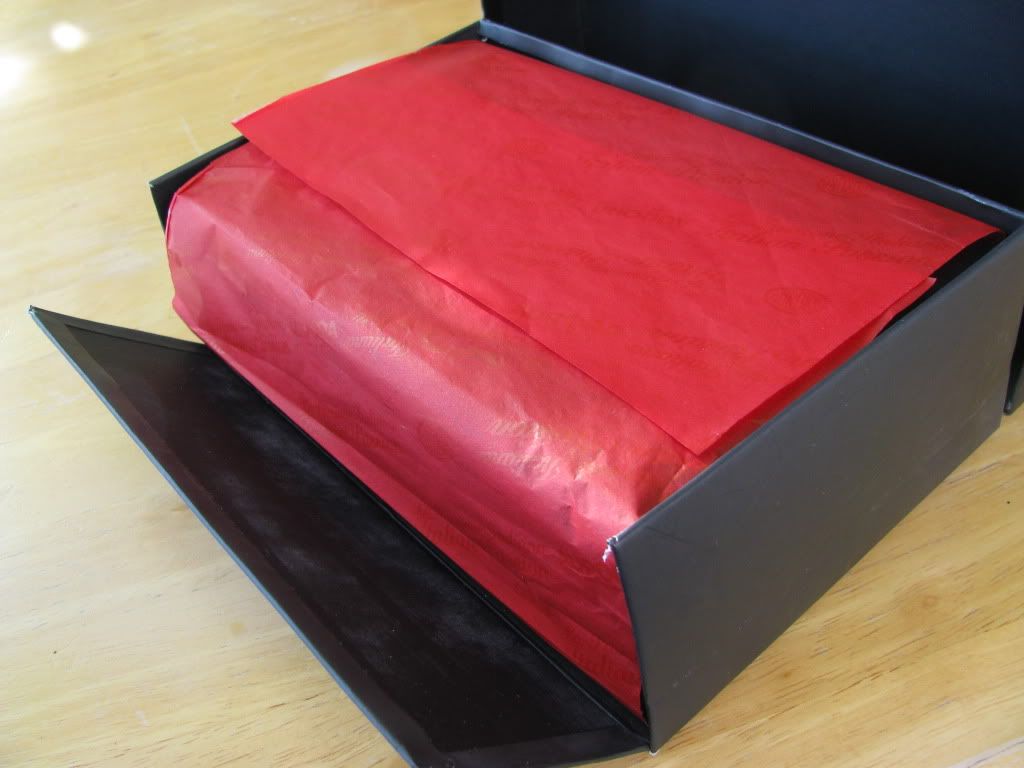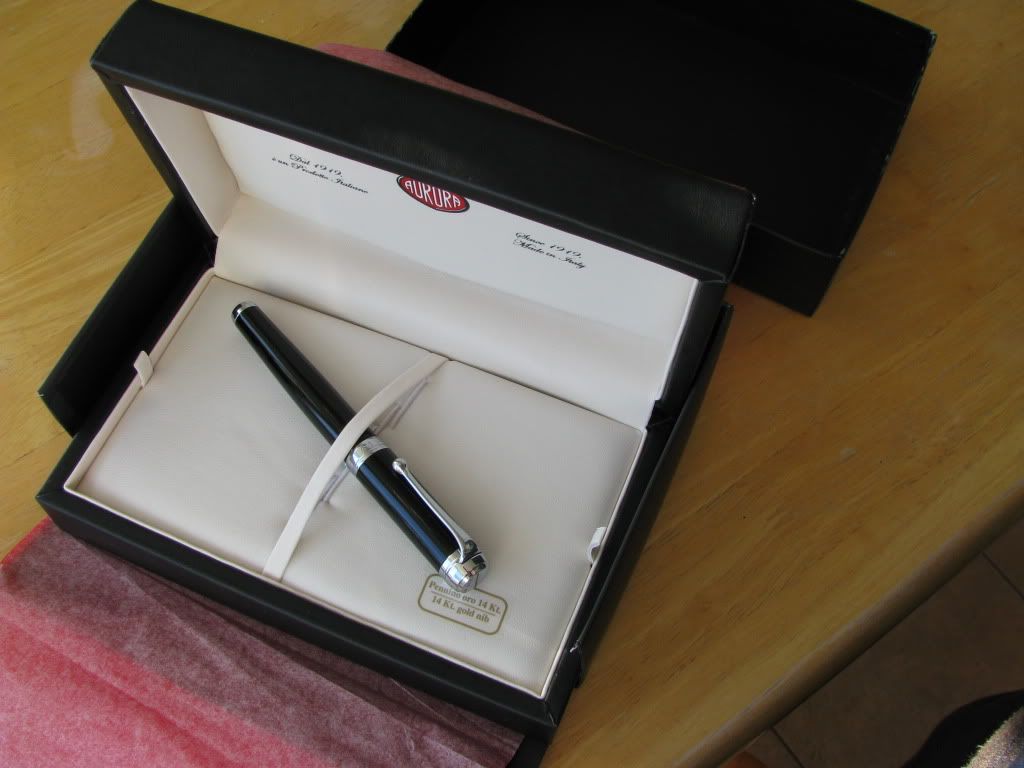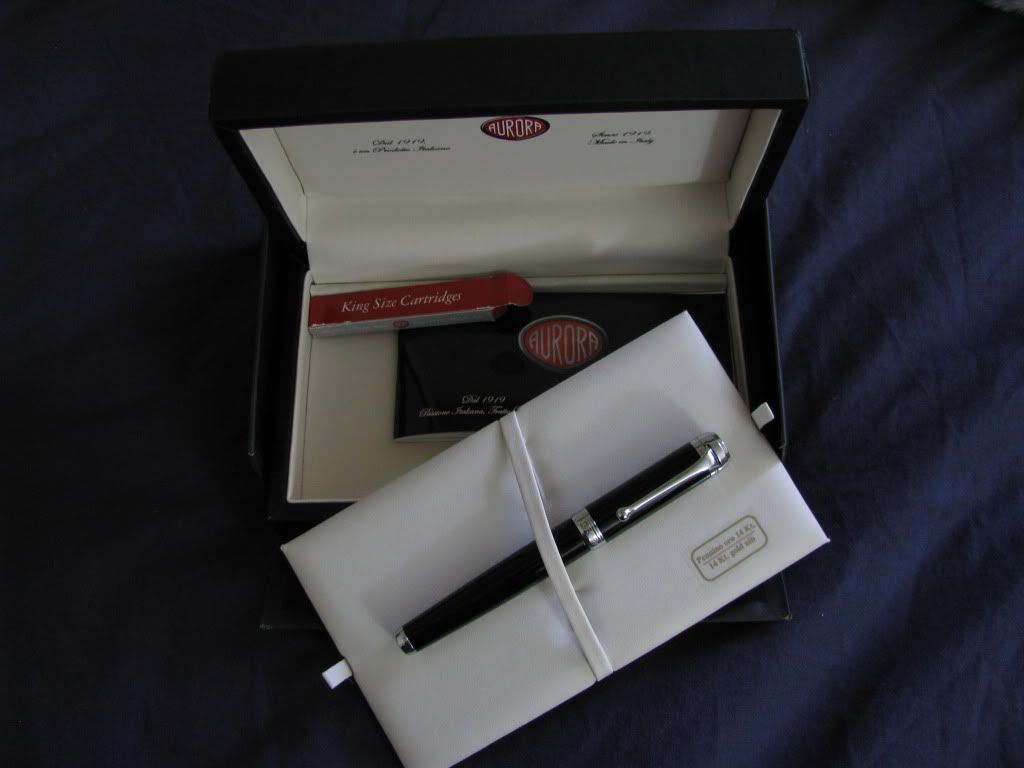 Appearance and design:
Deep, high gloss black finish with a flat top design accented with chrome ends. The pen's body subtly becomes a bit slender at the end, although it's barely noticeable. The pen also closes so it's almost flush with the body. In most pens, this would cause the dreaded step down section. However, the designers at Aurora anticipated this and made the step minimal and further back than I'd think most people would hold the pen. The result is a very comfortable grip. The highgloss finish gets fingerprints easily, unfortunately…
Everything in this pen shows quality. Unscrewing the pen is a joy, as it isextremely smooth… Smoother than the rest of my pens. When you need to refill,unscrewing the body reveals the metal section and you realize why there is the bit of metal showing in the grip. However, the grip is meant for
Capped: 13.5 cm
Uncapped: 13.1 cm
Posted: 16 cm
Overall, it's a larger pen than I usually have.
Filling system:
Cartridge or converter… Now before you stop reading this review, I would say itis a good filling system but that would be a half truth… An equivocation, if you will.
The good thing about cartridge and converter filling is that it is easier to clean than a piston, it gives you the chance to use cartridges, and if the converter breaks it's easily replaceable. The converter holds a bigamount of ink but the italic nib will likely drain it out faster than say, an EF.
The thing I don't like about this particular pen's converter is the price. I think places charge $10-$13 for the converter. C'mon! I can buy a bottle of ink for that price! The quality of the converter must be questioned. I mean, it's pretty good and all, but I have the feeling that I might pull it out sometime as it's basically a stronger plastic cartridge witha piston mechanism at the back… There's nothing to hold it there, like with the Lamy Vista for example.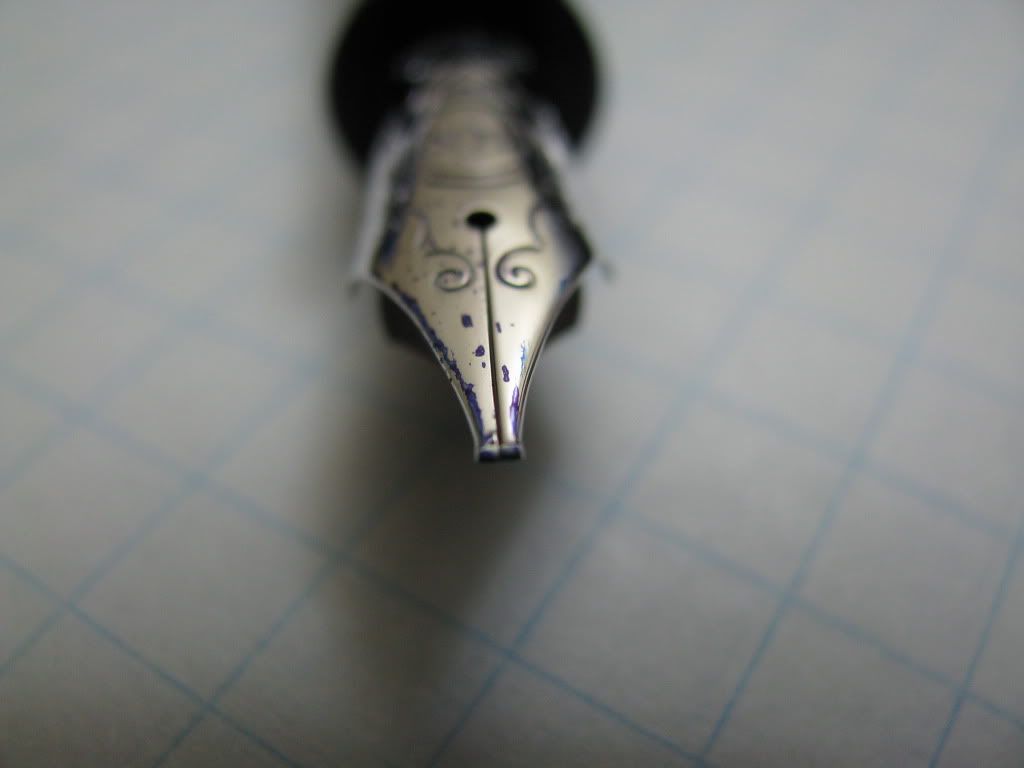 Nib:
Always my favourite part to review. After a recommendationby Dandelion, I decided to jump for the Italic nib. As you may know, Aurora is one of the few brands that make their own nibs and they have certain characteristics to them. While some people describe the feeling as tooth, I describe it as control. The nib is incredibly smooth, but controlled so you can write smoothly. I would say it writes at around 7/10. It's not a nail but not flexy either, and with an italic nib you probably wouldn't want a flex nib...but line variation is there if you want it. A wet and crisp line which is verygood.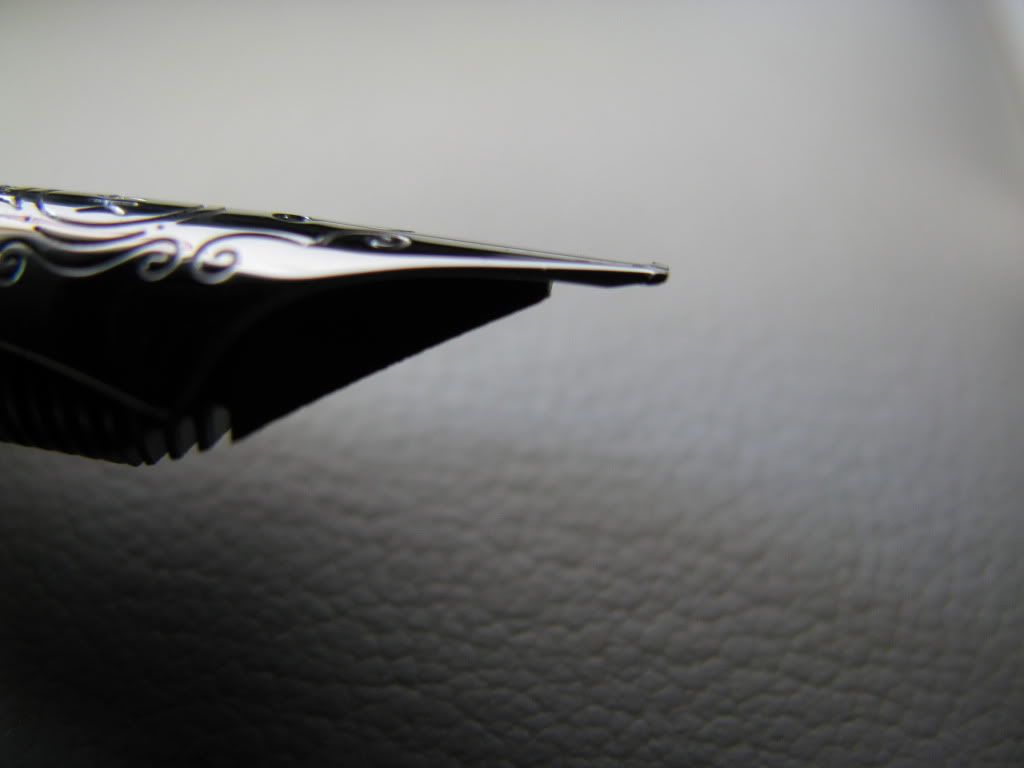 The nib took two days to break in, I think it has something to do with the fact that the feed is made out of ebonite. At first, it would be hard to get flow with the pen but now it's great. Sidestrokes are very thin,and the downstrokes are very broad. I apologise for the lack of writing samples…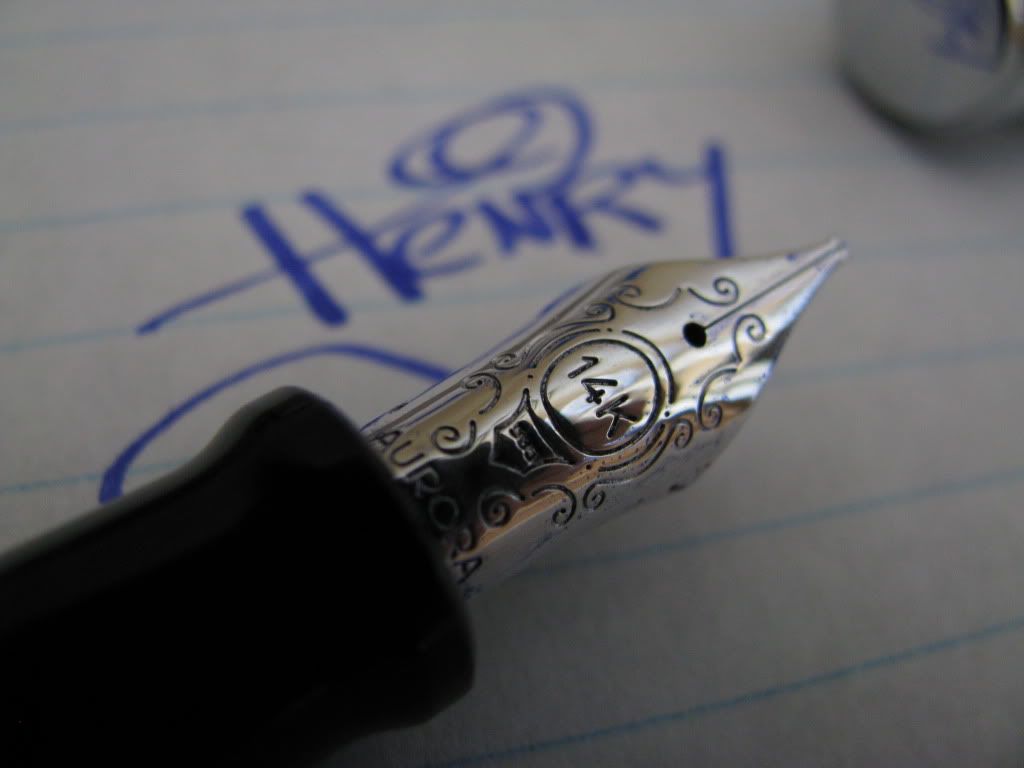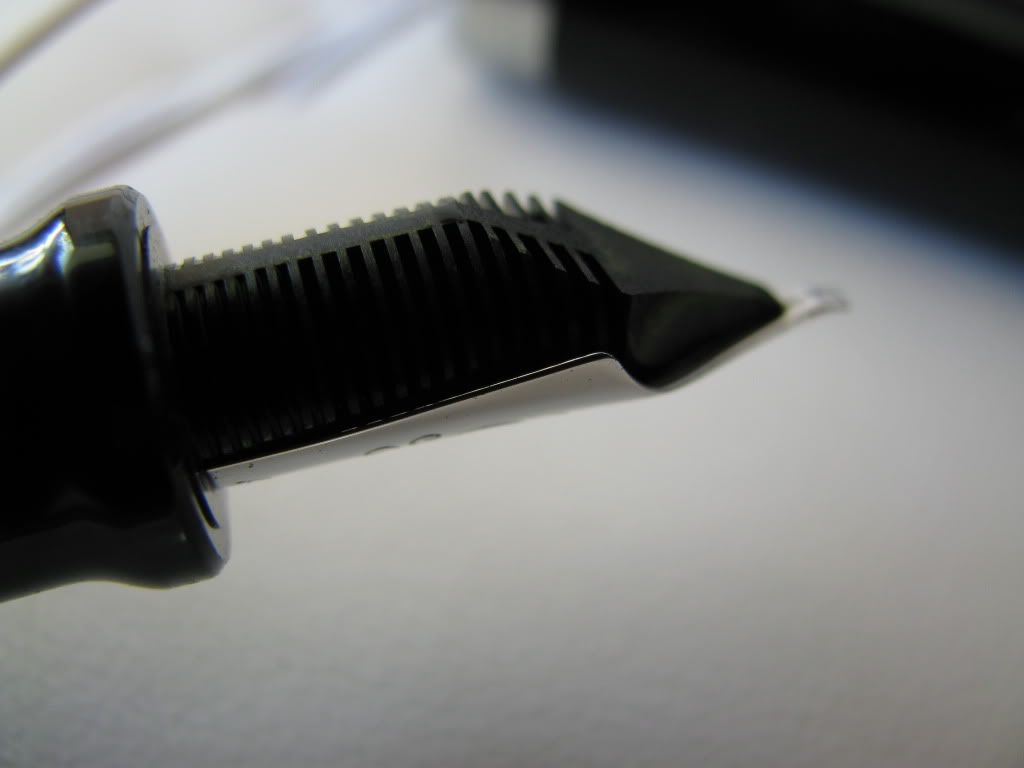 Cost and Value:
Well, for what I paid, I got a good deal. Aurora has recently raised their prices, and that is quite absurd considering retail in Toronto for one of these has to be over $350… I got mine for much less than that shipped from Bryant at pentime.net. I highly recommend him as I got a great price and overall he is a great person to deal with… But once you get into these pens you are getting into the higher echelon of writing instruments and it is not aboutgetting a pen for notes or to throw in your backpack. This isn't the pen you're going to lend your friends, especially with the Italic nib which isn't friendly to new users.
Conclusion:
I finally have the pen that I will show to people when theyask, "You use a fountain pen?"… And while I won't be using it for notes at school, general writing with this pen/doing flourishes is a great experience that I think everyone should experience. An instant favorite since I opened the box.
To end, here is the pen with my other favorites:
Edited by HenryLouis, 09 February 2010 - 04:30.