Earlier this year, I started seeing some of the members of my pen club with pens made by one of our pen club members. I knew Bruno was making pens, but I didn't get really excited about them until I saw that he was now making his pens in hard rubber. Well, I couldn't restrain myself and asked him to make one.
I'm not the most original guy--I pointed to my friend Lex's pen and asked him to make me one just like that. The only difference is that I supplied a different nib. That's the beauty and genius of Bruno's pens, I think--he uses vintage nibs and since the pen is custom made, the section is made to fit the nib you select. I had an oversized Waterman Emblem nib available and that's what is in this pen.
First, here's a peek at the Corsini Studio: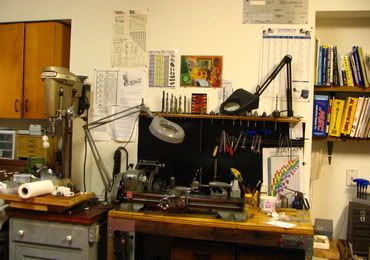 It's a little cramped when both cars are in the garage, but this is where the miracles happen.
I did get to see my pen as a work in progress at our June club meeting: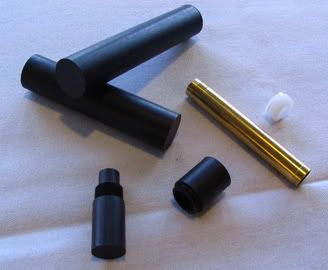 And a few weeks after the Portland show, Bruno invited me over to see his workshop, pick up the pen, and to have lunch with his wife (who is an artist of another type, a weaver) and himself. How many pens come with a great lunch, huh?
So here it is: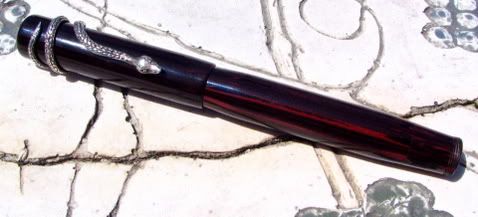 And uncapped: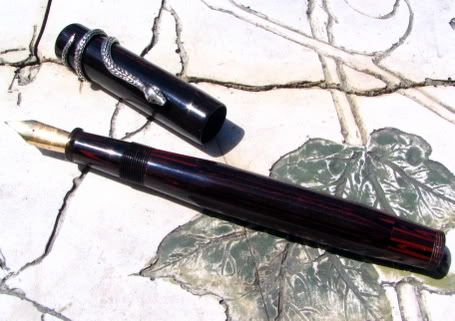 Before I go on the the detail photos, let me say that this is a big pen, as you can see from this comparison shot with a Tibaldi Modello 60: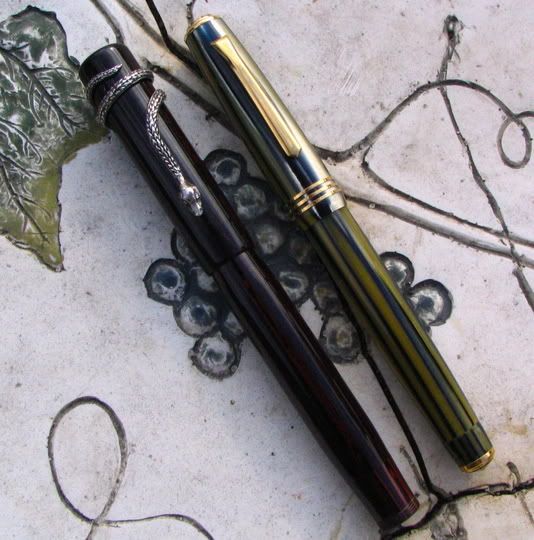 Bruno makes these pens with threading on the outside of the blind cap so that the cap can be posted. This is a wise precaution, as a hard rubber cap is vulnerable to splitting from friction posting. But in truth, no one would write with this pen posted, unless perhaps you wanted to conduct a symphony at the same time!
How big is this pen? Well, it's 5 7/8" capped and about 9/16" wide at the cap lip. And it's eight inches long, posted! I'm not a big pen person, especially, so to me this pen is big. It's made in the style of a flat top, although the cap top has a subtle dome to it. The pen barrel is tapered down to the blind cap, as well as toward the section, but more about that in a moment. As I said, the material is hard rubber, a modern mottled hard rubber. This is a very dark material, in a woodgrain pattern, which may be too dark for many but I love the subdued, almost hidden color.
When I was at Bruno's workshop, I saw pens in various states of completeness, including ripple HR pens and a large variety of pens in both bright and subtle acrylics.
The cap is threaded and very simple, a perfect counterpoint to the snake.
Bruno sources the sterling silver snake from a local metal craftsman. Bruno had a snake clip he used on one of the first pens he sold, but he didn't like the design, so Bruno and his wife Deborah and the metal caster sat down a designed a snake from scratch, with the great results you see here: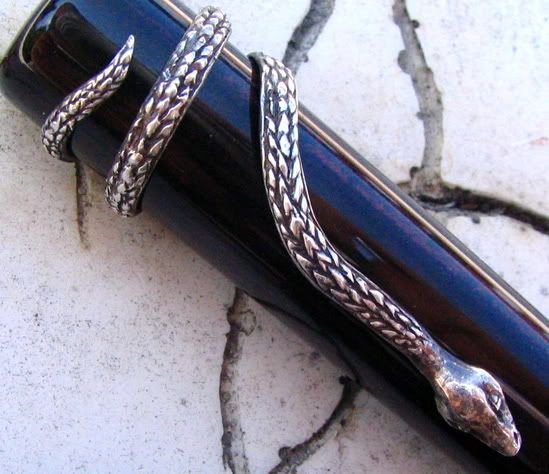 Here's the section and nib. This OS Waterman nib is, I think, the perfect match for this pen and Bruno must think so as well, since he has recommended this nib to others. One Pentracer bought one from John Mottishaw and had John re-tip it as a BB. John usually prefers to set his own nibs, but I can tell you that Bruno is excellent at getting the right flow for the nib and user.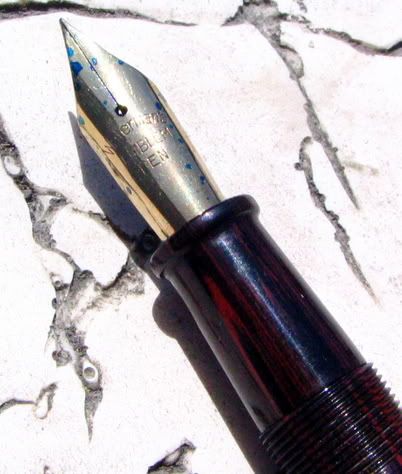 Notice what I would call the vintage styling of this section, with the lip. This isn't easy to do, but it's a nice example of the subtle details that Bruno builds into his work. I looked a a half dozen of these pens and not one had exactly the same section! Oh, I should mention here that he made one section made with internal threading to fit a Pelikan 800 nib unit, so there's hope here for those of you lacking a spare vintage nib about!
The filling system is a pneumatic system, like that used on early Chilton pens. The rubber sac is a #20 and holds a lot of ink. To fill, the writer unscrews the blind cap, extends the plunger and then depresses it with the nib in the ink bottle. When despressing it, your finger has to be over the vent in the center of blind cap. This creates a vacuum in the barrel and collapses the ink sac. When you take your finger off the hole (with nib still in the bottle), the release of pressure allows the ink sac to fill with ink. It's an interesting feature of this system that, once filled, the plunger can be extended and retracted and--unless you put your finger over the vent hole--it doesn't effect the filled ink sac.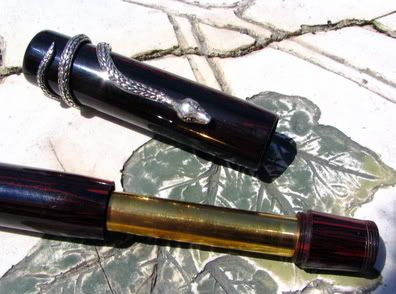 If the pneumatic filler sounds a little too complex, Bruno also makes these pens as button fillers, with a traditonal pressure bar system but with a very nice button rather than those little ones that poke your finger. Bruno was careful to point out to me that he does not glue any part of the pen; everything is threaded (with the exception of the friction fitted nib) and indeed he disassembled my entire pen in front of me!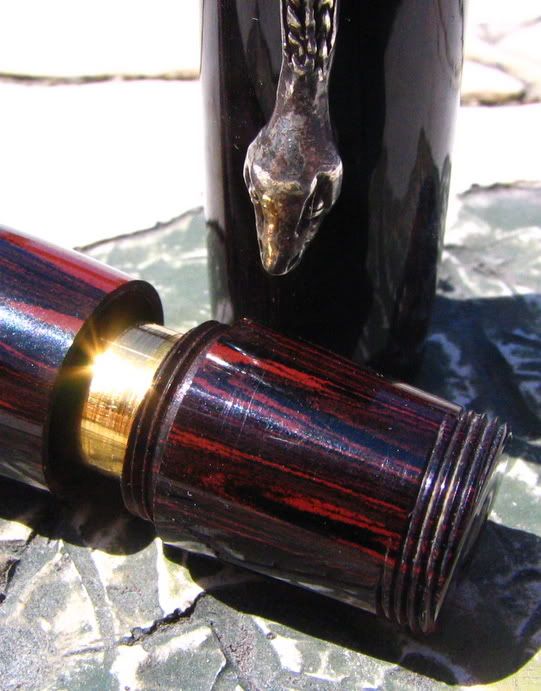 This is the part of the review that is always most subjective, but in this case, since each of these pens have a unique nib, it is perhaps more important to focus how the pen fits in my hand, how it balances, and so on. But I will say, even though I knew my nib was a wonderful nib, Bruno set it to allow for the perfect ink flow for me and I hope the writing sample shows how nicely it fits my writing style.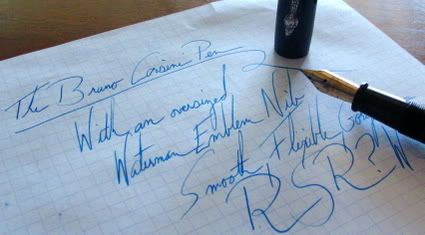 The balance, unposted of course, is perfect. While the HR is quite light, the brass tube that makes the plunger adds a bit of weight. I grip a pen fairly low and the tapered section is very comfortable for me, but gripping it higher is possible and I don't find that the threads bite my fingers much at all.
As for carrying the pen, it is not too big for a pocket, since it is about the size of a Dani Trio Densho. The sterling snake clip grips fabric nicely and has just enough play to make it easy to work with, while still feeling secure.
"Modern classic" is an over-used term, but one that fits this Bruno Corsini model. Bruno is a vintage pen lover and those influences are very clear in this pen's design. By the way, I don't think it has a model name, which could get tricky, since Bruno had previous made a few pens and now has a Tuckaway pen with its own base (I've ordered one!). Maybe it will get a name retrospectively. Actually, let me propose one: the Big B!
To wrap up an overlong review, the fit and finish of this custom pen is outstanding. It offers several great advantages: a choice of two time-tested filling systems, a classic sterling clip that accents an elegantly simple pen, and nib options that are almost unlimited. And let's not forget a wide array of choices for the pen material itself, from modern acrylics to hard rubber and who knows what else Bruno has in stock. This is a great pen and a heirloom that I will be using until they pry my hands off it!
Thanks for looking, Dan
[Edited 08/10/06 to clarify clip design.]
Edited by dcarmell, 10 August 2006 - 16:41.