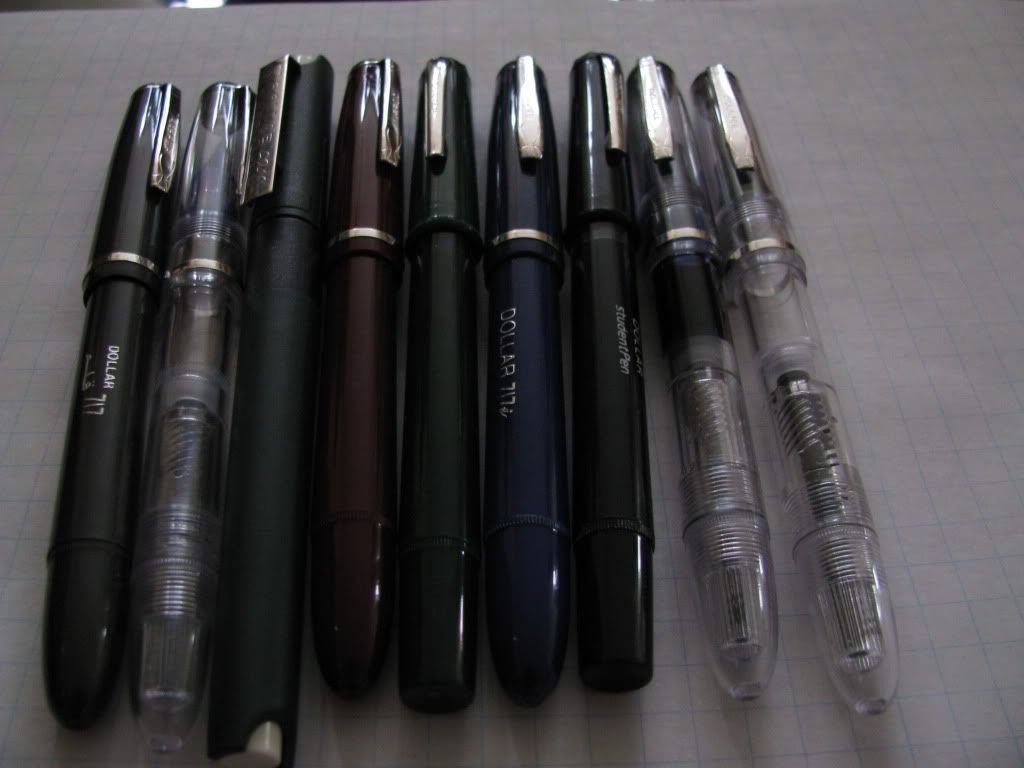 Intro: I had first heard of Dollar fountain pens while I was browsing Youtube looking for fountain pen videos. Alas, I found hisnibs's videoon the dollar pens. I wasn't crazy about them at that time, well… Not crazy enough to pay what he is charging. Alas, I collected some more pens and the dollars somewhat were forgotten. Dollar pens are made in Pakistan.
So I saw in the for sale forum, a member (smeden) had some dollar demonstrators for sale initially. Now, the entire dollar line up is for sale (at great prices), and I will be reviewing all of them here.
Appearance and Design:
Dollar 717i/Demonstrator:
Capped: 12.6 cm
Uncapped: 11.6 cm
Posted: 14.6 cm
Student Pen
Capped: 12.6 cm
Uncapped: 11.6 cm
Posted: 14.6 cm
SP-10
Capped: 13.8 cm
Uncapped: 12.5 cm
Posted: 15.6 cm
They're all pretty nice pens. Obviously not in the highr ange of fountain pens, but pretty well built. I'd say about ashigh quality of a Lamy Vista… Plastic is nice, but I have a feeling it's not as robust as the Vista's plastic…. But at 1/3 of the price, what can you complain about? Piston fillers, which are always nice, the SP-10 has an integrated converter type piston filler, with a sliding motion instead of a twist on the others. All require you to remove a blind cap of some sort to fill. They are available in different colors, and thedemonstrator even has feeds to match (blue pen, blue feed). Interesting… TheSP-10 is quite large, but quite robust. It has a plastic that is a bit less smooth as the ones on the other pens, and it seems much more sturdy. Thestudent pen and SP-10 are snap caps, but the SP-10 is a bit more robust, I think. The 717i and demonstrators have a twist cap which adds class to the pen. At first, I thought that the 717i is the italic version, but this is not true.It's the regular version.
The Dollar studentpen has a flat top design, but the top has a polygon shape which is cool...
The 717i has more of a streamlined design...
The SP-10 has white end parts. The bottom end reminds me of the Lamy 2000 slightly. It looks cool, nonetheless.
Colors (717i):
The Red is a nice burgundy ish color. The blue is a good,medium blue. The grey is pretty nice, shiny and almost sparkly. Well, not so much. It's a decent color and a nicer grey than I would have expected.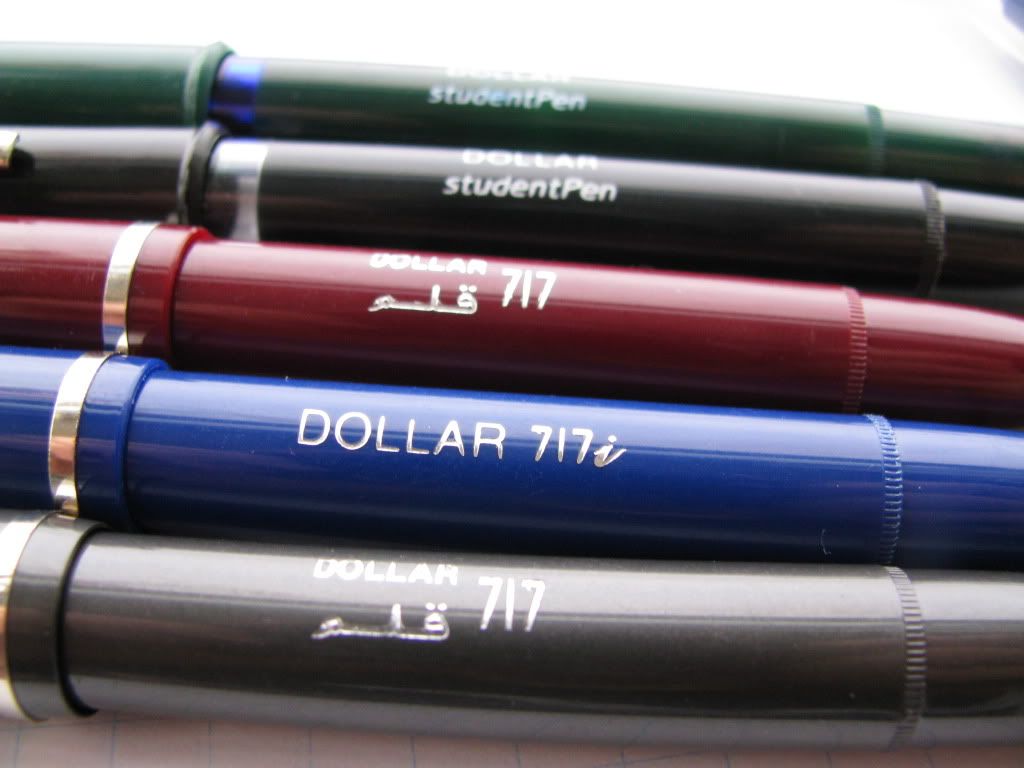 Nibs: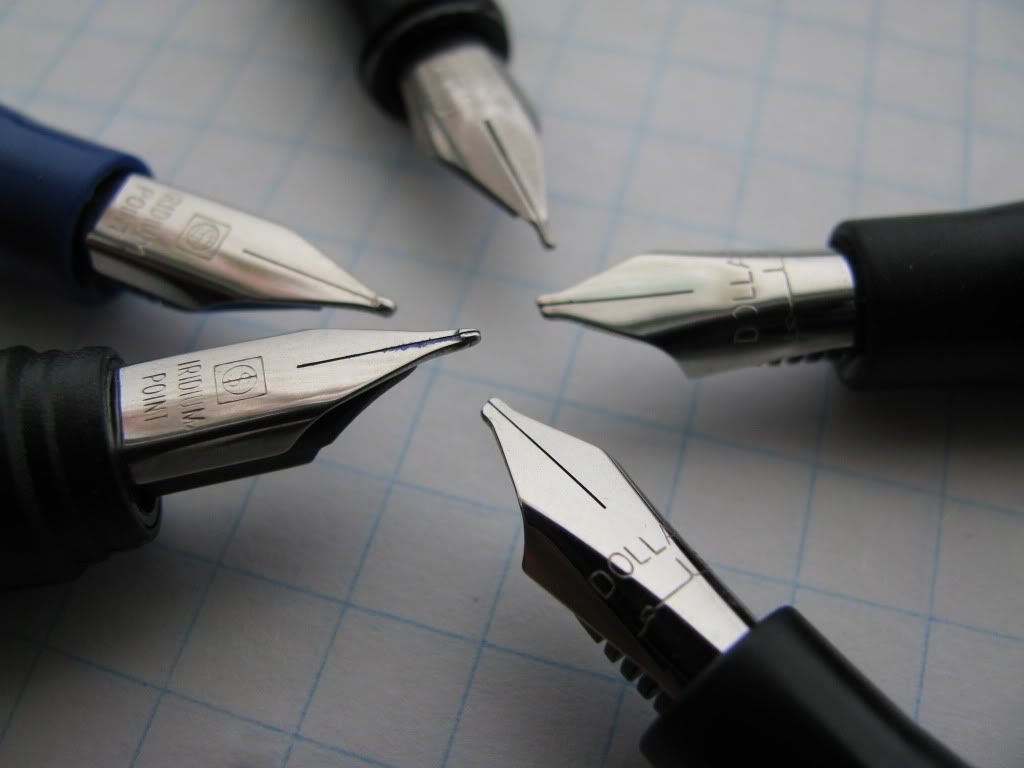 This is the interesting part. Dollar makes 3 types of nibs.The iridium point steel nib, which is found on the SP-10 and 717i and demonstrator. These nibs are usually wet with a touch of feedback. Good for notes, I'd say. I have one inked with me when I go to school as a back up pen or in case I want a change from the pen I'm using… They write a F-M line, which is a bit more on the M side. Still, good for notes, and probably the best looking nib from all of them.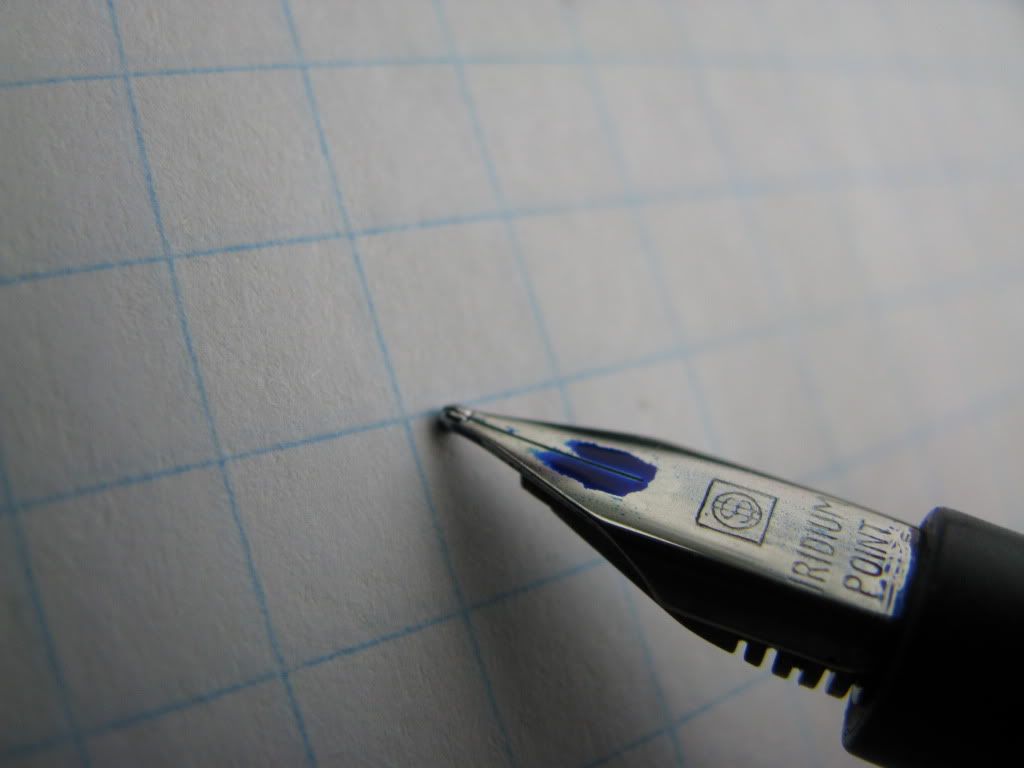 The Dollar Arabic/Hebrew italic nib is a left oblique, which is meant to be held at an angle so thick and thin lines can be made. Not sure if it is tipped, and this nib is a bit smaller than the iridium point Dollar nib. There is good line variation, albeit a bit sensitive to pressure.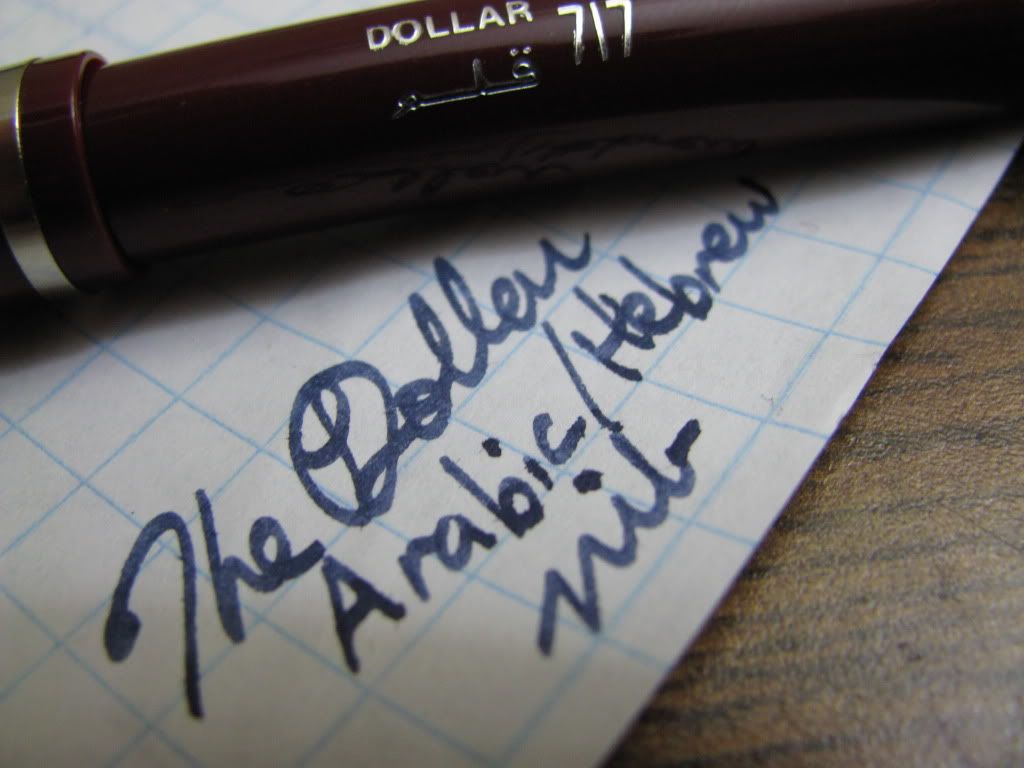 The Dollar Studentpen nib is an untipped nib. It has steel bent in a way to get a point. It probably wouldn't last a long time, but forwhat they probably go in Pakistan it isn't such a big deal, you could get more. Plus, it has a good amount of flex. Not as much as my Reform 1745, but more than the other Dollar pens. Notthe best looking nib, but a great nib if you want to just have a pen for othersto borrow. Writes a tad wetter than the iridium nib…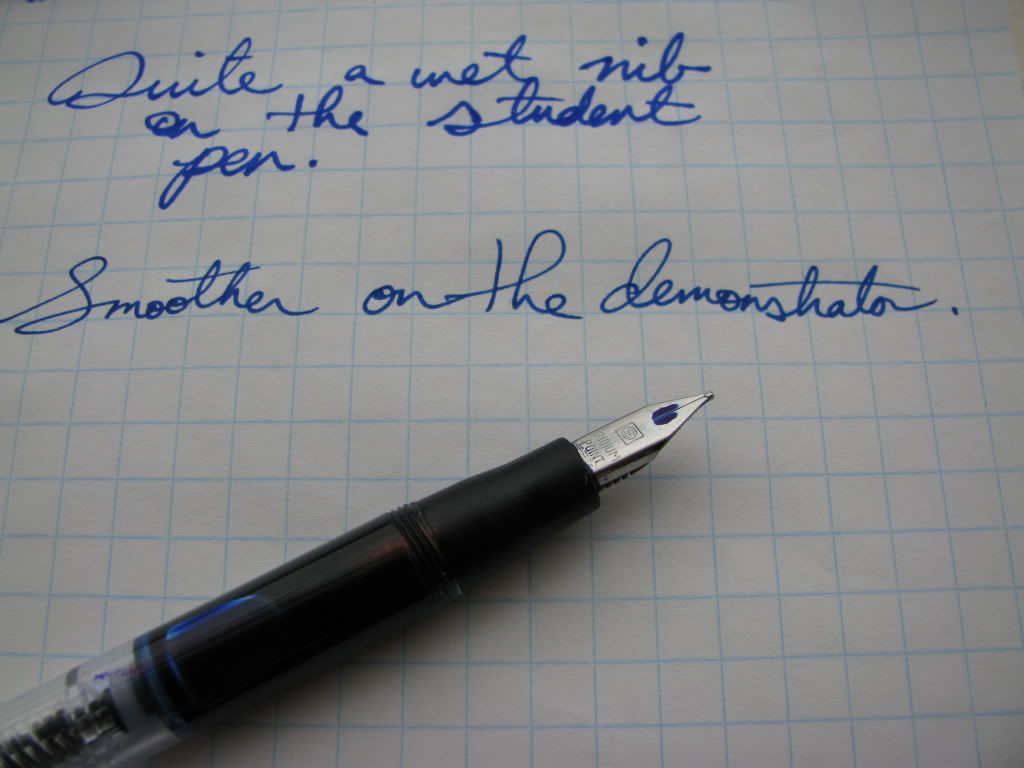 Filling System:
These pens all use a piston to fill:
The Dollar Demonstrator, Studentpen and 717i all use apiston filling system that requires you to remove a blind cap. A cool thing about the 717i/demonstrator is that if you post the cap, you can remove the blind cap that way. I haven't had a problem with stiff pistons, and they hold quite a bit of ink. I like to see the demonstrator partially filled, the ink isquite lustrous sloshing inside the barrel! However, you can't do the blind cap removal with the pen cap. And it's plastic isn't as strong as the 717i, Ithink. However, you can see through the plastic and see it's ink level, which cannot be done with any of the other dollar pens. Nevertheless, the ink viewwindows are good on all the pens.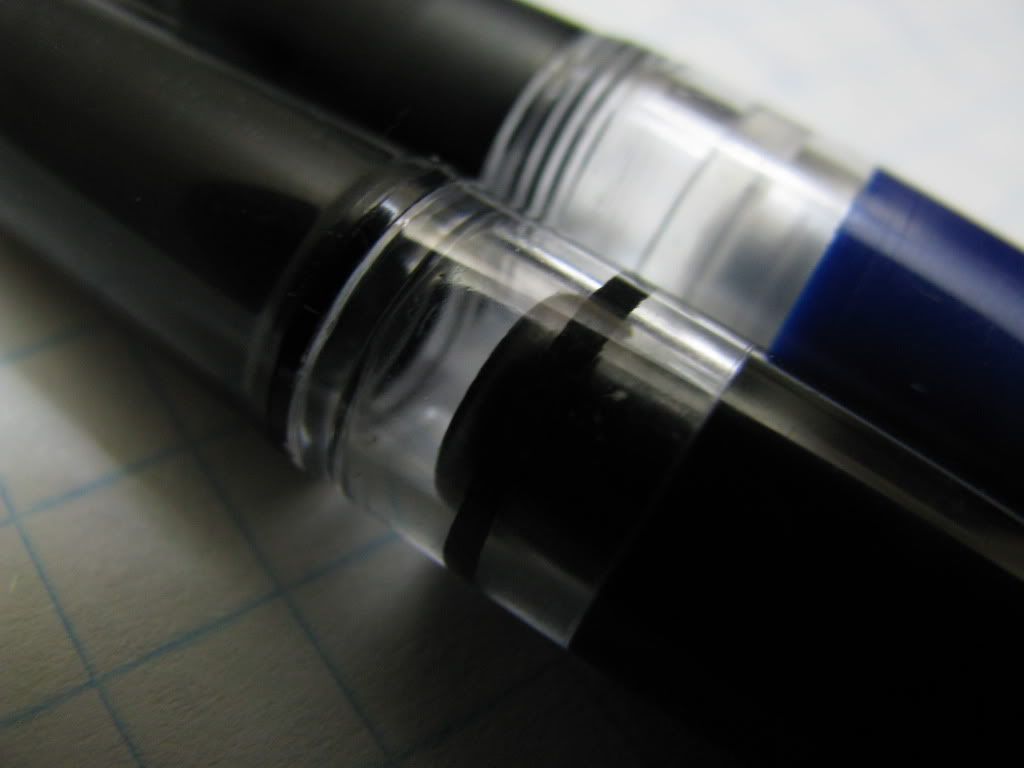 The SP-10 is the largest dollar pen but I have a feeling itholds the least ink. The piston system is more of an internal slide converter.It reminds me of those parker slide converters. You need to remove the back endof the pen to fill it, and to see the ink level. Overall, not great compared tothe others.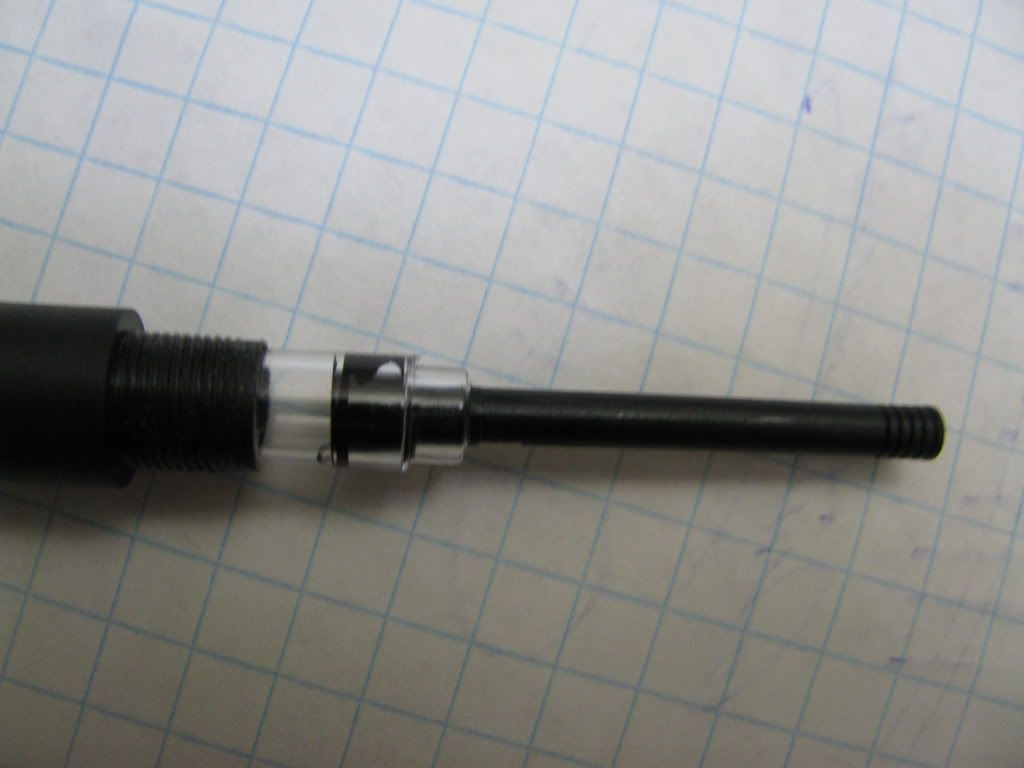 Cost and Value/conclusion:
You must be crazy not to recommend one of these at the pricesmeden is charging. $7.25 is a great deal for these pens. I think around $10shipped as well is a great price, and shipping is fast. Hisnibs's price I thinkincludes nib tuning by him, so I guess the extra money goes to that. But Ihaven't had a problem with the stock dollar nibs. I was waiting for a decentseller on the FS forums before I would have bought them. Hopefully this reviewwill convince you to buy some of these great pens too. They'd make great for afirst pen, as the blind cap means that inexperienced users won't activate thepiston (like the reform 1745) and the fact you can see everything inside thedollar demonstrator means the same people will know how it works, and hopefullynot have accidents…
A link to his for sale thread:
http://www.fountainp...ns-from-smeden/
Edited by HenryLouis, 23 January 2010 - 20:46.