Straffen SRX Galaxie (Novae)
My first real fountain pen was a Rotring Freeway, and therefore my only benchmark. I lost it several years ago and am now getting back into fountain pens. I wanted something small for my pocket/every day carry pen, and a full size pen for at home. I discovered xfountainpens.com while poking around and thought I'd give Chinese pens a try. I'd heard generally good things about them and with free shipping, I could get both a pocket and regular pen for about $30. When I received my package, it contained an additional pocket pen and a free bottle of ink. I appreciate this unexpected generosity, and I can carry both small pens in case one runs out of ink.
I apologize for the picture quality, though you should be able to see what's important.
Contents of my xfountainpens.com order.

Initial Impressions:
Reasonable quality, some fit and finish problems, but a smooth, consistent writer.
______________________________________________________________________
1. Appearance & Design (7)
- I like the design of this pen immensely. I'm not sure how to label my tastes, but many of the ornate "traditional" fountain pen designs are not to my liking. I prefer stainless steel to gold and simplicity to ornate complexity. However I'm not into most "modern" pen designs as I find them too utilitarian and inorganic. I want an unpretentious writing instrument. This pen, the Rotring Freeway, and the Jinhao x750 are examples of what I like.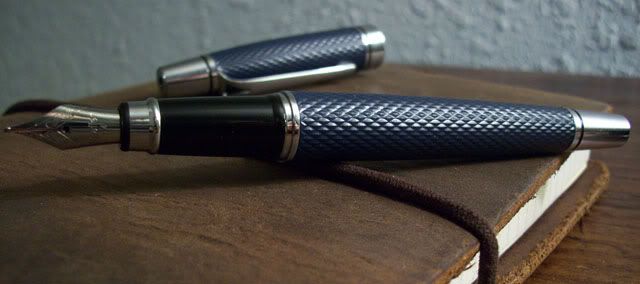 Uncapped.
Diamond texture detail.
2. Construction & Quality (6)
- I was unbearably excited about writing with my new pens. When they arrived I was slightly underwhelmed, as fit and finish are not comparable to my old Rotring. The barrel and cap are brass with a textured diamond plate, covered in a satin coating. The coating has a plastic feel that's difficult to describe, but does not convey the impression of quality. The brass barrel had a burr where it met the chrome end-cap. This needed to be filed flush to prevent poking me when handling the pen. There were no burrs at any other junction on the cap or barrel. My biggest fit and finish gripe has to do with the cap, which was so loose that a moderate shake would uncap the pen. Inside the cap is a plastic sleeve which I have shimmed to tighten the fit. If you look closely you can see a crack running vertically up the plastic.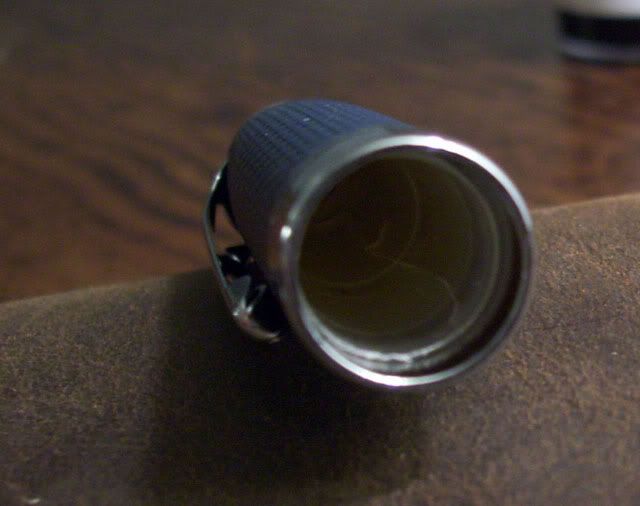 Inside cap detail.
…
3. Weight & Dimensions (7)
- My scale says 40 grams inked, which is almost exactly the same as xfountainpens.com's listing of 39.7 grams. I find it to be pretty heavy, but still reasonable. The pen balances about in the middle when unposted, and about 2/3 of the way back when posted. When posted, I find the pen feels like it's "falling" into the paper.
Unposted balance point.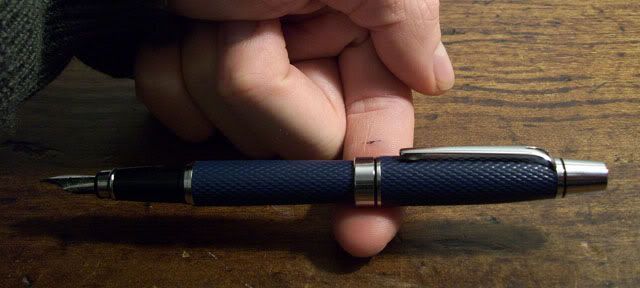 Posted balance point.
4. Nib & Performance (8)
- I'm still new to this, so I'm not sure I could tell a wet nib from a dry nib. However, it is very smooth and I always have enough ink, but not too much. The nib is a medium, and I'd say it flows less ink than my old Rotring, which was a medium. On the downside, the pen is often hard starting, which I attribute in part to the loose cap. We'll see if this problem abates now that the cap is tighter. I've also gapped the tines to ensure they aren't too tight, and they seemed to be in the correct range per Richard's guidelines.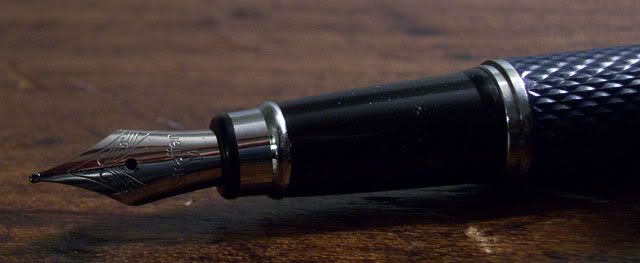 Nib detail.
…

5. Filling System & Maintenance (7)
- A converter is included, and the pen should take international standard cartridges. The converter works just fine, but doesn't feel as well made as my Rotring converter.
…
6. Cost & Value (7)
- For $20, it's not a bad deal, but neither is it great. I'd say $15 would be more reasonable, given the fit and finish shortcomings. However, it is a solid writer, which is what really matters to me, especially when it comes to inexpensive pens. Perhaps my expectations are unreasonable?
…
7. Conclusion (Final score [SUM/6]: (7)
- A workhorse writer with no frills. The smooth nib lays down clean lines once the pen gets started. I'd like to pick up a Jinhao x750 and see how the two compare, price/performance wise.
Questions, comments, concerns? Ask away.