I picked up a modern Mabie Todd "Swallow" on sale for $39.95 at Fountain Pen Hospital. The on-line pictures of this pen really caught my attention; it was very striking, especially -- to my eye -- the tangerine color.
Let's start with the cons:
Appearance-wise, the pen didn't really live up to the website photos. The "unique coated lacquer material" doesn't look nearly as luxurious in real life. (It didn't help that mine has a small flaw in the lacquer, allowing the black material underneath to show through. The flaw is pretty tiny, but still...
)
It's also quite heavy, although a good deal of the weight is carried in the screw-on cap. Using my none-too-accurate plastic kitchen scale, the cap alone weighs in at approx. 1/2-oz., while the body of the pen (with a full load of ink) weighs approx. 1 oz. The cap does not post due to the fact that it has one of those annoying plastic sleeves inside.
The Swallow is only available with a medium iridium-plated steel nib. It comes with one international-size cartridge, but does not come with a converter (I ordered one separately).
The pros:
This sounds kinda silly, but the cap (with the exception of that darn plastic inner sleeve) is very handsome! It is matte black, with a roller clip (a feature I really like), and has the Mabie Todd "MT" logo on the top. The clip also has the "MT" logo engraved on it. The cap band is engraved with "Mabie, Todd & Co." As far as looks go, it's the best part of the pen.
With the cap off, the Swallow is well-balanced. Capped, the pen is 5 1/4" long; uncapped, 4 3/4", so it's a nice-sized pen that sits well in my hand. The section is a bit slender, but not uncomfortably so. The pen seems solidly made.

The nib is nothing special, but it does lay down a nice, juicy medium-width line. It is a wee bit toothy, but I'm hopeful it will smooth out with continued use.
Overall, for what I paid, I'd give this pen a 6 out of 10. I've seen them on eBay for less, and if I paid the eBay price, I'd probably bump up my evaluation to a 7 out of 10. It's not a bad pen, but there are a few things about it (the imperfect finish, the plastic sleeve in the cap, the unbalanced weight with the cap on) that keep the score down.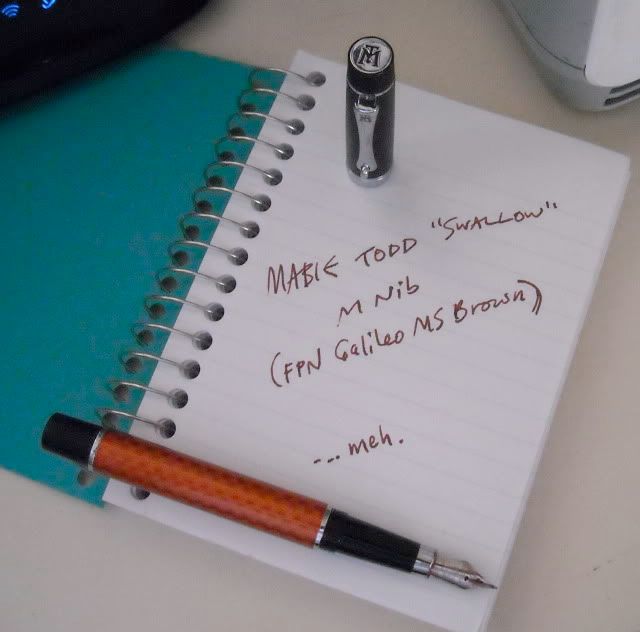 Edited by wackyjacky1, 12 January 2010 - 21:31.