ToasterPastry takes the Diamond Point "Long and Short" Pen for the whole distance.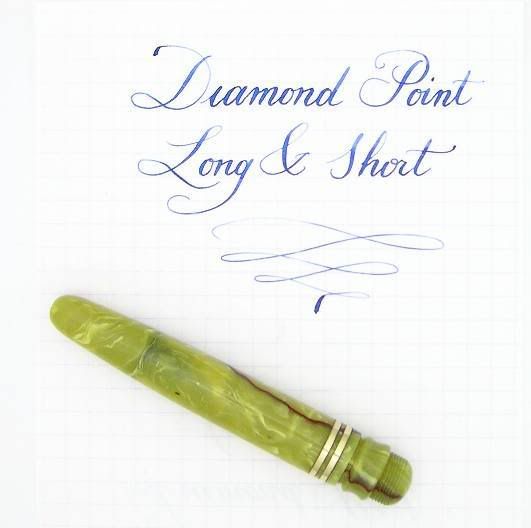 Introduction
Diamond Point Pen Company was a New York City-based pen manufacturer that produced pens for the second tier market. Despite its name, their pens contained no diamonds. They offered elaborate top-tier finishes, but they often cut corners on plating and materials. Diamond Point initially made eyedroppers, and even produced a line of blow-fillers. By the 1920s, they switched to making lever-filled pens. As with most pen companies, Diamond Point produced cheaper quality pens in the 1940s in order to compete with the ballpoint pen. By the mid 1950s, Diamond Point ceased operations. Meanwhile they produced pens under their own name, as well as sub-brands Blofil, Protector, and Selfill. They also produced pens for Macy's department store. Their pens are usually marked "Diamond Point Pen," "Diamond PP," or in pens produced after the mid-1920s, "New Diamond Point Pen." Their nibs are typically marked only "Warranted 14K." Modern collectors may confuse the company name with "Diamond Medal," a pen produced by National Pen Company in Chicago. Some of the most noteworthy pens produced by Diamond Point were made between the late 1920s to mid-1930s. Diamond Point countered the Sheaffer Balance and the Wahl-Eversharp Equipoise with bright patterns and unique end tapers. However, the company's most unique design was the "Long and Short Pen," produced between 1930 and 1935.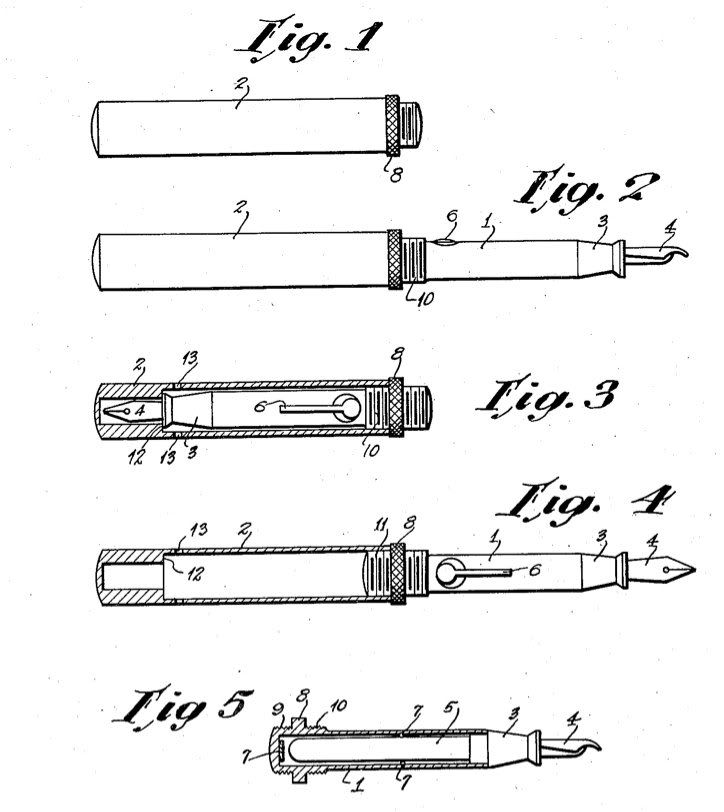 Morris Kolber's idea was to produce a pen that when not in use could be compacted to a very small size such that it could be "carried in a vest pocket or a purse. But when conditioned for use, would be of substantially the same length as a full-sized conventional pen." He accomplished this by making the barrel relatively short, and the cap relatively long. When not in use, the barrel would be stored inside the cap. When assembled for writing, the barrel was then unscrewed from the cap, reversed, and then screwed back onto the cap at the barrel's other end. While Kobler originally called for metallic hardware, the finished product was machined entirely out of celluloid. A full functioning pen was contained within the barrel, complete with a side lever that compressed a small rubber sac. As an employee of the New Diamond Point Pen Company (sic), Kobler's idea was granted a U.S. Patent (No. 1780527) in November 1930.
Material:
Celluloid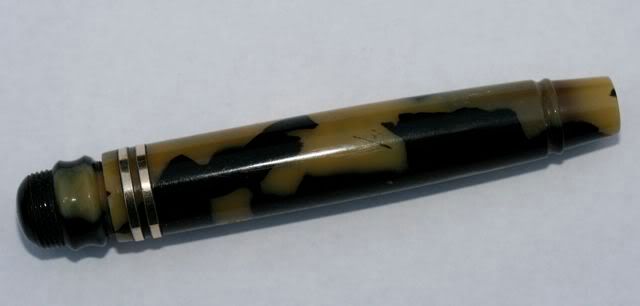 Date of production:
Between 1930-1935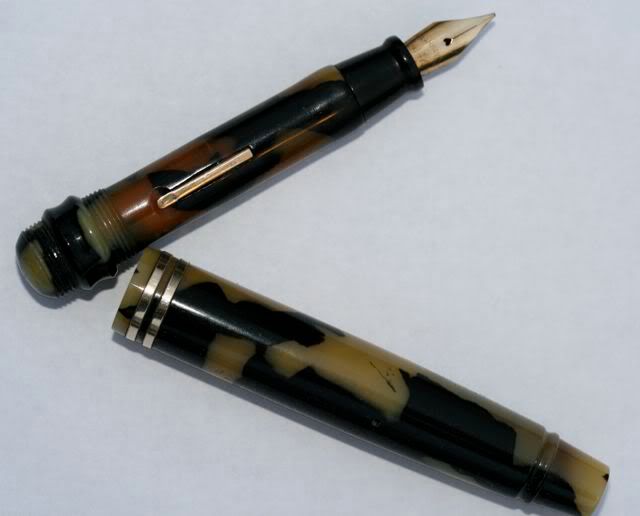 Fill mechanism:
There is a side mounted lever that compresses a rubber bladder. The filling lever is located quite close to the nib, making it difficult to fill the pen with a narrow-mouthed ink bottle. Bottles with reservoirs, like the old Skrip bottle and the recent Mont Blanc bottles, are almost mandatory for filling this pen.
Dimensions:
Length: 84 mm (3-1/4") closed; 140 mm (5-1/2") open. Width 18 mm (½-inch) at widest point. This pen must be posted in order to write effectively.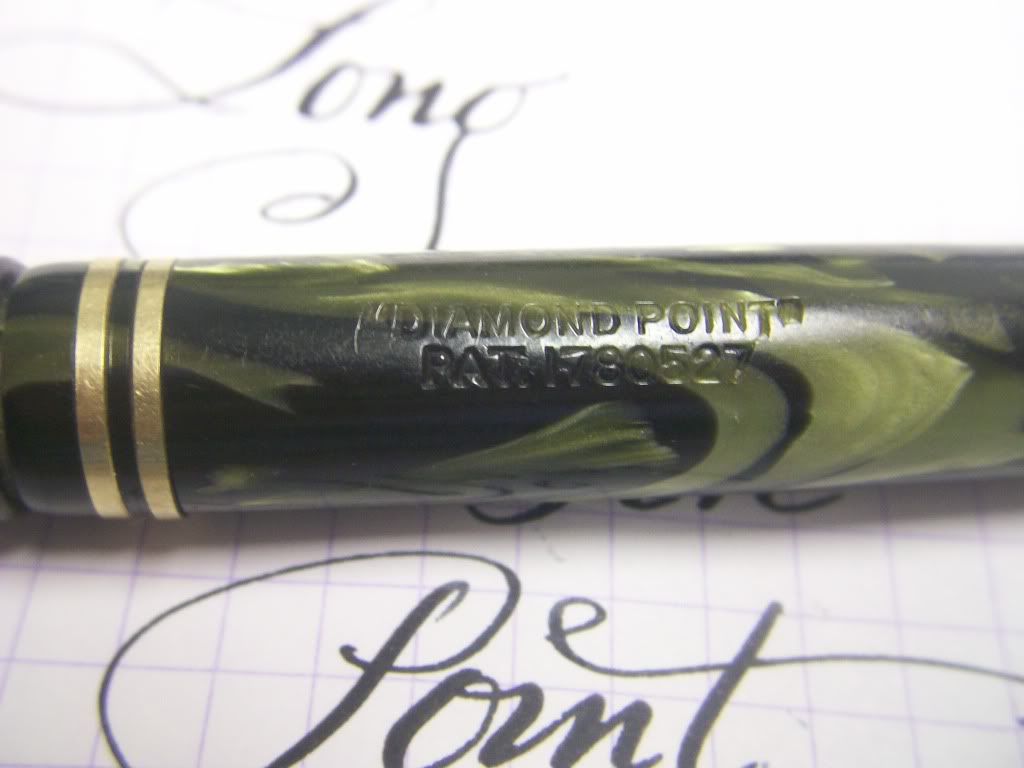 Nib:
The 14 karat gold nib with iridium tip is stamped "Warranted 14 K." This is the original nib as Diamond Point nibs were produced outsourced from the factory.
Cap:
Screw-on cap with screw-on posting. The pen requires posting in order to write comfortably.
Price:
These pens are typically worth $100 to $200, but can be found for less.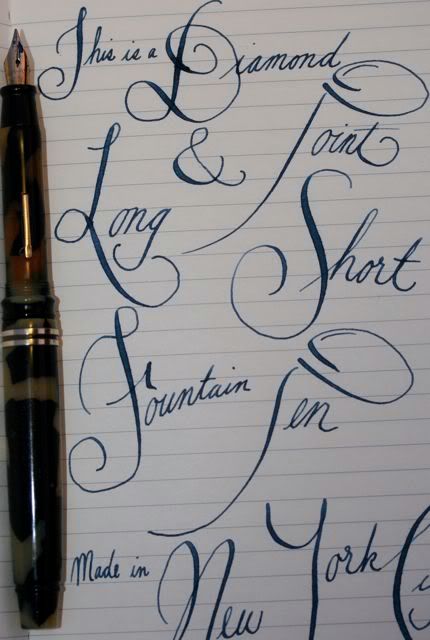 Writing Performance:
Writing performance is a purely subjective analysis that varies from user to user and pen to pen. It is also based on the paper, the ink and the condition of the nib. The pen is a bit small when posted, but it handles surprisingly well, and feels good in the hand. There is a great degree of flex in the nib, yet it is no wet-noodle. The feed keeps up with the ink-flow as I flex it for more varied line-widths. I used it as a daily writer for medical documentation, and found myself looking forward to ceremoniously assembling the pen, pretending I was the evil villain Scaramonga in Man with the Golden Gun (A James Bond reference, if you didn't get it). However, the novelty quickly wore off when I had to not-so-ceremoniously assemble the pen just to quickly jot down telephone numbers.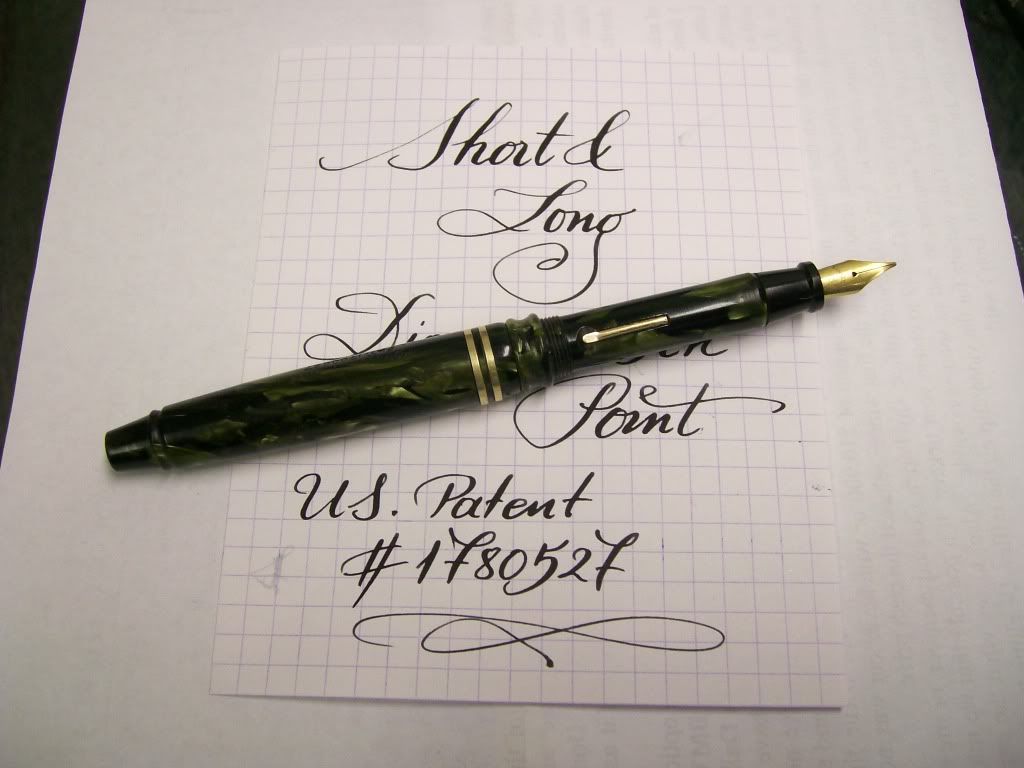 Conclusion:
By today's standards, there is nothing unique about the compact pen. Small pens even then were quite common, as most companies offered a pen that could easily be stored for portable writing. They were great for carrying in a small pocket or purse; ideal for jotting a quick note on post card or writing out a quick list. But small pens offered no advantage to the large hand or the small arthritic hand when it came to writing lengthy missives. Diamond Point's entry offered a unique design, and they were the first to do it: a full-sized pen that could be compacted into a small space. It's actually smaller than some of the smallest pens produced at that time. The bright celluloid colors make them ideal collector's items. The pen performs surprisingly well for its small size and is a pleasure to use, even though it takes a few seconds to assemble it. However, filling the pen with ink is a bit clumsy as the fill-lever is too close to the nib. A modern version would benefit from a cartridge-fill design.
Photo credits: Antonioz: green pens. ToasterPastry: Black & Cream