I know this pen has been covered quite a few times before, but maybe I can add something new. . .
The pen I got is yellow and came with a F nib. It came in a nice box with the Pilot name stamped -- not Namiki. I think Pilot need to work on their branding, as it's coming across rather muddled. The pen and box both say Pilot, the instruction pamphlet has both Pilot and Namiki logos and describes the pen as a "Vanishing Point", while the sticker on the pen said "Pilot Capless".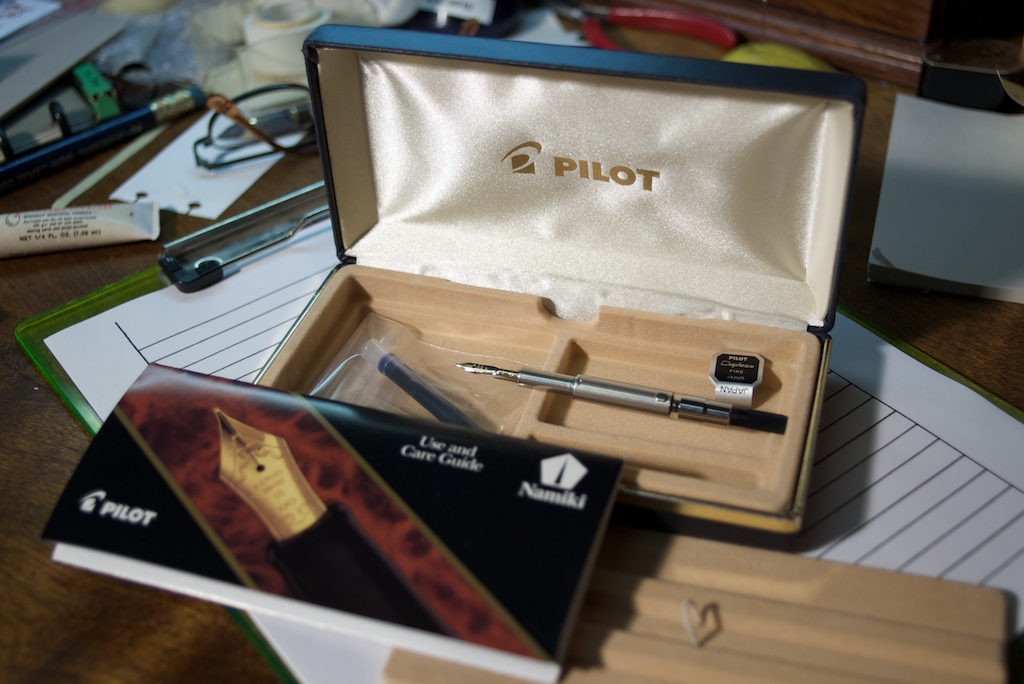 The instructions irked me a bit, as it includes instructions for seemingly every pen Pilot makes. Instructions specific to the actual product I bought would have been been more convenient.
When taking the pen in hand, my first impression was surprise at its size and weight. It's a fairly large pen -- a manly pen, one might say. It is, in fact, very similar in proportion to the famous Sheaffer "Pen For Men", which was then considered an oversized pen, and the VP is notably heavier than a PFM. I didn't learn until after I'd bought mine that Pilot also make a more slender version of this pen, called the Decimo. It doesn't seem to be actively marketed in the USA, though it's possible to find them. If I'd been aware of it when shopping, I might have chosen a Decimo. Prices of the Decimo tend to be higher, which I presume is a reflection of its gray-market status in the USA.
In addition to being a bit hefty, the pen is finely assembled and finished. Everything is on straight, everything is solid, and it has a nice shine. This is the kind of quality I'd expect from Pilot, and they didn't let me down. Also worth noting, the three nib-and-converter units that I've handled showed excellent consistency.
The golden-yellow color of the pen I chose is striking, but may be a little more prone to staining if it comes in contact with ink. I've had to buff a minor stain out of it already. As always with fountain pens, black would be the safe and conservative choice. The pen as a whole comes across with an ungainly appearance, but maybe that's just because it's so far from a conventional fountain pen. I do think the Decimo version looks better, on the whole.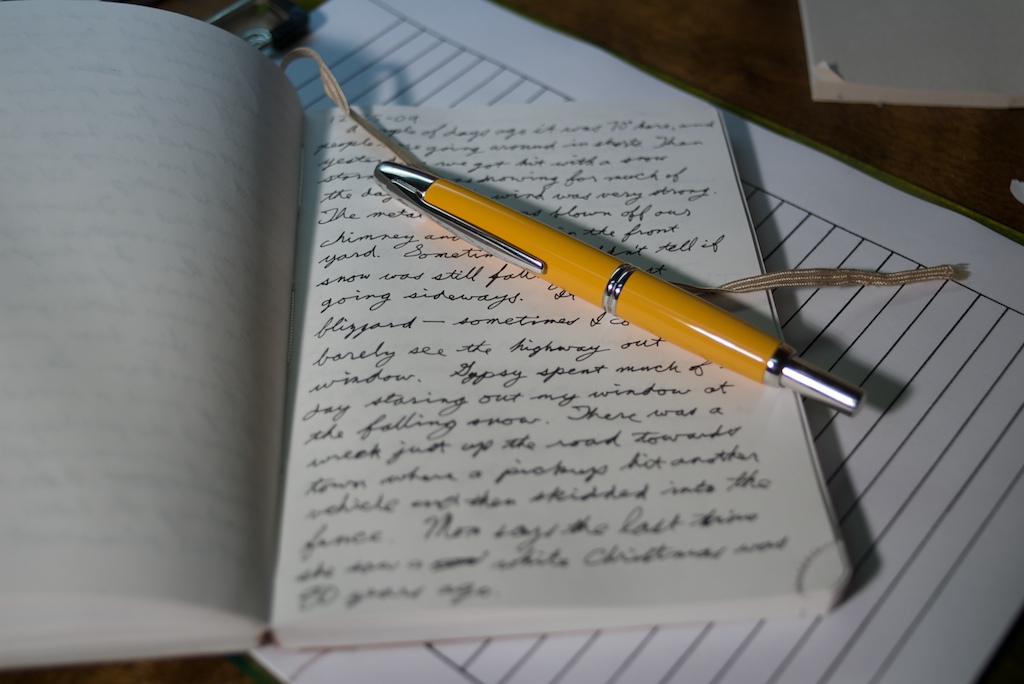 The pen came with its converter unit already installed, plus an ink cartridge in the box. I have no interest in cartridges, and I find the capacity of the converter is even smaller than most. Filling the pen requires opening it up and taking out the entire nib-and-converter assembly. However, the nib is easy to wipe down after dunking, as there are no exposed collector vanes, and no effort is needed to get the section clean -- since it was never exposed to ink. Inky fingers shouldn't be a problem with this pen.
Some folks have referred to difficulty getting a comfortable grip on the Vanishing Point, due to the position of the pocket clip. I habitually hold my pen in the classic grade-school grip, with the clip falling neatly between my thumb and index finger. Thus, it actually helps me orient the pen and keep it aligned properly while writing. I can see how someone with a non-standard grip might have a problem. Furthermore, the gripping area is rather small and slick, and not the most comfortable by any standard.
The clip is not internally sprung. However, it is long and pretty flexible, and well positioned for doing its job. Having the clip at the nib end of the pen, opposite from the retractor button, does require a slightly awkward twirl when deploying the pen. It's still easier than fooling with a cap, of course.
The nib is tiny and is 18K gold. I've read that 14K gold is about the ideal nib material, whereas 18K gold tends to be a bit soft. It does feel soft, having a slightly springy or cushiony feeling that I find pleasant. One might wonder about the long-term durability of this tiny, soft nib, though.
Nib size turned out to be a problem for me. I usually prefer an F nib for everyday writing. The pen I bought came with a F nib, which I found was actually a hair finer than the EF nib on my Pelikan. I wanted something thicker, so I exchanged the nib-and-converter unit for a M nib. This I found was sized like a European M nib -- rather fat for my taste. I can use either one, the F or the M, but the lack of an option in between is irksome. For most of my writing I'd prefer a FM nib if Pilot offered one. I did eventually buy an additional F nib unit, so now I can switch between F and M as I wish. Incidentally, one purpose for which I do prefer an EF (or Pilot's F) nib is for journaling.
Regarding nib quality, all three of the nibs I tried needed a bit of breaking-in and exhibited some degree of "squeaking" as others have mentioned. It was minimal in the F nib, and soon disappeared. The M nib squeaked badly at first, but it also quickly smoothed out. It became one of the smoothest and most pleasant nibs I've used. Ink flow is nicely consistent and about medium to slightly dry, which I like. Of the inks I've tried, this pen seems to work particularly well with my favorite: Noodlers Black.
Oh, and the retracting mechanism? It works smoothly, with a positive click. This is the Vanishing Point's selling point, and it's quite neat indeed. I've heard that it may not seal as airtight as some pens, and that drying out can be a problem. Every fountain pen will dry out, given time. I haven't had my VP inked long enough to see just how long it takes, but I've had it long enough to say that this doesn't appear to be a notable problem with mine.
The Vanishing Point isn't exactly what I was expecting, but I'm growing to like it. It displays more quality than I would expect at this price point, and it's all oriented towards functionality as a writing instrument. It's funny-looking, but I can get used to that. The small ink capacity, the not-so-secure grip, and the lack of a FM nib all conspire to prevent this pen from being my first choice when I need to do a lot of writing. On the other hand, the retractile mechanism makes it superb for carrying around and jotting down quick notes of all types.
I'm planning to take mine along for stargazing sessions, to keep my astronomy log. (In astronomy, anything that wasn't logged didn't happen!) Not having a cap to drop and lose in the grass is a huge advantage for this purpose. The yellow barrel should show up well in the glow of a red LED flashlight, and the F nib is perfect for keeping log entries in a small journal, such as an Exacompta Nostalgie.