1
. Appearance & Design 9.5/10
– This is a very pretty pen; see pics below. It is similar to my Bexley Sheherazade, except a lighter, more tanslucent shade of pale blue resin with embedded silver-foil flakes.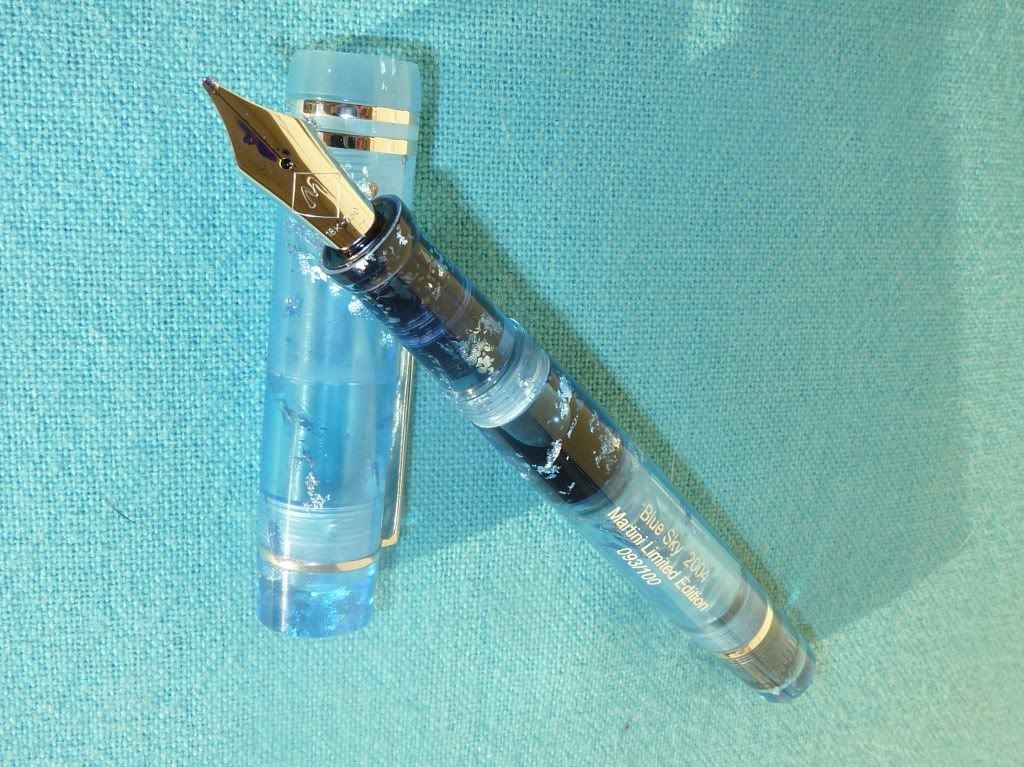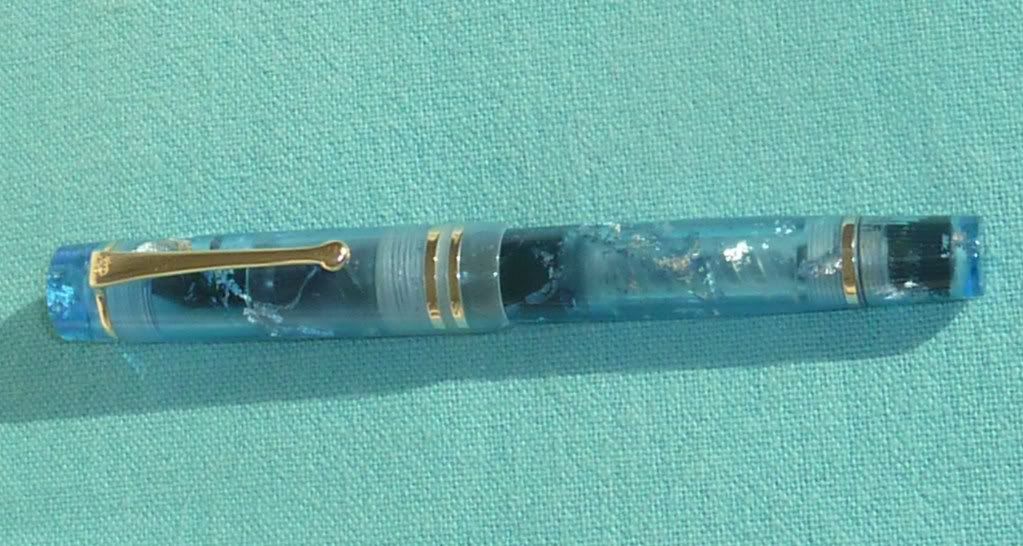 2. Construction & Quality 9/10
– As I only got it yesterday, too soon to say, really, but it is of good Bexley-quality, evrything looks and feels well-made and fits together neatly.
The silver coloured trim appears better than some I have seen on other Bexleys. The clip is marked "6K" ....I don't know what that means!?
3. Weight & Dimensions 9/10
– Just right in size for me: 13.4 mm capped, 12.5 uncapped and about the same thickness as a CS Wellington or Duro.
It is very light....I prefer slightly more 'substantial' pens, so just a point off for that.
4. Nib & Performance 10/10
What's still to be said about Bexley 18K stubs? Just about perfect.
This one has, despite the photo's appearance a
silver
-coloured plating (Pd or Pt, one assumes.
It is moderately wet, about 6-7 on Richard B's scale, I'd say, depending on the paper.
See writing example, on white card, using Diamine Sapphire:
5. Filling System & Maintenance 9.5/10
- As previously said, it's too soon to evaluate long-term performance and reliability.
It is one of those rather rare creatures, a Bexley piston-filler.
Thanks to the translucent body it's easy to check on ink contents. Its capacity doesn't appear as large as some piston-fillers, but certainly more than a c/c.
6. Cost & Value 7/10
– I bought it from Regina Martini's auction site ....as often seems to be the case, mine was the only bid!
It cost 181Euros ($259), including tax and delivered to Spain, so it was not inexpensive, IMO.
However, I am very pleased with it and think it's good VFM compared with, say, 'real' Bexley LEs.
7. Conclusion: Final score, 54/60
- This is a very pretty pen, appearing to be of of the best of Bexley's quality, a lovely writer with a relatively rare piston-filler. It is, I think, a 'keeper'