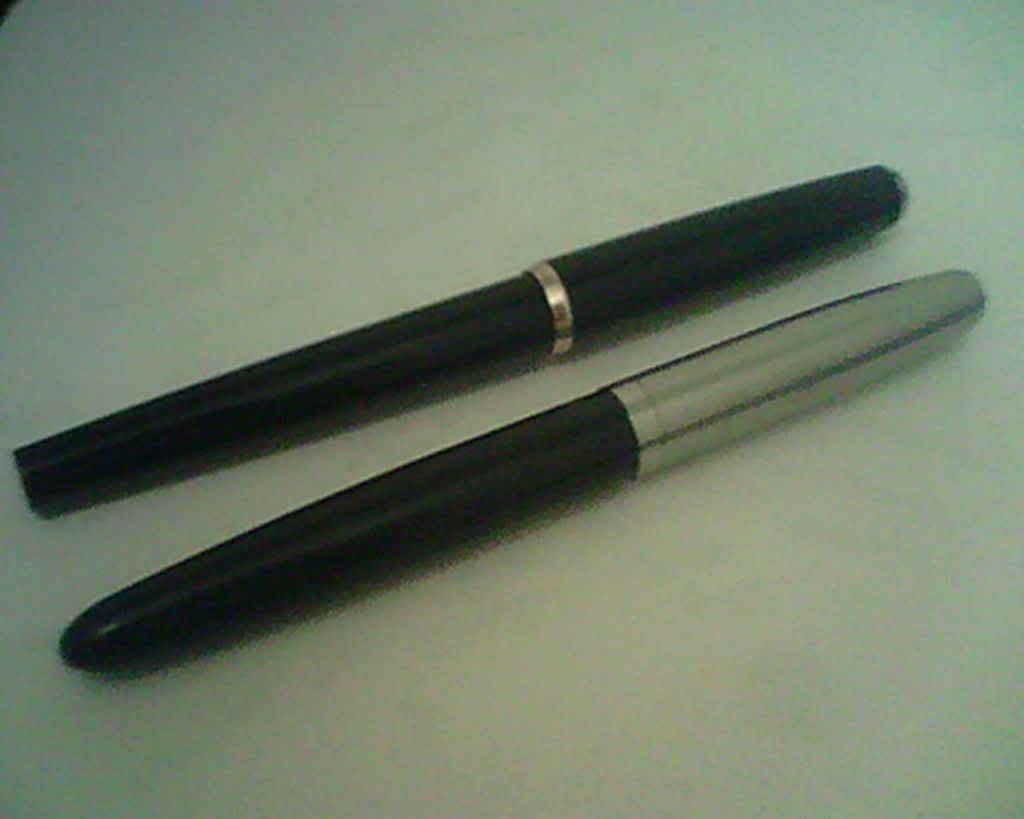 Both of these great pens are regular ones in my rotations. They are vintage models from two of the most famous pen companies in the world. I decided to do a comparison review to address each of the pen's shortcomings (only in relation to each other, of course).
Quick facts:
Parker 21:
Nib: Hooded "octanium" steel nib, Extra Fine
Body: Plastic
Cap: Stainless Steel
Filling system: Aerometric
Cost: $20
Pelikan Mk. 10:
Nib: Partially hooded gold-plated steel nib, Oblique Fine
Body: Resin
Cap: Resin
Filling system: Piston
Cost: $20
Appearance and Design:
Parker: 9/10
Pelikan: 9/10
The Parker's timeless (according to some) design is elegant, functional, and simple - a rare combination. The stainless cap (Lustraloy) contrasts well with the dark black plastic.
The Pelikan's design seems a bit more modern, with slightly angular ends and an oddly-shaped clip. Brass furniture is a nice touch on a pen designated for the student market, and the resin has a depth unmatched by that of the Parker's plastic.
The two pens are tied in appearance as far as I'm concerned - it's very hard to choose a pen that trumps the other in this category.
Construction and Quality:
Parker: 9/10
Pelikan: 7/10
The Parker is nearly perfect as far as construction is concerned - the hooded nib is perfectly aligned, finish is suprisingly good for a lower-market pen that the Parker 21 was, and the stainless cap has no dents or scratches. All threaded parts come together flawlessly.
The Pelikan's piston is superb - extremely smooth, suprising for a vintage pen. The polish on the resin is perfect - there are no rough spots or uneven surfaces anywhere. However, there is quite a bit of play in the clip and the cap and barrel interface when the pen is capped. Although there has been no side effects of this, it's a bit dissapointing.
Parker is the winner!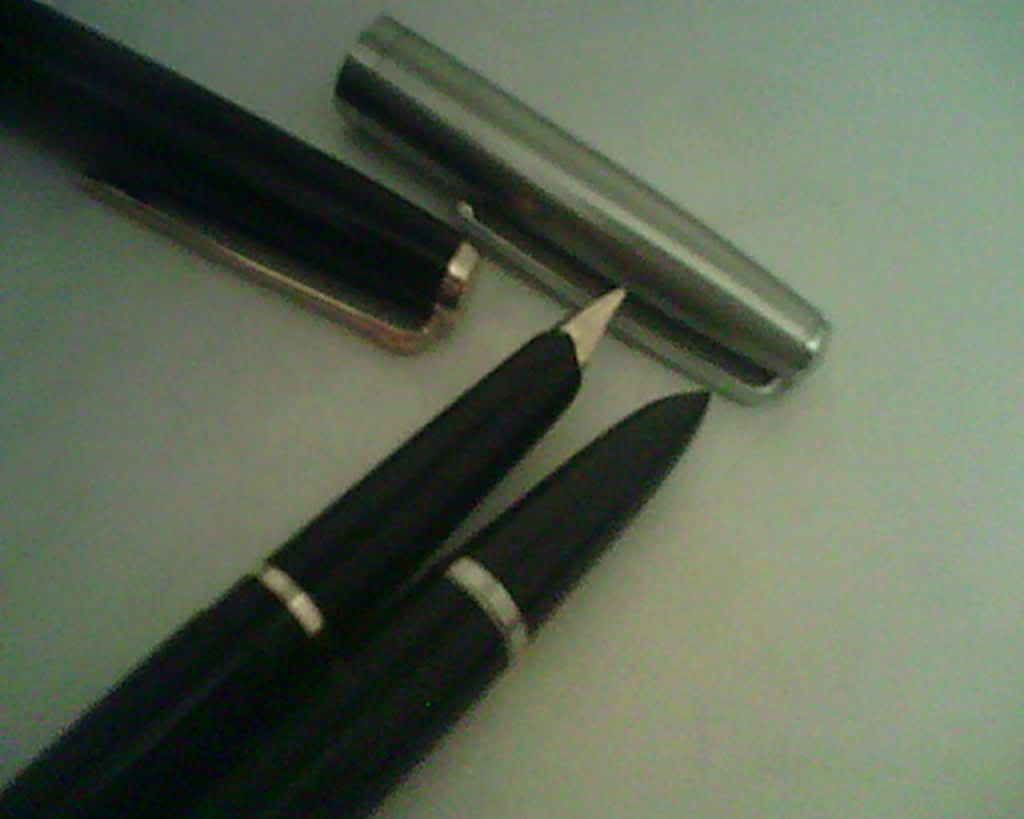 Weight and Dimentions:
Parker: 6/10
Pelikan: 7/10
The Parker lacks a bit in the ergonomics department - it's uncomfortable unless I hold it in a strange position. The nib is a bit
too
small for comfort, and it's way too light, almost feather-weight.
The Pelikan is much better, with a more open nib and more space to grip the section - it fits better in my hand than the Parker, although it too is a bit small.
Pelikan is the winner!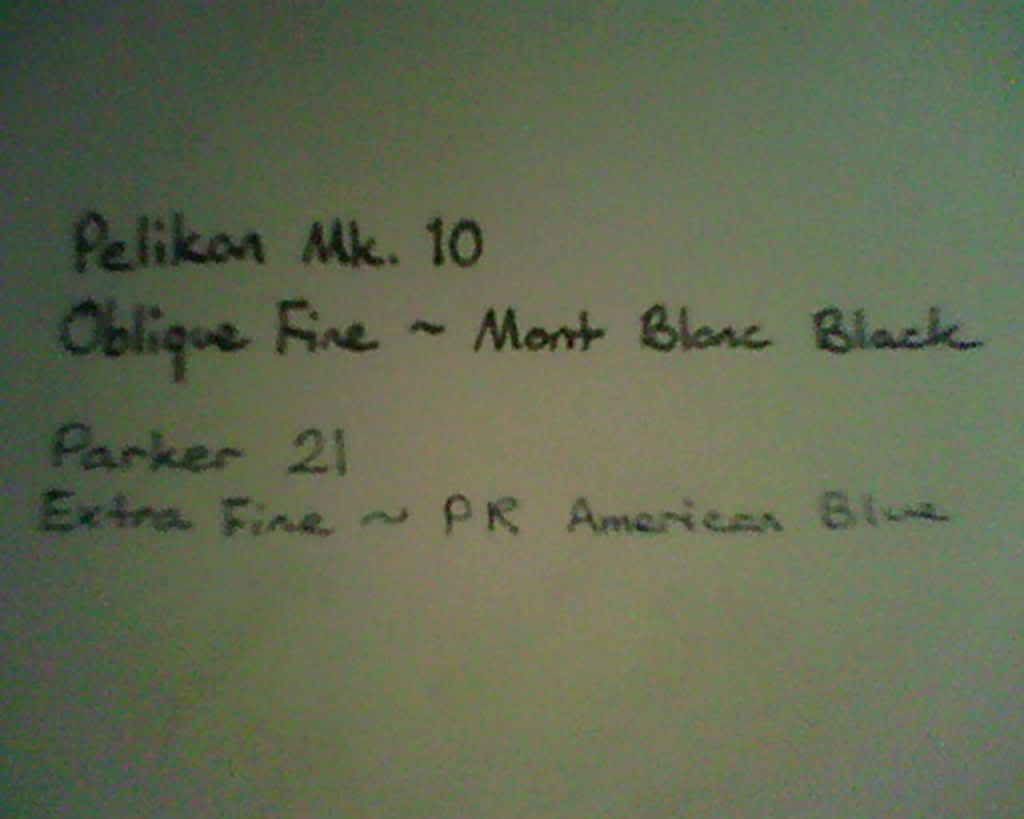 Nib and Performance:
Parker: 8/10
Pelikan: 9/10
This was a close call. The Parker extrafine is very smooth and glides across the page, with a suprisingly large sweet spot for an extrafine. The Pelikan nib is an Oblique Fine, an uncommon size (as I assume) that is also very smooth and with a large sweet spot. However, I must give the Pelikan the upper hand, since the steel nib actually does have a bit of flex! It's not as much, as, say, a Lamy semi-flex 14k nib, but it is there and it is very pleasant.
Pelikan is the winner!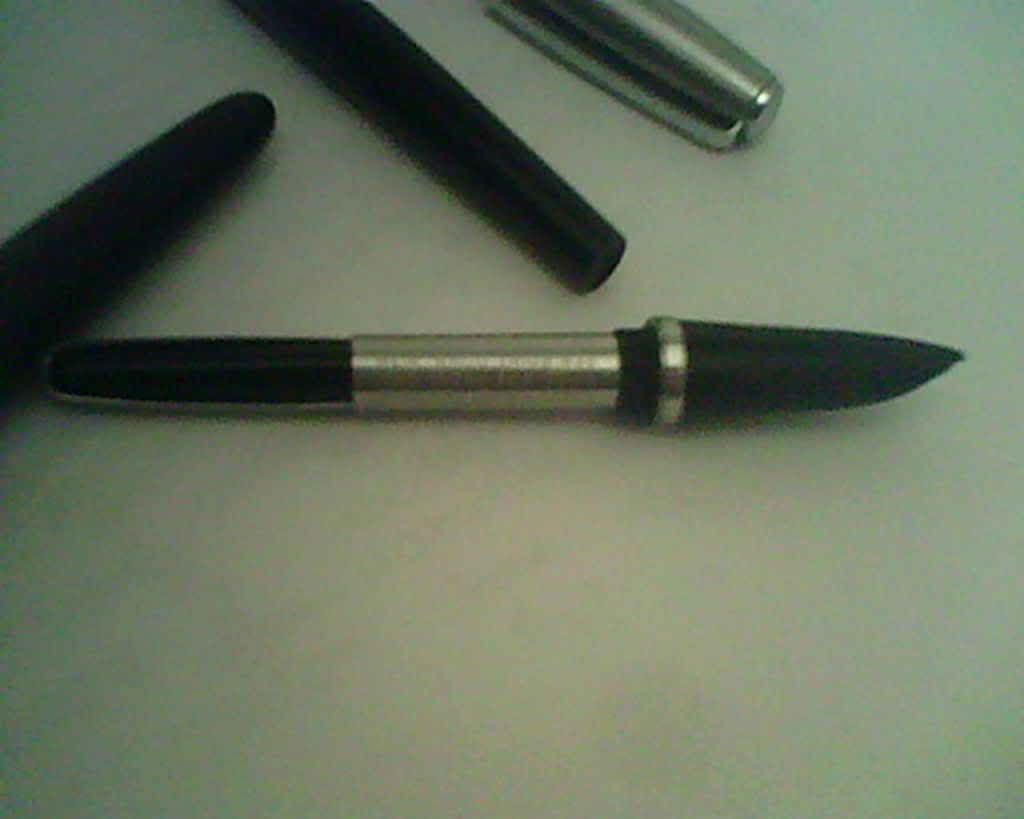 Filling System:
Parker: 9/10
Pelikan: 8/10
As much as I like piston and cartridge pens, the Parker's aerometric system is very nice. A few quick squeezes of the bar, and the pen is ready to go. This is very useful for times when I don't want to fiddle with pistons and clean up the accompanying mess. The Pelikan piston is very smooth and holds quite a bit of ink, more than the Parker.
Parker is the winner!
Cost and value:
Parker: 10/10
Pelikan: 10/10
There's not much to say here. Two excellent vintage pens that could be had for the fraction of the cost of a comparable modern one. I applaud both Parker and Pelikan for designing these pens.
Although the final score has a difference by 7, I tie both pens since they are such great writers. Not faultless, but the benefits far outweigh any little quirks.
Thank you for reading.