Introduction:
Esterbrook is an American vintage pen company, and this penwas made sometime around 1944-1948. They specialized in lever fillers. I neededa good companion to my Reform 1745 as my daily use pen for school. So I decidedto scrounge the for sale forum and eventually I found a great one. Many hail Esterbrooks as great daily users, and I will put this to the test.
First impressions:
A lightweight pen, though it has a good girth to maintain a good grip. A bit shorter than the Reform 1745 but more comfortable… Pretty celluloid!
Length Capped: 12 cm
Length Uncapped: 11 cm
Length Posted: 15 cm
Apperance and Design:
I really like this grey celluloid. I'm not a huge fan of gray as a color but this is quite appealing and with a lot of depth, much more so than my Merlin 33. I hope my pictures can give a good feeling of the material. It's nice andcomfortable. I really like the grip section. I feel like I can write with thispen for a really long time… It's a good size, just a bit small, still usable unposted and posted. Everything has a stanless steel finish, which is good as Esterbrooks were meant to be user pens, not heirlooms. There are many designcharacteristics such as the Renew-point nib which means nibs can be exchangedfor other nibs by screwing out. The threads open quickly and close securely,the lever is secure and the clip is tight. Only thing is the cap top is justslightly damaged. Other than that it's almost like a new pen. It's glossy!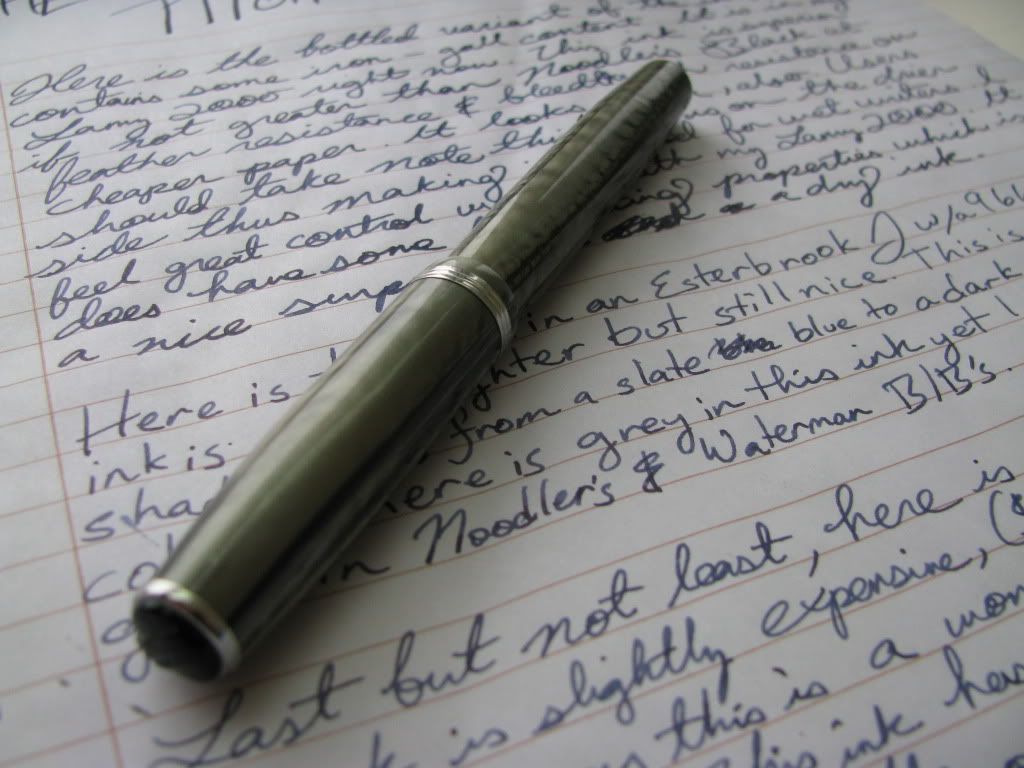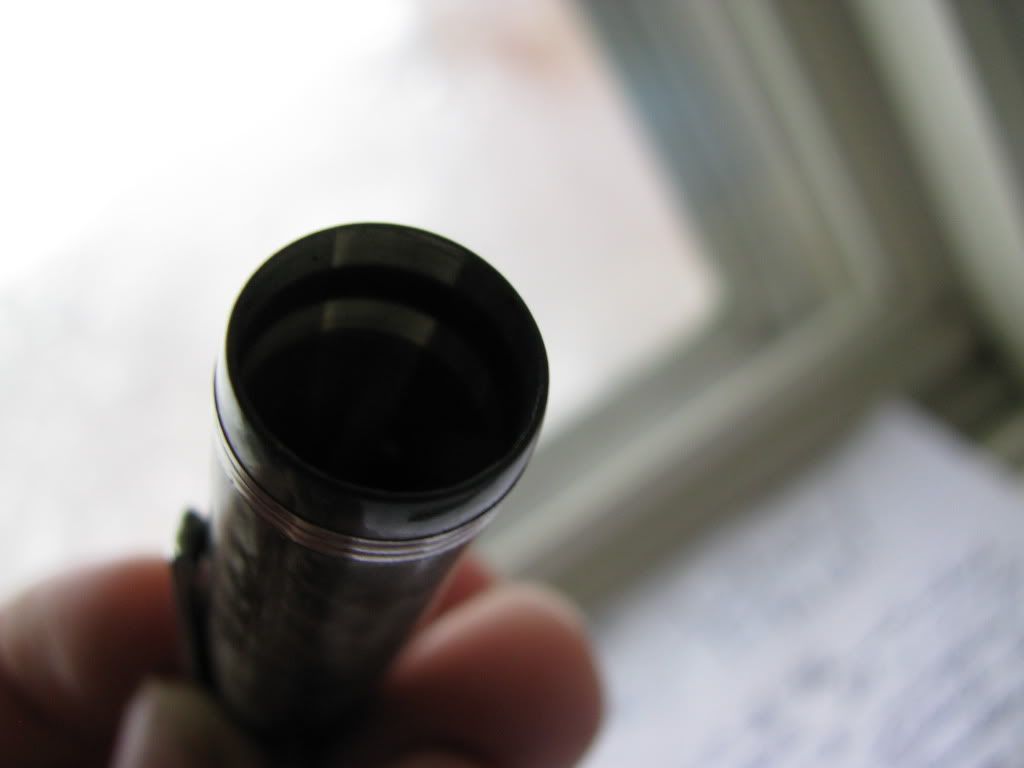 Nib:
One of the best parts of the Esterbrook. This is a steel renew-point, from the 9xxx master series meaning it is osmiridium tipped. This is a 9668 firm medium nib and I had it included when I bought the pen off FPN. It was NOS and I wasthe first to ink it, which was quite a gratifying feeling! The nib is very smooth,with a wetness of about 6-7 /10 using Omas blue. There is a sense of control when writing with this pen, which is essential for a pen being used as a dailywriter. A good sized nib, which I definitely like.
First ink!(Omas blue in my old Aurora bottle)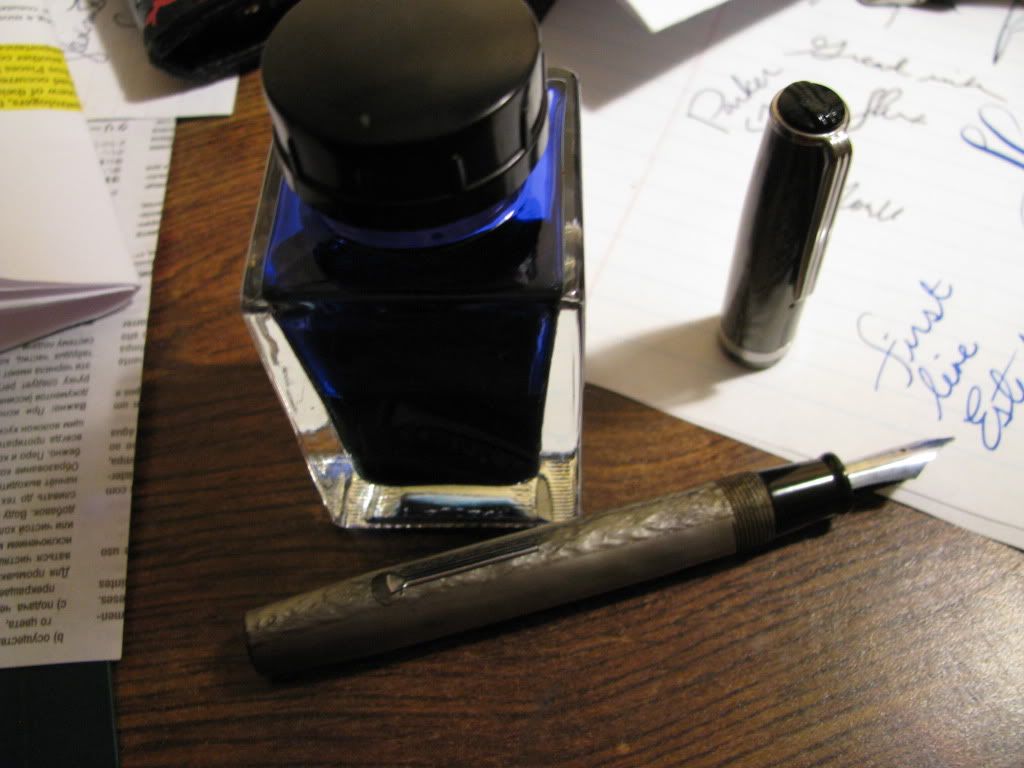 First line!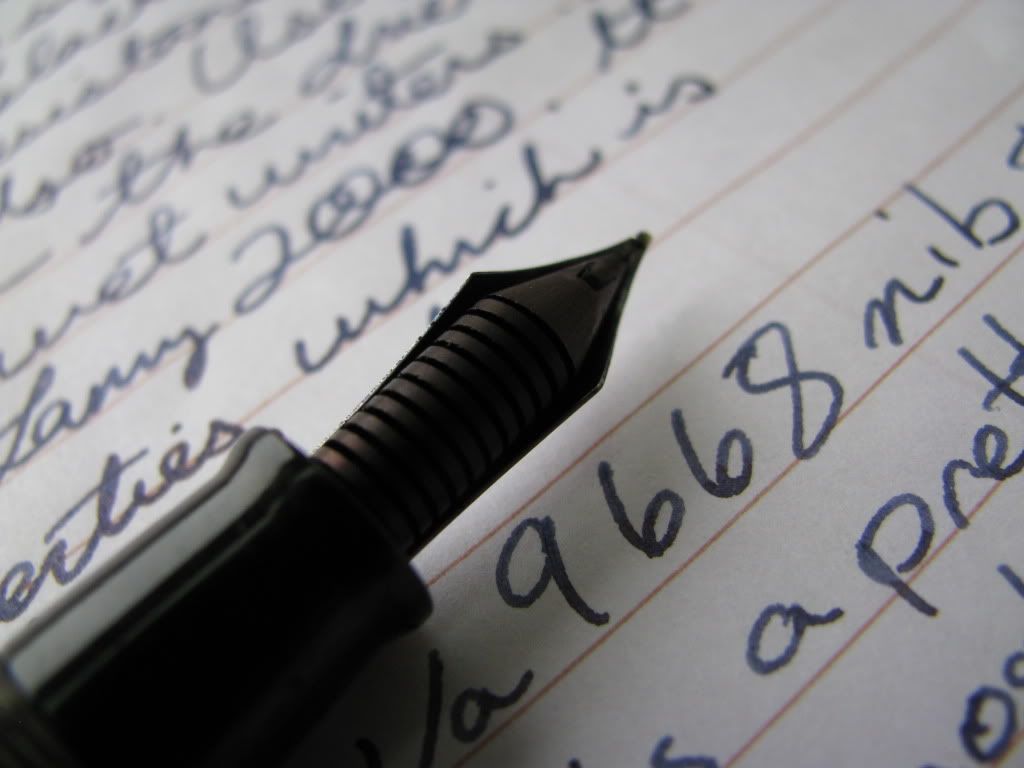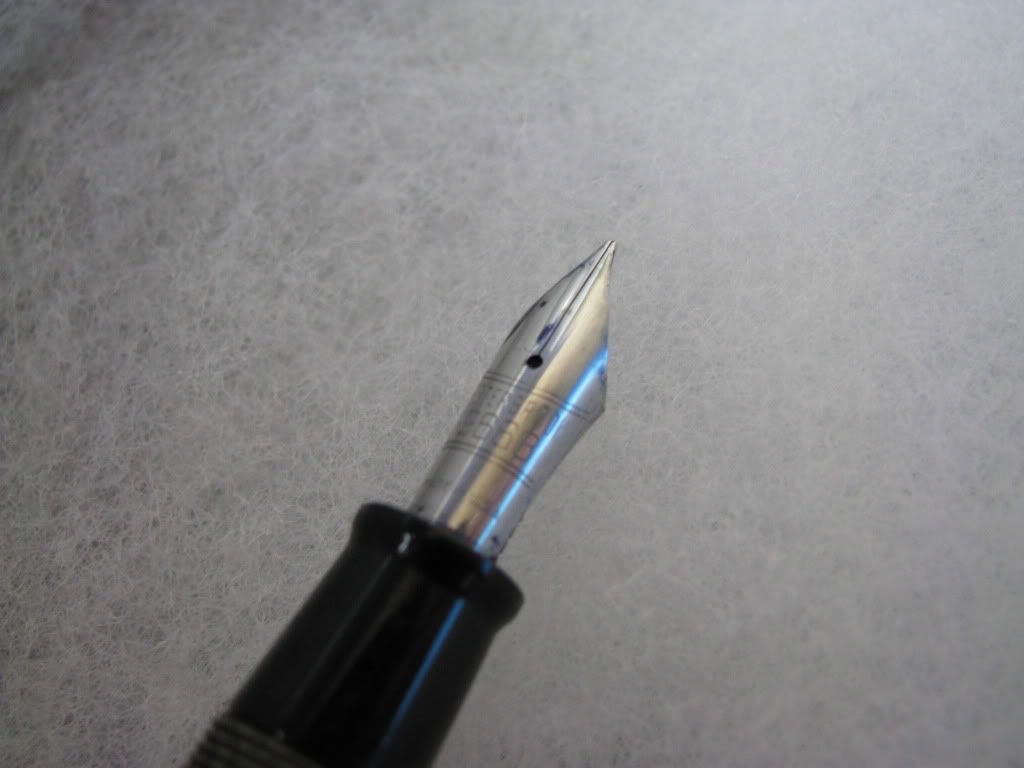 Filling System:
Lever! This is a very reliable filling system using a sac inside of the penwhich is depressed using a lever. Then you flick the lever back and the sac expands, sucking up ink. The only thing I don't like is during flushing is the lever is just slightly sharp… Good capacity, I can write with this and fill it every other day. It doesn't spit ink out in the cap ever so I find this to be very good.
Cost and Value:
I bought this gem for $40 USD shipped from Penfisher (great seller!). I received it very quickly. Restored, and with a NOS nib I think it to be one of my better purchases over my short fountain pen buying. Penfisher usually has esterbrooks for sale, so I think he's a great place to get one from. For around the price of a Lamy safari and sporting a nicer nib and a more attractive body, this has to be oneof the best deals available.
Conclusion:
A great pen. I'm already enjoying using it for school more often than myReform. If you have one, you'll appreciate it. If you don't… What are youwaiting for? They're available on the FS forums.
I leave you with a shot of the Esterbrook name: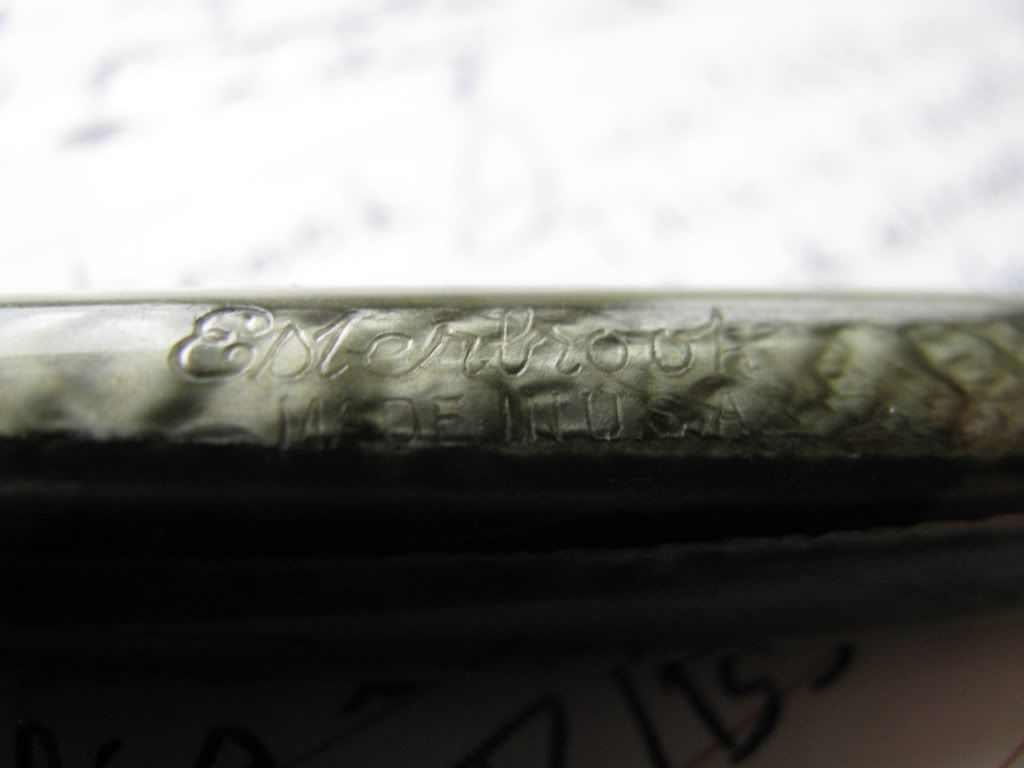 Edited by HenryLouis, 13 December 2009 - 22:26.