I confess that I use a lot modern fountain pens. In my opinion, if you move around, get into planes, cars etc. modern pens are more problem/leak free.
On the other hand I am in love with vintage pens - primarily because of the nibs and because of an indescribable thrill of touching and using an object that has "lived" during a different era.
In the context of these thoughts I would like to offer a short review of a vintage pen. Here a vintage Diamond P.P. combo pearl and black celluloid.
Vital Statistics:
Capped 6" (152 mm) Posted 6.25" (159 mm). Barrel Diameter 0.48", pencil lead 3/64" Lever filler. Silicone sac 18.
The pen was made probably in the early 30's by the Diamond Point Pen Company. The clip is inscribed "New Diamond P.P Co, Made in USA". There is no imprint on the body or the lever. Diamond Point pens can be found at modest prices $50-$150 depending on model, condition and nib characteristics. This beauty was fished unrestored from the bay for $28+shipping
The rest of the review is hand writen.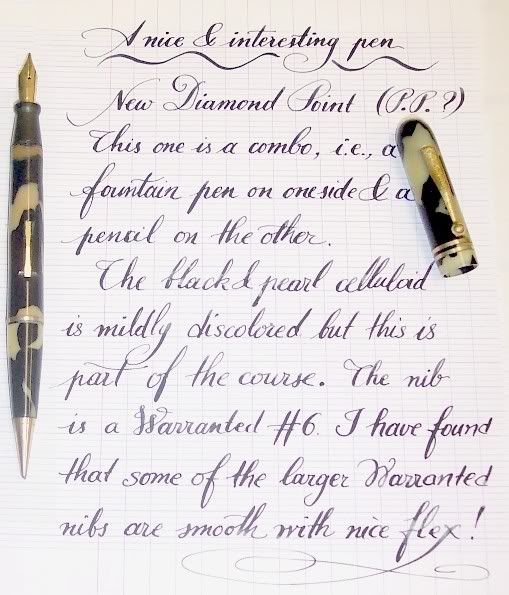 Edited by antoniosz, 14 December 2006 - 03:33.