My recent trip to the Ohio Pen Show yielded a few neat new pens, and I figured I'd take some time and write reviews for them.
One of the pens I picked up was the Classic Pens Flame Red LM1. It joined its sterling silver CP8 siblings that were already a part of my collection. This is the second such grouping I have from Classic Pens. A pair of CP7s and the Sailor/ Classic Pens LB1 marked Classic Pens' first foray into complementing a CP series pen with a resin version. My LM1 is one of my favorite writers, eclipsing even the fancier CP7s.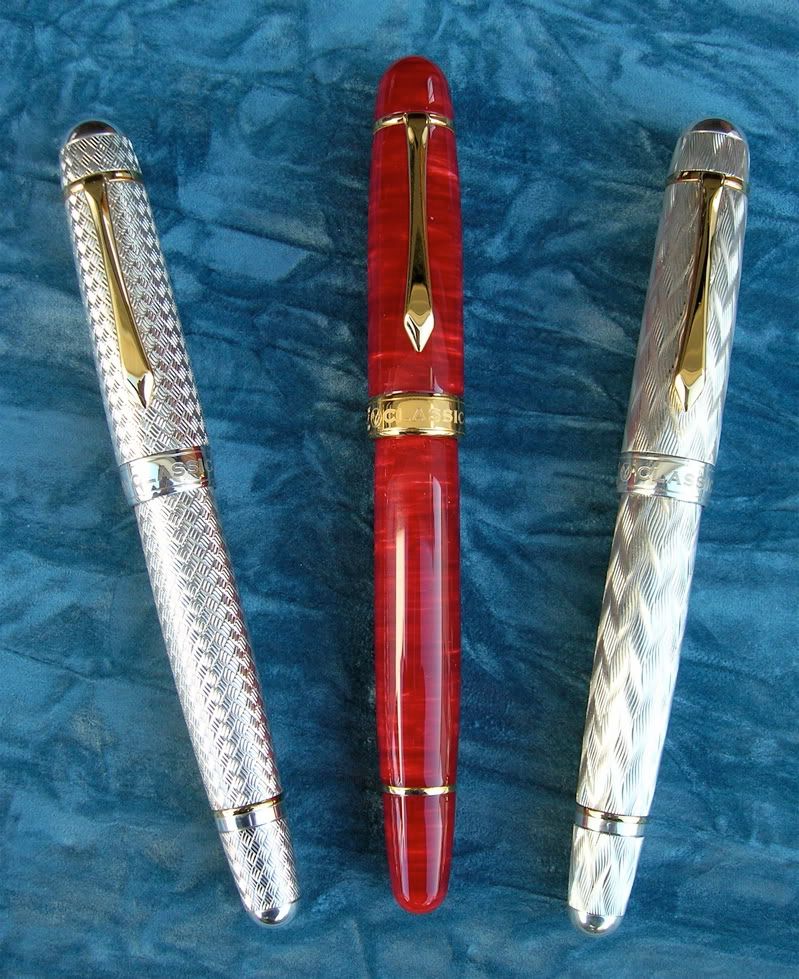 http://i862.photobuc...icaryd/CP8s.jpg
This time around Classic Pens followed a different route. The LM1 was the first pen launched by Classic Pens with their new proprietary design, which was later adapted for use in the CP8 series. For Classic Pens it marks a departure in that it's not based on an extant pen from another manufacturer. It was designed in house by Classic Pens and is manufactured in Italy by the Aquila group. It's a pleasing cigar shaped pen, comparable in shape and just a bit bigger than a Montblanc 149. The trim is all specific to the pen, including a new clip design which has been passed on to other pens in the Classic Pens line. The trim rings as fitted to the CP8 have a more sophisticated quality than the LM1. On the LM1 the trim rings at the opposite ends of the pen stand a bit too proud for my taste. Their more flush fitting on the CP8 pens, and the gold trim rings on the CP8 are paired with silver rings for a nice added detail.
http://i862.photobuc...yd/CP8sOpen.jpg
The pens are generously sized, comparable to the aforementioned 149 as well as the Pelikan M1000, Conway Stewart Churchill, and the newer Omas Paragons. It's a bit more slender than those pens, but very comparable in terms of length- capped, uncapped or posted. Both the resin LM1 and the sterling CP8s use black resin sections, which I find preferable to the Paragon's metal section. But outside of that, as far as size or comfort in use the LM1 and CP8s are a perfect fit for those who prefer a larger pen. If those pens mark the upper end of your comfort level, you may find the LM1 still usable thanks to the lighter weight and gently tapered section. But you might find the CP8s a bit too heavy. The pens seem to have good heft and are very solidly constructed. One issue I've noticed with the CP8s but not the LM1 regards the posting of the cap. It doesn't post as securely on the CP8s. There are many who wouldn't post on a sterling pen but I'm not one of them. I post on any pen I use, so it's a bit of an issue for me.
http://i862.photobuc...d/CP8Flamme.jpg
The finishes on the pens are the main attraction for most. The CP8s feature a pair of beautifull engraved guilloche patterns. Of the two I prefer the basketweave, or Vannerie pattern. This is similar to the pattern offered on the Waterman L'Etalon many years back, which was always one of my favorite engraved patterns. I wasn't a huge fan of that pen though, so I was ecstatic to see it return, and on a nicer pen to boot. The pattern has better depth here as well. The Flamme pattern is also appealing, but for me slightly less interesting if only because of its similarities to past CP issues. It seems like a more flowing, less toothy version of the pattern used on the CP3. But I don't have one of those, so I'm happy to have a version in my collection. The pens are crafted from solid sterling silver and have a very nice, substantial feel. The trim is available in gold or silver plated. I chose the gold to have a bit of contrast.
http://i862.photobuc...CP8Vannerie.jpg
For some the brilliant red material might be the primary selling point of the LB1. For me it was a source of hesitation. Not that I have any issue with the material, I'm just not a big fan of red. It is a grower though, and over the course of the last few pen shows it's caught my eye more and more. The red acrylic is custom made, and diffusion bonded in a pattern somewhat akin to Parker Vacumatic material but without the transparent layers. It practically glows from within and I found it tough to capture on camera. Parker found the material appealing enough to used it for a couple limited edition Duofold pens, both of which quickly sold out. I tend to prefer brightly colored marbled plastics to metal finishes, but I have to say in this series the Flame Red LM1 still comes in second behind the CP8 Vannerie.
http://i862.photobuc...aryd/CP8LM1.jpg
While there may be some that buy these pens as investments or to complete collections, it would be a true shame if they never used them. For me, the nibs on these new pens are the stars. The nib is made for Classic Pens by Bock and is among the highest grade of nibs offered by that manufacturer. It's a two tone 18k nib marked Classic with the Classic Pens logo. It's one of the highlights of the LM1 and CP8 pens. It's a smaller nib than the 149 or M1000 nib, but it gives up nothing in performance. It's outstanding: exceptionally soft and smooth with abundant ink flow. It's available in point sizes F, M, B as well as italic F and Italic B. I have the medium nib as well as the italic fine and italic broad. The italic broad is particularly good. It writes more like a stub than an italic, lacking any kind of sharpness but still offering excellent line variation. The italic fine is also very nice, a little more crisp but not quite as much line variation. Both nibs are very consistent writers, always starting right up with no skipping or hesitation. The medium I can't comment on yet, as I haven't used it yet. I have been swapping the italics back and forth between whichever pen body I feel like using. The sections are interchangeable so it's a breeze to swap nibs from pen to pen. The nibs are also friction fit inside a screw out housing, so there are several easy options for swapping nibs.
I'm hard pressed to come up with any real problems with these pens. I'm neither here nor there on the cartridge/ converter filler. There are some that may be disappointed that there's not something more exotic on offer, but it's tough to beat the practicality of cartridge filling. I will say however that the generous flow from the italic nibs coupled with the limited capacity of the ink converter means you'll be going for frequent refills if you're a frequent writer. The packaging isn't as elaborate as previous CP series pens, but is still of high quality and it's more compact as well. The CP8s aren't cheap at $1275, but there are only 250 of each design, and they are solid sterling, so relative to similar pens from other manufacturers they offer a relatively good value. The LM1 is from an edition of 500 and retails for $695. Compared to the 149 or M1000 this seems a bit pricey, but this is a limited production piece. There are also some dealers offering good deals on these right now, something you're not going to find on the 149.
Overall I have to say that I'm very happy with this new mini-collection within my broader Classic Pens collection. I don't know where they stand on inventory right now, but I'm glad I got off the fence and added the LM1 in Ohio. I'd recommend that anyone else wavering there join me...
Edited by Vicary, 30 November 2009 - 07:21.