Charles H. Ingersoll "Dollar Pen"

Introduction:
Charles H. Ingersoll, along with his brother, Robert, founded the Robert H. Ingersoll & Brother Company in 1892, makers of the Ingersoll watch. Their pocket watches, the 'Jumbo,' 'Yankee,' and the 'Reliance,' were the Timex of its day. These dollar watches were quite popular, selling over 70 million by the end of World War I. Despite their success, the company was unable to pay its creditors, declaring bankruptcy in 1921. The company was reorganized and Waterbury clock continued to make watches using the company's name. The company eventually became Waterbury-Ingersoll, later U.S. Time, later Timex.
New York Times article on Ingersoll watches.
In 1924, Charles Ingersoll formed the Charles Ingersoll Dollar Pen Company in Newark, later moving to East Orange, New Jersey. They weren't the only company in history to produce a "dollar" pen (e.g. Evans or Esterbrook). But clearly, Ingersoll was trying to capitalize on the Dollar Watch fame. The company existed until about 1931, producing a nickel-plated brass pen with a 14 karat gold nib and iridium tip. These pens sold for $1.00. That's $12.50 in today's economy. Later the company added a junior/ladies pen selling for $1.50 and a oversized Bakelite or celluloid pen for $2.00. These pens featured a two-point bearing clip and a unique twist-filling mechanism using an oversized watch-like stem-winder. Ingersoll marketed their pens to compete against the low-end nameless pens with steel nibs. Ingersoll offered high quality 14-karat gold nibs with iridium tipping, much like the "$50" Waterman's or Parker's of the day. Ingersoll however saved on manufacturing and material costs. Ingersoll used brass tubing stock for the body and cap, cheaper, and more readily in supply. It was also easier to form. They avoided cutting a slot into the side of the pen for the lever. Instead a large upholstery tack was used as the filler. It was a simple filling mechanism, but one that also drew up a large amount of ink.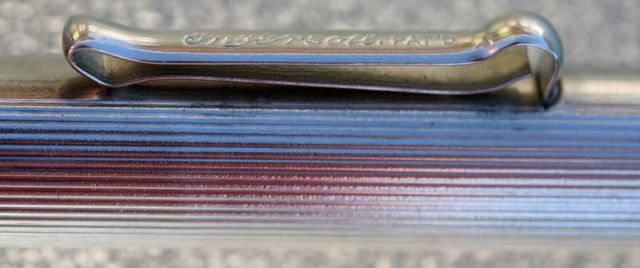 Material:
Nickel-plated brass. I have seen various patterns stamped into the material. This one contains a series of vertical ridges. The maker's mark is not stamped onto the body, as seen on earlier models. Ingersoll also began producing pens in celluloid and Bakelite plastics.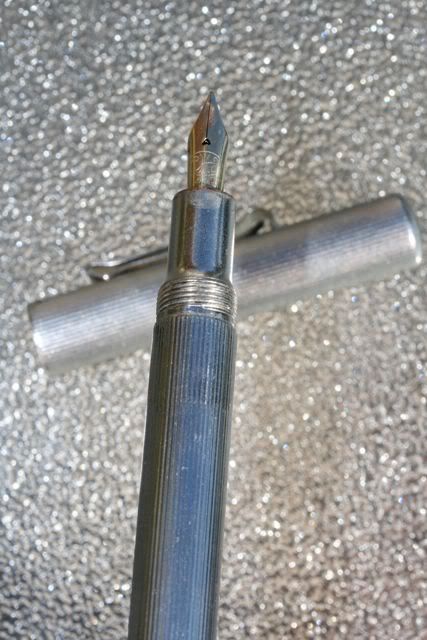 Color:
Silver.
Model:
Dollar Pen
Date of Production:
Between 1924-1931
Fill Mechanism:
Twist-filler. Ingersoll used a stem-winder system at the back end of the pen. This stem-winder looks very much like an upholstery tack. This tack is inserted through a small hole in the back end of the pen, and into a hard rubber or wooden plug inside the pen. The plug serves as a mount for the back end of a rubber sac, which is cut to fit over the plug. The other end of the sac is then fitted over the feed. It's not a complicated system, although it really confused me at first. Twisting the stem-winder about a half-turn squeezes out the rubber sac, much like a sponge. When the stem-winder is released the sac springs open. With the nib sitting inside an ink-well, the action of releasing the stem-winder draws ink through the nib assembly and into the sac. I have seen the twist-filling mechanism on some Gold Bond's, Esterbrooks, and Mabie-Todd's.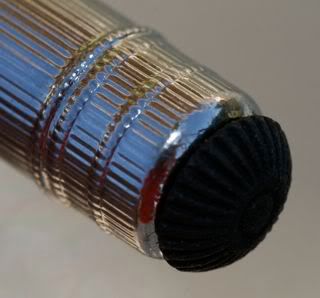 Dimensions:
Length: 12.8 cm (5") closed (the twist filler adds an additional 1/8" inch to the length); Cap 5.9 cm (2-5/16"). Width 1 cm (7/16"). This pen cannot be posted.
Nib:
The 14 karat gold nib with iridium tip is stamped with the initials "CHI" for Charles Henry Ingersoll.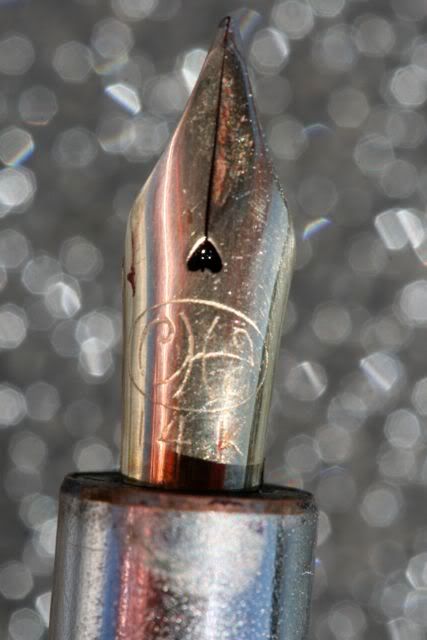 Cap:
Screw-on cap. It does not post; at least the metal pen.
Price:
The pen originally sold for $1. However, modern prices for these pens, depending upon condition, vary from $10 to $90.
Writing Performance:
The characteristic of the nib on paper is based not only on the design and material of the nib, but also the paper, the ink, the restoration of the nib, and just blind luck. The gold nib has a bit of tooth. I've tried to adjust and smooth it. I've also tried different inks. Despite that, I cannot seem to get it to the butter-on-Teflon smoothness that I prefer in all pens. The tooth doesn't affect the writing performance, and is not irritating. I've also learned that nib toothiness is not a common feature of the brand. The nib is firm enough to cut through carbon paper, but there is definitely a bit of flex. This is a pen that I'm comfortable letting others try. But it's not the spokesmodel for the wonderment of writing with fountain pens. Some people will not post pens. I will when it balances the writing instrument, and this pen would be better balanced if it could be posted. It certainly writes well, but it's not an all-day writer. I would probably prefer a wider pen. Ingersoll did produce plastic pens in larger sizes.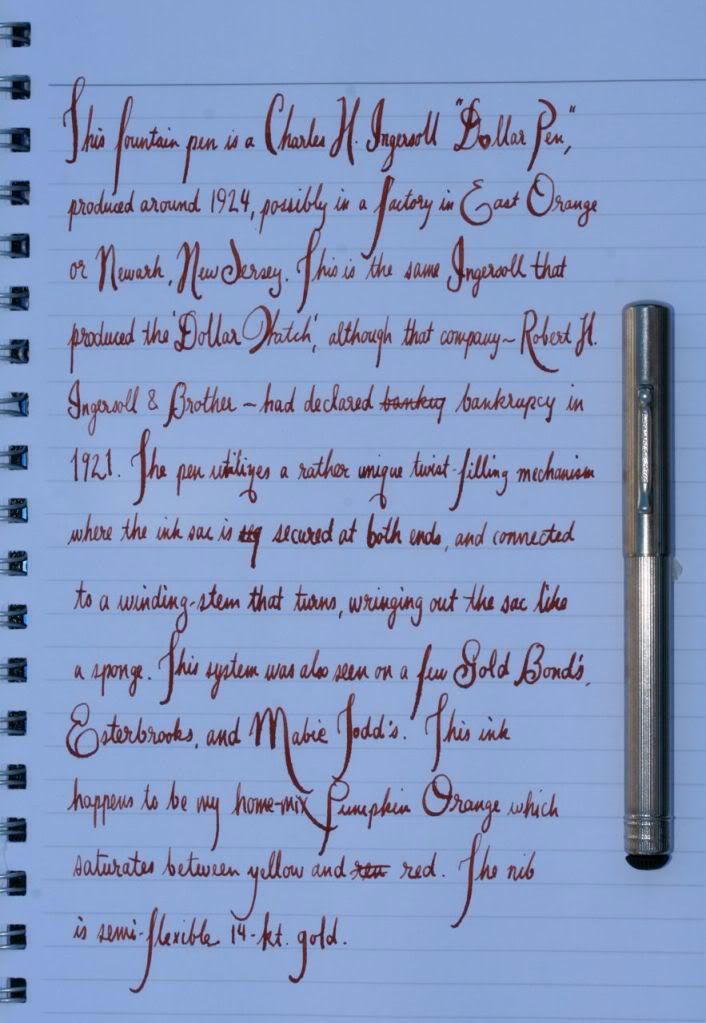 Fit and Finish:
A nickel-plated brass pen would appear indestructible. However, the sections are prone to cracking. These sections are form-fit onto the brass body, and often require a bit of muscle to remove. The nickel plating on the body is also prone to brassing and wear. This pen has a bit of plating wear along the body, just beneath the cap. A completely clean model is difficult, but not impossible, to find.
Conclusion:
I'm a sucker for unique designs and unusual filling-mechanisms. The Ingersoll pen offers both. It's metal body stands out in a collection of pens. Meanwhile, the twist-filler is a unique, and actually quite efficient, mechanism for filling the pen with ink. These pens were not produced as status symbols for executives, and it's overall finish and design reflects that. However, they are durable writing instruments, that fall well below the radar among collectors.
Ackwoledgment:
First and foremost, I want to thank FPN's Johnny Appleseed for his help in restoring this pen. He's an avid collector of Ingersoll pens, both metal and plastic, and I appreciated his expertise in trying to make this pen work. I have a tinkerers mentality, but I've also been known to break things. John also provided a lot of information on the Ingersoll pen that can be found on other pages. I compiled this information along with old advertisements, an article out of the New York Times, and his personal correspondence to assemble the article here.