Bexley America the Beautiful
I've always been an admirer of Bexley pens though mostly from afar. The unique pen shapes, the beautiful and smooth, two-tone 18K nibs and their reputation for quality pens and service make for an attractive combination. Also, I've always been partial to pen companies that offer lifetime warranties on their pens- à la Pelikan. I had and sold a Submariner Grande because the shape, while very attractive, wasn't a good fit for my hand. So, when I saw the new America the Beautiful collection, I was excited to see a pen with slightly less barrel taper and a resin, color-matched section. Also, the long cap, double cap bands, and low-seated clip gave the pen a very attractive, vintage look.

Appearance/Finnish 5/5
The pen appears to be of very nice quality - as many of us have come to expect from Bexley. The rose gold trim is just as advertised - "striking" against the black backdrop of the pen. Also, there is absolutely no trim anywhere but the cap, which I like very much. Having only a clip and two small trim rings gives the pen a subtle, unassuming appearance. The cap bands sit flush against the cap surface, and the roller clip looks and works just as it should. As with most Bexleys, the pen has a nice engraving reading:
America the Beautiful / Bexley 2006
.
Something I always appreciate about Bexleys is the feel of screwing on/off the cap; it's smooth and tight, taking about 1 3/4 turns to fully tighten it down. Also notable is that the lip of the cap doesn't come in contact with the barrel when posted (you can kind of see this in the second picture). Assumedly, this will eliminate the possibility of a cracked cap lip resulting from the tension of posting the cap. This was one of my worries with the AtB since the cap bands were well above the cap lip, but it seems as though Bexley has already thought it through. Well done.
Size/Weight/Comfort 5/5
Like a resin-sectioned Submariner Grande, the America the Beautiful is a light pen by my standards. While similarly sized to a Pelikan m800, the AtB feels roughly to be half the weight, which lessens fatigue during long writing sessions. The balance of the pen (posted) is perfect - not too light, certainly not too heavy and most importantly not too top heavy. The cap is large yet light, so when posted, the pen feels made for writing with enough weight toward the nib. Interestingly, when unposted, the pen is almost exactly the same size (nib included) as an unposted m200 (or m215 in my case). I find this rather nice since the pen can be both rather large or small depending on whether you post the cap.

The section is significantly smaller than an m800 and seems just a touch bigger than my m215's section. There is also a small lip on the end of the section, which as a low gripper, I appreciate for stability while writing. Overall, I'm very satisfied with the design of this pen and the way it handles.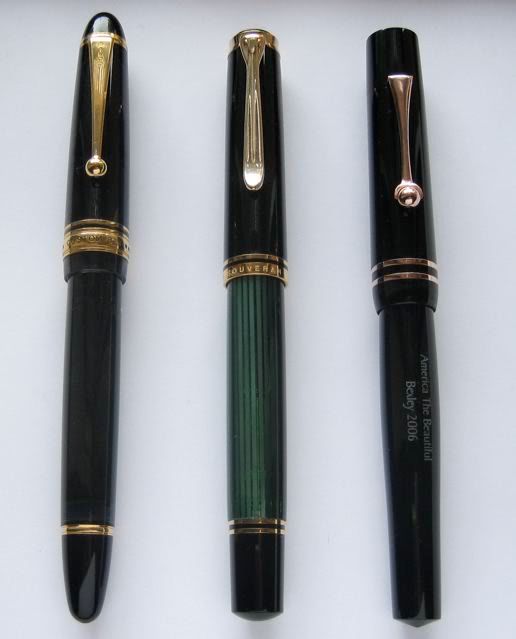 Pilot Custom 823, Pelikan m800 and Bexley AtB
Nib and Writing Performance 5/5
Well, this pen of course shines here because I had it customized upon purchase from Richard Binder. The nib is a 0.8mm stub ground from a broad nib, and it's fantastically smooth and reliable. I had a standard medium nib on my Submariner Grande, and it was an excellent, smooth nib, but it's hard to beat a well-fashioned stub, in my opinion. The nib give great line variation and requires little if any extra care in aligning the nib to paper. I've also heard great things about the Bexley stub, and I would like to own one someday. However, since I wanted this to be a daily pen, the 0.8mm stub was a much better match for my normal, day-to-day handwriting.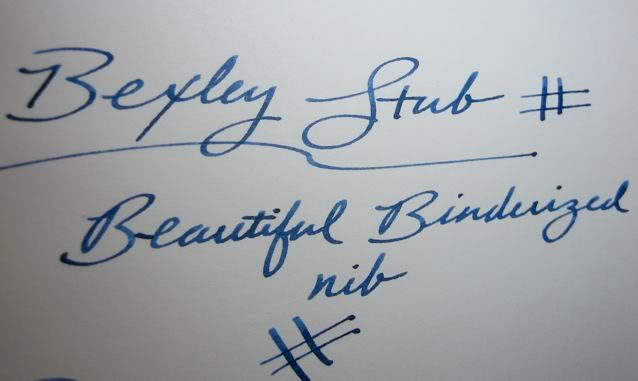 Filling System 4/5
It's a standard cartridge/converter filler, but I don't disdain these as much as some other reviews. Reliable c/c fillers are simple, replaceable (the converter), low maintenance and convenient since carts are always a fallback. I specifically wanted a c/c for this pen because I don't have to worry about saturated or staining inks, and it's quick and easy to flush and dry them.
Still, it's a bit uninteresting....so 4/5.
Conclusion
Overall, this is a great pen. It's a nice choice for someone who enjoys a big pen but doesn't particularly like the extra weight of an m800 or similarly hefty pen. The combination of rose gold furniture and the styling of the barrel and cap make this a unique offering from Bexley, and with the company's reputation for standing behind their very high quality instruments, I'm sure I'll find another one or two Bexleys for my modest collection. Richard's work is the icing on the cake, and I'm sure this pen will serve me well for a long time. A high recommendation.
Finally, thanks to the Noble Savage since I somewhat copied his review format.
edit: added better pictures
Edited by RyanL27, 05 July 2006 - 17:28.