FIRST IMPRESSIONS
This is my third Edison Herald so it impossible to have a typical "first impression".
I was looking for another Herald from Edison Pens and Brian and I were looking for some celluloid that I might find interesting.
Brian came back from the DC Pen Show with some mottled ebonite; red and blue and blue and yellow.
He had enough blue and yellow to make several pens but just enough of the red and blue to make a single pen.
I chose the red and blue.
Brian pointed out that there was color variation in the rod cross-section, so what the colors of the final parts would be were unknown.
So the mystery would be in the finished pen.
Brian sent me photos of the completed pen, and I was awestruck.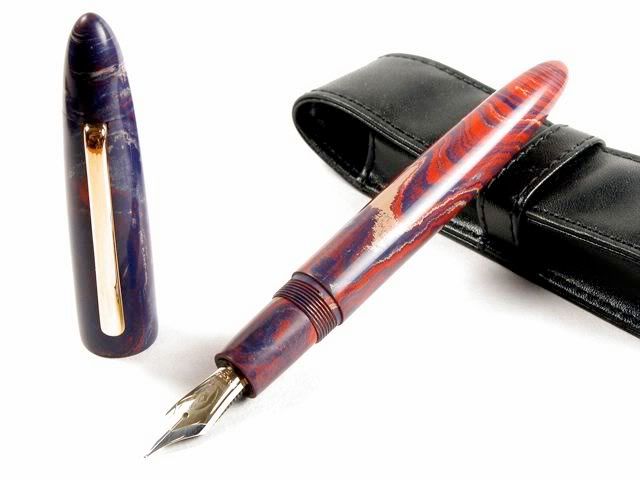 As you know the Edisons come in a sturdy clear plastic tube wrapped in bubble-wrap in a heavy duty cardboard shipping box.
APPEARANCE AND FINISH
The best way for me to show this pen is in pictures. (And please excuse the poor photography!)


The colors vary around the surface and right down to the barrel end.
The cap end of the bar stock was more blue and the barrel end more red.
The Edison dual tone 18k gold nib is engraved with the company logo and matches the ebonite color nicely.
SIZE AND WEIGHT
The Heralds are all hand made so there is some variation pen to pen.
The Herald is a largish but medium weight pen.
The ebonite material is thick, so the is very robust, and feels it!
NIB DESIGN AND PERFORMANCE
I got the two tone plated gold nib. All the gold nibs are is simply engraved with the Edison logo.
Brian works all the nibs himself and this one is super smooth with just a touch of feedback, as I like them.
Upon arrival I filled the pen with Waterman South Sea Blue and gave it a test run.
It ran perfectly of course.
If it didn't Brian would have taken it back and made it right. That's his promise and I believe him.
FILLING SYSTEM
I ordered the pen with an "Premium" twist converter.
Why? Because I wanted one.
The converter fills and empties just fine.
COST/VALUE
The pen with a the premium converter, the Edison 18k nib, and made out of the "one of a kind" ebonite was something like $360.
I forget exactly.
When you like an item so much you forget the price that is a sign that the price is fair.
CONCLUSION
If I was looking for "The One Pen" this could be it.
(But I'm not a one pen kind of person.)