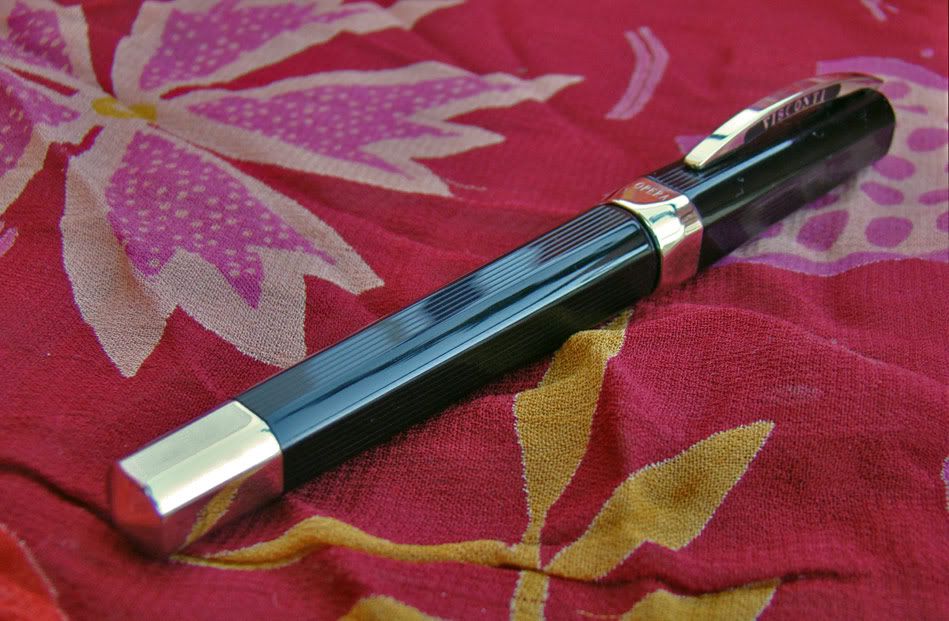 Intro & First Impression
With the exception of my purchase of the M90 I'm surprised to see that the pens that seem to be the keepers from the first year here at FPN (but I've used FPs for much much longer) are pens bought out if impulse and curiosity – not as a part of the "plan". Almost all "planned" buys (except the M90) has moved on. This is one of the impulse purchases. When I had been bitten by the Italian bug Bryant happened to offer one for a very good price at the Market Place. I couldn't resist the temptation and the deal was done. A half year ago I had no Italian pens in my stable and now they are the the largest group in my little accumulation of pens.
It came in a very stylish box in faux red alligator skin (which I have refurbished and made into a desk pen case – very nice bonus!). Pen wise I had expected it to be more sleek and gracious than it appeared to be, so I was actually a little bit disappointed.
Since it seemed a bit dull, in contrast to my expectations, it gets
7.5/10
; Lovely box, but the pen is stylish, but not as stylish as I had expected.
Details & Dimensions
This is a Visconti Opera in Black Guilloche with a rhodium plated monotone 14 k gold nib. As I understand it the Opera is not an Opera Club – it is just an "Opera". It originally had an M nib, but since it was way too broad for my writing I had it reground to a stubbish F by John Sorowka (whom I warmly recommend).
Weight 39 grams (with loaded converter)
Length capped 13.8 cm
Length uncapped 13 cm
Length posted 16.7 cm
Appearance & Design
This is a stylish pen with a design idea that I like. But I must say that the
idea
of the design – the squared circle, the discreet, pinstriped, guilloche lines on the barrel and cap, the over all shape – is better than the final result. The best parts are the barrel design; both the the guilloche and the chromed and pointy shaped end are very smart - both elegant and cool (I have a weak spot for that combination) and adds character to the pen. They go very well together and therefore it is a pity that I find the black resin to be a little bit dull for this pen. This pen had been worthy of a more lustrous, glossy, black finish. As a shape fanatic I'm also some what skeptical to the details – or maybe the finish on the details - on the cap. I like the clip – it goes very well with the rest of the pen and the finish is excellent. When it comes to the cap jewel and the chromed cap band I am ambivalent. I find the button/jewel a bit clumsy and it neither adds a twist nor feels in harmony with the rest of the design. They could modify it a bit to get it more gracious and more in line with the rest of the pen. The same goes for the cap band. I like graceful, understated design, but the cap band is a little clumsy and heavy in relation to the overall "idea". It should be a little more sleek and smart. It is a little bit too undefined.
So; the idea gets 8.5 and the result about 7.5, so the total verdict is
8/10
– very good, but they could – and should – do better; especially considered the MSRP for this pen.
(
Edited - I was to harsh in my original judgment - 7.75
)
Construction, Function & Quality
Even if I – due to my high expectations on the pen – think that the Opera has design flaws this is, undoubtedly, a well built pen. Made to write with, made to last. Even if I think the resin could be smarter and glossier it doesn't have a cheep feel to it when I'm using it. And – almost most important for a notorious poster – there is no problems with posting. It posts safely; it is well balanced both posted and nonposted. I was skeptical to the gripping section in shiny metal, but I've learned that there are metal gripping sections can be a joy to write with – even if they are shiny and looks like they must be very slippery. This is one of the most comfortable pens I have ever used. My hand relaxes when I use it. No effort to press it down needed. It has a bit of weight and combined with it being so utterly well balanced (at least in my hands) this makes the hand relax and concentrate on the writing. Excellent. The clip is great – not only a design detail, but built to be used. It is not perfect as in 10/10, but it is excellent with regard to CFQ:
9/10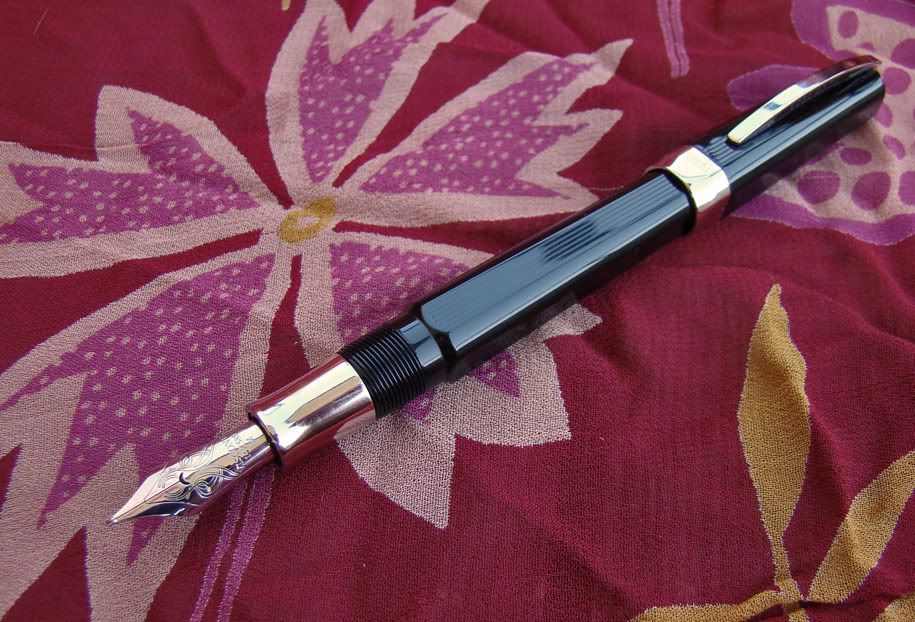 Nib & Performance
As I mentioned above I had the nib reground from a medium to a fine stub by John Sorowka – which I am very very happy with. But, I will rate the original nib here, since that is more interesting for potential readers. I chose an M nib since there was no narrower options and hoped that it might turn out to be as with my Aurora – a nice narrow M – but this was more like a B disguised to an M. It was a hard decision to send the nib to regrinding since it was such a lovely nib - it was so nice to write with – a tactile joy, actually. Almost perfect flow – no problems except for the nib width. And since it was so broad I think they might reconsider its sizes. Even as a western M it is very broad – broader than Pelikan M's. A great thing is that the nib is unscrewable and easy to change and the possibility to have extra spare nibs. I like that very much.
Thus
8.75/10
– very good to excellent.
[
Edited to raise the grade a tiny bit - from 8.5 - this IS a very very good nib. My reluctance to give it a 9 is due to that I feel the size to be much broader than a western M - I like when the size is fairly accurate to the label...
]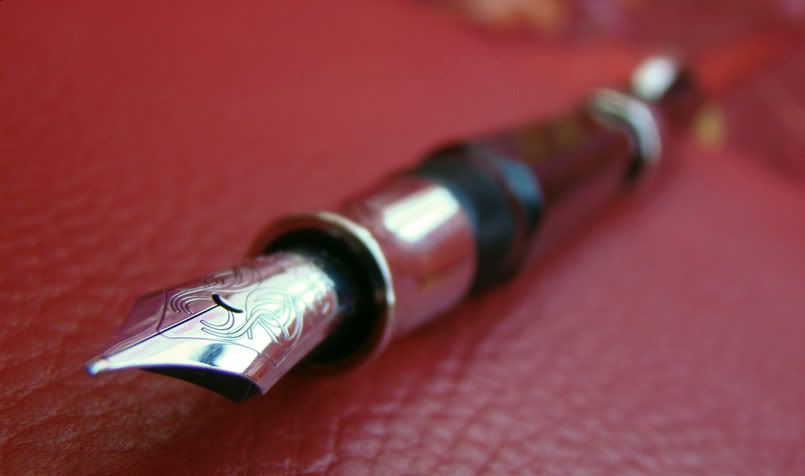 Filling System & Maintenance
It is a c/c filler with a stylish Visconti converter fitted. The converter is threaded which I like very much – since it makes the filling process easier. It is easy to fill and easy to clean. International cartridges can be used, which is a plus.
Since I have no particular problems (this is a confession…) with c/c fillers – I like piston fillers, but I'm not dogmatic – I think the filling system works just fine. I've also come to realize that ink capacity isn't an issue for me. I love to try new inks and change ink depending on mood and weather, so I would go nuts with a pen with too large ink reservoir…I really like to flush and fill the pen with new, fresh ink.
7.5/10
– No problems.
Cost & Value
I bought it new from Bryant for a very good price – around $200 – and think it offers great value for the money. I did a quick internet search and have found them listed at various internet shops for prices between $295-$450 (!) and I wouldn't have bought it for those prices. But my deal was very good and thus I grade it:
9.5/10
Conclusion
[With the revised grade - originally 49.75 /60 ~8.3/10]
50,25/60~8,4
Despite the flaws I see design wise I have taken a great liking to this pen. Much is due to its excellent writing properties – from the nib to the ergonomics. Even if I'm critical to the outcome of these excellent design ideas this is an attractive, classic pen. If it had had the finish and the same meticulous attention to the tiny details like the Aurora Talentum – this could have been one of the modern classics. Now it is more of a ordinary, very stylish and elegant Italian pen. It would be great to see this pen modified in accordance with its potential.
Edited by dandelion, 24 September 2009 - 16:44.