This pen is no surprise to any of the Danitrio devotees out there. We have all been waiting for months for this pen.
First Impressions 10/10

There is no way I can improve on the photos by Ethernautrix, Altecgreen, or others. The sole difference between my photos and the others is that this is one of the few with a clip, and I thought that might be worth a look.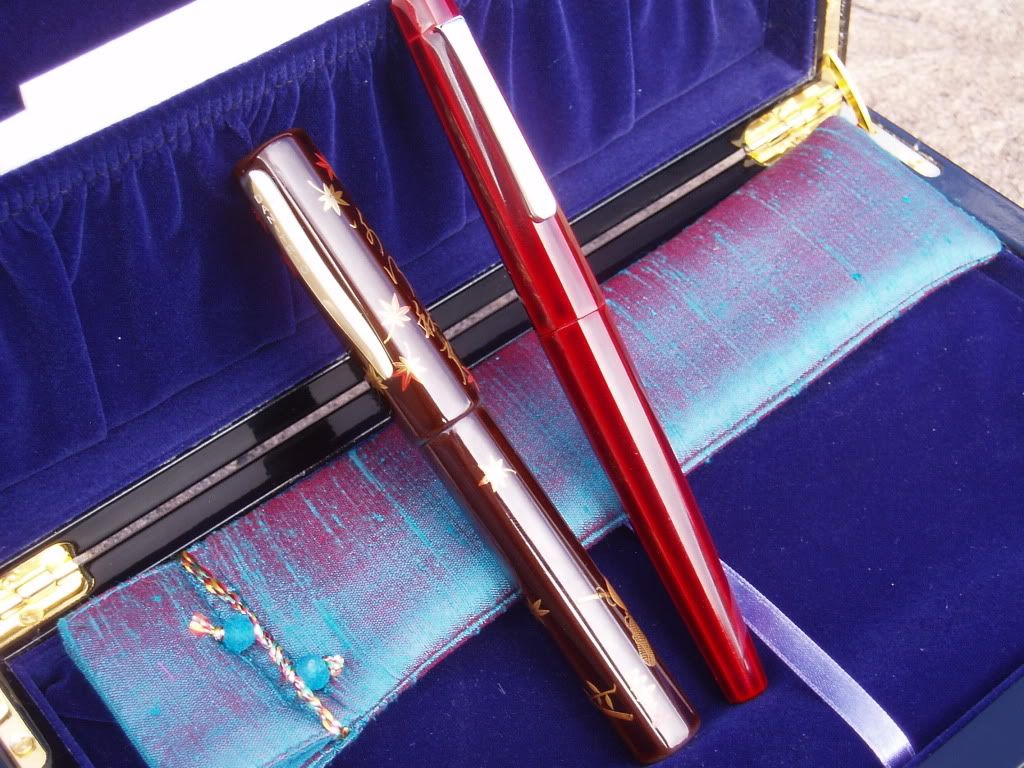 Even though I had seen the other posts with the pen, I was unprepared for the total package. You open a larger than normal Dani laquer box with a rich blue velvet finish, find a polishing cloth, and then a silk (I think) one pen kimono and a wooden pen pillow. It is then when you pull this back to find the pen. If you are used to Danitrios, you'll find this pen slightly smaller than usual. Compare this to the photos with a Nakaya Decapod, Dani Mae West and Bokashi-nuri. It is not a small pen, but closer to normal than most pens.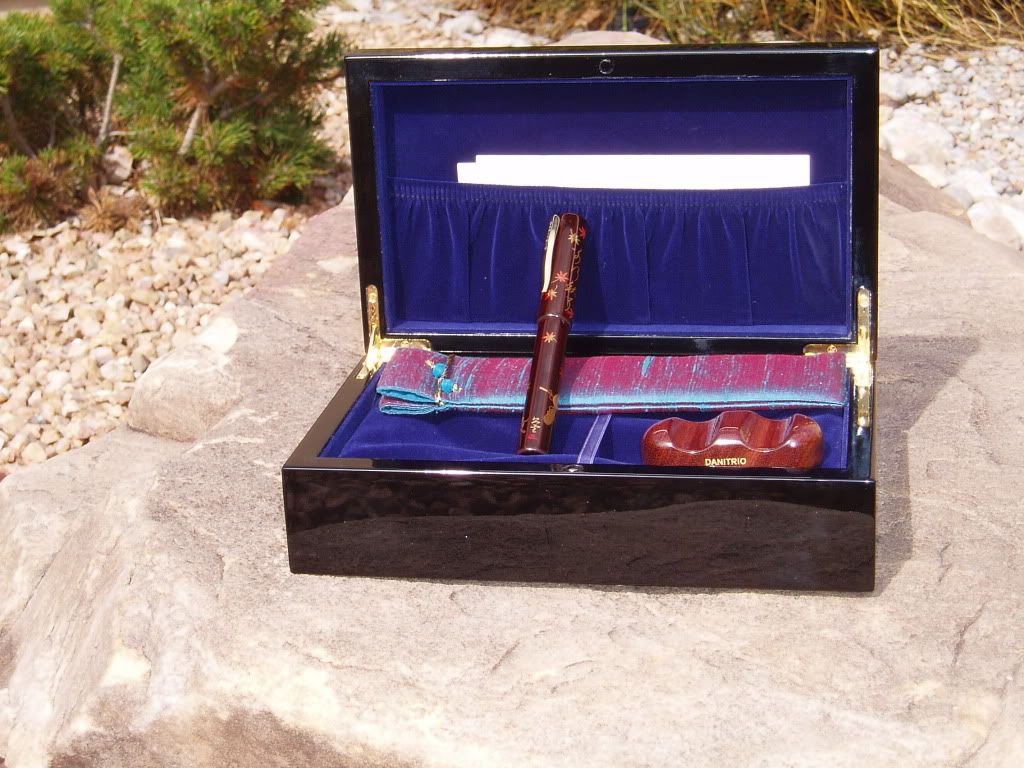 Appearance and Design 10/10

I have seen the posts that show how this pen was made, but I still was unprepared for just how perfectly the pen looks. If you have friends that see this pen for the first time, you really need to educate them as to just how handmade it is. Please refer to how the shell is cut by hand, how the urushi is built up, etc.
You'll develop a new appreciation for how perfectly this pen is made.

I was slightly disappointed in that mine has several scratches on the clip. This might be attributed to the fact that in the scope of about a week and a half, they decided the gold clips could not be done, would be done, and then all of a sudden the pen was here. The speed in which they accomplished this was remarkable. I know the clip has a tendancy to spoil the lines of the pen a tiny bit, but overall for people that need one, I think this is the perfect compliment.

The pen is slightly smaller than I expected, which is no bad thing. I traded off my Mikado since it was a little too large for me (even though I am planning to get another one). It is a little bit smaller than the other Dani's I own, but by most other brand's standards a good sized pen.

Here it is next to the Nakaya Decapod: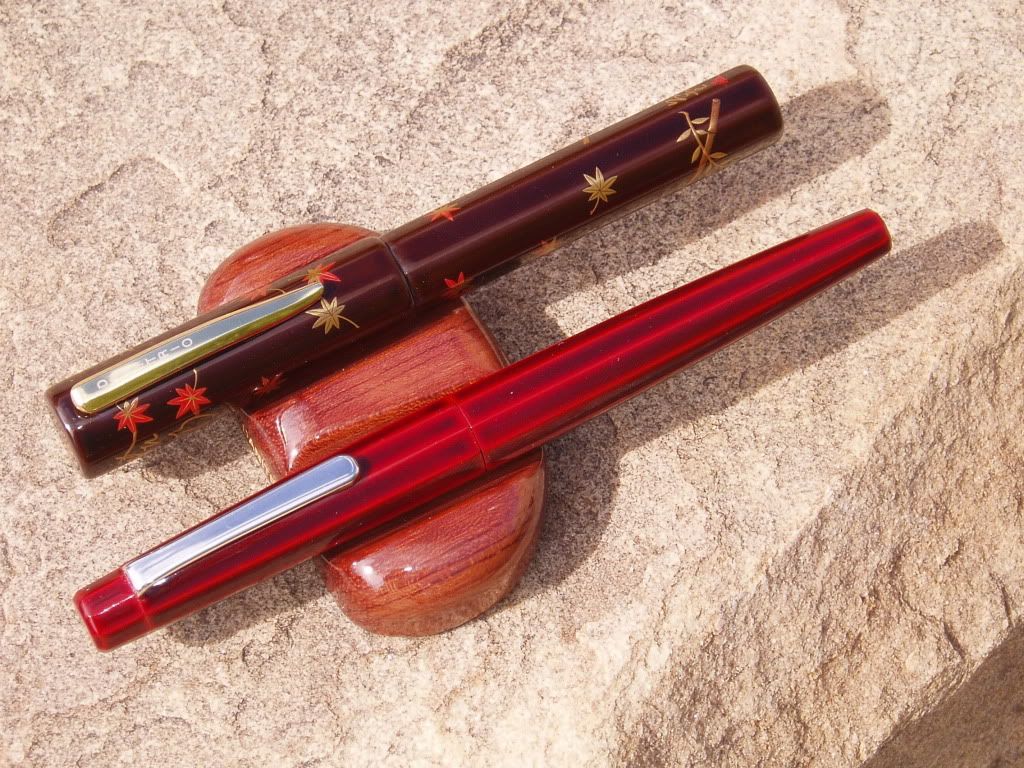 Weight and Dimensions 9/10

I like light pens, and the size varies, depending on the pen. Dani's are uniformly consistent in that they are light and balanced. There is no provision for posting this pen, so that is a moot point.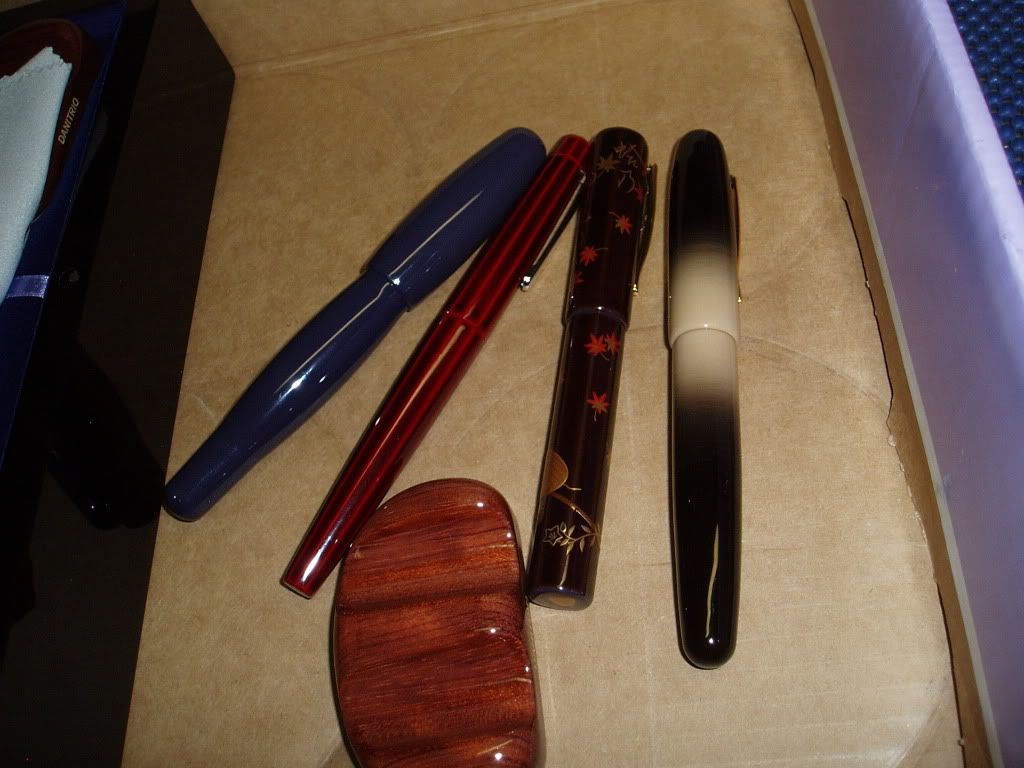 Nib and Performance 9/10

I chose an xf flexible nib. 3 of the 4 Dani's I own have plastic feeds, while the Mae West has an ebonite (as did the Mikado-probably the most beautiful feed I have seen).
There doesnt seem to be a difference in the performance, but all of the nibs are slightly different. It seems that Dani is constantly revising the feed process.

The nib is like other Danis. It works very well, does not skip, but is a little wetter than some of the others which means that it is not a lot different than the fine nib. This is pretty much in line with what Kevin told me. The XF Dani nib is much like the Nakaya medium nib, but writes better for me.

Filling System 6/10

CC, But you do have the option of using it as a eyedropper. I change pens often enough that this is not an issue.
If it had the valve in it I would rethink this.


Cost and Value 9/10

This is a brilliant value compared to other maki-e pens. With the supplied accessories, I would guess this as closer to $1500. Add to that that the exclusivity and personal nature of the FPN'ers that provided the concept, this is an astounding pen for the money.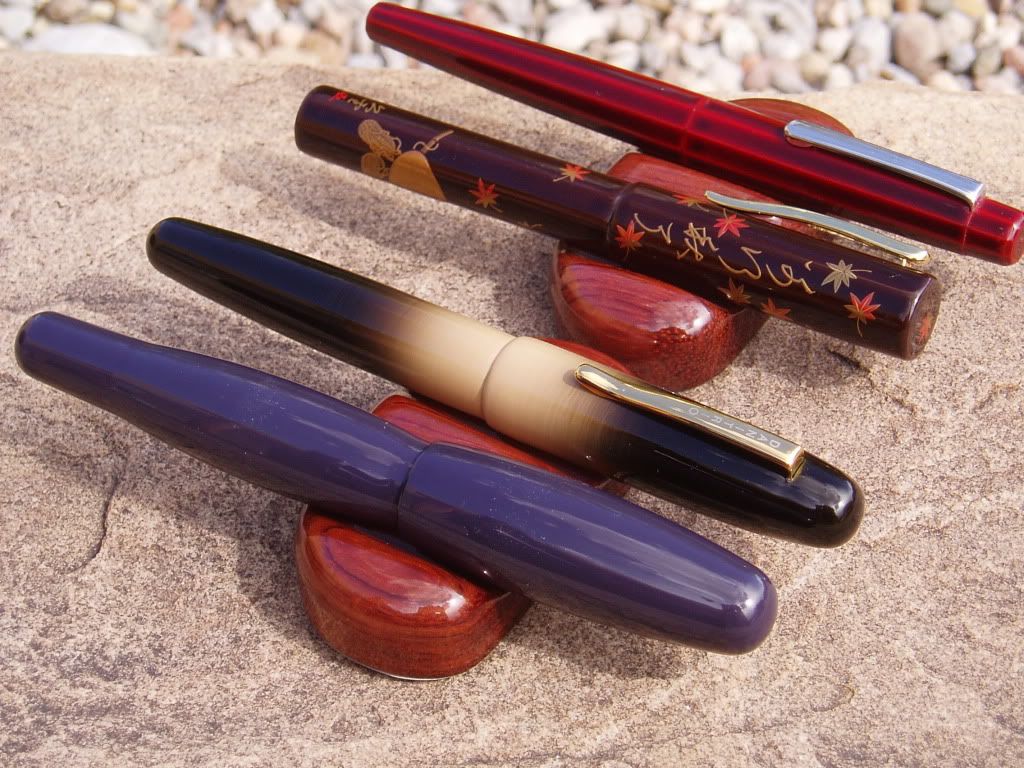 Conclusion10/10

I feel great about the commitment I made months ago when I purchase this pen. The workmanship is perfect, as is the presentation. There was a delay with the clipped versions, but I noticed that the placement of the clip between the Maki-e is perfect (They slipped it right in between).

As I have heard from so many, most of the pictures make the pen look black, but in reality it is a dark brown, with the edges in purple. I would love to see this broaden with age.

I feel I have stolen this pen, and that this will only increase in value with age.

All in all, a job well done by all of the FPN'ers involved, Danitrio's committment, and most of all, Kevin Cheng.

Thanks for making my year..............


#