First Impressions 9/10

I have owned several Bexley's over the years, and while some were less then impressive from an asthetic standpoint, most of the ones produced in the last couple of years are uniformally handsome.
I have sold off all of my Bexleys that are not limited edition. I'll expand on that later.


Appearance and Design 8/10

This pen is obviously a tribute to the Wahl Doric, but with modern day technology and sizing.
The most controversial aspect of this pen is the fact that the body is comprised of 4 pieces. In the case of the cap, the mismatch is fairly obvious. I knew this going in (I knew about the cap, but not about the body). There have been several comments from people saying that this is the sole reason they would not purchase this pen. The match on the actual pen body is tough to see so that fact that it is made up of two separate pieces is much less obvious. I have read different theories from it is just too expensive to produce the pen from a single piece to it was deliberately done this way for symmetry. Not sure I'm buying that, but I could be wrong. I do trust Bexley in their decision process.

Normally I would also be in that camp in that imperfections drive me crazy. Since the ebonite is so varied in this pen, it just does not bother me that much. And the lovely variations in this olive green are wonderful. I do not care for green pens, and I really dislike gold trim, but after looking at the 3 colors choices, I had to have this one. It has a richness that my photos can't capture, as well as the fact that the finish is perfectly smooth. To me it appears in the picture that it might be a little roughly finished. Not so. The finish is glossy smooth, and overall impression is one of quality, whether you are capping the pen or posting (which it does perfectly).

(the picture is of the three pens I am using today: Bexley OC '09, Visconti Divina Desert Springs, and Marlen HTF 2000-on some days I like the variation of color that very different pens provide).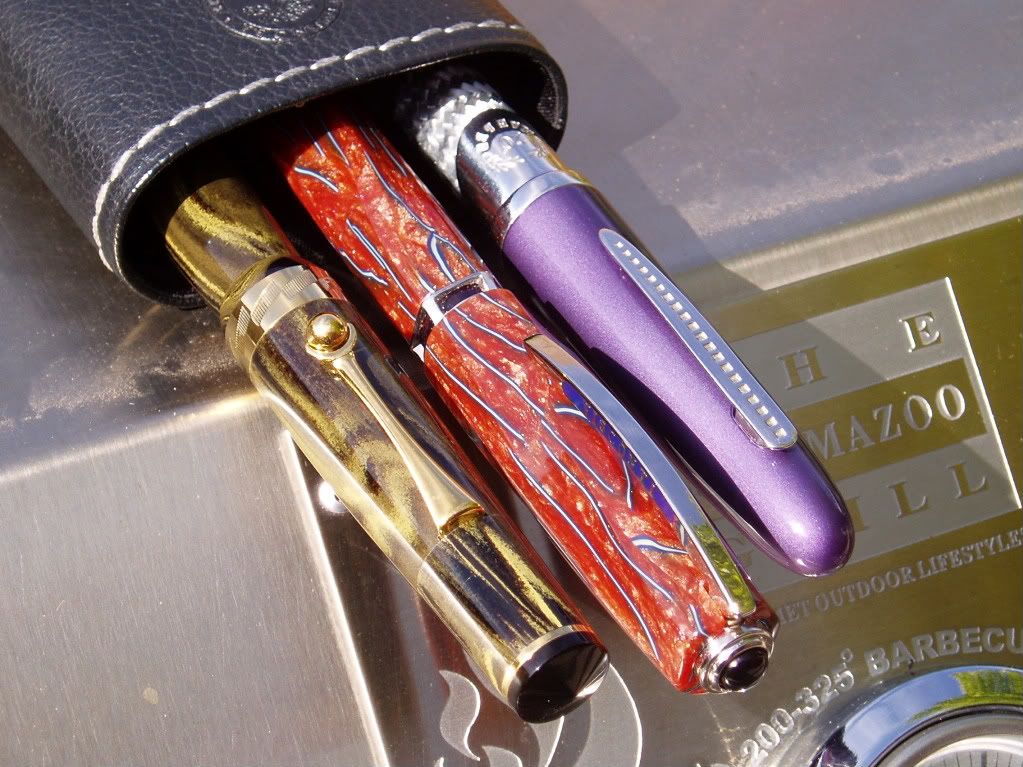 Weight and Dimensions

This is a very long pen, as are most Bexleys if they are posted. This has an upside/downside, but I think this is deliberate.
Since almost all Bexleys are light (one of my requirements for a pen) you can post the pen, and it still remains nicely balanced.
If you choose to use it unposted, there is enough pen length to make it comfortable.

This is one of the few pens that I actually use both ways.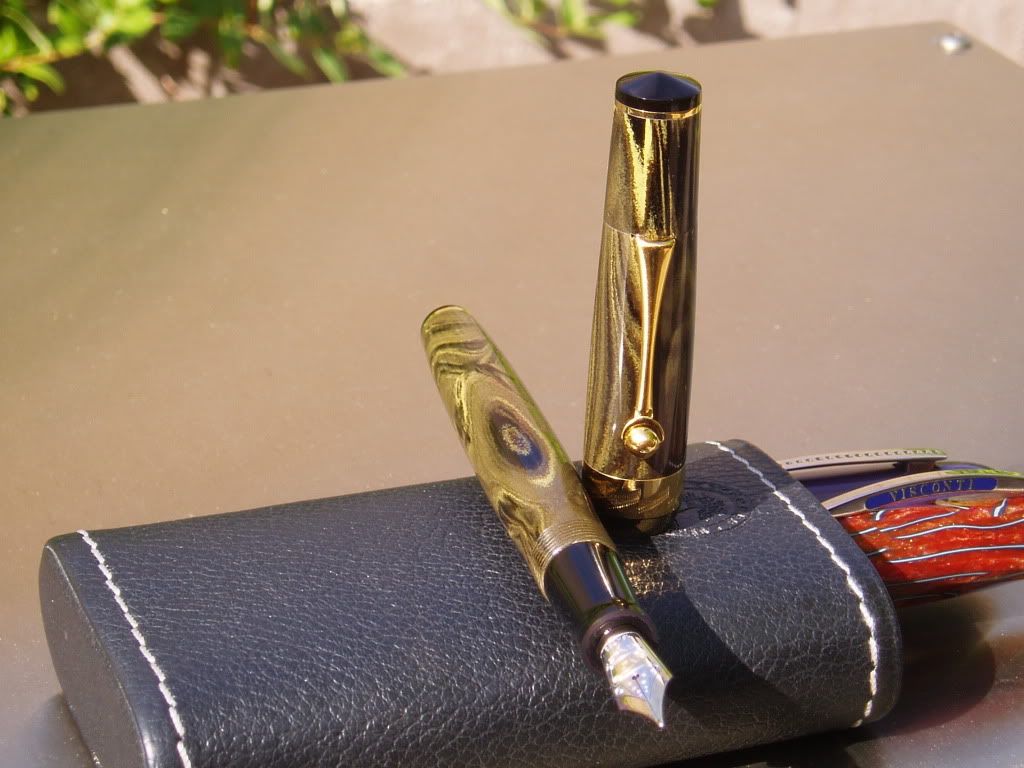 Nib and Performance 9/10

All of my current Bexleys are fines, and they are slightly different, but share common characteristics:

1. They work, without skipping or or aggravations
2) They all have a tiny bit of tooth, which is just about perfect for me
3) They are on the wide side of fine, but just barely. Enough to accomodate my smaller writing, but also enough to give character to my mediocre writing (in other words, pretty much perfect for me).
4) They tend to have a natural feel to them.
5) To some degree, this even applies to my only steel nibbed Bexley, the L.E. FPN Simplicity.

When I purchased my first Nakaya, I specified a Bexley fine as the standard for writing.



Filling System 6/10
C/C, which is neither good nor bad. I can think of as many reasons why this system is as good as others. It comes down to purist expectations.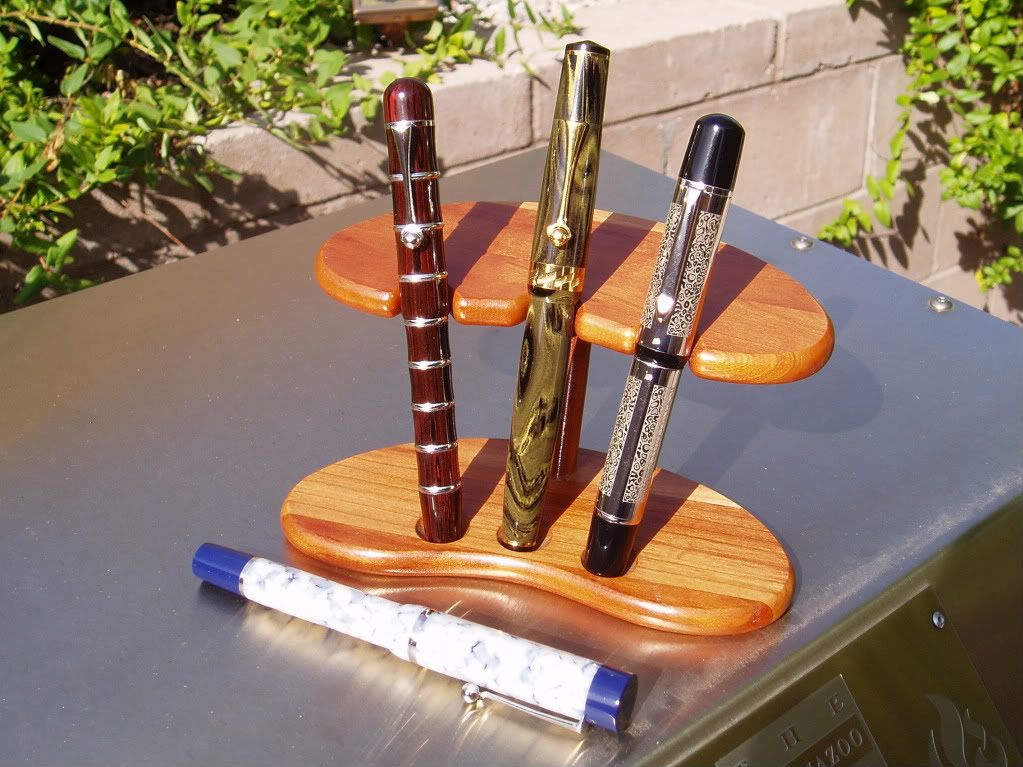 Cost and Value 9/10

This is where all of the Owners Club pens really shine. For not much more than the cost of a normal Bexley, you get a pen that is truly special. All of the OC's have truly limited edition (fewer than 150 produced), and they are made of slightly more special materials than the normal Bexleys (which might be changing-notice that the new Imperial is made of ebonite). Don't get me wrong, I like a lot of the regular production Bexleys-I will eventually get one of the gray/red Poseidons (they are just neat to me), but these really are greal deals.

Conclusion
10/10
The last photo shows my 2007-my favorite, 2008, and 2009 Bexley Owners Club pens, along with the LE Fountain Pen Network FP (sorry for the washed out photo-it really does look nicer than that). I also have a Jungle Green 2001 Multimax.
When you compare these to many other pens out there in the same price range, they have more exclusivity (116 in each color), nicer materials, and they do what fountain pens are supposed to do. Write, and write with character. What more can you ask?
I can hardly wait for the 2010....
Edited by Doug C, 12 September 2009 - 23:45.