It seems like I've been drawn to inks that remind me of summer the last six months or so. I think the thing that set me off on the bright-happy-ink-journey was when I got the first free 18 pack mixed cartridges when I ordered directly from Diamine and learned that there is so many inks to love out there. I'd never thought I'd love a dark pink like Claret or...this kind of bright, mediterranean blue with a distinct turquoise feel. I was all for muted, sombre inks, but I've learned that different inks have their different roles to play. Diamine's generosity with cartridges shows how much there is to earn by giving freebies - I've ordered a lot more ink than I should have done otherwise. It is often both profitable and clever to be generous.
This might well be the most well behaved ink I have ever used - it at least makes it to the top 3.
It makes the nib happy and lubes it into a near-divine-experience. It dries rather fast, doesn't feather even when used in a Moleskine. The bleedthrough - in the Moleskine - is minor and none on ordinary copy paper. It might not be the ink that one might use in more traditional office settings, but it is very good for margin notes - they stand out without being so bright that they are hard to read. The "readability" also make this ink a great ink for letters, journaling and other kinds of extensive writings. The drying time is very good - almost dry in 5 secs and dry around 7 secs. The only drawback - as usually with Diamine's inks - is that it is not the least water resistant.
So - if you already have the "conservative-everyday-use-blue-black-something-colour covered - this is a very good complementary ink. It is not so bright that it is usable only in very special settings, but it is enough bright to cheer you up while taking notes or writing a letter. I'd be very happy to get a letter written with this ink. The resemblance of the Mediterranean Sea is striking and with a little bit of imagination one can almost feel the smell of salty water, summer and sand. This will follow me during the autumn and winter as a reminder of the summer.
A good thing with Diamine ink is that they sell them in small 30 ml (approx 1 fl oz) plastic bottles for a very low price if you order straight from their website. That allows you to try different colours rather cheap and the plastic bottles makes very good travelling inkwells. For those concerned with the plastic bottles: I pour the ink to an empty glass bottle/ink well and use the empty for travel and trades.
Since it seems like my scanner isn't that good (we are at war at the moment) I've added a photo that captures the colour better.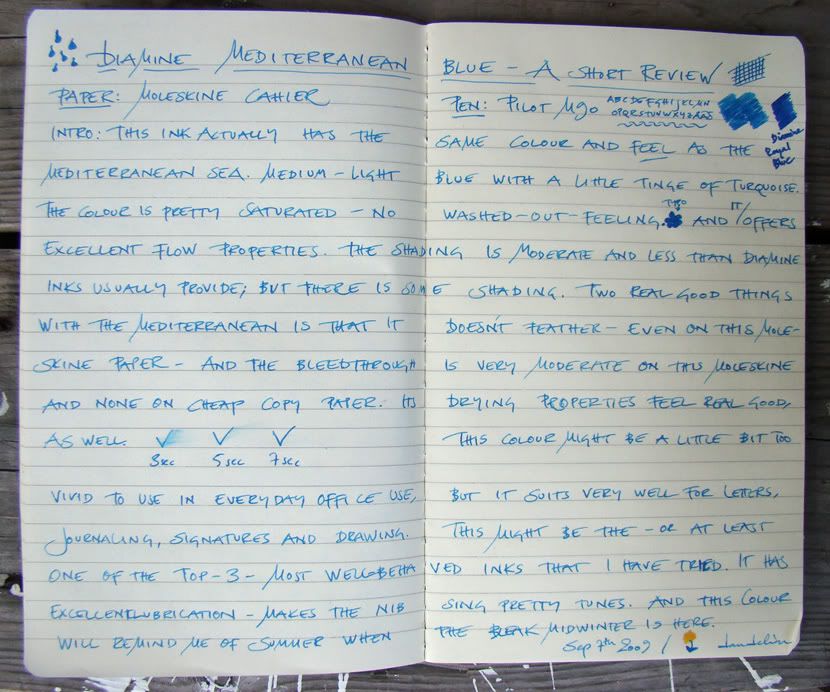 Edited by dandelion, 09 September 2009 - 07:33.