The biggest problem with writing a review on this ink is that it almost - despite numerous attempts - seem impossible to capture the richness of a fullbodied yellow ink with my scanner. These samples are the closest I came before I decided to give in. This is a bright and rich sunflower yellow with streaks of saffron in its shading.
I've used Rohrer & Klingner's Helianthus/Sunflower yellow (review
here
) as a highlighter for quite some time and as I like these rich yellows I was curious to try Diamine's Sunflower yellow. Both inks looks rather identical in the bottle and first I thought that I'd got a clone to the Helianthus, but to my joy this ink is slightly different and has its own merits. It is a deeper, richer yellow with a broader shading than the Helianthus. It shades from medium yellow to saffron orange (not as dark as CdA saffron ink - just hints of saffron in the shades) and is an ink that suits perfect for cheering up. And it is hard not to draw small suns in the margins...
Added: As mentioned below both ink looks the same in broad daylight when they have had 20 hours to adjust to the paper. Strange.
I've come to realise that I prefer these beautiful rich yellow inks as highlighter inks to any regular highlighters/highlighting inks - they are beautiful and highlights the text in a lovely way. And one can write and draw with them too. As with all the Diamine inks I've tried it has excellent flowing properties, but it is not gushing from the nib. The feathering is almost none even in a Moleskine (cahier), and it doesn't feather on either cheap copy paper or sketch paper of higher quality). It seems to flow good in and enjoy various nibs even if I almost exclusively use it in my 1.9 mm Lamy Vista. A non-problematic ink. The bleed through is almost none on cheap copy pape, sketch paper and in Moleskine cahier - all very good for someone like me who does a lot of highlighting on articles that has been printed out on...cheap copy paper.
The smearing factor is also very good considering the broad nib. Almost completely dry in 10 seconds. It doesn't show any startup problems even if a pen has been uncapped for a while (10-15 min) which is often the case when I read, write and take notes. I know that many out there consider highlighting rather childish and so did I for a long while. But, when processing massive blocks of judicial text, highlighting is a bliss. And when it is possible to do so with a beautiful ink that fulfil its task and also can be used for drawing suns and stars and flowers it is a sheer joy to lighten up...
The only "flaw" is that it is not water resistant, but I don't mind that - especially since the writing properties are so good.
The autumn is approaching fast and I think this sunshine yellow will be a very good companion during these dark months. If someone wonder if there are any big differences between R&K Helianthus or Diamine Sunshine the only "big" difference is that the Diamine is a bit richer with more and deeper shading. Both are lovely!
Edited to add Moleskine experience and to add/replace the comparison between R&K and Sunshine Yellow with a photo. I was so unsatisfied with the scan that I had to take a photograph of the comparison between the inks and then realized that both inks looks the same today. I can't see any difference in broad daylight on the very same comparison as yesterday. Interesting.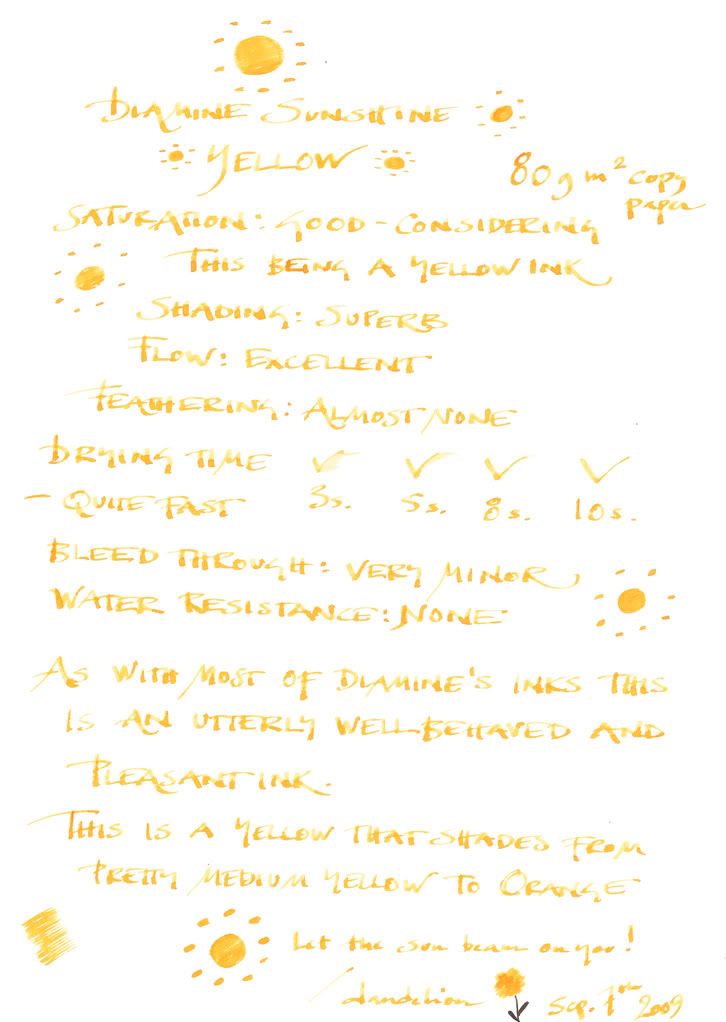 Compared to Rohrer & Klingner Helianthus (Sunflower) Yellow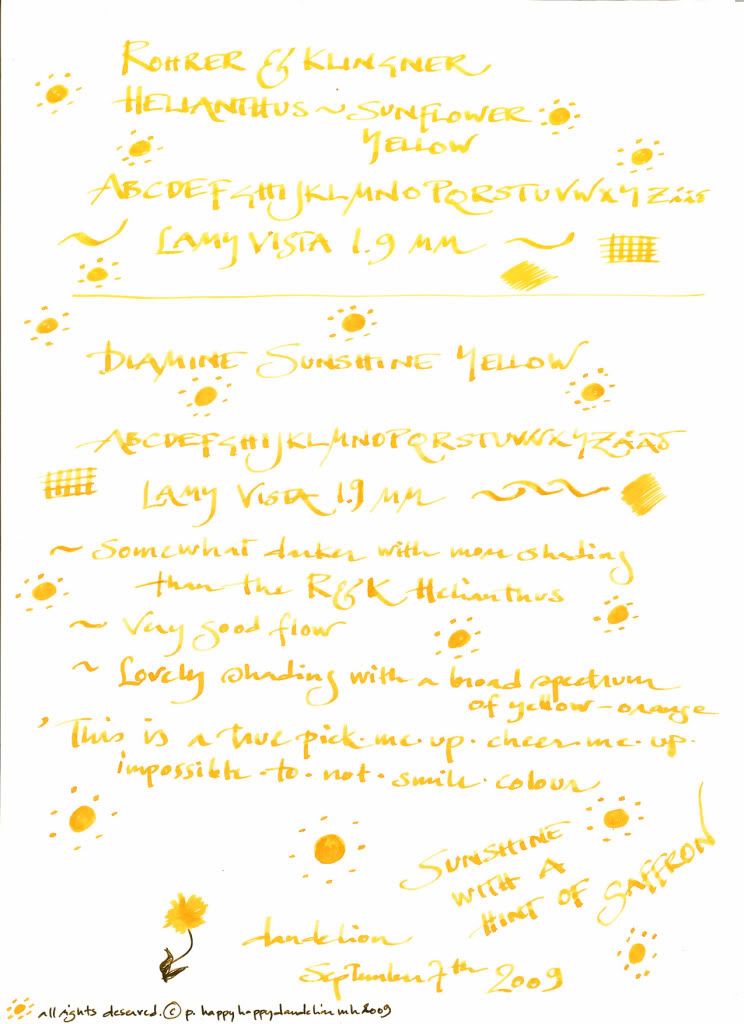 Scanned comparison a few moments after writing it down.
Photo the day after the review was written.
Edited by dandelion, 08 September 2009 - 14:44.