Merlin 33 review
Introduction:
I first heard about Merlins when Richard Binder advertised them on his site. Merlin was a small family brand of fountain pens based in Germany, for the market in the Netherlands. The Merlins were made in the 1950's.
The Merlin brand made two fountain pens: The Merlin 33 and its smaller counterpart, the Merlina. These two pens were available in many different finishes. Richard Binder acquired a stock of them from Classic Fountain pens, inc. Richard and his team worked to re-sac all of the pens and ensured that the button filling mechanism would work perfectly, and that the nibs would write well.
First Impressions:
When I opened up the package, my first thought was: "wow, this is a small pen!". And small it is. Here are some specs:
Capped: 11.8 cm
Uncapped: 10.7 cm
Posted: 14.2 cm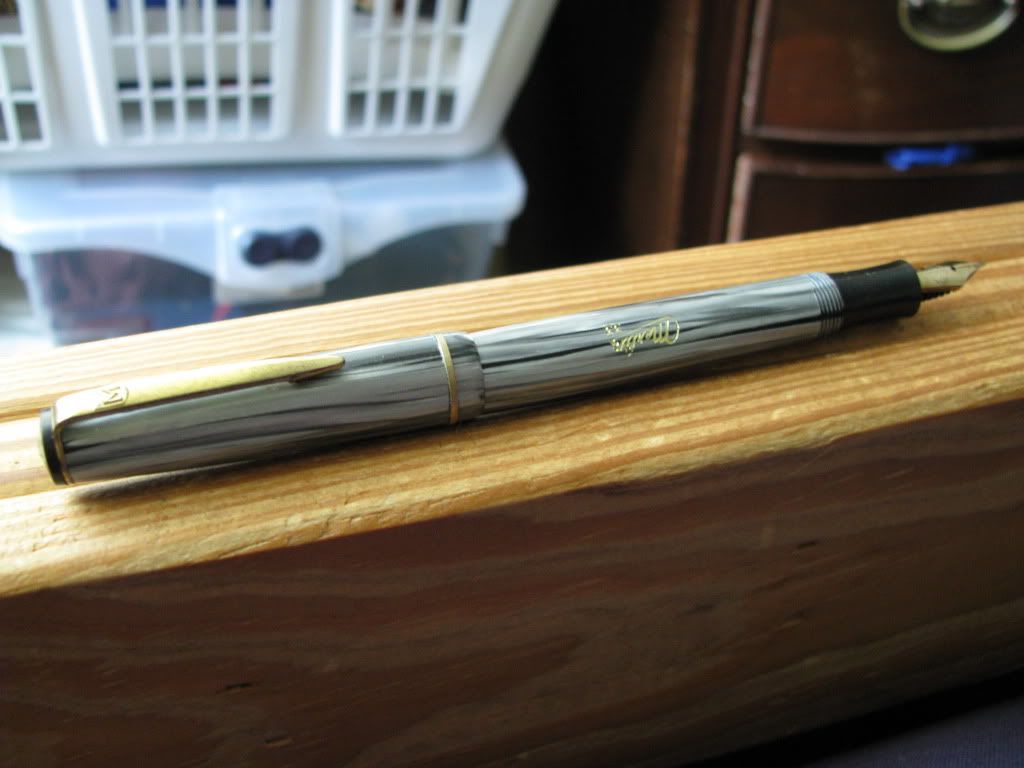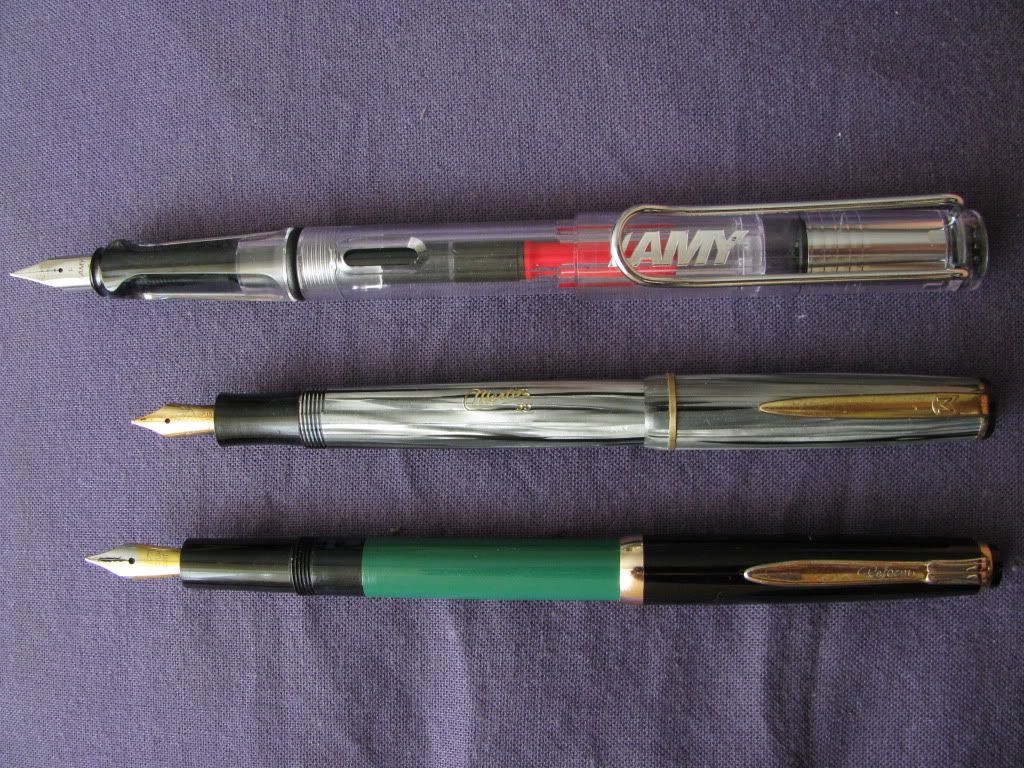 Appearance and Design:
This is a VERY small pen. It probably works only posted. The guy I bought this from doesn't post his pens so he couldn't use the pen. This should be taken into account if you are interested in this pen. A relatively conservative design, but the celluloid is very nice… It's my first celluloid pen and it feels… different than regular acrylic… A bit warmer to the touch, and maybe a tiny bit of give. It feels… sort of greasy... that is the word I can use to describe it… You need to really feel it to know what I'm talking about. I believe the grip of the pen is made out of ebonite, but I'm not sure. This is probably the smallest pen I'd buy. I have the storm front finish. I thought it would be a bland grey color but when it came it had just a bit of depth to it underneath the shiny underneath. Clip is secure and the cap posts securely (thank goodness!). The cap also has a twist mechanism, which is nice but not always the most convenient, especially since the pen is small you'd think it would be a convenience pen.
edit: you can't tell how nice the finish is from the photos
Nib:
You can't really decide what nib to get… Mine is an extra fine… The pens can vary from Extra fine to fine, semi-flex to full flex. They're all made out of 14K gold though. On the nib is: Merlin 14K 585. Thinner than the line my Reform 1745 writes. With no pressure, it's buttery smooth. Nice and wet… When flexing, there's some feedback but that's expected whenever flexing nibs.
The pen is a semi-flex affair. It's on the lesser side of semi-flex. To me, it's not about how wide the tines flex. It's more about the difference between thin and thick lines and this is where the pen shines. There is good line variation with this pen. I'd say this is my only flex nib that would be suitable for daily use, not just writing titles for ink reviews. Starts up well without having to be primed, even when uncapped for a few minutes.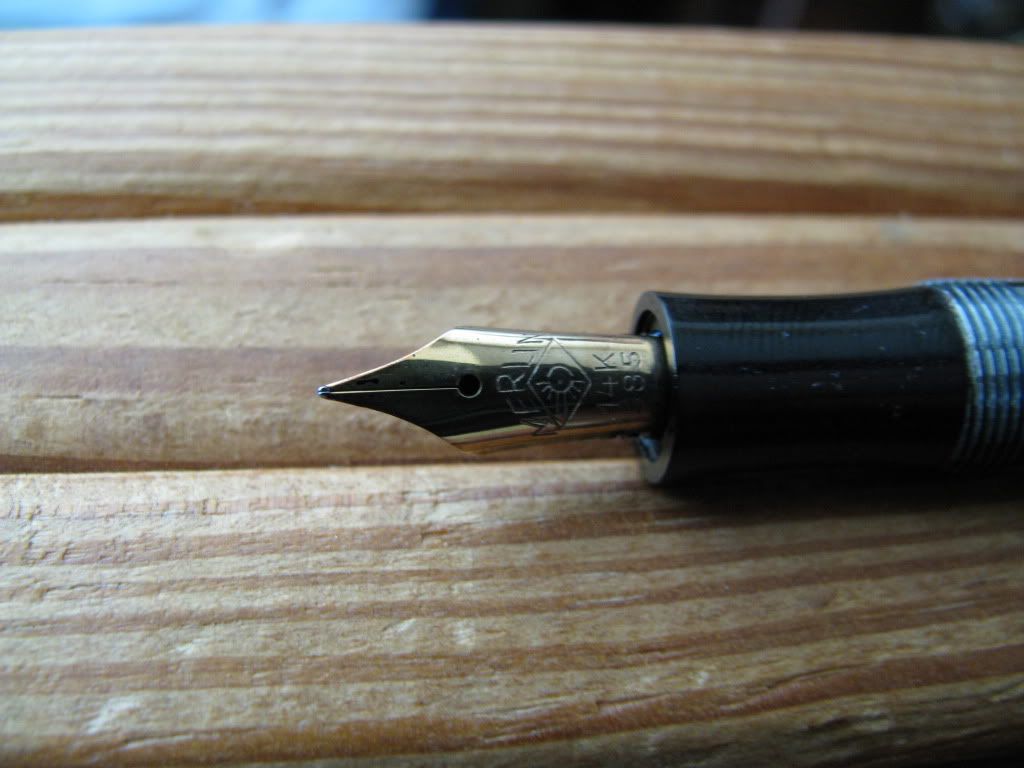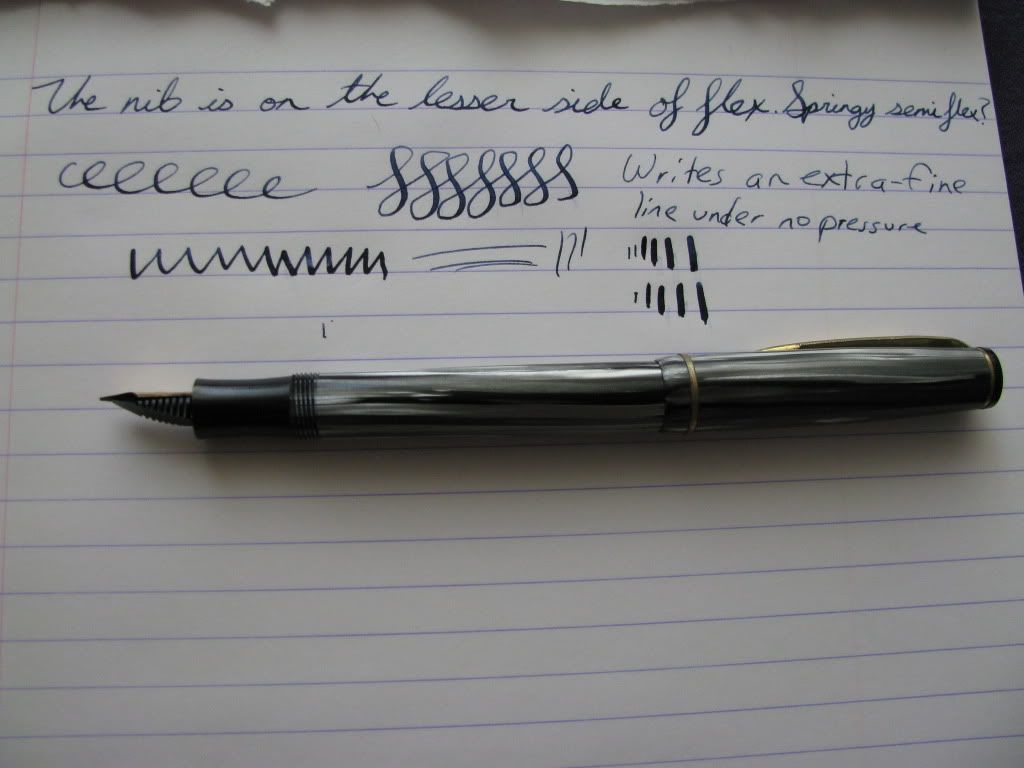 Filling System:
This is a button filler. You have to take off the blind cap and dip the pen into the ink, then push on the back and that depresses the sack, and then when released, the pen fills. Doing this 2-3 times gets a good fill. It's slightly stiff however, and I find I have to grip it really well to get it filled… But oh well! It works! It's a small pen so it's ink capacity might be questioned, but you can't complain when the pen is so small… You could just bring two with you if it's not enough.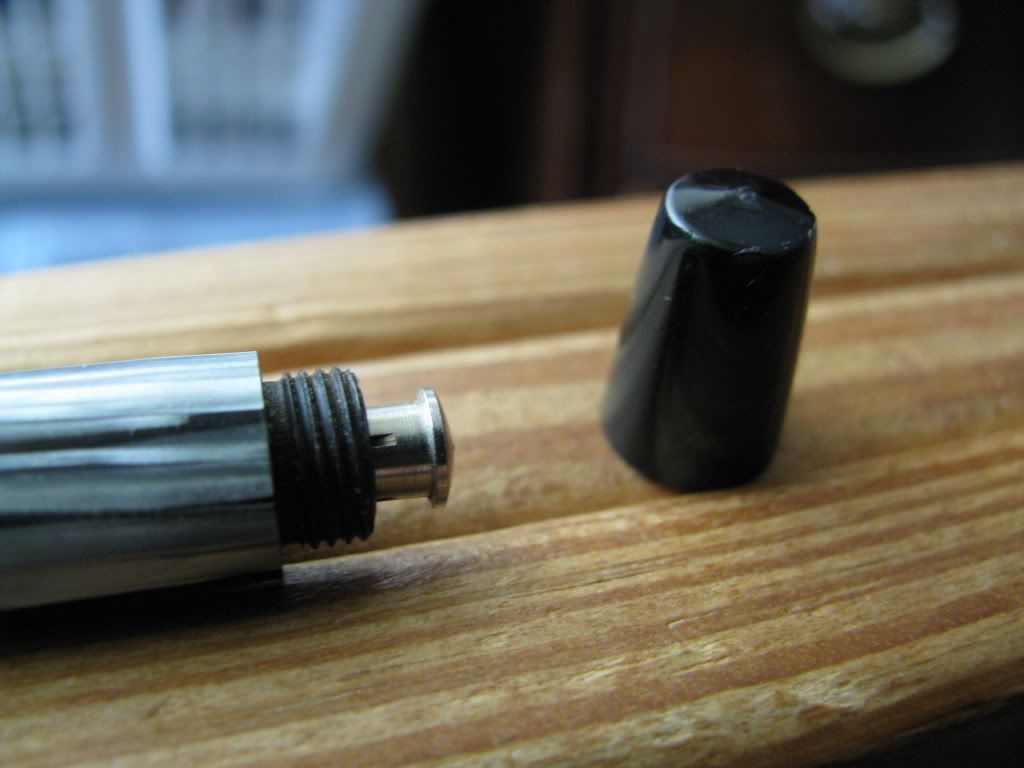 Cost and value:
I bought this pen for $55 CAD shipped, owned 2 days. The previous owner didn't like it's size when un posted, so he put it up for sale. If I had gotten it from Richard Binder, it would have cost about $90 shipped. So I guess it's not the best deal buying from him but where else are you going to find a NOS pen with a 14K flexy nib? Plus when buying from him you don't know if you are going to get a semi-flex or full flex nib… so it's a bit of a chance, but that's the wonder of vintage pens!
Conclusion:
A great way to get into vintage flex… and celluloid pens. Buying it NOS means you don't have to deal with resaccing, or other restorations. I guess the price Richard asks is quite reasonable, seeing as he and his team have rebuilt all of the pens.
I might see myself buying a few more of these… They would make great everyday pens.
Edited by HenryLouis, 21 August 2009 - 02:38.