PARKER DUOFOLD
and
Grimakis' 1000th post!
1.Appearance & Design (10) – The Duofold has a very classy and sophisticated look to it. Despite its bright orange body, people can tell just from looking at it that it is a pen that is all business. It is a classic flat top design, that is widely recognized all over the world of pendom. Its large size restates the fact that it is a pen that deserves all of the attention it commands. The clip is stylish without being flashy, and the single band adds a cool touch. This is a design that simply will never go out of style.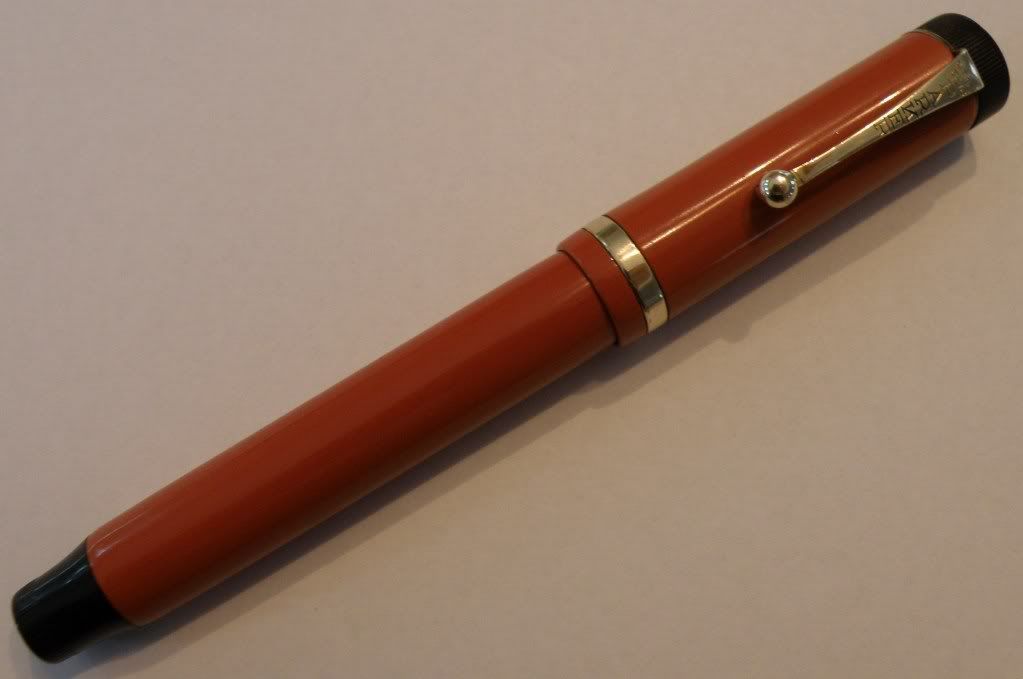 2.Construction & Quality (9) – The quality of construction for the Duofold is top notch. The only downside is that it is made of celluloid. The material is less durable than modern plastics, and very flammable. Thankfully, the orange plastic doesn't really discolour. I am not scared to use this pen everyday, as long as I make sure not to abuse it. Any good pen will last you a long time if it is treated properly. This pen is over eighty years old and has few problems.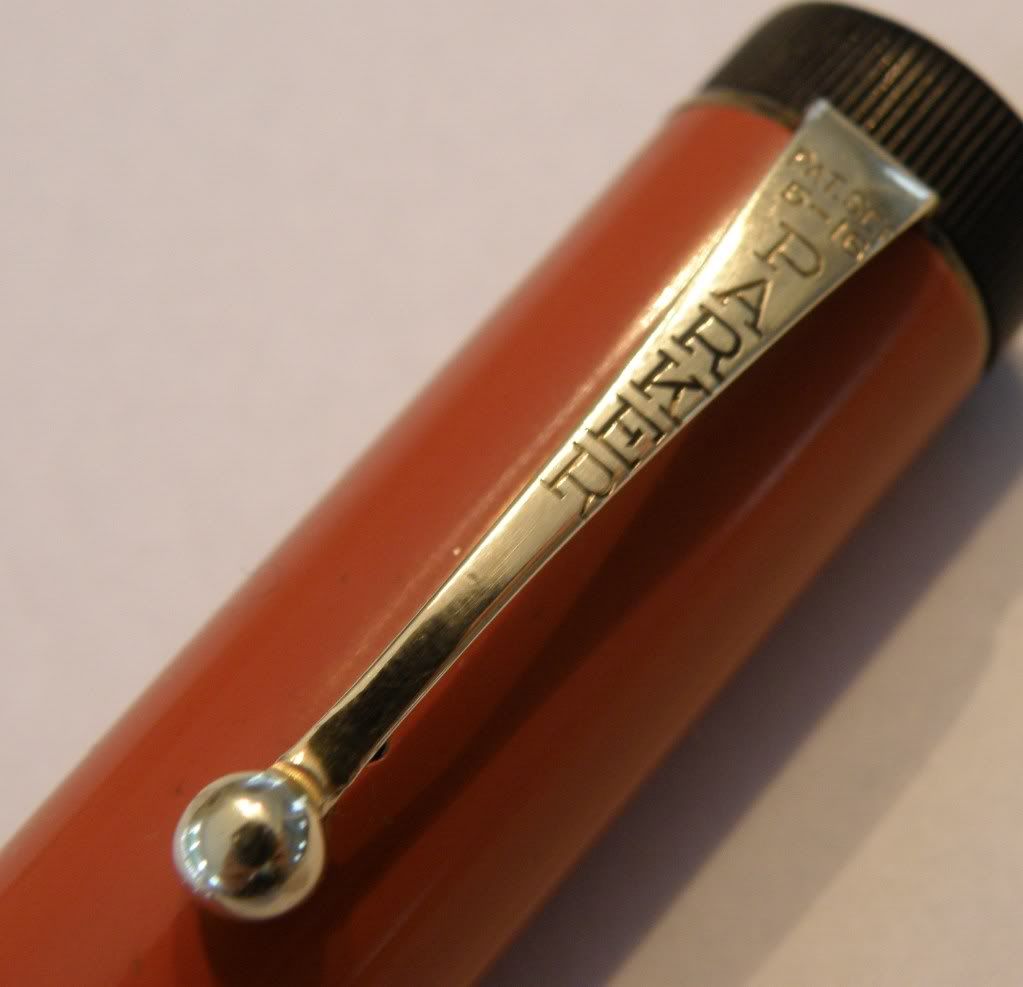 3.Weight & Dimensions (10) –  The Duofold is a very large pen. It is about 5.5 inches capped, and over 6.5 inches posted. It isn't very heavy, and balances perfectly in the hand. Posting the pen makes it a little to big, but it is fine unposted.
4.Nib & Performance (10) – The nib is solid gold, 14k I believe. It is pretty big, and very smooth. The flow is perfect for my taste, and I could see myself writing with it for hours. It is a real please to use. It is very stiff, and likely able to write through several carbons. It truly is a manifold nib. This nib really is a change from something like one of my Parker "51"s. Being able to see the nib while you write is a very pleasurable experience.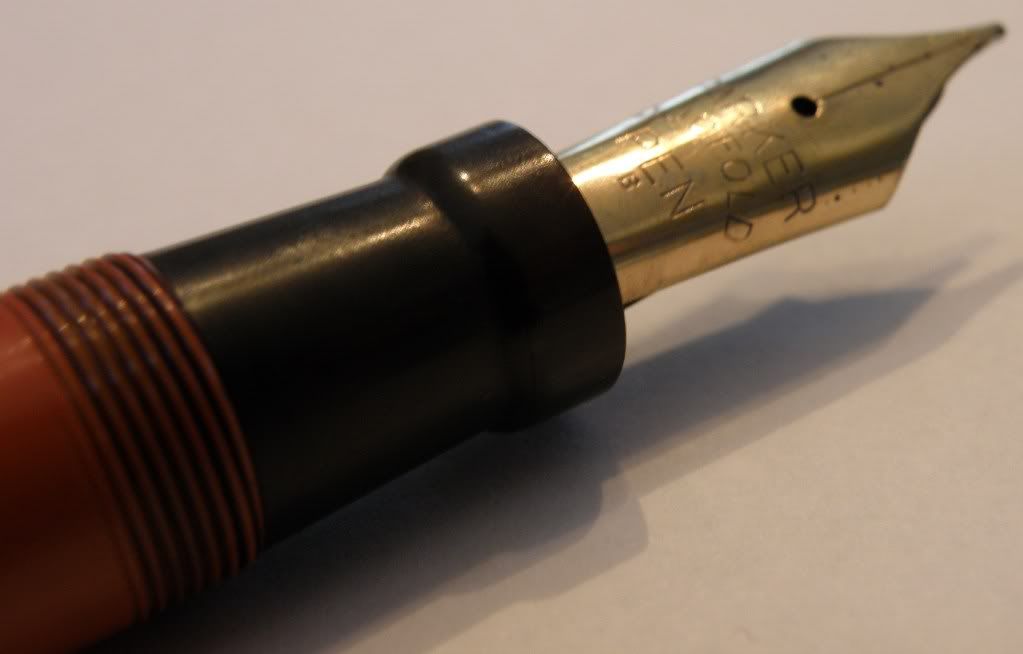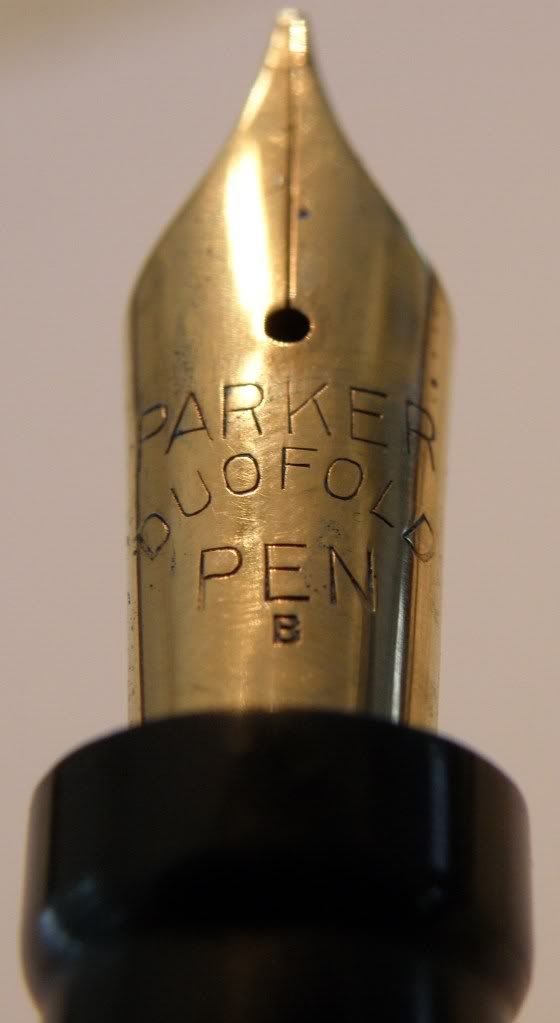 5.Filling System & Maintenance (9) - The Duofold uses a button filling system, similar to the Jack Knife Safety that predated it. The sac is pretty big, so the capacity is not really a problem. Even though one might think that filling such a pen would be easy, it is somewhat difficult to get a good enough grip on the pen to fully depress the button. A short wide ink bottle is helpful, that way you don't get ink on your hand. This system is just about on par with the lever fill, the only difference is that this one is harder to use. The lever however is often located in an inconvenient spot.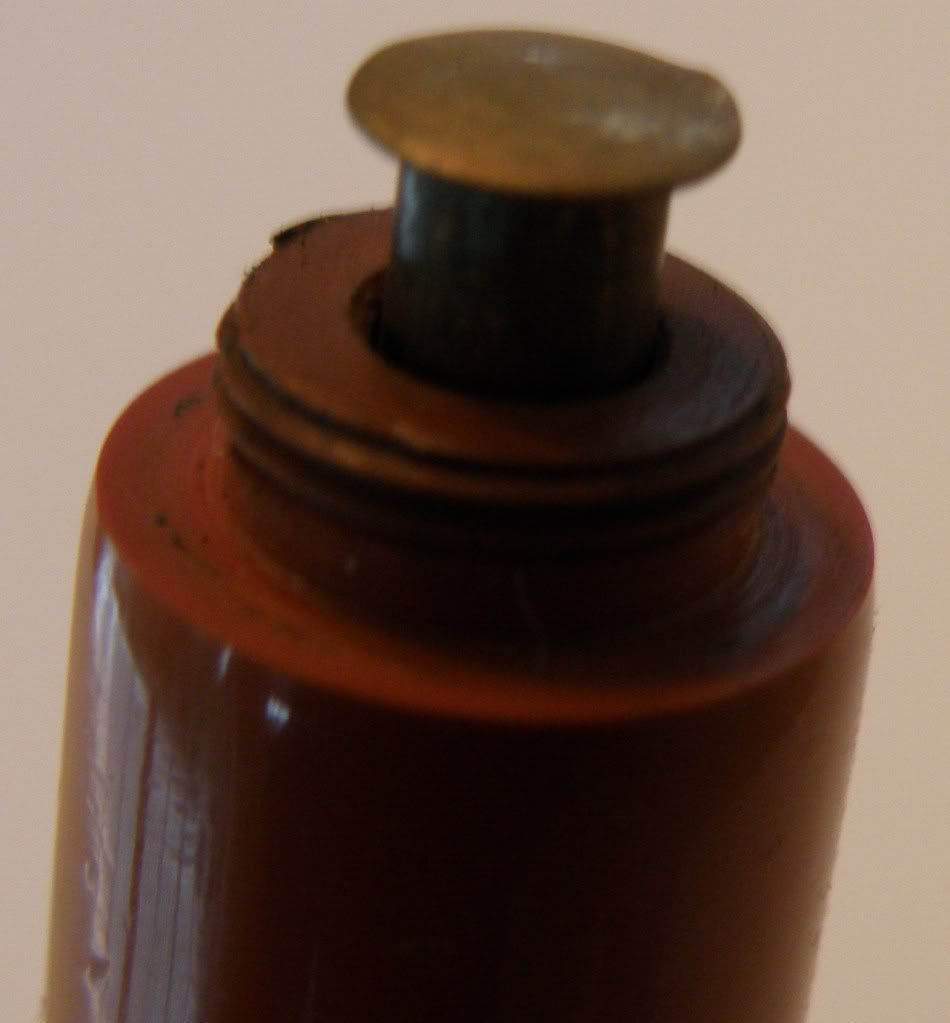 6.Cost & Value (8) –  I bought the pen at great price from a well known collector at the DC show. It cost me $160, and another $30 to have it restored(I am impatient, and didn't have the right size sac anyway...). At $190 I would snap a pen like this right up. If you are looking for an all around good user pen at an affordable price, this probably isn't it. Unless you can find one really cheap, this pen isn't practical from an economic standpoint. If you are a collector, or just like to use a really nice pen, just go for it.
7.Conclusion (Final score, 56/60) -  I absolutely love this pen. I use it everyday now, and it is a joy to write with. I am proud to own such a wonderful vintage pen, and I will do my best to preserve it for future generations. Unless someone discovers a NOS hoard of these, I can only see them appreciating in value. If you manage to get you hands on one, try and keep it in good shape. In 20 years, we might not see as many of these around anymore.
...and now here is a short video I made, just to show how the pen writes... keep in mind it is sort of difficult to hold a pen and a video camera at the same time. Due to this, the quality of my writing has suffered, although it normally isn't much better.