Picasso Blue with Golden Filigree: Past century art revisited the Chinese way
Filigree is a motto at the very root of the Fountain Pen Story. This is probably why every pen reviving it triggers a kind of special emotion from every fountain pen lover. All major manufacturers have been trying to revive it in the past decade.
No wonder Chinese Pen Makers are also making their way here. Just like Picasso did it with its PS-901 model.

Picasso what? Well, a Chinese manufacturer has chosen to capitalize on the internationally famous name of the Spanish painter (more about him here: http://en.wikipedia..../Pablo_Picasso).
I would have loved here, to include one of its most prestigious works like maybe "Les demoiselles d'Avignon" or "La Femme à la Mandoline" but I know Picasso relatives are very touchy regarding copyrights and I do not want to get FPN into trouble. I can only guess that the Chinese company manufacturing the pen (Shanghai Pafuluo Stationery Co. Ltd.) has been duly authorized to use the name by paying its dime to the owner of the name (US Picasso Innovation Co. Ltd.).
Well as a Frenchman with a good enough knowledge of the life and Art of Pablo Picasso (who has been living in France most of his life and died here in Mougins South of France), I could have hated the commercial use of the name of one of the true real geniuses of the XXth century but I have to admit that the Chinese played here a quite subtle card. Of course, the Picasso name is a marketing trick devised to use an internationally famous brand and to profit of its aura but the quality of the pens made under this brand umbrella is obvious (more about this later) and the Picasso theme is used tastefully. So let us examine this pen in a closer way.

P.S. : Just a word for FPN art lovers. The background art is not from Picasso but from Giorgio De Chirico and the automobile painting is from Geo Ham.
______________________________________________________________________
1. Appearance & Design (8)
–
With its combination of blue Italian celluloid and golden metal, this pen is really startling
Blue with gold filigree: eh, for all fountain pen enthusiasts, this sounds familiar. Well though the Picasso is definitely not playing in the same league, the Waterman Edson Boucheron jumps immediately to your mind. Of course, this Chinese pen is much less substantial, doesn't sport real gold and is not a jeweller item. Nonetheless, the Picasso is a very beautiful and elegant pen. As you may know, I am very sensitive to packaging, the Picasso's one is a smart beige treasure chest made of material mimicking leather. On small detail: The corners are reinforced with golden metal pieces embossed with the name Picasso. This shows the attention to details from the manufacturer. The box includes an elegant booklet titled "Picasso Art Collection" and incorporating paintings from the master. Unfortunately, most of the text is written in Chinese.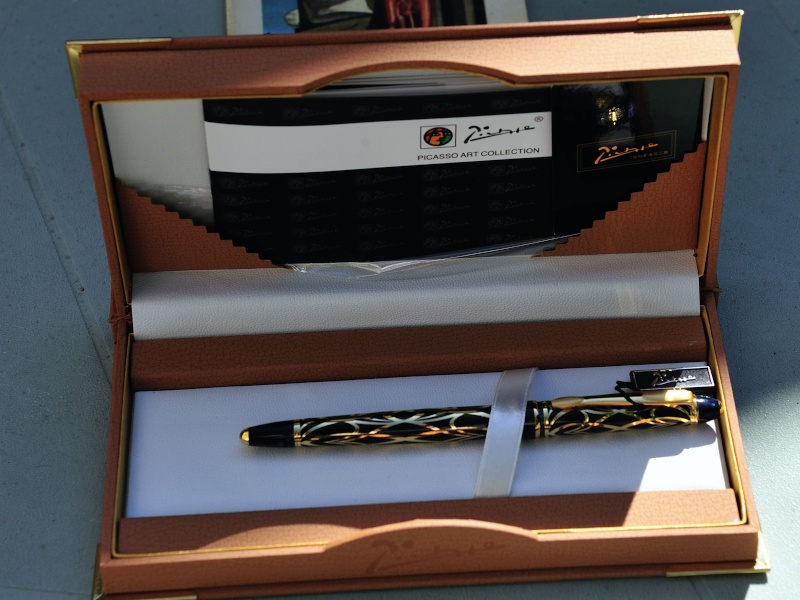 2. Construction & Quality (8) – Gee you gonna love this one
Made of brass and benefiting from techniques of electro plating, the Picasso is faultless. The Italian celluloid is gorgeous with its splendid reflections and the pen, terminated at body and cap ends with a small golden dome, makes impression with a high quality feeling.
3. Weight & Dimensions (8) – Thin, long and lightweight
The Picasso is 5 ¾ (138 mm) long and weighs a mere 28g: quite light and thin with a diameter of 11mm. I have chosen to include a picture along a nice red striated Sheaffer 500 feather touch from the forties of my collection.
You can see that the Picasso is just a little shorter and longer than the Sheaffer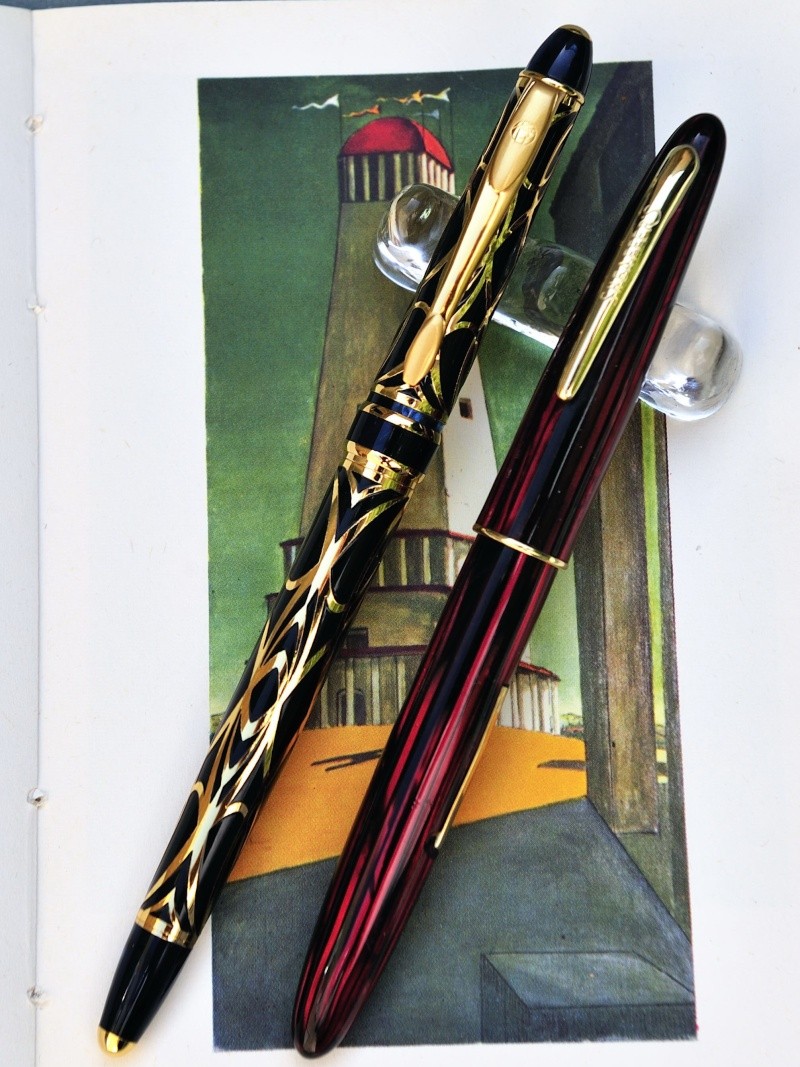 4. Nib & Performance (7) – A nice small nib
The nib is a small iridium model. It writes very smoothly with a rather medium size and a well controlled flow.
5. Filling System & Maintenance (7) – Still a c/c filler
I am not a great fan of the c/c filler. But well, for the price of this pen, you can't ask too much. Anyway, the filler is of a good quality.
6. Cost & Value (7) – A not so cheap pen not looking cheap in any way
This pen is available, either from US sellers or direct from China, for less than $40. By Chinese standards, this is already a costly pen! Considering the beauty of the pen and the way it writes, this is a very good cost/value ratio.
7. Conclusion (Final score 7.5 ) – A very elegant pen which deserves to be included in your collection.
Maybe just a little too thin for a big hand. It could make an ideal present for your loved one.
Edited by JeanMichelF, 14 August 2009 - 16:33.