THE PARKER "51"
by Grimakis
1.First Impressions:
It is slightly hard to give my first impressions of a pen I already have done a review of, but here it goes. This "51" is very different than my other "51"s. I own a 1941 pen in black, and a 1945 pen in cordovan. The link to a review of those can
be found here:
http://www.fountainp...showtopic=94056
.
The pen I am reviewing this time is a Cedar Blue double jeweled pen, from 1946. The colour was a lot less blue than I expected, and had a hint of green. I won't give this a score because I am already biased.
2.Appearance & Design (10) –  The "51" has a very unique design. It offers a certain rugged simplicity, with a dash of style. Its long streamlined body makes the pen seem somewhat futuristic, despite it being over 60 years old. The hooded nib
takes the "51" away from tradition pen design, but brings to the table a whole group of new benefits. The ability to mix caps and barrels allows for a great deal of variation. With the wide array of choices you can really choose a pen that fits your
mood and personality. The pen really brought a radical change to pen design, and paved the way for future models such as the Parker "61".
3.Construction & Quality (10) – The "51" is an extremely durable pen. The nib is solid 14k gold, and is very thick and sturdy. The cap is made from metal, whether it be gold, brass, steel, or silver. This brings the possibility of denting, but
reduces the risk of getting a crack through the lip. (Yes, I have seen ONE "51" with a cracked cap, so it isn't impossible.) The clip is a washer style one, and is very sturdy. In addition, the pen is made of Lucite. Lucite is very durable, much more
so than celluloid. This pen is built to last. I believe that these pens were lathe-turned, and no injection molding seams are present. This is one pen that can definitely survive multiple centuries.
4.Weight & Dimensions (9) – The "51" is not heavy, the "51" is not light. Such a balance of weight makes it seems almost perfect. I would describe the pen as a medium sized one, definitely not large though. It rests well in the hand, and has
good balance. I would choose this pen over many others just because of its comfortable and ergonomic design. It could be a little bigger though.
5.Nib & Performance (9) – This particular pen has a nice medium nib on it now, but before had a dry, fairly fine nib. The nib is wedged in between a long flat feed, and a large, multi-finned collector. I will make the claim that this pen can stay
uncapped for over an hour without drying out. I have done many trials, and it hasn't failed yet. The nib is so sturdy, misaligning the tines is very difficult. On the other side of things, the nib is virtually un-flexible due to the exact same reason.
This is the kind of nib that you can always rely on.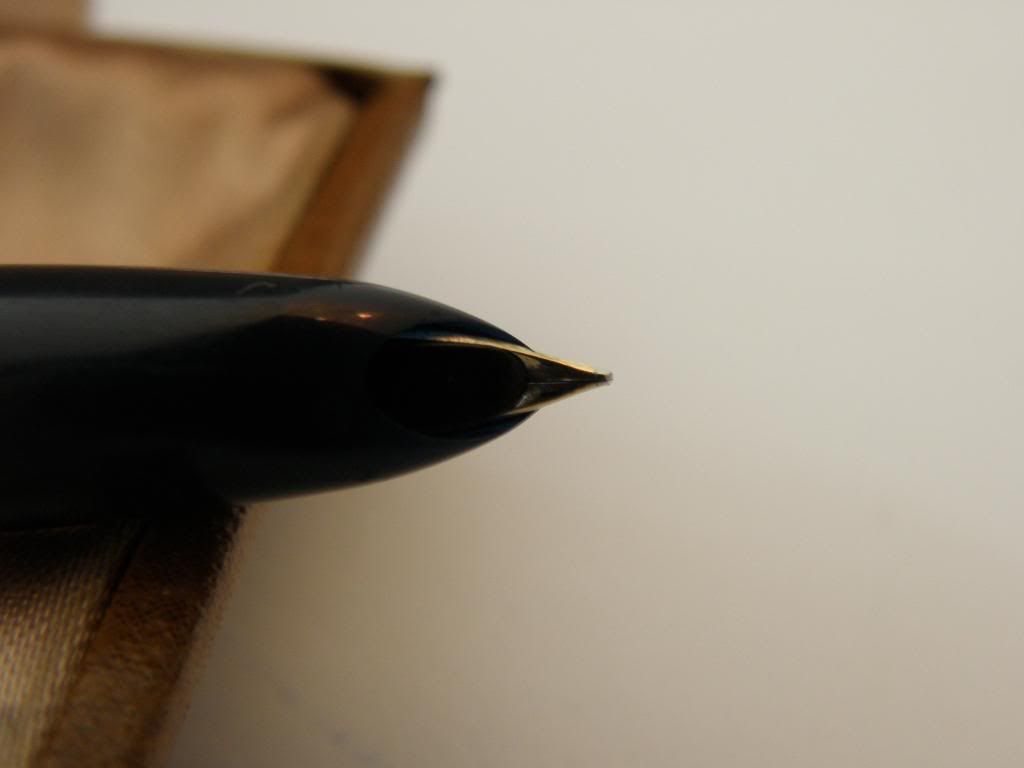 6.Filling System & Maintenance (9) - The filling mechanism on this pen is the Vacumatic. With this system, a plunger is depressed several times to extend a diaphragm into the barrel. This displaces the air in the barrel and allows ink to be forced
up the breather tube by atmospheric pressure. The ink spills out of the breather tube into the barrel, where it quietly waits to be drawn into the collector, and deposited on a sheet of paper. The mechanism is fairly easy to service as long as you
have the proper equipment. High capacity is only slightly hindered by the difficulty to flush. This can make changing ink a pain, but not overly difficult.
7.Cost & Value (9) – The cost of a "51" can vary greatly. This particular model I got for about $180, but I had to restore it myself. Single jeweled versions of this pen can be had for about 1/3 of the price of double jeweled ones.
8.Conclusion (Final score, 56/60) - You all know how I feel about this pen, just an overall great user!