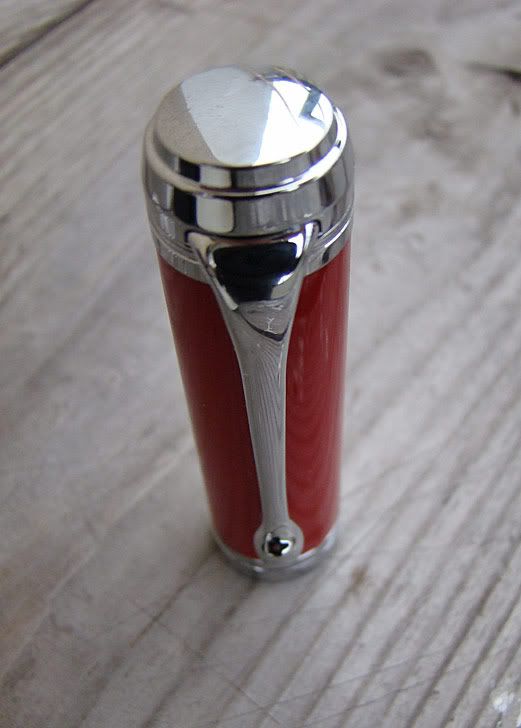 First Impressions, Appearance & Aesthetics
Box aside - it is nice and functional - this pen rocks! It doesn't need a fancy presentation box that only wastes space. This pen makes me want to hit the road to Italy in a fire engine red Saab 9-3 Aero Turbo Sedan V6 with Aida on the car stereo (yes, I'm patriotic when it comes to the car here - the fire engine red Saab 9-3 is a real beauty with a very nice motor). First stop in Milano, then Verona, Bologna, Firenze, Siena, Lucca...
This is a COOL pen! I like the chrome, the fire engine red (that is almost impossible to capture in a photo) - it is the essence of the elegant, sleek, smart unornamented Italian design. I like it so badly. Beauty and function in a lovely combination. This fire engine/tomato red suits this design perfectly.
If I should highlight some parts it would be the cap and the nib. The cap is so beautiful and clever. A modern version that combines a slight dome with a flattop. The clip is almost like an organic drip from the dome. Modern and very classic at the same time.
I also like that the nib has a bit of a rough, unpolished look that contrasts a bit to the smartness of the pen - it gives the pen personality and feeling.
The only minus is that the gripping section is in black - that is a pity. Had it been all red I'd probably given it 9.5/10, but since the gripping section is in black it gets only
9/10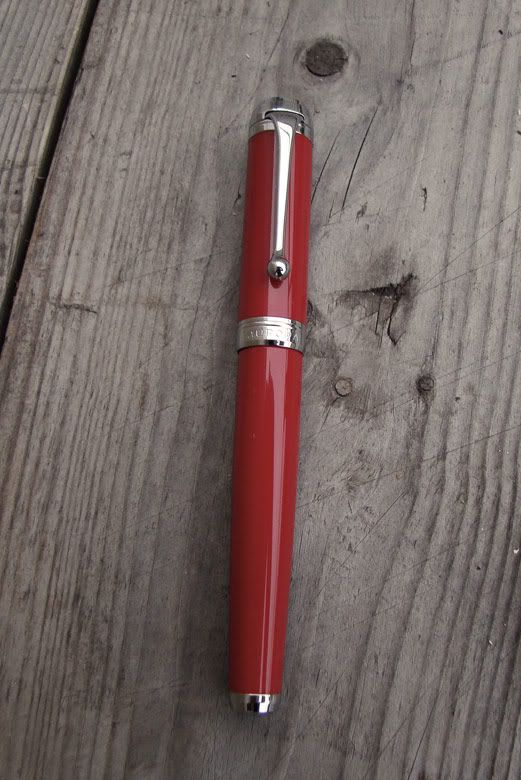 Build, Dimensions & Functionality
Weight: 30 g
Length capped: 13.5 cm
Length uncapped: 13 cm
Length posted: 16 cm
This is not only a smart, cool pen - it is also very well built. Nothing even remotely cheap about it. The gripping section is very well suited for longer writing sections. The cap is easy to screw and unscrew, fastens well and doesn't easily unscrew by accident. It has a bit of size and weight and is well balanced - both posted and unposted. Since I prefer to post my pens I want them to be safely posted without the cap loosens easily. This is a pen of substance and quality.
9.5/10
Nib & Writing Performance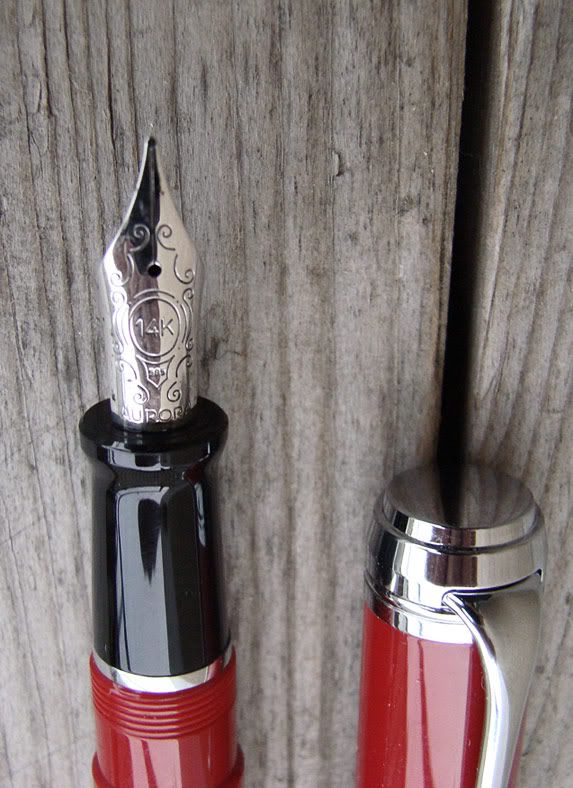 I really like that Aurora makes their own nibs. I also like the special look their nibs have - not streamlined and almost a bit rustic. This is a M nib that writes like a mainstream F. I had read about that in advance and was very relieved that I didn't get a mainstream M as I want to use this for note taking. The nib performs a bit like it looks: a bit rustic with a great deal of personality and character - in the best sense. It is not a ordinary nib. It is a competent and very pleasant writer. It is smooth, but with feedback, control and character. The more I write with it, the more I like it. It feels very personal - and begin to feel like a good friend that gives response and adds something extra to my writing.
I'm always quite critical when I make judgment of the nib. This time I'll give the nib extra weight for the final score - the nib is the most important feature, especially when it is a pen meant to be used as an everyday writer. This nib has a very special feeling. And: It wrote well ouf of the box. It doesn't skip. It has no problems with the flow. It puts down an even line and does justice to my inks. And and extra plus is that the nibs are easily interchangeable with both the Optimas and the 88s - so great. Functionality and character, character, character:
19.5/20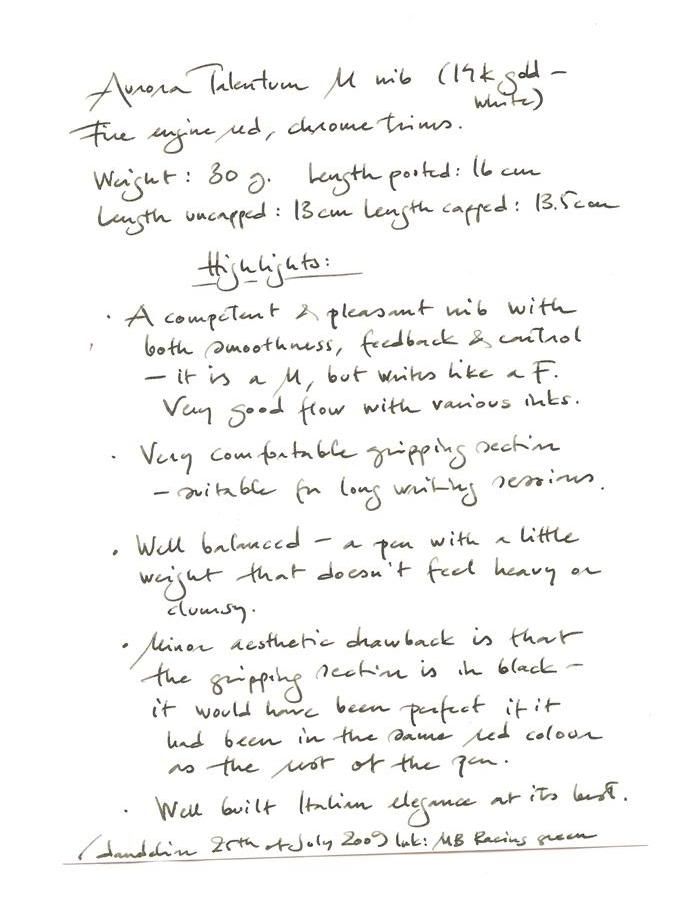 Filling System
The Talentum is a C/C filler. It works well - comes fitted with a converter - and without problems with the flow. I don't like c/c fillers that don't accept international cartridges/converters. Even if it takes Parker cartridges I prefer the wide variety of cartridges and converters with international standart size c/c.
5/10
Cost/Value
I bought it new for a very good price. I could pay at least twice as much and still think that I got good value for the money.
10/10
Summary/Conclusion
This is a pen with a personality. The nib is something very special and I think I have never used a nib with so much personality as this nib - in a very good sense. I am very glad that I took the opportunity to buy this great, clever and smart pen to a very good price. This is an introduction to the Aurora pens that sets a very high standard. I like that this is a non-blingy, super-classy pen made to be used. This is a keeper - even for an unfaithful buy-try-sell person as me. This is something real special.
With strict counting:
53/60
, but if I should give it a grade for the pen as a whole I'd give it
9/10

Together with two dear friends -Delta 365 and Pelikan M605 - for size comparison.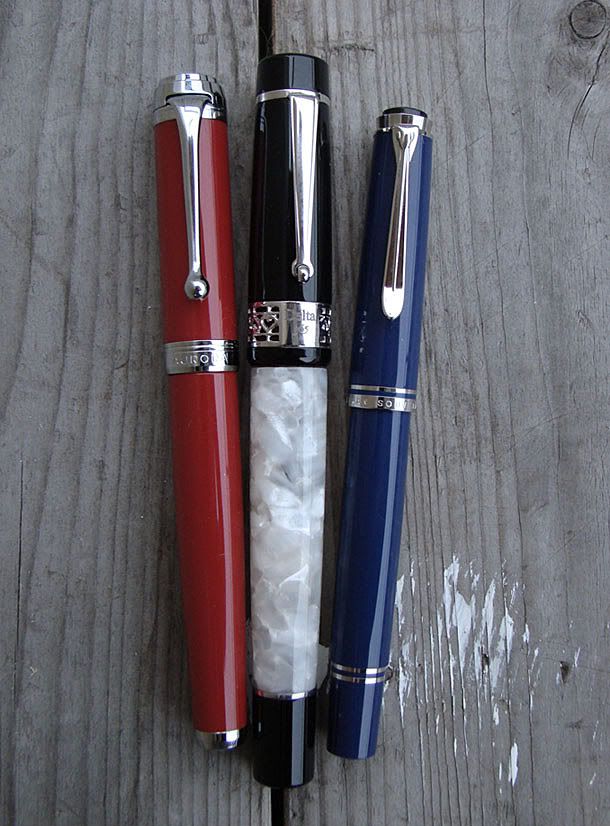 Edited because I forgot to mention the interchangeability between Aurora Talentum, Optima and 88 which is great and rised the nib grade with .5 points - the total grade is thus 53 instead of 52.5 - which it is well worth.

Edited by dandelion, 25 July 2009 - 21:14.